Our house flood last August (2015) gave us the opportunity to completely makeover the the kitchen and the family room. We could not be more pleased with how it all turned out (Click HERE to see the new kitchen)! But now the other two main rooms of the lower level need some work. To motivate myself into finishing one of the rooms, I'm participating in the One Room Challenge and will be giving our dining room a makeover. If you aren't familiar with the ORC, it is a bi-annual, 6 week series where each Wednesday, 20 official participants choose one room to makeover and share their weekly makeover progress. On Thursdays other bloggers who would like to challenge themselves (like myself) can participate and link up.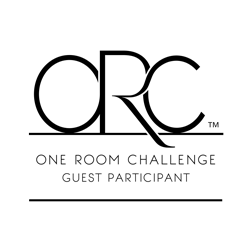 Let's take a trip down memory lane. Here is a before pic of how our dining room looked when we first moved into the house, which was a neglected foreclosure, back in 2008. Butter and brown were the colors I actually chose back then… oh my.  I do love our choice in chandelier though! And can you believe I picked up that dining room table and chairs for only $120 from a thrift store? Best buy ever, though I'm still not a fan of the reddish mahogany tabletop.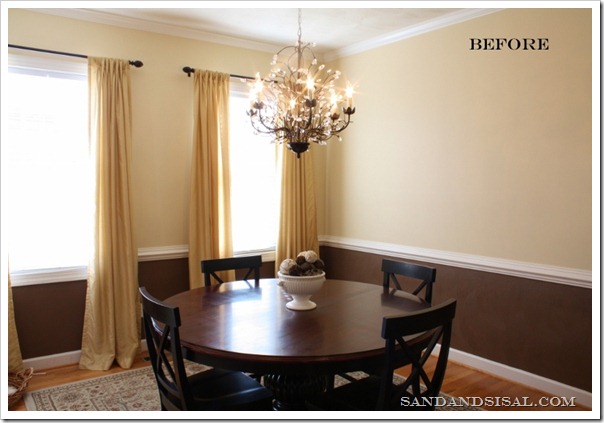 In 2012 we updated the lower walls with wainscoting, white paint, artwork and a new rug.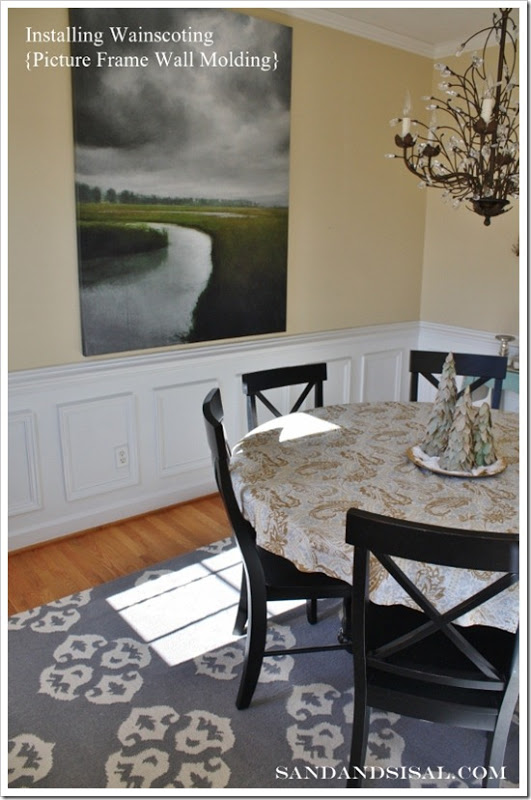 Don't get me wrong, our dining room is not by any means bad looking currently. It just doesn't coordinate and flow with the lighter and brighter coastal kitchen and family room. At least not as much as I would like it too. I'm just ready for a change.
One Room Challenge Dining Room Makeover Plans
For the next several weeks of the One Room Challenge, this is what I hope to accomplish (without spending a lot of money):
Paint the ceiling white. It is currently a darker beige and looks dirty. We painted the ceilings already throughout the rest of the lower level but the dining room and music room need a coat of bright white.
Paint the upper part of the walls a new color. I'm ready to say bye-bye to the buttery gold color.
Give the lower half of the walls, baseboards, and crown molding a fresh coat of paint bright white semi-gloss. The lower half is looking in bad shape after our floors were refinished.
Paint the dining room table base and chairs. I'd love to also refinish the tabletop but I'm not sure it is even a possiblity.
Replace the existing white plantation blinds (which are broken) with something new.
Replace the window treatments and raise them higher.
Purchase a buffet or refinish/paint a thrift store find. I currently do not own a buffet table because frankly, I've never found an affordable one I like. Hopefully I can find a second hand buffet.
Maybe replace the rug? I currently swapped out the dining room rug and have been using it in the family room for the past few months.
Give the bar cart a mini-makeover.
Add artwork and/or mirrors to the other 2 bare walls in the room.
Whew! I'm tired just thinking about everything that needs to be done! Be sure to check in each Thursday for the next several weeks to see the dining room makeover progress. Let the challenge begin!
If you want to check out all the other One Room Challenge participants and their projects then click the logo below.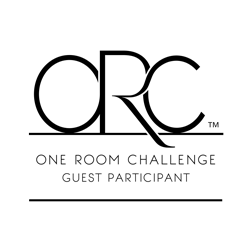 KIM