Once the Christmas decor is all put away the house seems so barren and empty. As much as I'd love to fast forward straight to balmy warm summer days filled with flip flops, starfish, and hot sand between my toes, I know we have to endure a bit more of winter. The best remedy I have found to survive the wintery blues is to make my home as cozy and warm feeling as possible. Today I'm going to show my cozy winter mantel and share a few easy winter decorating ideas (all with a bit of a coastal flair).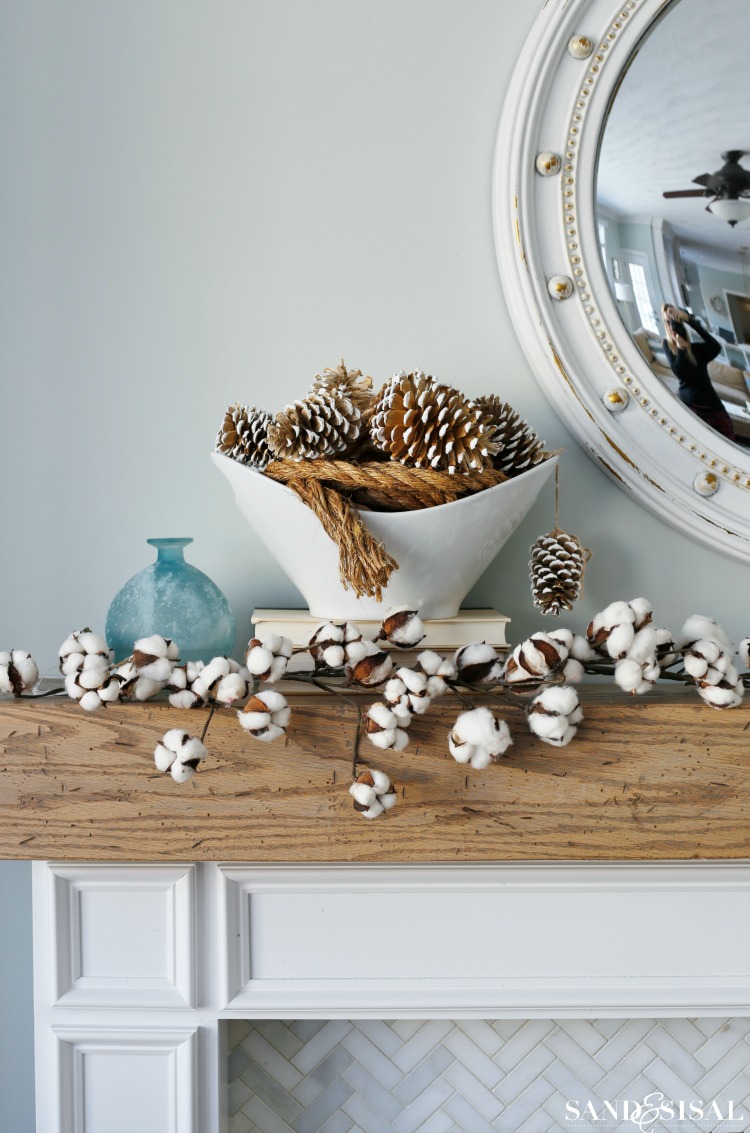 A Wintery Color Palette
Decorating after winter is easy if you choose a wintery color palette. An abundance of snowy white and cream, soft cloudy grays, icy blue tones, with a mix of warm and dark wood tones sets the frosty winterscape mood. I filled the builtin bookshelves with a multitude of white accessories like vases, coral, picture frames, etc. The shades of blue are captured by all the sea glass frosted vases and bottles and antique glass floats.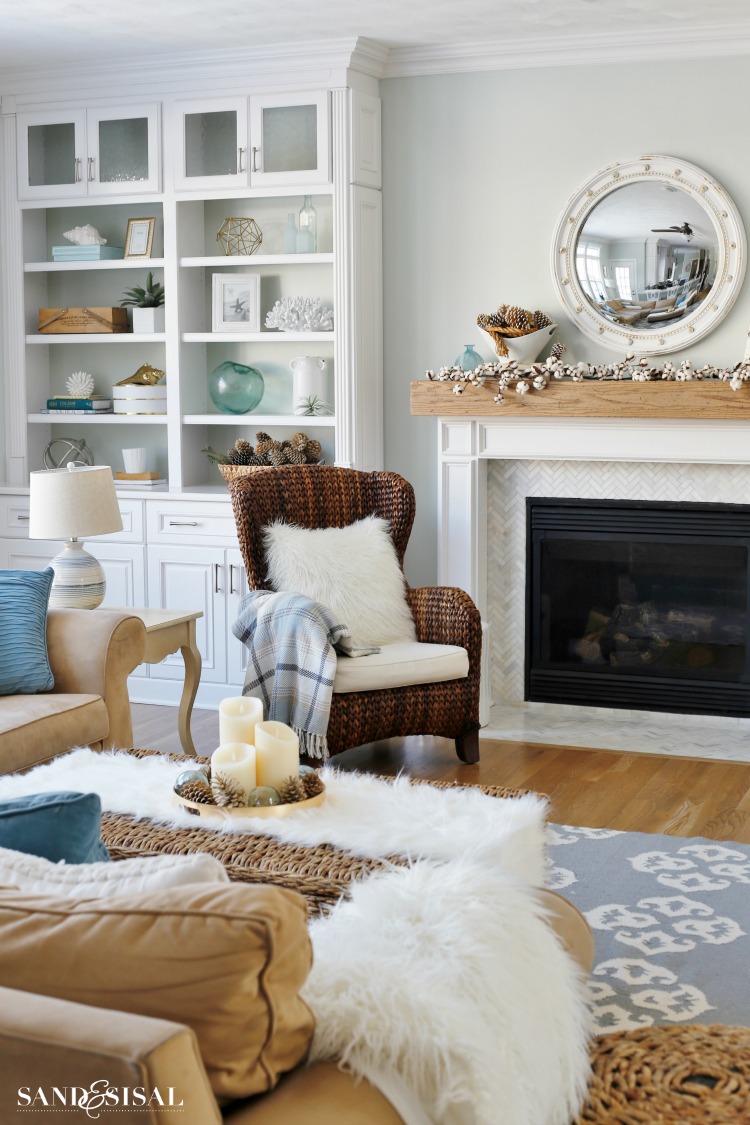 Cozy Up with Texture
To create a cozy warm space bring in fuzzy soft textures. I can't get enough of my crazy, shaggy, flokati-like pillows and throws. They beg for kids or your sweetheart to come curl up on the couch and snuggle close. You can find some amazing deals on throws and pillows at HomeGoods. Our couch also has several velvet, chunky sweater and soft cotton woven pillows. Choose any throw pillows that ooze comfort. If you feel like they are beckoning you to take a nap on them then that is the perfect pillow.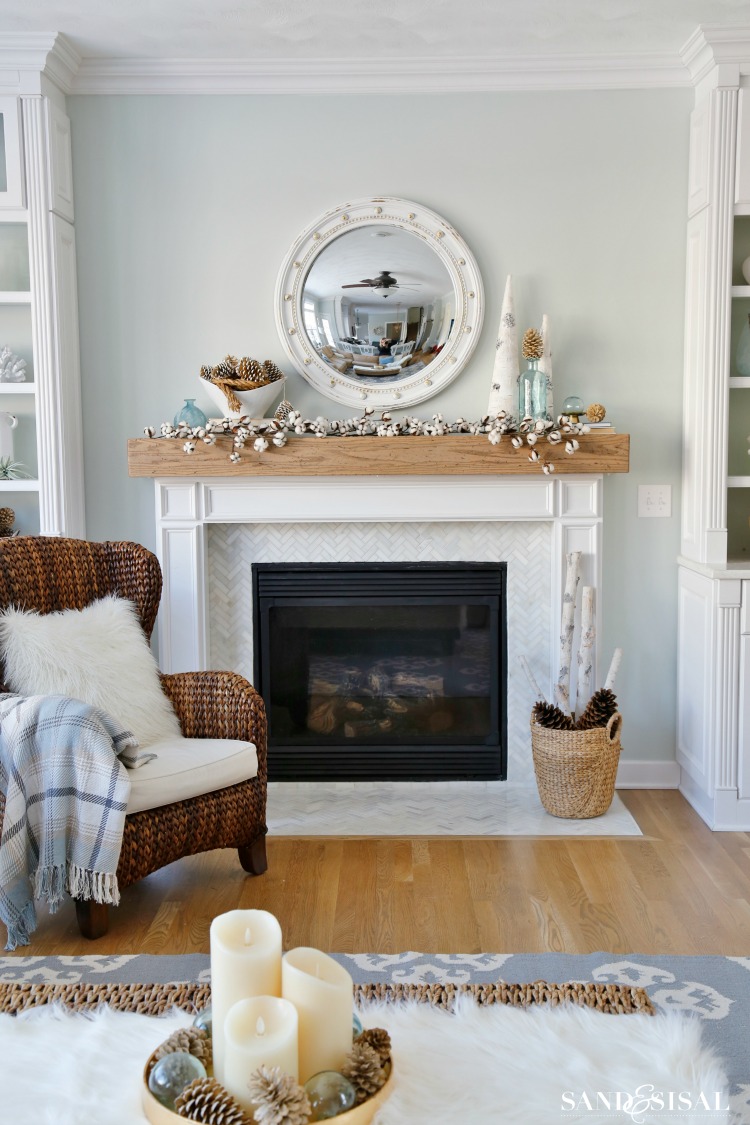 The best way to decorate with texture is to maximize the use of natural elements in you home. For our cozy winter mantel I pulled out the cotton boll garland. You usually see cotton boll wreaths and garlands in the fall but I think they are perfect for winter too. I didn't have to put away all of my Christmas decorations either. I kept out the papery white birch bark cones and logs from our Christmas mantel. To add a bit of shine and icy texture, I added green-blue glass bottles and a vintage glass float.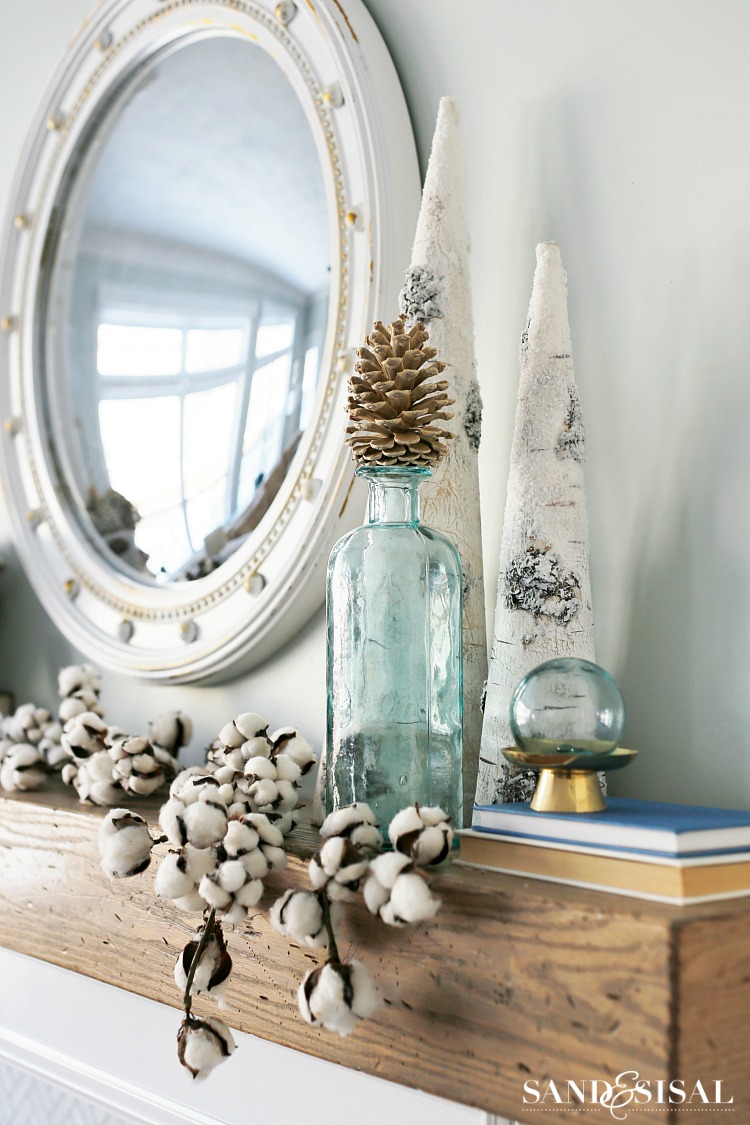 Another Christmas decoration that I didn't put away but works perfectly for winter is the bleached, icy and sparkly, snowy pinecones. They were used during the holidays as a garland but instead I piled them into a large bowl with a swirl of nautical sisal rope.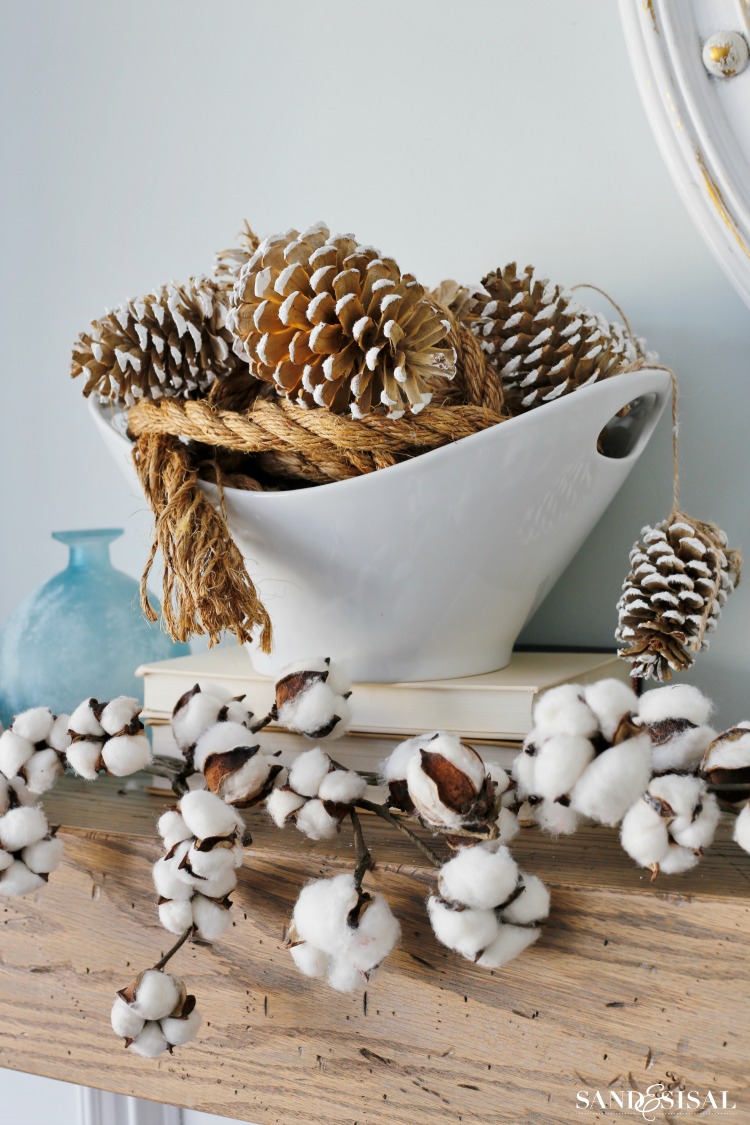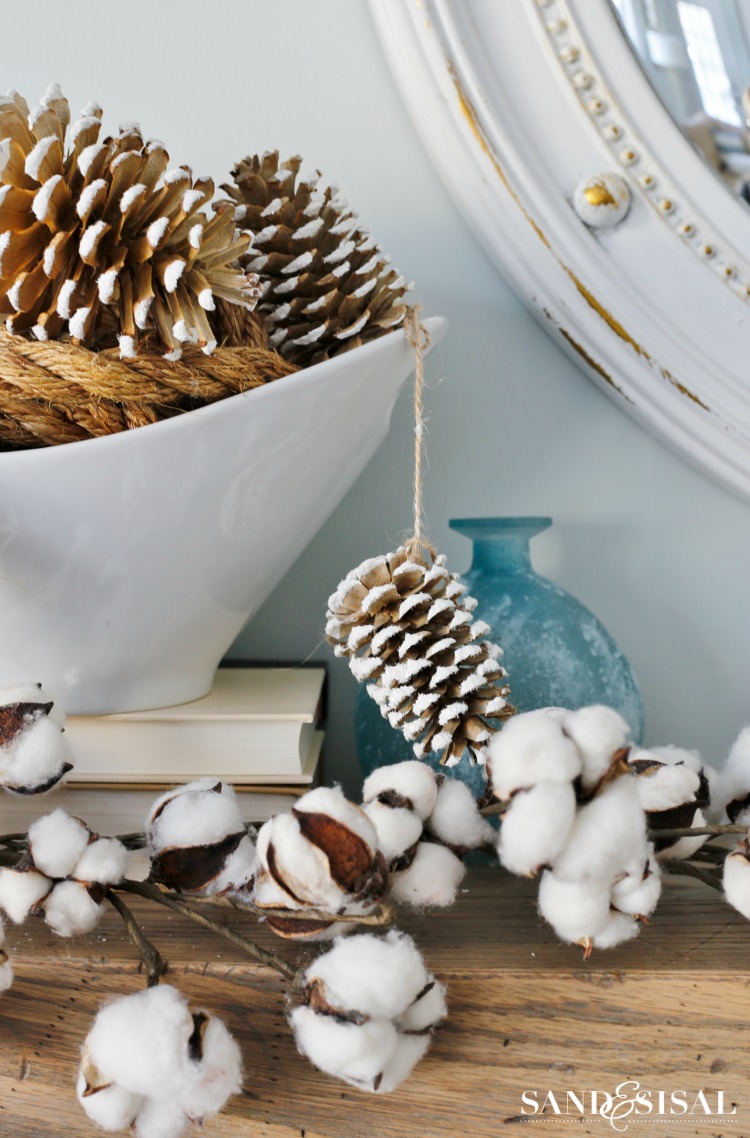 I wish the camera could capture how shimmery and icy they look! I was having far too much fun during Christmas to show you all how to make these but now I will!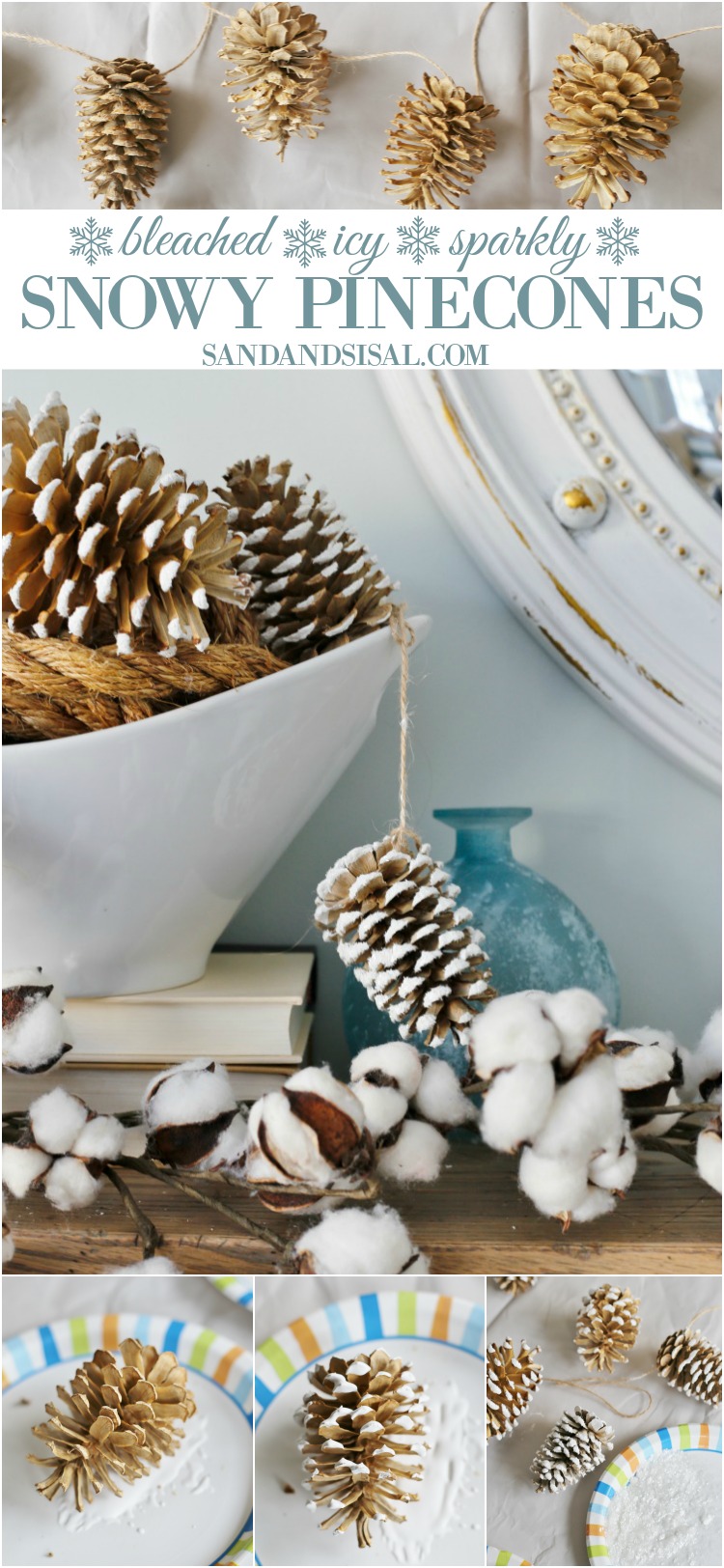 Snowy Pinecones
Making these pretty bleached, icy, sparkly, snowy pinecones is so easy. I started with several of my bleached pincones (click here to learn how to make beautifully bleached pinecones). Then I rolled the pinecones in a puddle of white craft paint and then immediately sprinkled this fabulous white icy glitter (affiliate link). I allowed the snowy pinecones to dry on paper. You can wrap twine around each pinecone to make a simple pinecone garland if you desire.
Aren't they fun? You will love making them! The pincone theme is repeated throughout the room. Repeating the same element throughout the room helps create a cohesive and calming look.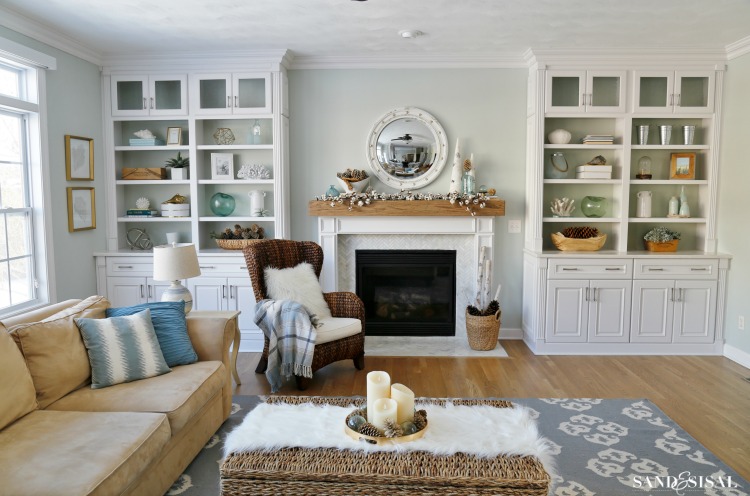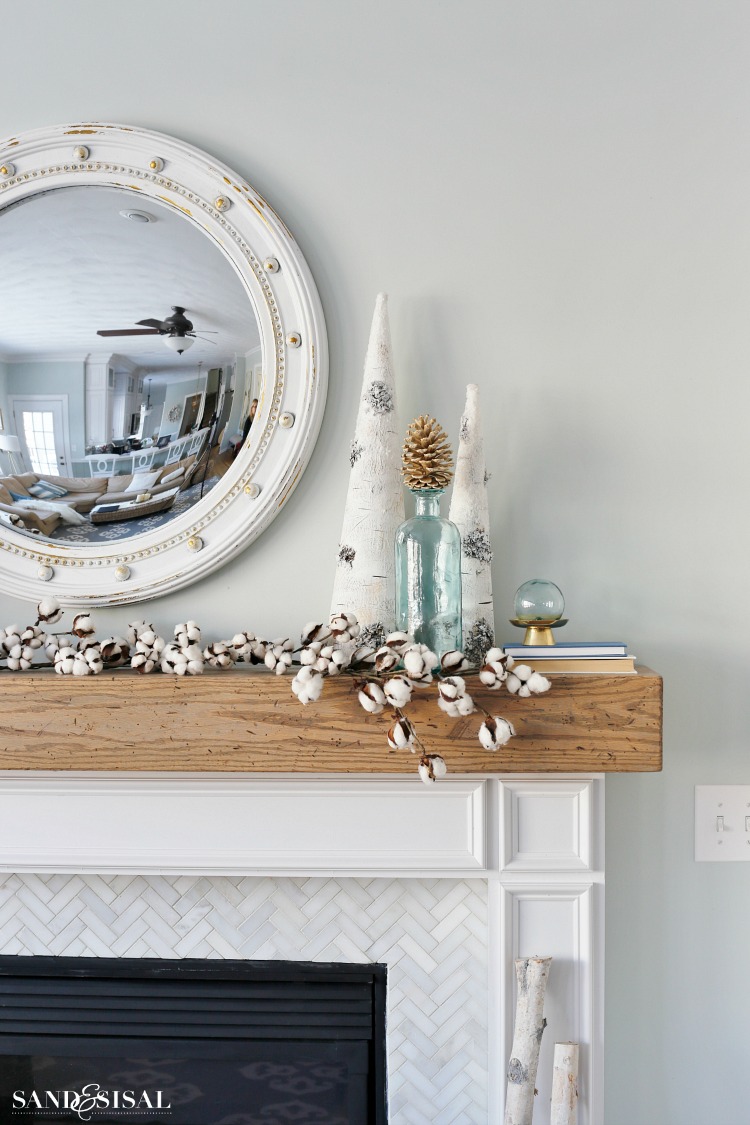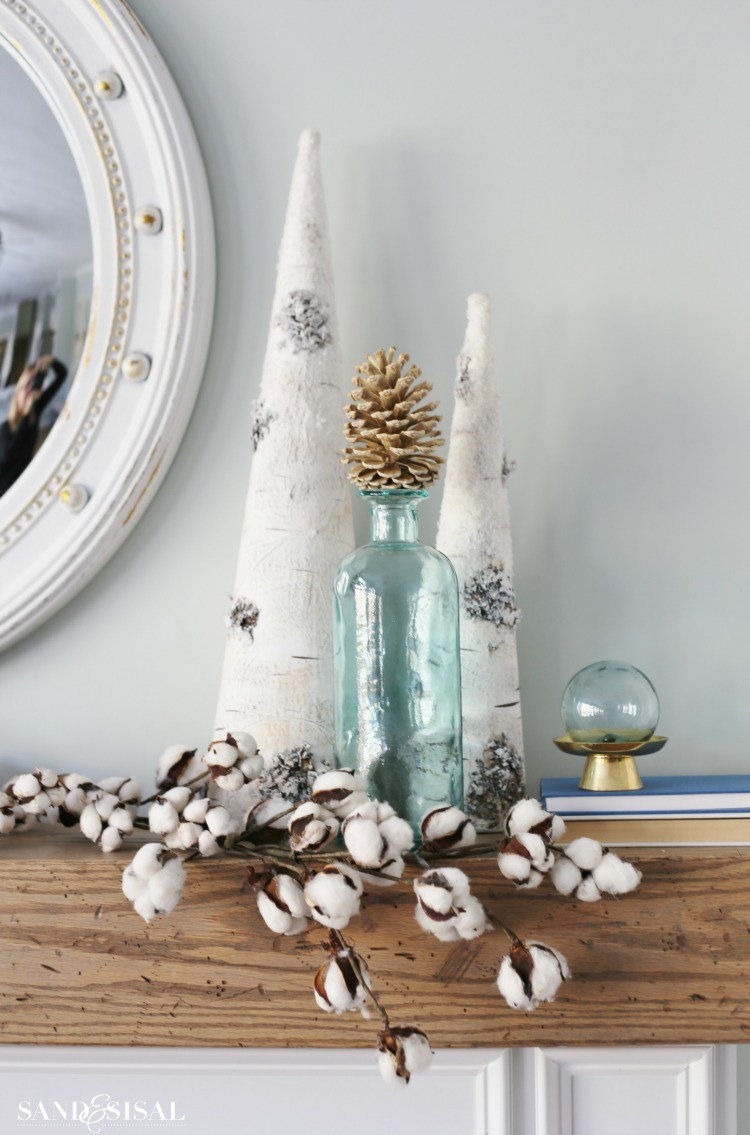 I must tell you all, I have never seen my house look so light and bright before! We just had our first snow of the season (which is rare) and I am shocked at how the white snow outside completely changes the light in our home and translates into true colors on film without hardly any editing. LOVE!!!!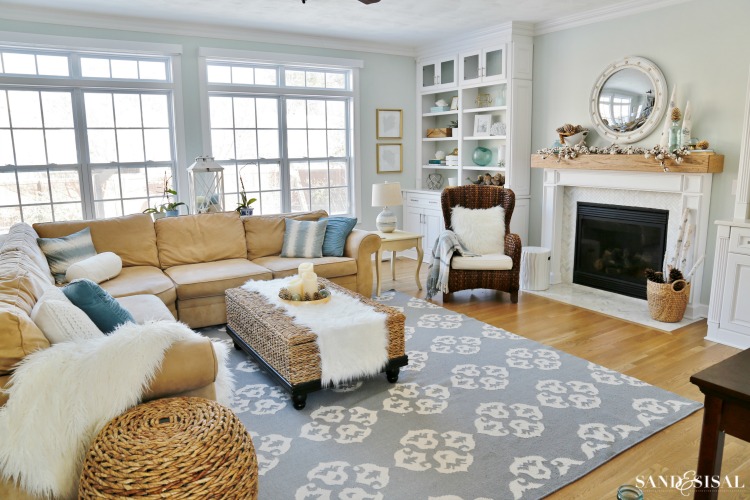 How are you decorating for winter after Christmas? I'd love to hear from you!
KIM