This is a sponsored post written by me on behalf of Nationwide Mutual Insurance Company. All opinions are 100% mine. Nationwide provided me with information regarding its blog post.
Let's talk installing and refinishing hardwood floors. You all know the long and arduous process we went through last year when our kitchen and family room was flooded by a dishwasher malfunction. The best thing that came out of the ordeal was a new kitchen and newly refinished hardwood floors. One of the top questions I receive is about refinishing the floors. I learned so much throughout that process and today I want to share my insight and tips for installing and refinishing hardwood floors.
Choosing Hardwood Flooring
Over the years I have installing many types of flooring, hardwood, laminate, prefinished (engineered) hardwood, tile and vinyl. My personal favorite flooring for any home is solid hardwood flooring with prefinished hardwood as a close second. Both choices can add value to your home. Many of you might not know but I was a former Realtor and I saw first-hand how homes with hardwood flooring sold faster and for more money than homes with other types of flooring. A National Association of Realtors study indicates homeowners are willing pay an extra $2,080 just for hardwood. Hardwood and prefinished hardwood floors are an investment, but it is an investment that can deliver nice returns! Prefinished or engineered hardwood is made by fusing layers of hardwood together. The bonded layers create planks with strength and stability. Engineered hardwood can be installed in baths and basements because it tolerates higher levels of humidity. Installation is done though nailing, or gluing, or installing a floating floor system. Click HERE to see my video tutorial on how to install prefinished hardwood floors.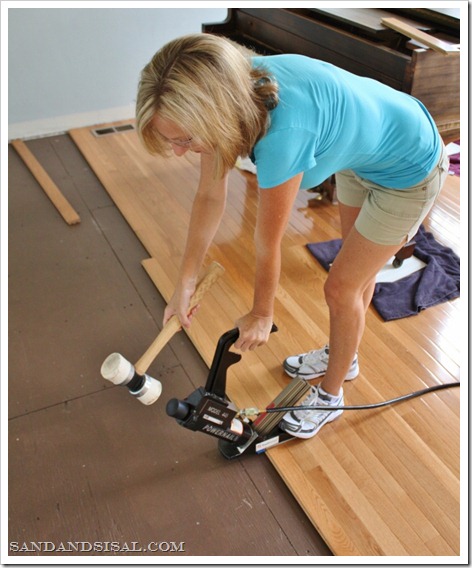 Solid hardwood flooring is made from a solid piece of wood. The advantage of solid hardwood is that it can be sanded repeatedly and will last for decades. Installation requires nailing the planks into to a wood subfloor. A disadvantage is that solid hardwood is susceptible to moisture damage and therefore is not ideal for moisture prone areas such as bathrooms or basements.
Questions to Ask Before Refinishing Hardwood Flooring
The average home with hardwood flooring most likely will need refinishing once every 10+ years. We found this true in our home which is less than 10 years old and though most of our floors looked ok, the areas that had high traffic were worn and scratched. In our specific situation, 1/3 of our hardwood oak flooring had been damaged by the flood waters and needed to be ripped out and replaced. This was an opportune time to refinish the entire existing flooring and make it our own. Here are some to questions you should ask before refinishing your floors:
Can your floors even be refinished? You need at least 1/8″ hardwood to be able to safely refinish the flooring.
Can you tackle this job yourself or do you need to hire a professional?
If I hire a professional what should I expect?
What steps do I need to take to prepare?
How long will the process take?
Do I need to move all furniture out?
Do we need to stay elsewhere during the refinishing process?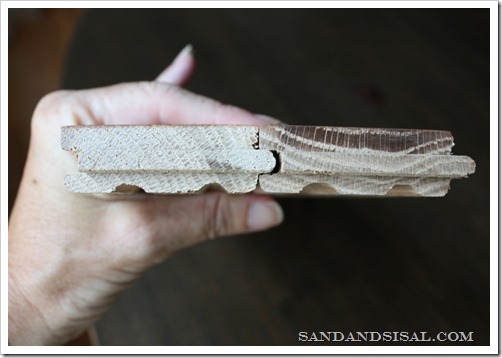 In our home we had a mix of original solid hardwood oak flooring and one room that was prefinished oak hardwood flooring. After the flood damage we chose to have professionals take over the job because of the square footage, but a smaller space could be manageable if the homeowner is detail oriented and has ample DIY skills. Sanding is the largest and most important factor when it comes to refinishing flooring. Industrial sanders can be rented from big box stores. Whether you decide to hire the job out or do it yourselves, invest in the "dust-free" sanders. This is a must. They minimize the amount of dust but will not eliminate it. A separate smaller sander will be required for the areas along the walls. Be prepared to turn off your AC/Heat units while sanding, otherwise the units will disperse wood dust throughout your home. Put up plastic tarps and tape off any areas of the home that you don't want effected by the dust. Proper sanding needs a series of passes over the flooring with different sand paper grits. Nationwide has a great article that walks you through the order of sand papers to use. Click HERE for instructions.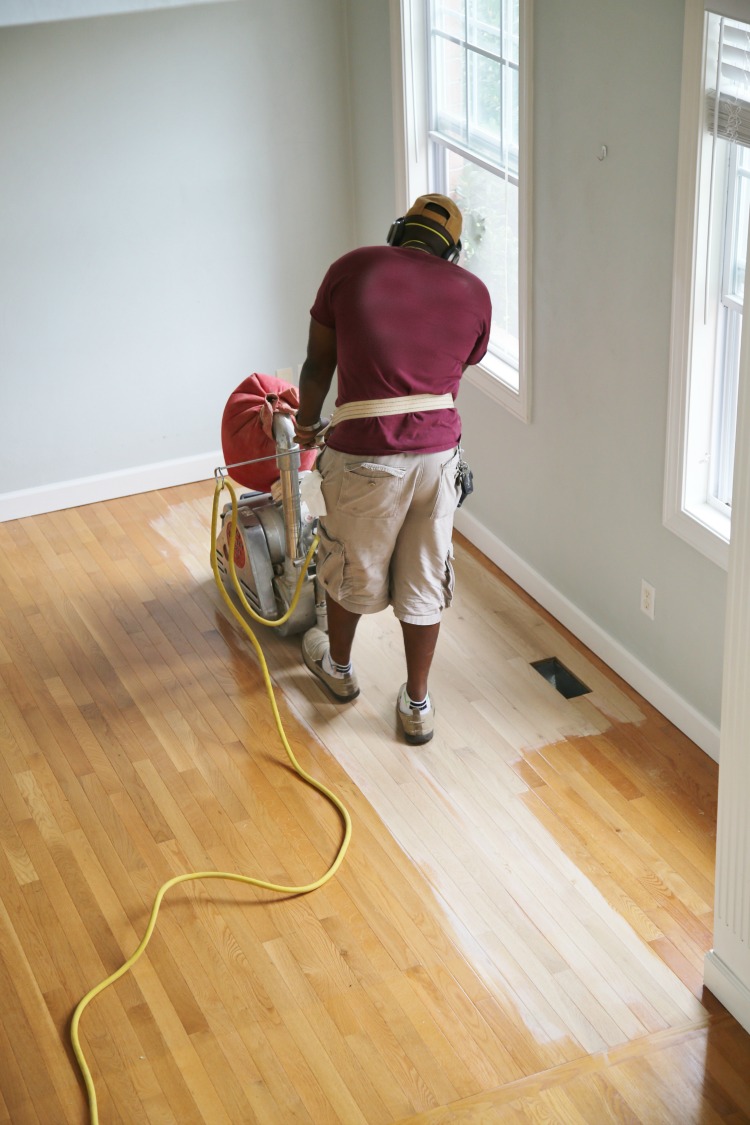 After sanding, the floors need to free and clear of all dust particles before staining. Try not to walk on the floors with bare feet. The bare wood floors are sensitive and will absorb your skin's oils and sweat which then will effect how the stain absorbs into the wood.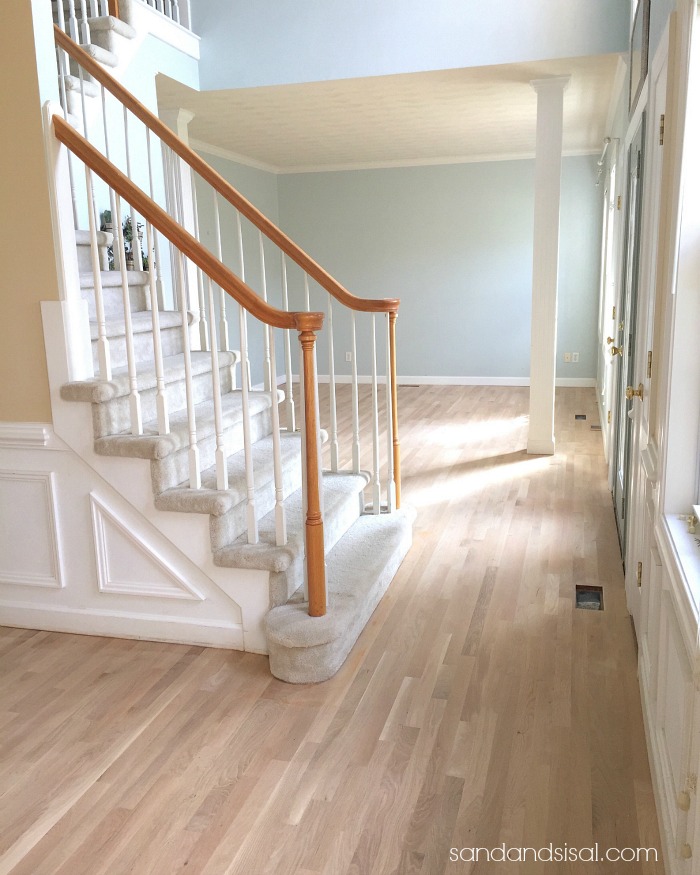 Staining and Sealing
Choosing a stain is the fun part! Stains will appear differently depending on the species of wood flooring you have. It is always wise to choose a few stain colors and sample them on the floor. Apply the sampled swatches near a window where you have good lighting. Two coats of stain will give you the best results. Once the stain color has been chosen, you can simply sand off all the stain swatches, eliminate dust and prepare for the first coat of stain. Use a high quality stain, applying the stain with the grain. Apply two coats and allowing 3-8 hours of drying time after each coat.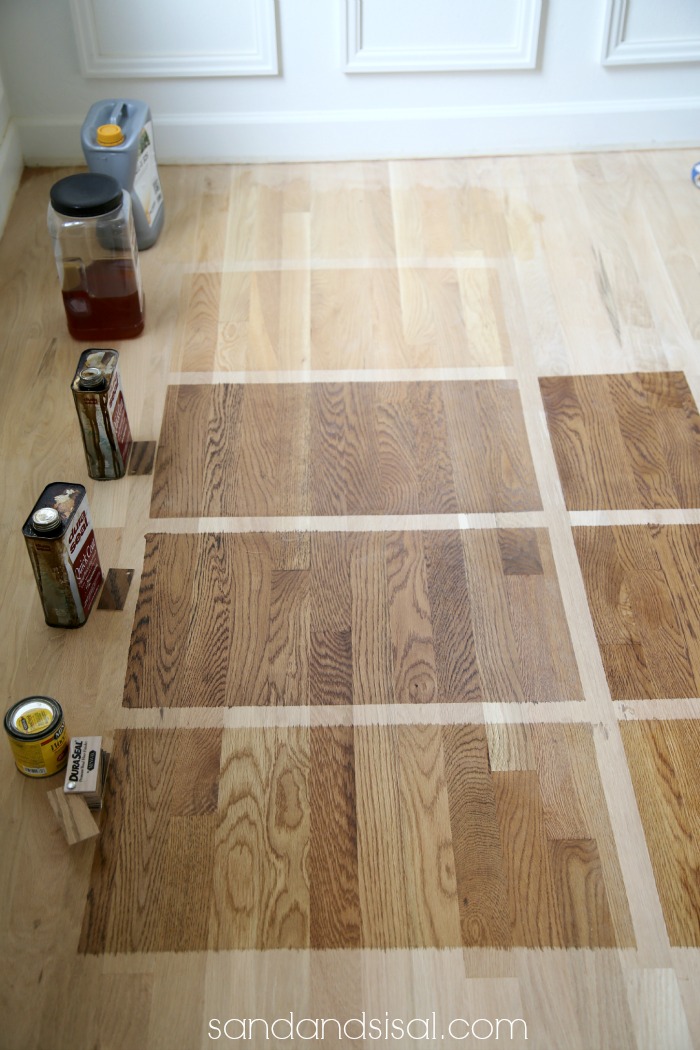 The final step is a sealant. Depending upon the type of sealant you choose, make arrangements to sleep elsewhere for a period of time ranging from a few days to a week. Polyurethane sealers are oil based and have a much longer dying time. They also give off strong odors while drying. They also have an amber tint which can yellow over time. For our floors we chose a water based sealant because it is crystal clear, is stronger than polyurethane and dries very quickly, allowing us to return to the house after just 2 days. Two coats of sealant are standard but for our home we decided on a 3rd application. Be aware that the new water based sealants are more expensive but have low to no volatile organic compounds (VOCs) and come in an array of finishes (matte, satin, semi-gloss, and high gloss).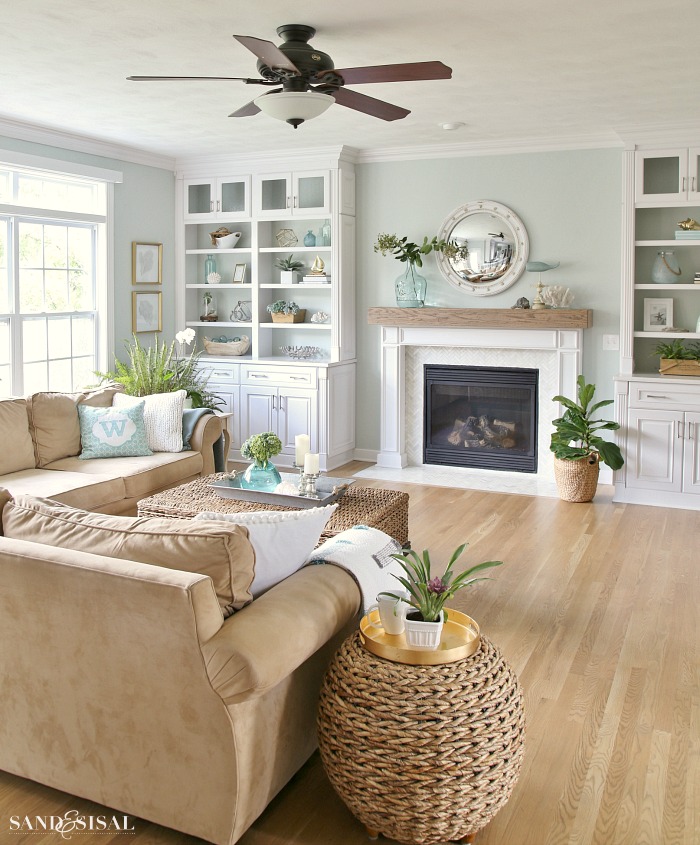 The entire appearance of a home can be changed with refinishing. Whether the choice is to hire a professional or take on the job yourself, make sure to do proper research and get recommendations from trusted friends and neighbors. Refinishing your hardwood floors is a worthwhile investment giving years of beauty and enjoyment. Click here to discover The Art and Craft of Refinishing a Wood Floors and wonderful tips for your home.