Thank you Floor & Decor for sponsoring this post! The opinions and text are all mine and I'm so excited to share our how we installed these gorgeous floors with you! I hope you all saw the huge changes we just made with our playroom, turning it into a more grown-up teen/family space. We are calling it a nautical media room complete with deep navy walls, bright white built-ins, sofas, and warm driftwood accents and gorgeous new flooring from Floor & Decor. The floors look fabulous don't they? If you are considering replacing your flooring then this is the post for you! Today I'm happy to share How to Install Luxury Vinyl Plank Flooring. This flooring can transform your space.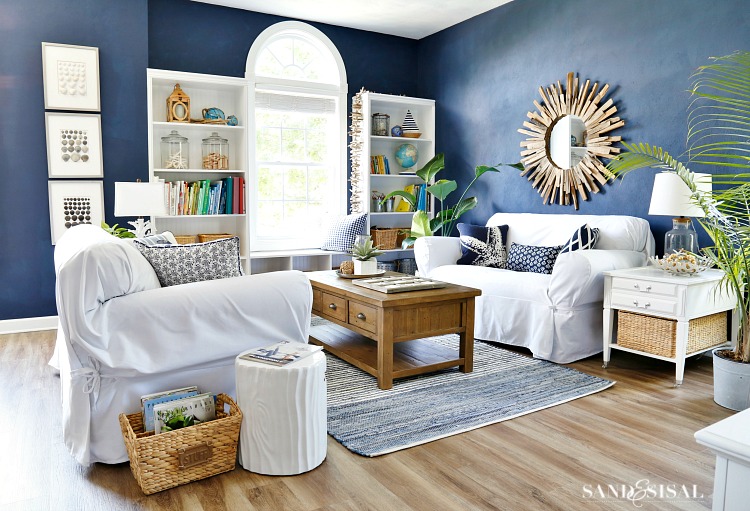 This is a before pic of our playroom. The carpet looks clean here but it was taken several years ago. Well, years later, the carpet looked horrendous. 10 year old carpet is never a pretty thing. Allergies are a chronic problem too in our family and we are slowly trying to eliminate all wall-to-wall carpet to help alleviate allergy contagions.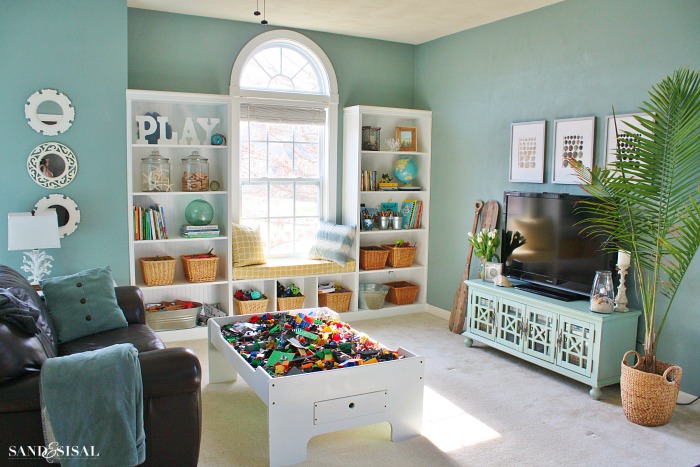 We ripped out the carpet. Oh my, if you have ever ripped out old carpet you know how disgusting it can be. The dirt that settles down into the padding and then lower onto the subfloor is seriously amazing and shocking, hence why we want to remove all our carpet. Hubs can never handle looking at raw subflooring for any amount of time so he mopped the floor, allowed it to dry, then painted the subfloors with left over paint. That is why the pic below looks so bright and fresh.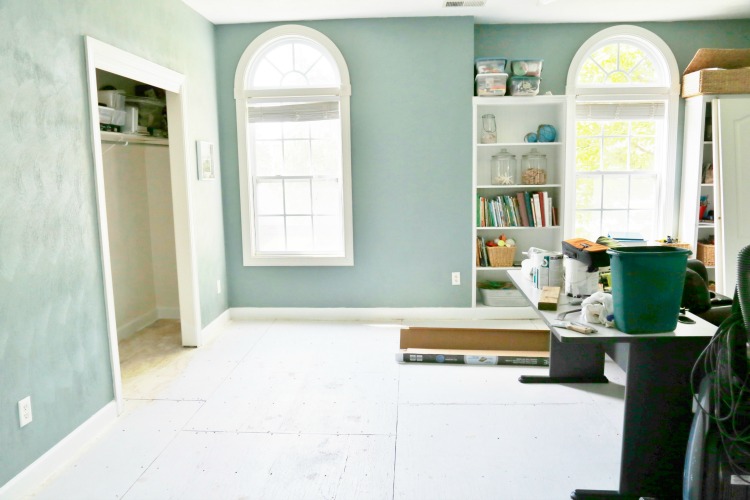 After our kitchen and family room flood, we were very interested in flooring that is not effected by water. Our tour of Floor & Decor opened our eyes to the vast array of flooring choices. Because the playroom/media room is next door to our laundry room, we thought a 100% waterproof flooring option would be best. We chose NuCORE luxury vinyl plank flooring available exclusively through Floor & Decor. The color is called Cheyenne. It has beautiful texture, gorgeous grain, and works well with a variety of wood tones, from light to dark.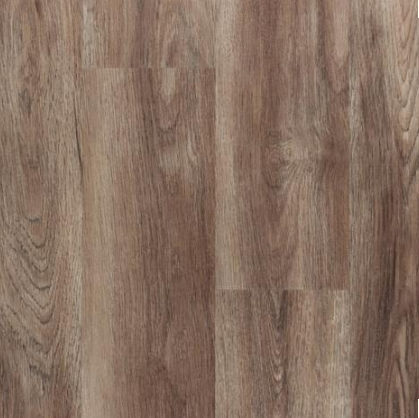 NuCORE LUXURY Vinyl Plank Flooring:
100% waterproof
6.5 MM thick
hypo-allergenic natural cork backing, resulting in a quieter and warmer floor
no glue, nails, or underlayment needed
durable, very scratch resistant, stain resistant
no acclimation waiting period needed for installation
feels like real wood
extra rigid planks
anti-microbial coating
has a LIFETIME RESIDENTIAL WARRANTY/ 15 year commercial warranty
easy to install. Score-Snap-Click-Tap! Floating installation.
can be installed over most existing floors, subfloors, and irregular subfloors
install up to 6500 square feet with no need for T-molding transitions
easy to maintain – simply sweep or wet mop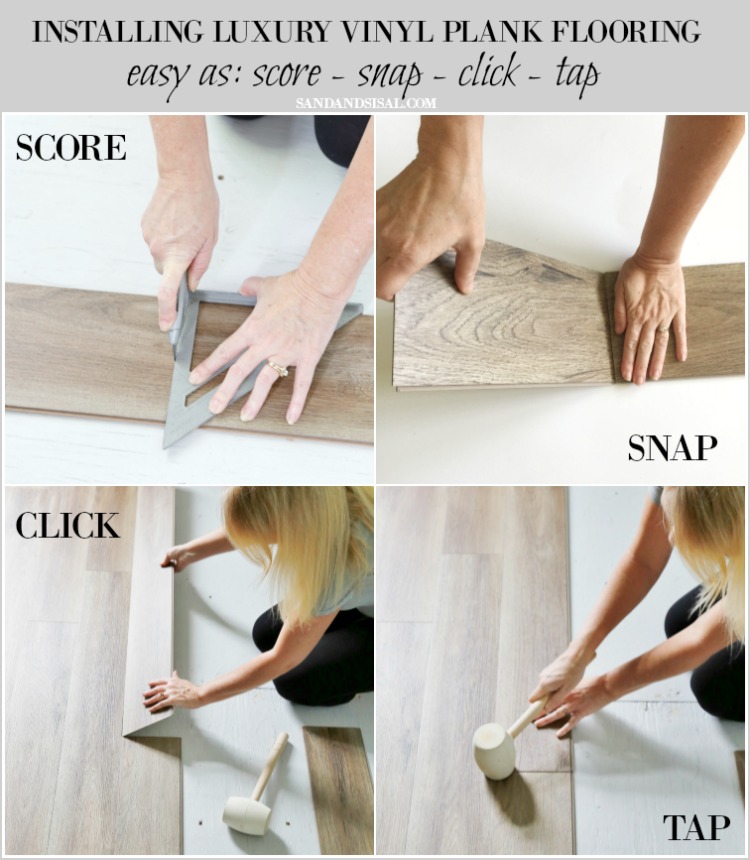 Installation is easy as SCORE – SNAP – CLICK – TAP!
To install NuCORE Luxury Vinyl Plank Flooring you will need the following items:
box cutter
triangle square
rubber mallet
measuring tape
pencil
spacers
optional (oscillating saw)
Before Installation:
Calculate the square footage of the area you want to cover. Floor & Decor has a handy calculation tool to help you figure out how much flooring is needed, depending on the flooring you choose. Add an extra 10% of flooring to account for cutting waste.
Make sure subflooring is clean, dry and clear of any debris.
Carefully read the installation instructions on the back of the flooring box.
How to Install Luxury Vinyl Plank Flooring:
Start laying a full vinyl plank in the left hand corner of the room. We chose to start in the room's closet. Place the luxury vinyl plank 1/4″ from the left wall and use spacers between the wall and the planks. We used thick paint sticks.
Drop the next plank into place, snuggly and securely pressing towards the left plank. Gently lower and allow the plank to CLICK into place.
TAP seam to level with a rubber mallet.
At the end of the first row you want to leave an expansion gap of 1/4″. This is a super cool trick for all end pieces that will automatically give you a 1/4″ expansion space… Take a new plank, turn it completely around and butt it up against the wall next to the adjoining plank. Mark with a pencil where the 2 planks meet.
To cut the luxury vinyl planks simply: SCORE with a sharp utility knife using a triangle square as a guide. I found that scoring on both top and the cork backed side gave the cleanest cut. Next SNAP at that point. Drop that cut plank next to the previous plank at a 30° angle. CLICK and TAP firmly into place. Use the left over piece to start the next row if it is 12″ or longer. Repeat and continue with consecutive rows.
For under door moldings, lay a scrap piece of vinyl plank next to the door molding and with an oscillating tool to cut out the underside of the door jam moldings. You do this so you can slide the flooring just under the door molding. This tool is fabulous with many handy uses and would make a great Father's Day, Birthday or Christmas gift!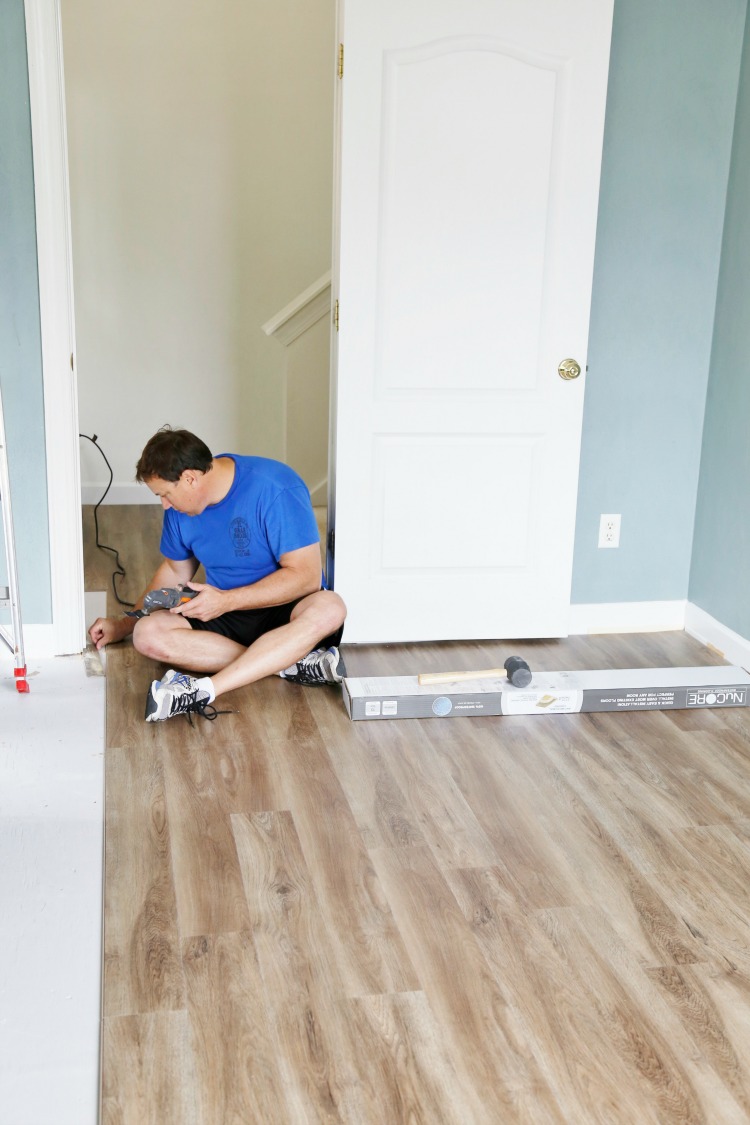 We continued the flooring though to a small landing and into our laundry room. The fabulous thing about NuCORE is that they provide so many specialty extras, like transitional joints and stair pieces like staircase bullnose trim. The bull nose trim easily attached to a provided hardware track.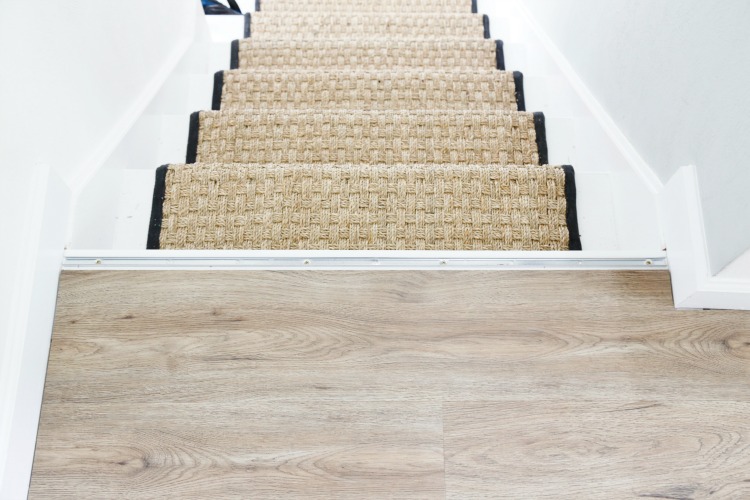 We installed the luxury vinyl flooring in the playroom/new nautical media room, landing, and laundry room in just a day and a half. It was easy to install and looks FABULOUS! The cork backing makes the flooring so very quiet when we walk on it. They look so crazy real and the cost was very affordable. After all our flooding issues, I'm resting a bit easier knowing these floating floors are 100% waterproof!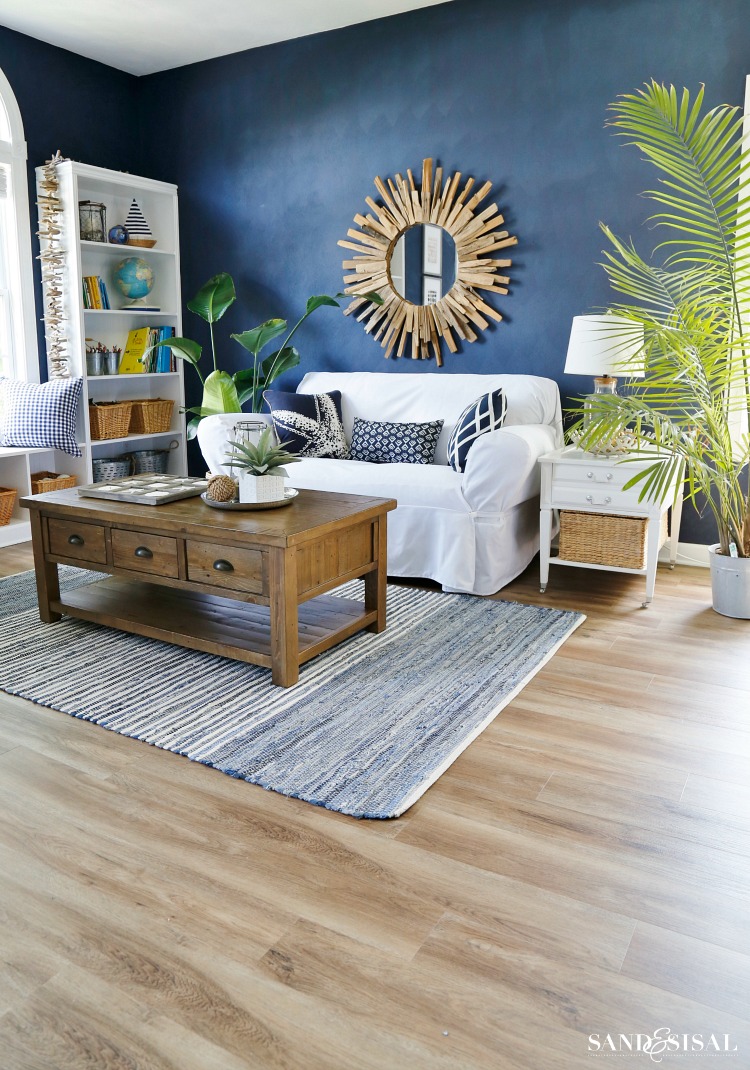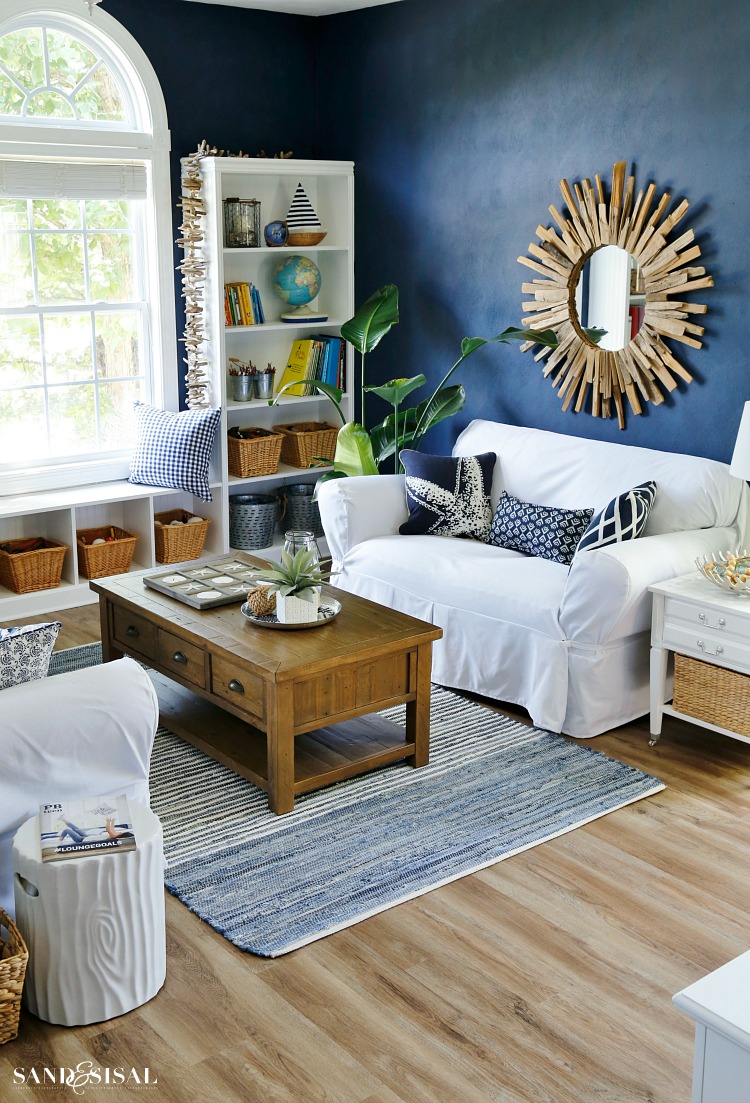 So what do you think? Do you have luxury vinyl flooring? Do you love it? Get ready to SCORE, SNAP, CLICK & TAP your way to a beautiful room. See more of our NAUTICAL MEDIA ROOM MAKEOVER HERE. Feel free to check out the vast variety of flooring options at Floor & Decor!
LOVE IT? PIN IT!
KIM
You might also like: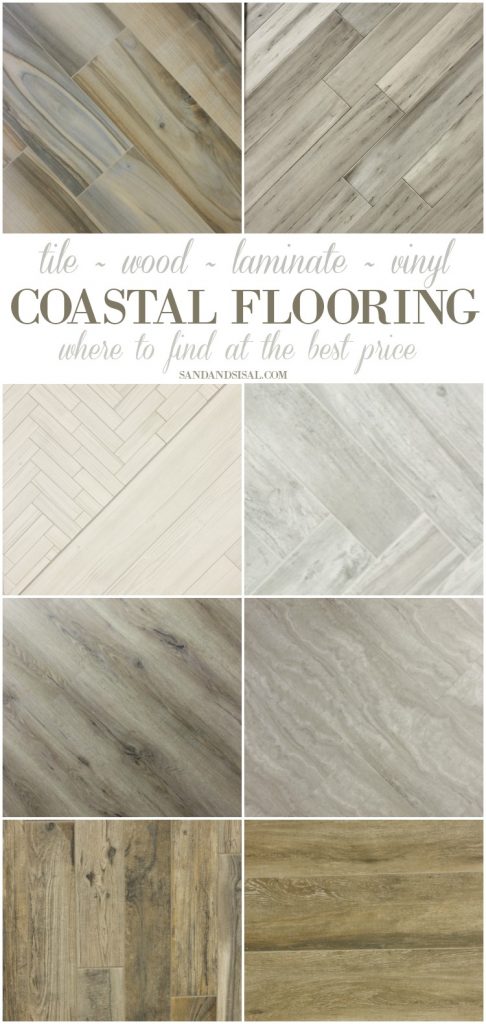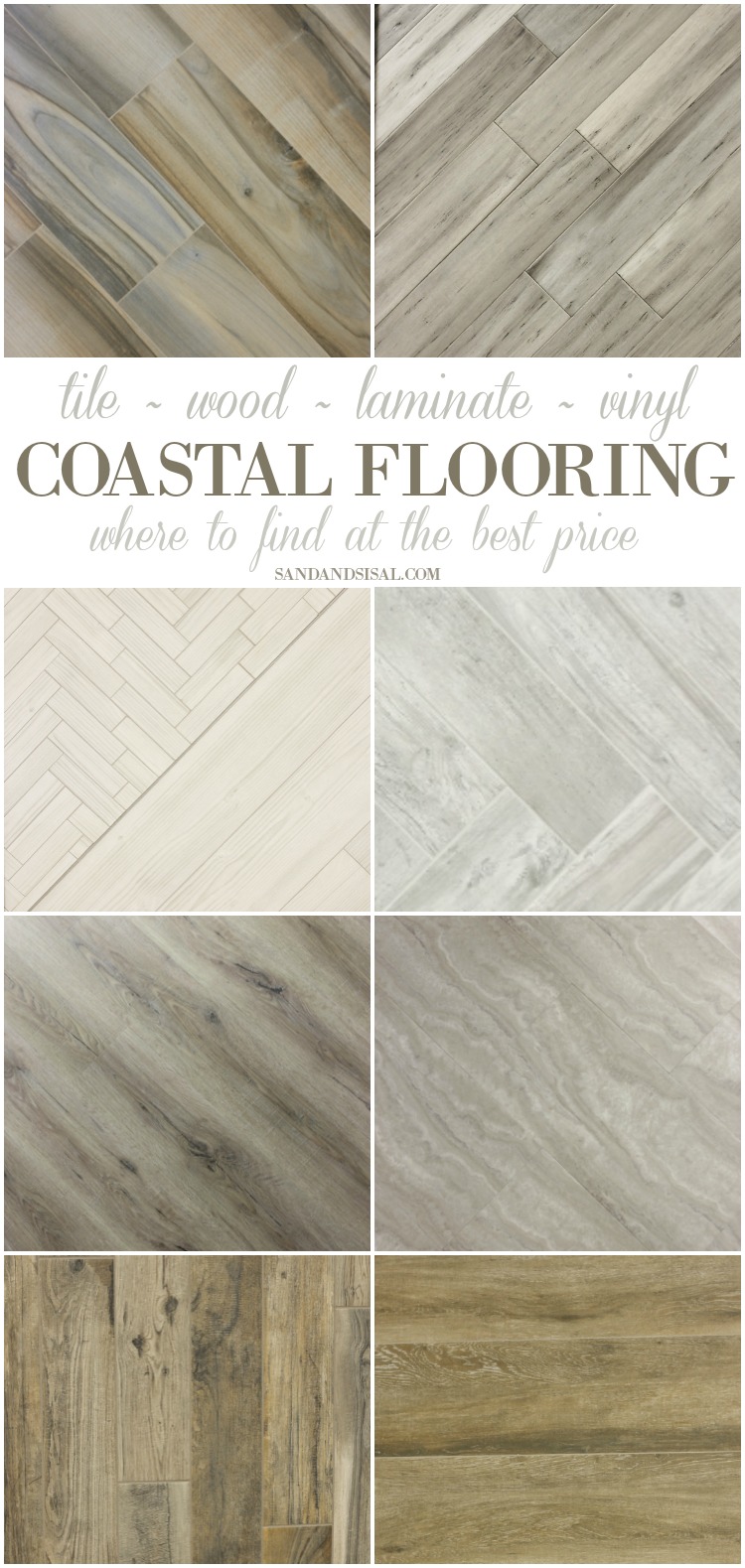 This is a sponsored conversation written by me on behalf of Floor & Decor. The opinions and text are all mine.