Crisp fall nights call for crocks filled with rich and silky Roasted Butternut Squash Soup! This roasted butternut squash soup is a family favorite with a subtle spicy kick! The best thing about this soup is that it uses pre-cubed squash, making it a convenient, easy, and elegant dish that will make any family member or guest think you slaved for hours!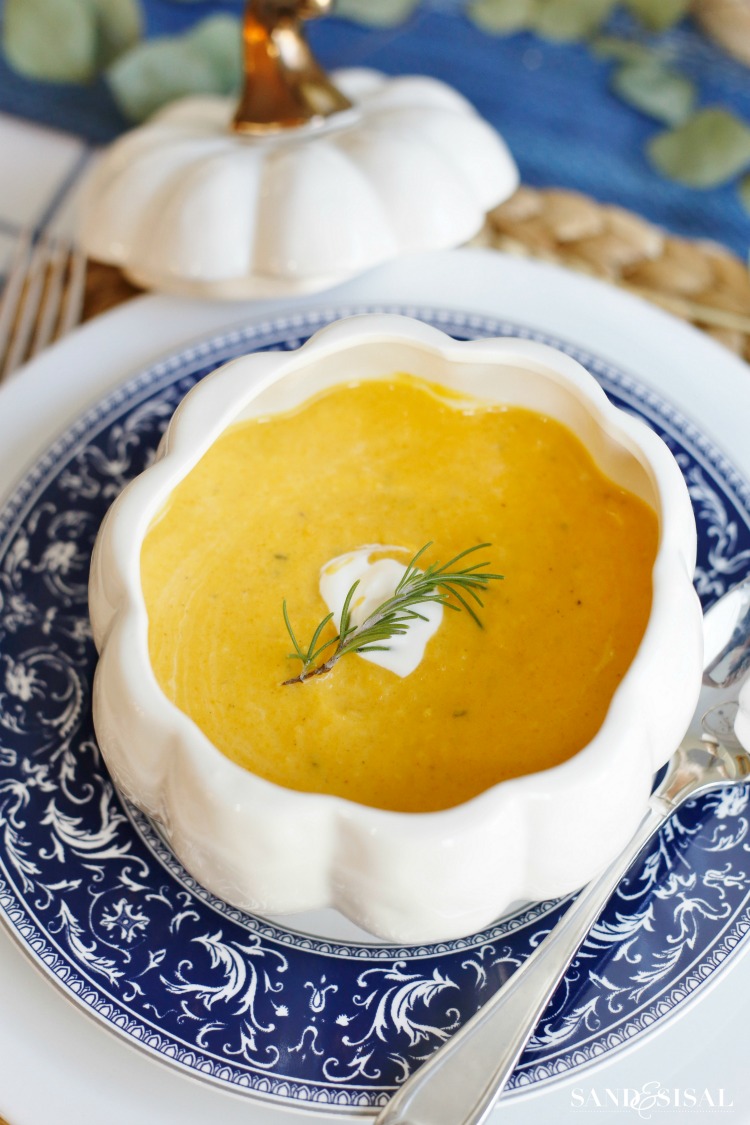 I serve roasted butternut squash quite often as a side dish to pork, turkey, and chicken. This is an adaptation of my original family recipe. Let's start the soup!
Roasted Butternut Squash Soup Recipe
A printable recipe is available at the bottom of this post.
Preheat your oven to 400 degrees. Line a sheet pan with parchment paper or with non-stick foil. Then gather your ingredients. The squash is already peeled, seeded and chopped (yay!). Most grocery stores will offer pre-cut butternut squash in containers. Buying the pre-cut squash is worth every penny!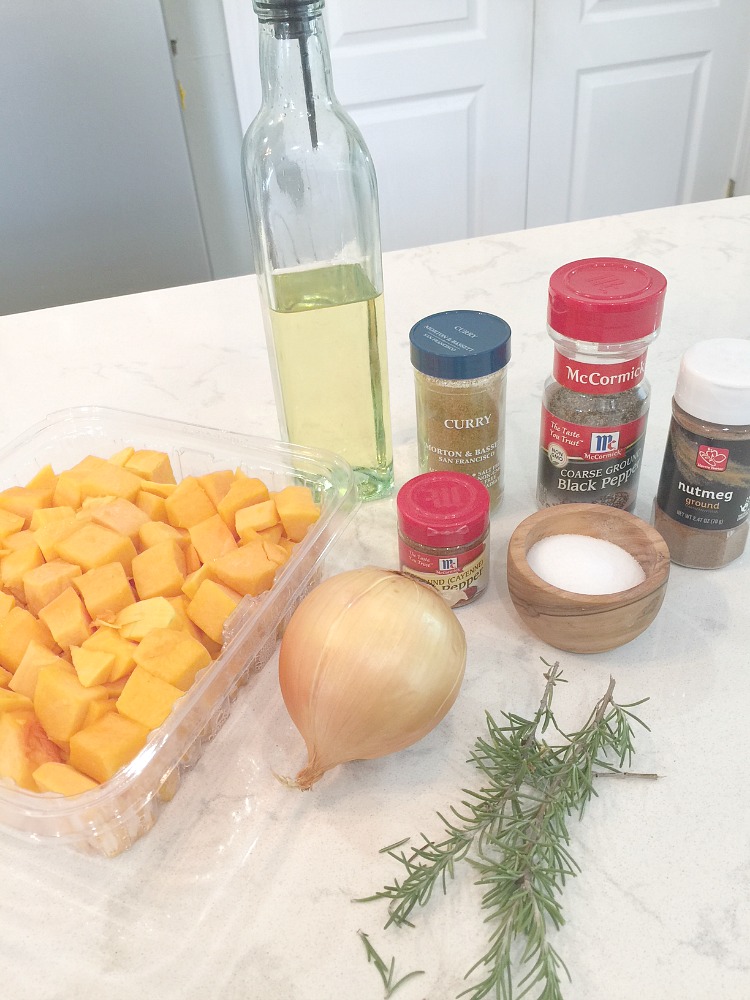 Rosemary thrives in our area, grows into large bushes, and survives our mild winters. I recommend using fresh herbs whenever possible. Finely mince the rosemary. Your kitchen will instantly smell ah-maz-ing!!!!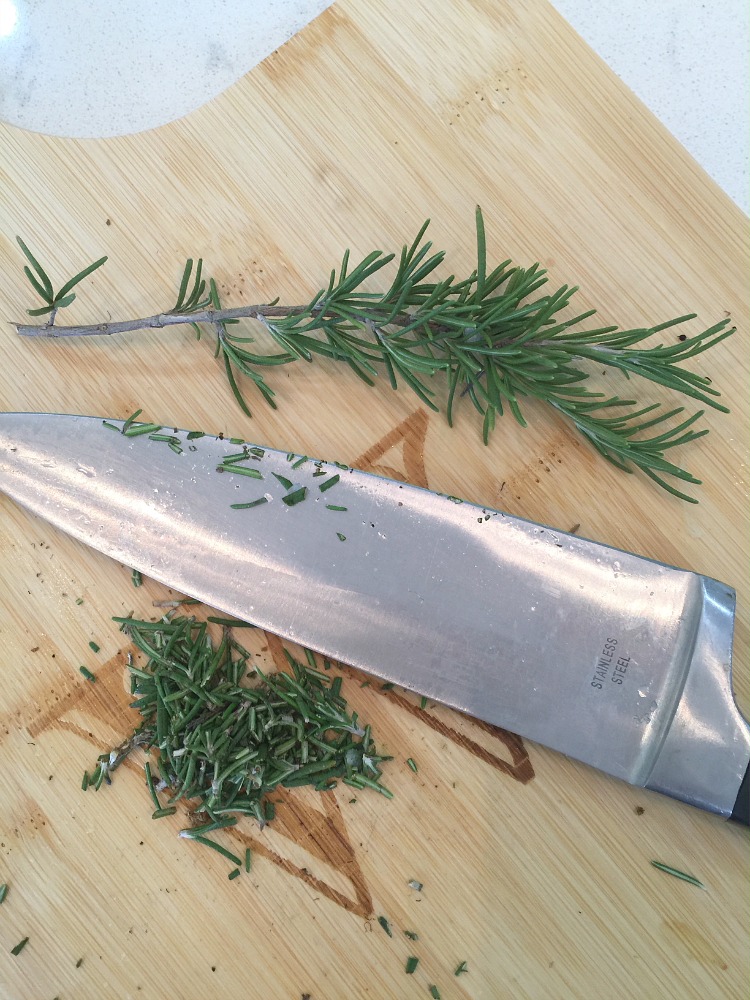 Place the butternut squash on the lined sheet pan, add 1 chopped onion, and the minced rosemary.
Next, drizzle the olive oil over the vegtables, then sprinkle with the seasonings and spices (salt, pepper, cayenne, curry). 
Time to get your hand dirty! Toss, stir and massage the veggies until everything is well coated with oil and spices.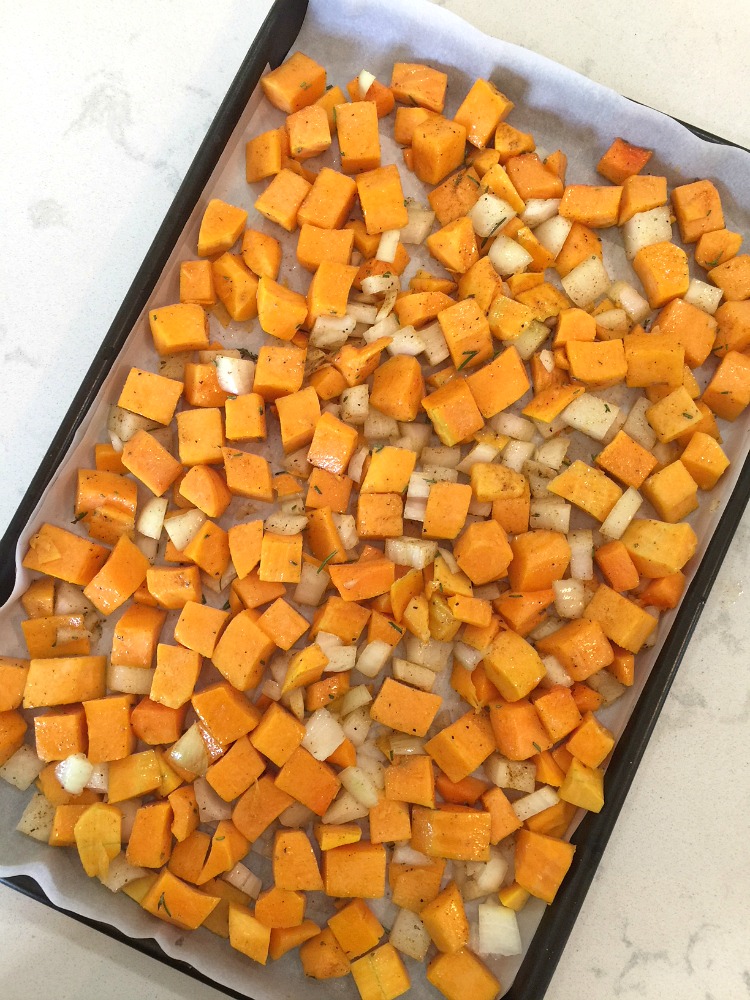 Place in the 400 degree oven and roast for 40-45 minutes. Use a spatula to stir at 20 minutes. We want the squash to be super tender. Roasting carmelizes all the natural sugars in the onions and squash, amplifying the sweetness of the dish.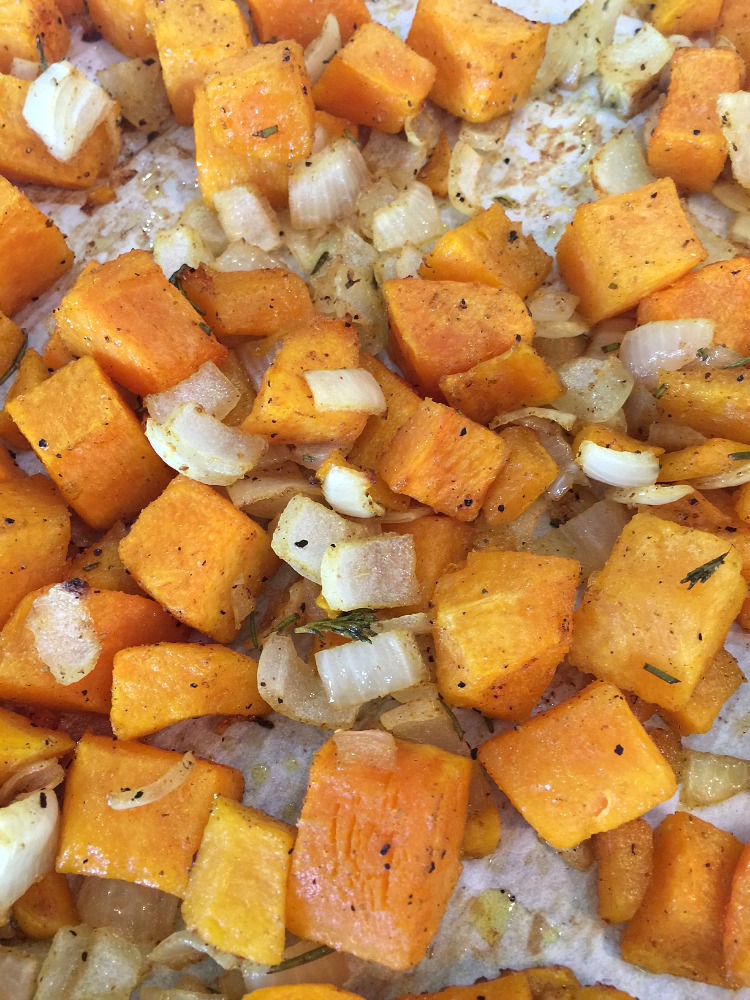 After roasting, transfer the squash to a food processor. Process until smooth and completely pureed. Microwave chicken (or veggie) broth until hot and then slowly pour into the squash puree while processing. Add in cream and pulse a few times to combine.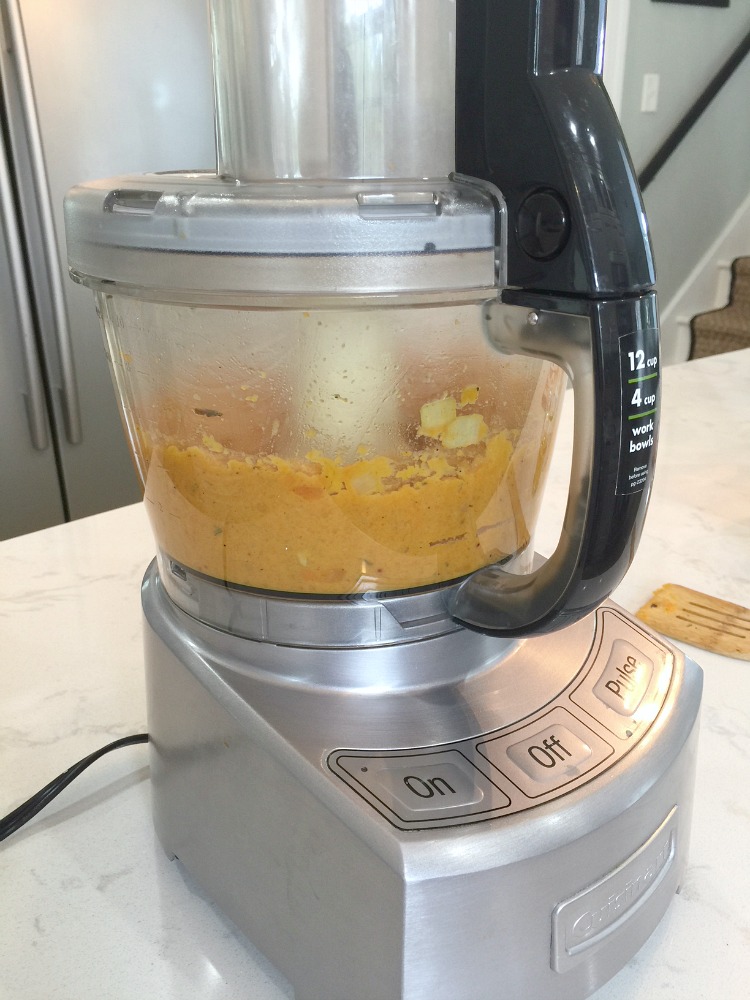 Pour the roasted butternut squash soup into individual bowls, like these cute pumpkin soup bowls and garnish with a dollop of sour cream and a fresh rosemary sprig.  I hope you try this recipe this fall! Enjoy!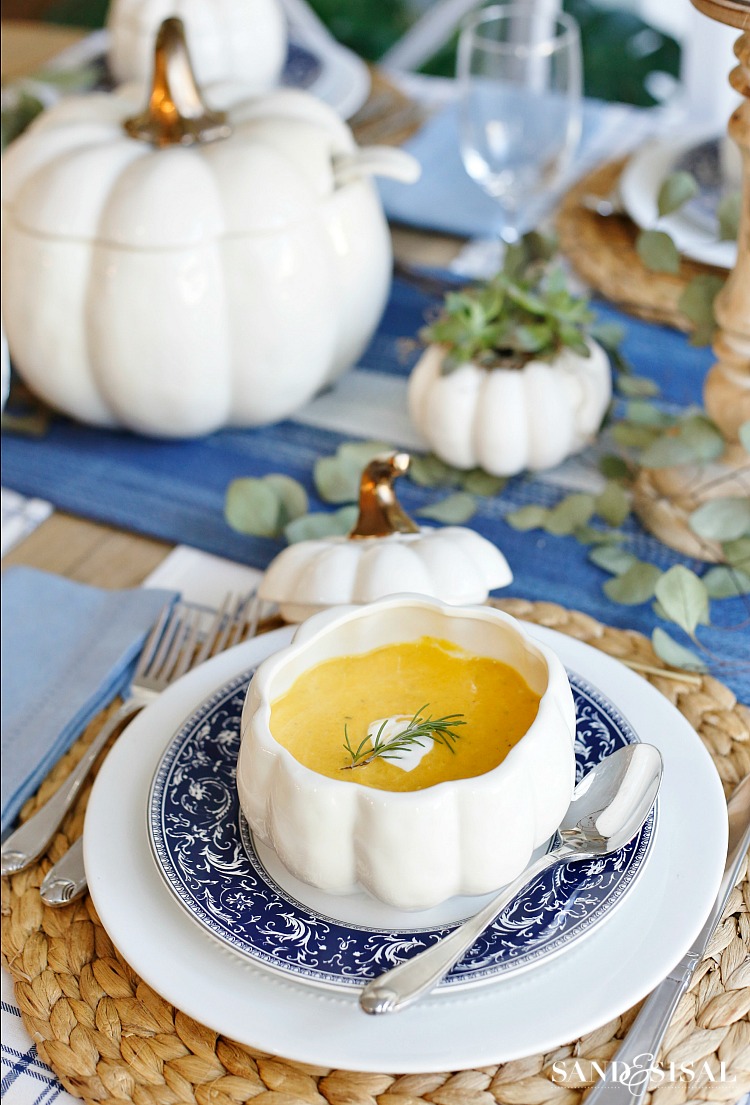 Roasted Butternut Squash Soup
Author:
Kim Wilson - Sandandsisal.com
Prep time:
Cook time:
Total time:
This Roasted Butternut Squash Soup is rich and silky with a suble spicy kick! It is a perfect soup for a crisp fall dinner, a ladies lunch, or for a special course for a Thanksgiving or Christmas Eve meal.
Ingredients
1 - 32oz. container of cubed butternut squash (appx. 5 cups)
1- large yellow onion chopped
1½ teaspoon finely minced fresh rosemary
¼ cup light olive oil
1 teaspoon salt
⅛ teaspoon cayenne pepper
¼ teaspoon ground black pepper
¾ teaspoon curry powder
2 dashes ground nutmeg
2 cups low sodium broth (chicken or vegtable)
1 cup cream (may substitute half and half)
Garnish - sour cream and rosemary sprig
Instructions
Line a baking sheet pan with parchment paper or non-stick foil.
Add the cubed butternut squash, chopped onion and minced rosemary to the sheet pan.
Pour olive oil over the vegtables
Sprinkle the seasoning and spices over the vegtable and stir with your hands, making sure all the vegtables are coated well.
Place in a pre-heated 400 degree oven and roast for 40 minutes or until very tender, stirring after 20 minutes.
After roasting, transfer the vegtables to a food processor and blend until smooth and pureed. If using a blender, then blend in batches.
Microwave the broth until hot. Turn on processor and slowly pour the broth into the squash.
Lastly pour in the cream and pulse processor until combined.
Garnish with a dollop of sour cream and a fresh rosemary sprig.
Love it? PIN it! 
You might also like these posts!
Creamy Chicken & Wild Rice Soup