I remember when I married 25 years ago at age 10 … (just kidding), one of the mainstream home decor trends was everything blue and white. Chinoiserie, Delft pottery, toile, florals, and gingham were all the rage. I absolutely hated it! Navy, deep blues and emerald greens were "so 80's" and the trend screamed old, traditional, and oh so stiffled to me. Fast forward to today where I'm completely shaking my head and laughing because everything that was once old is now "new" again. And guess what? I LOVE IT! Don't worry, I won't be donning my totally rad leg warmers or ratting my bangs into a glorious 4-inch high fluff of fabulousness, but I will be sharing how I incorporated these classic decor elements in a fresh, relaxed and updated way for spring. Welcome to my Blue and White Spring Living Room Tour!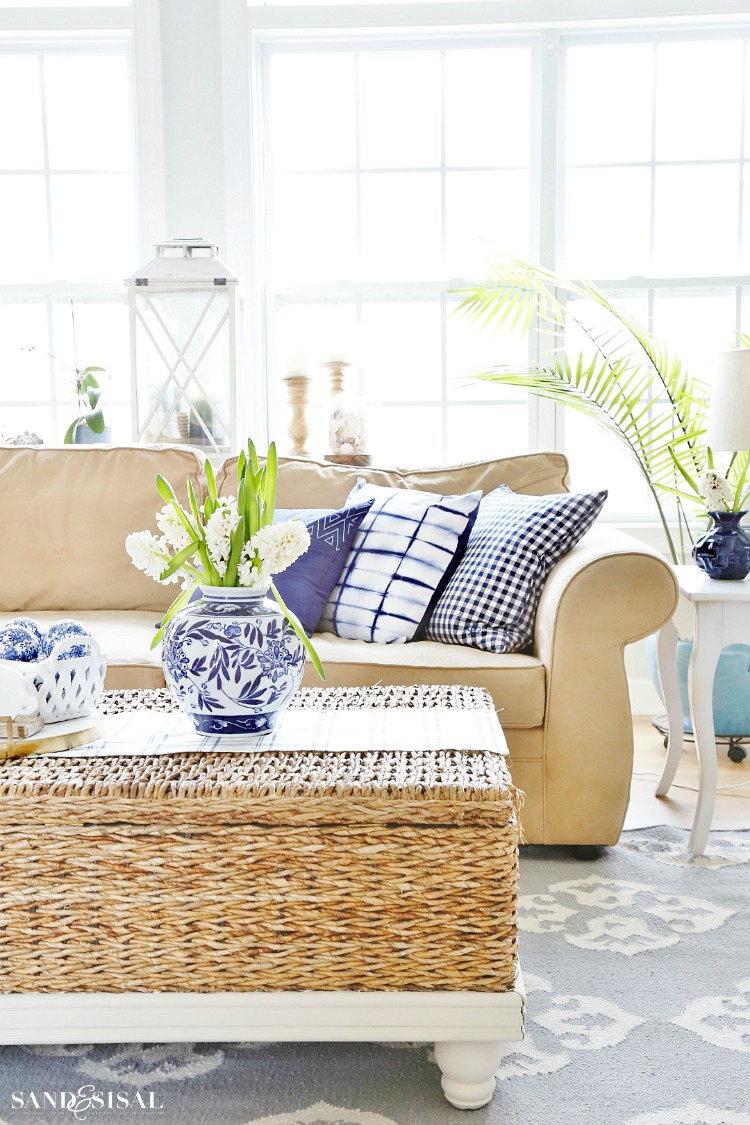 This week I've teamed up with an amazing group of talented bloggers for the Spring Has Sprung Home Tour hosted by the lovely Sheila from Maison de Cinq. If you are hopping over and visiting from Remington Avenue, then let me extend an extra warm welcome to you!
Decorating with Blue and White – Mixing Old with New
When decorating with blue and white one of the easiest ways to create a cohesive look is to mix old and new items together, incorporating a variety of patterns and textures, while maintaining a simple yet strict color scheme. This is how you can mix fluid shibori patterns and bold graphic prints with classic chinoiserie, paisley and gingham.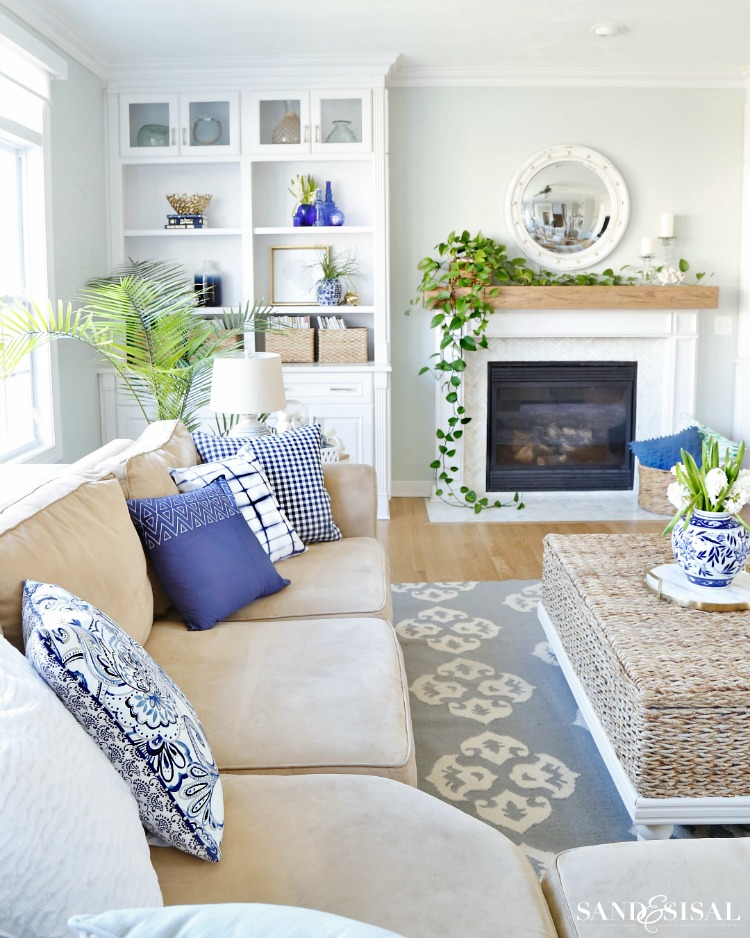 Fresh and vibrant tropical greenery adds the accent color of green to our blue and white color palette. A blue and white ginger jar vase was the perfect vessel to hold beautiful blooms. Our local Harris Teeter grocery store is my go-to place for fresh flowers. They stock a huge selection and variety of flowers for great prices. I might have bought up every hyacinth bundle in the grocery store. White hyacinths are so pretty and last quite a long time, but I'm not a huge fan of their scent unfortunately which is quite strong. I have noticed though that other hyacinth colors have more attractive scents. Have you found the same thing?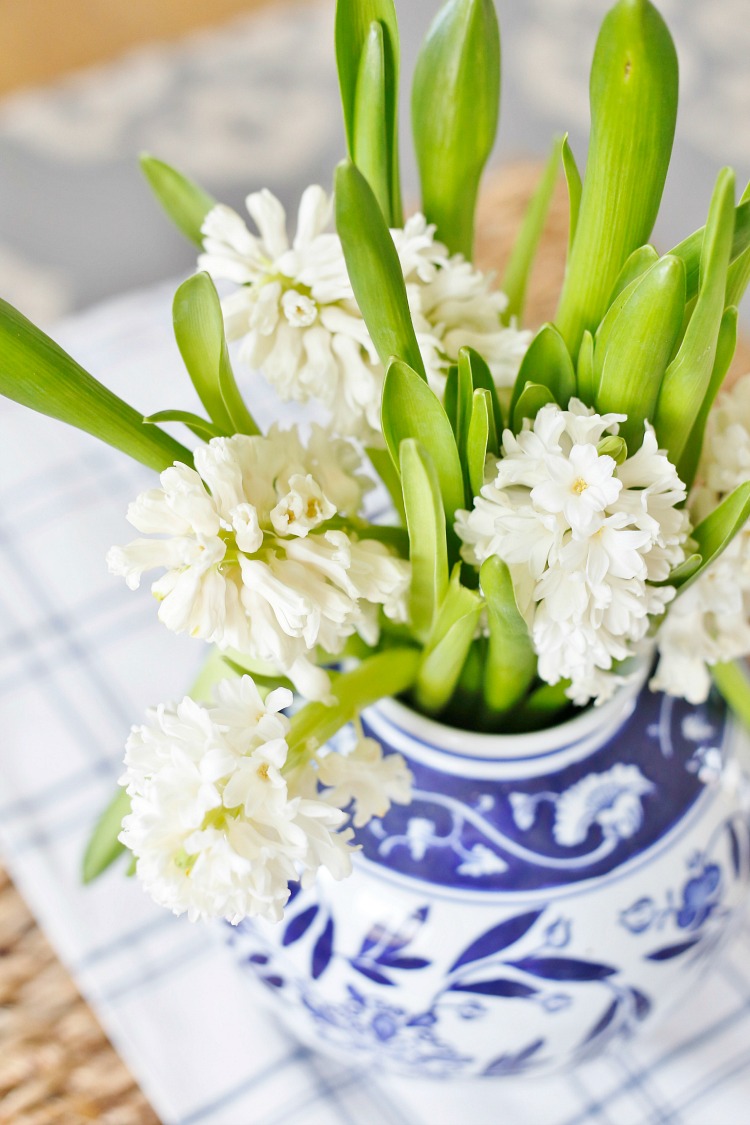 Mr. Bun Bun, our littleLionhead bunny, enjoyed hopping around while I decorated the family room for spring. I was worried he'd try to eat my hyacinths, but he preferred trying to nibble on the moss in the little nest instead.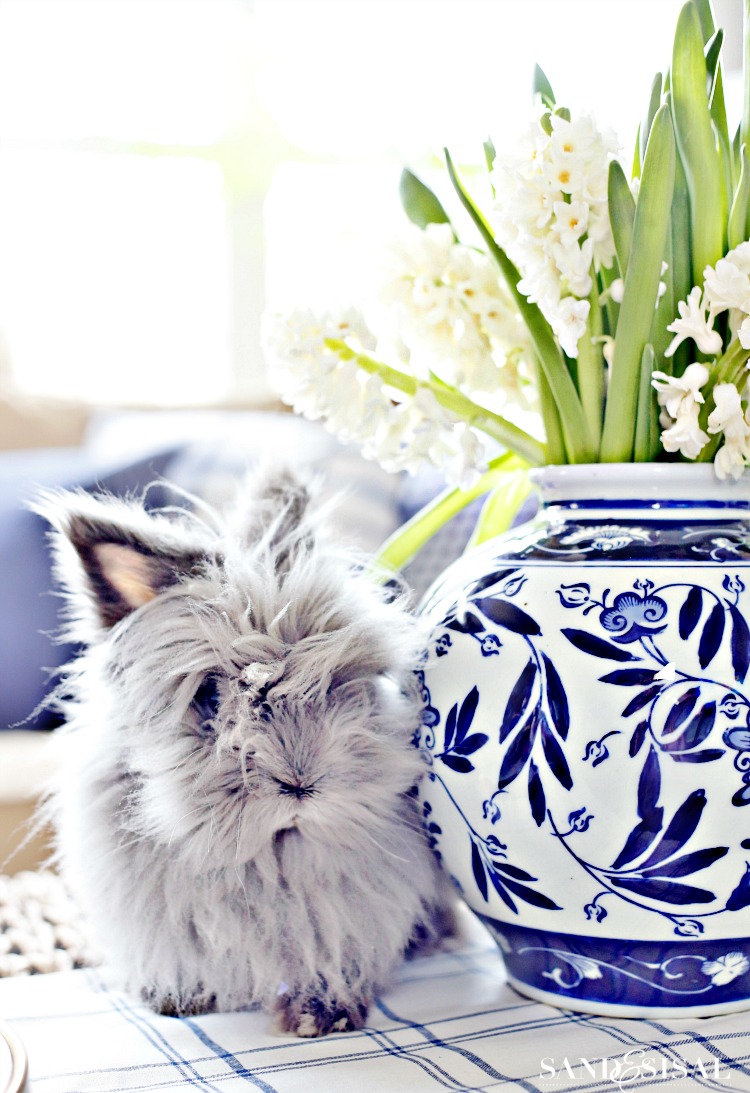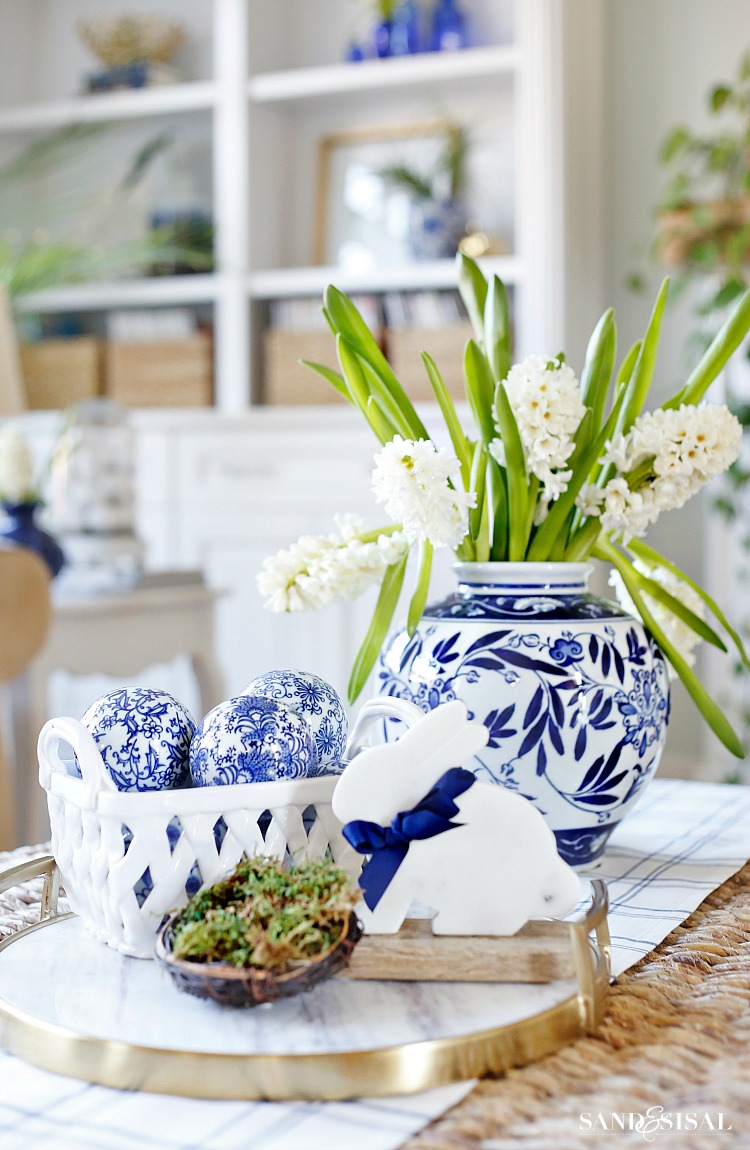 When decorating built-in bookcases I like the concept that less is more. These days I'm craving simplicity. I find uncluttered spaces quite calming. Simplicity doesn't need to be boring though. Each shelf has a burst of blue, crisp white, or green balanced with a warm neutral tones like seagrass and brushed gold accents.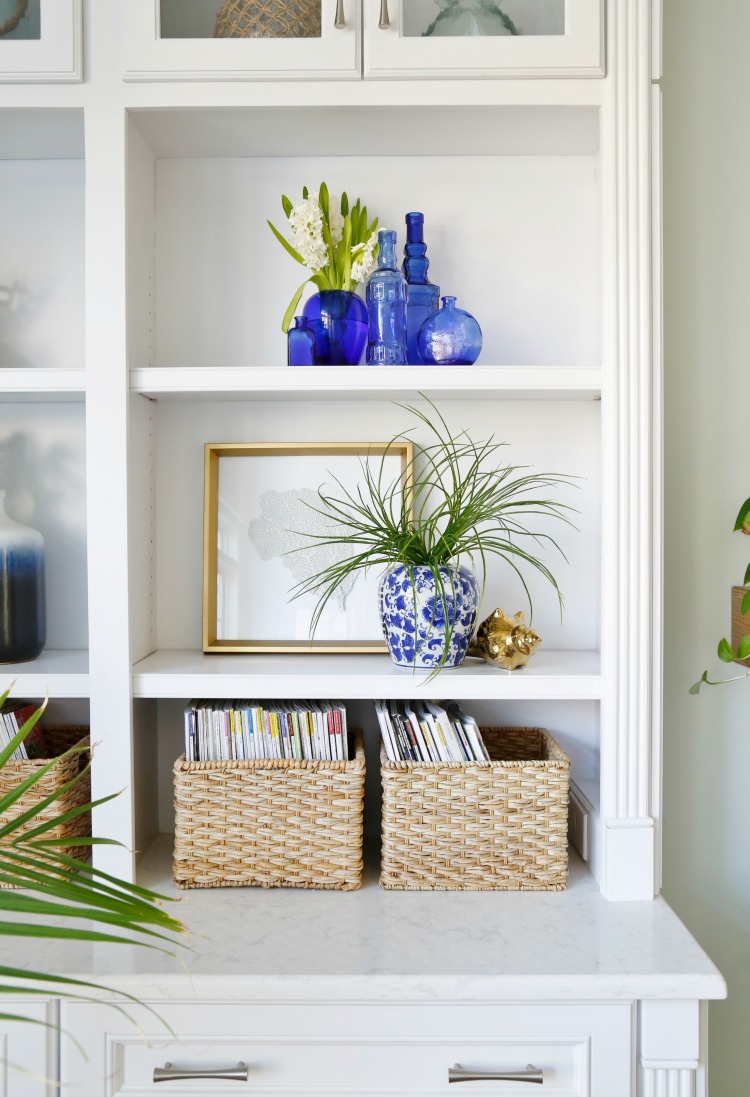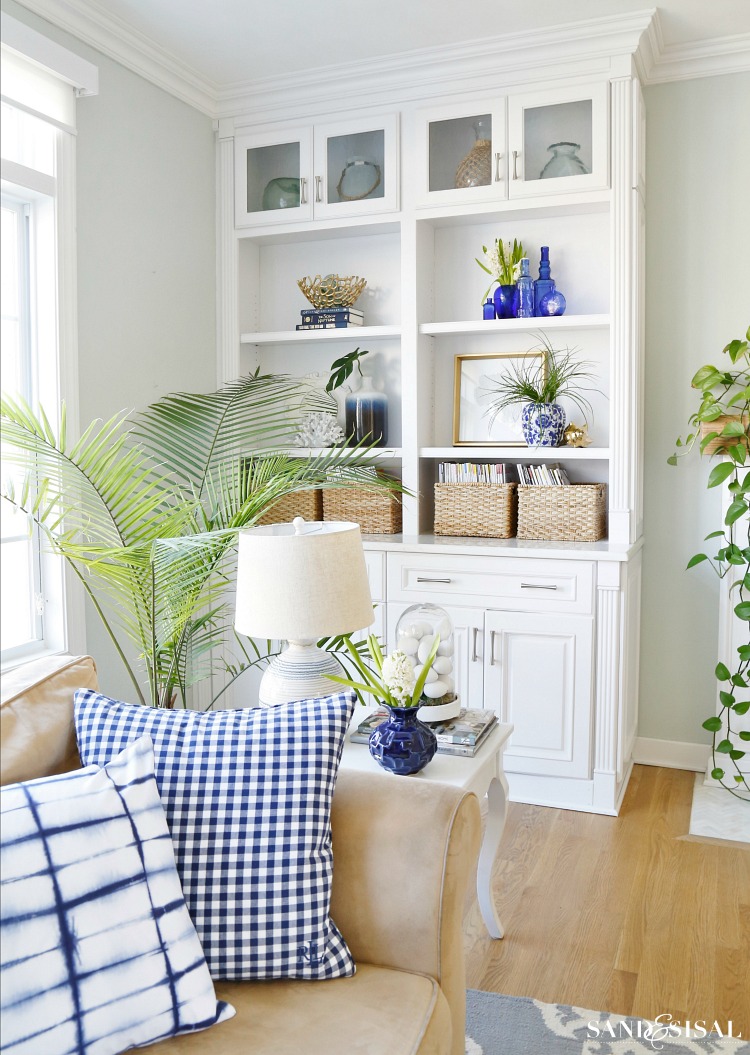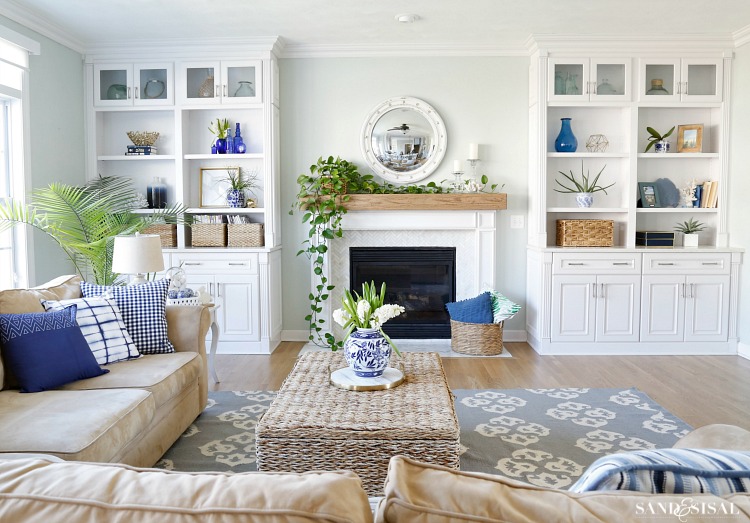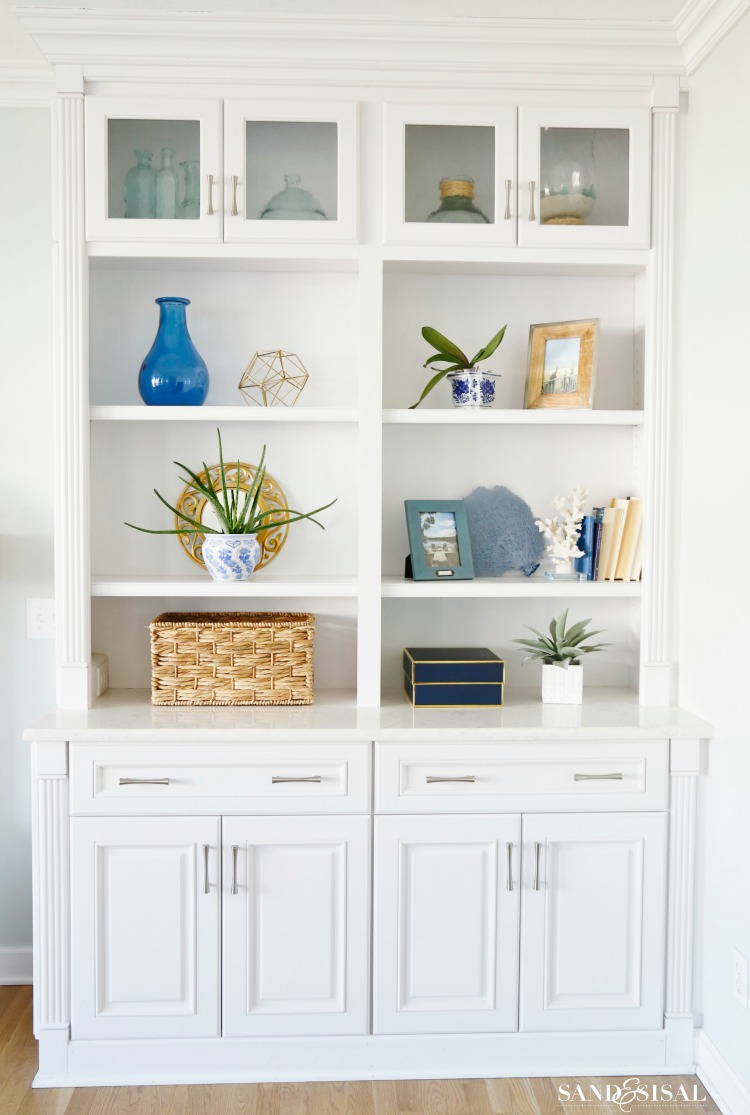 Decorating our family room with blue and white might be my most favorite color scheme yet! I like putting unexpected items together like this wild, spiny aloe vera plant in a fancy porcelain planter, backed with an ornate gilded mirror made from a plate charger. Isn't it fun?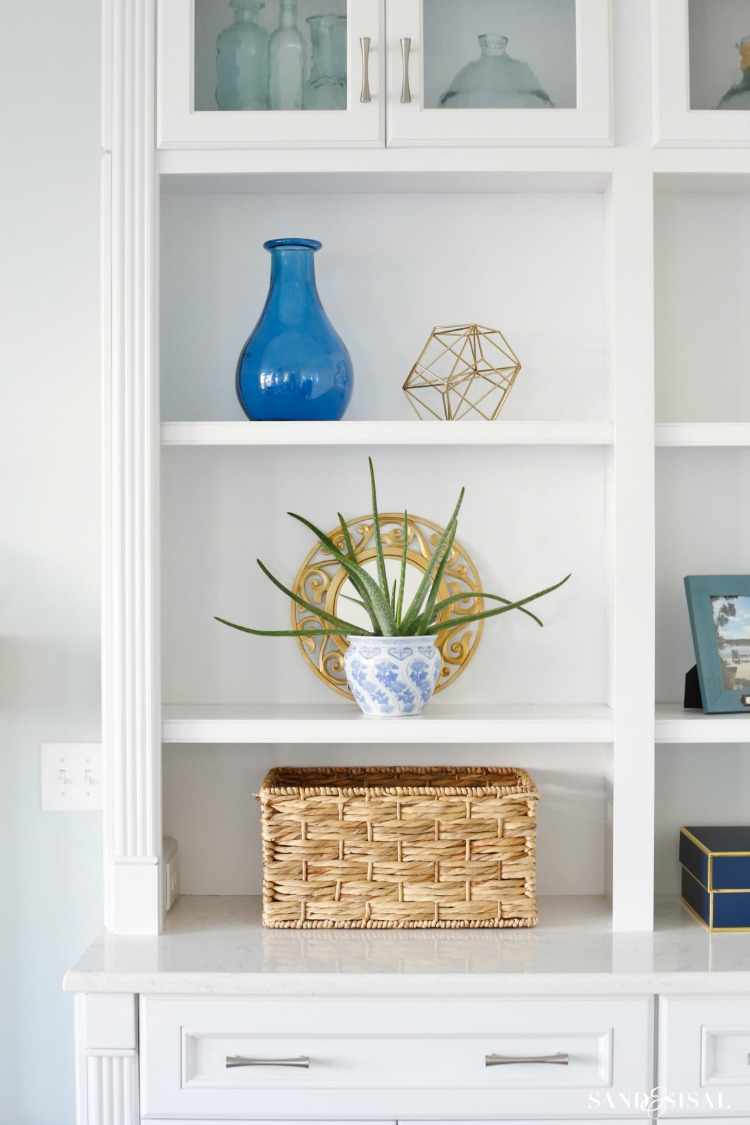 I ordered a new rug for spring for the living room and 2 new accent chairs but of course they didn't arrive in time for this spring home tour. I have linked this West Elm rug though at the bottom of the post if you are interested in it. I'll try to keep my Instagram stories updated for previews of the new rug and chairs when they come in. I hope you are following me on IG because I'm over there a lot these days.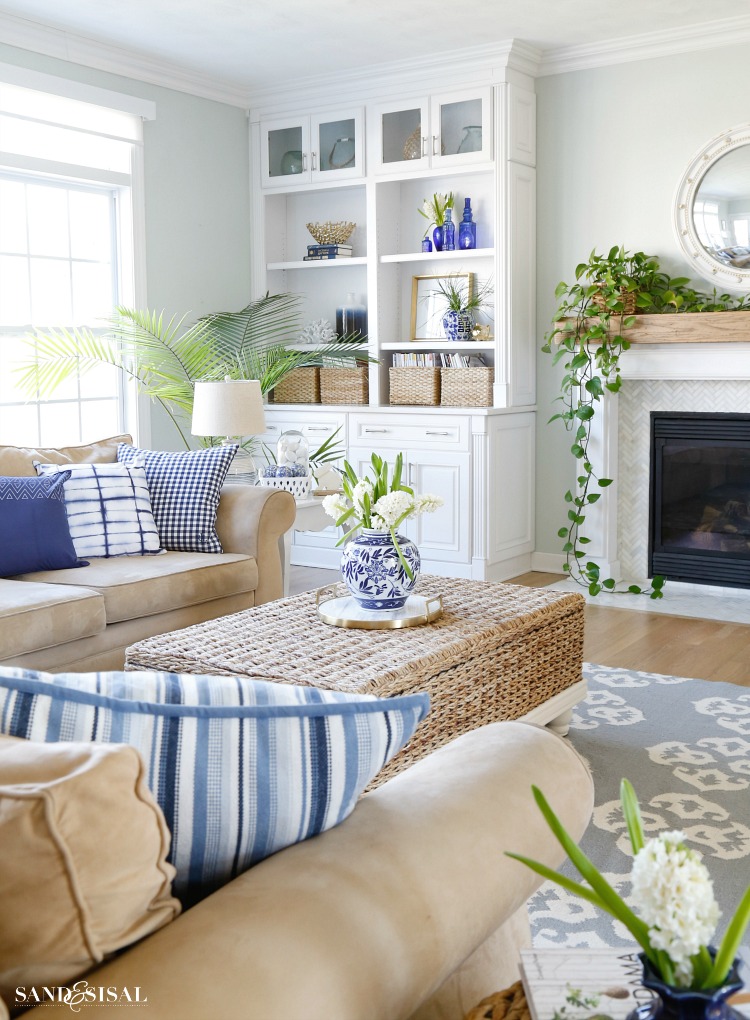 Another fun update to our blue and white spring family room was the woven abaca coffee table. I painted the black base a creamy white. I think it looks so much better now and isn't as stark.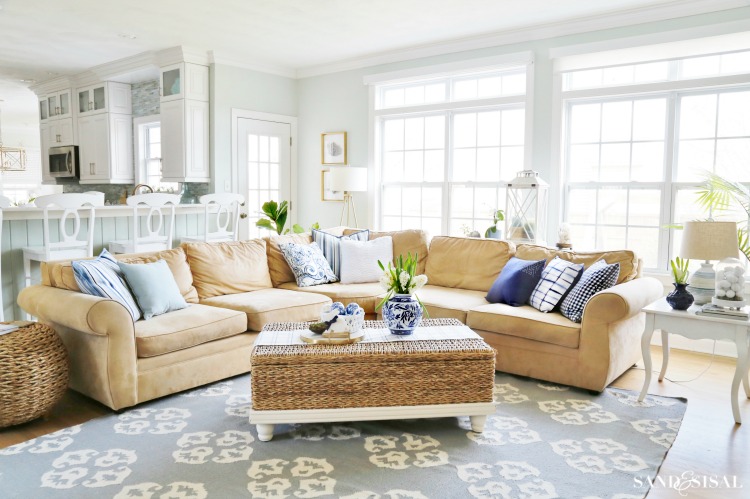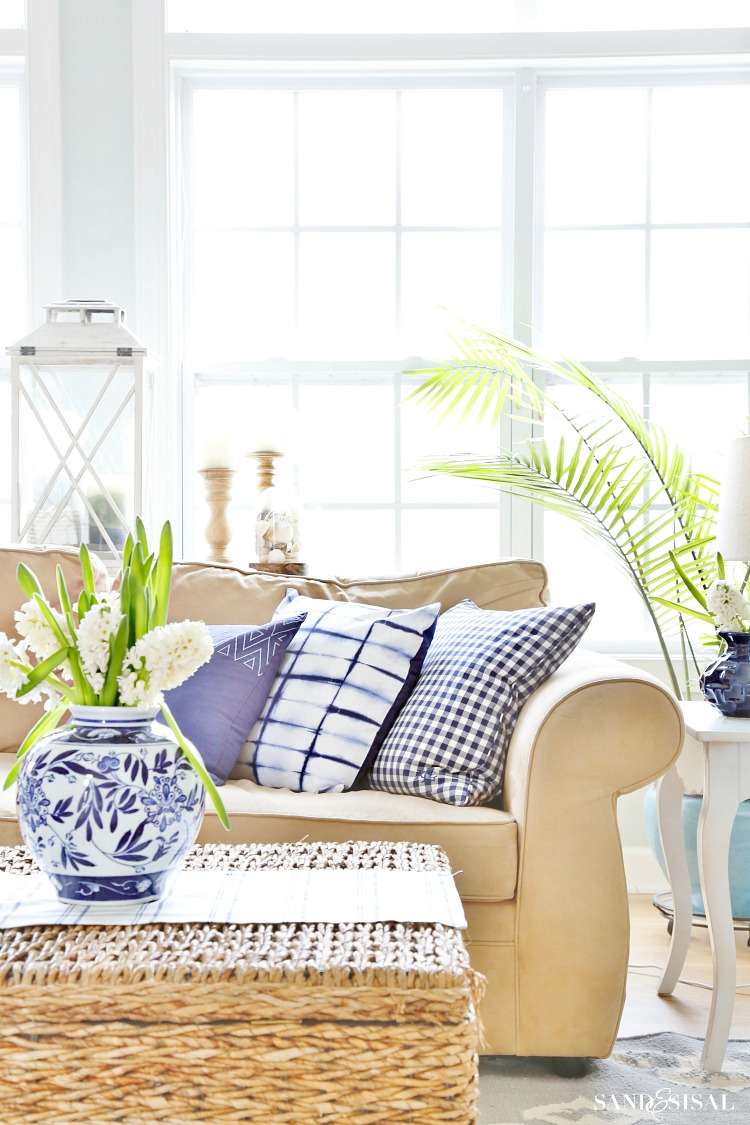 I hope you enjoyed our Blue and White Spring Living Room Tour! Please visit all the other amazing bloggers on this tour listed below. Next on the tour is the uber-talented Jamie from So Much Better With Age!
GET THE LOOK:
(affiliate links included for your shopping convenience)
If you missed Tuesday's posts:
Designthusiasm | Maison de Cinq | Home Stories A to Z
Tidbits | Ella Claire Inspired | Decor Gold Designs
Wednesday's posts:
Craftberry Bush | Zevy Joy | CitrineLiving
Remington Avenue | Sand & Sisal | So Much Better With Age