Hey friends! I rarely if ever show my master bedroom. I guess for two reasons: 1- It's a private place and 2- It isn't complete and show worthy for what I want. That being said, our room is feeling Christmassy and magical with a tree and lights and wreaths and I thought I'd share it with you all. Welcome to a rare peek into my Cozy British Colonial Coastal Christmas Bedroom.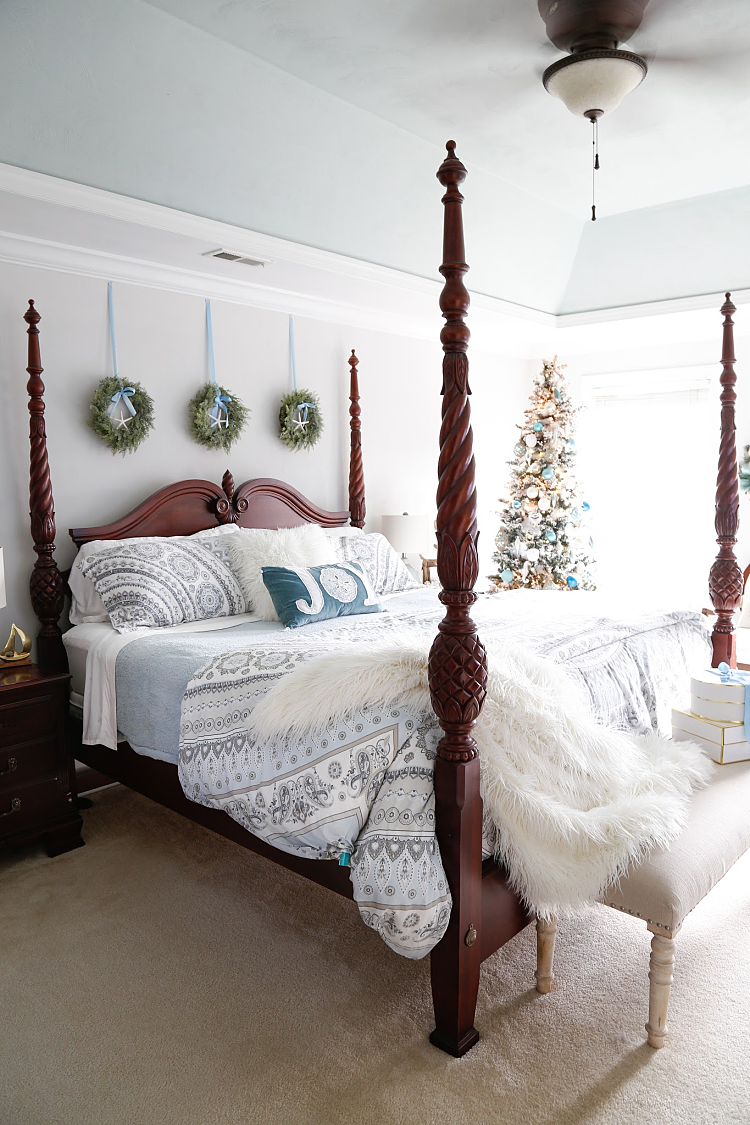 I have a very traditional master bedroom. This is the set that my husband and I bought nearly 20 years ago. At the time I was enthralled with everything British Colonial style from South Africa and India, which led eventually into my love for coastal style. British Colonial style exuded romance, tradition and yet casual relaxation in a lush tropical environment. This bed is made of mahogany and has artfully carved turned posts depicting welcoming pineapples (welcome and hospitality is what a pineapple means in Colonial Virginia and the south… WELCOME…. to my home…. just not my bedroom… ahem!).
It has a full and heavy, bold, gorgeous 4 poster canopy, which we love but has become a bit unstable over the years so we took it down. With 4 kids who think they can swing from the posts like monkey bars has made me leery to put up the large and substantial canopy. I always had dreams of draping flowing white sheers from the canopy, but I the risk of having it collapse upon me in the middle of the night has squelched any romantic platitudes. HA!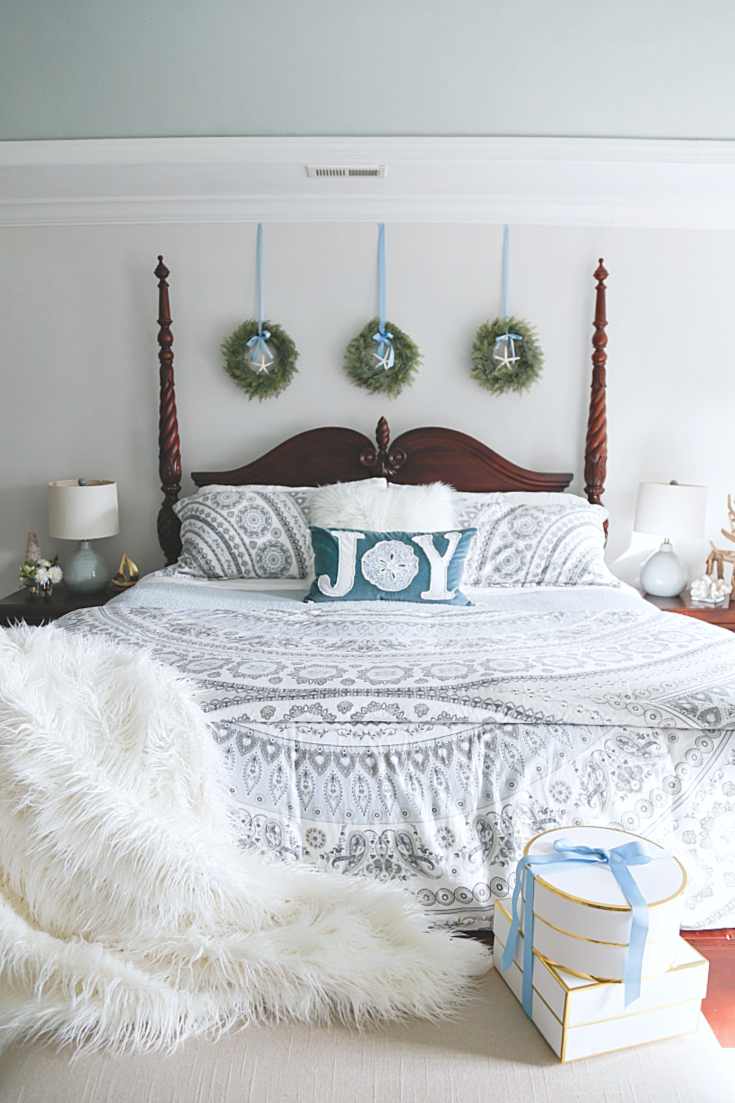 If you are new to my blog then you need to know that my husband is very traditional in his style preference. After 25 years of marriage he is slowly opening to whatever I choose to do in the house. lol. I do love this bed though. It is so beautiful. The craftsmanship is impressive.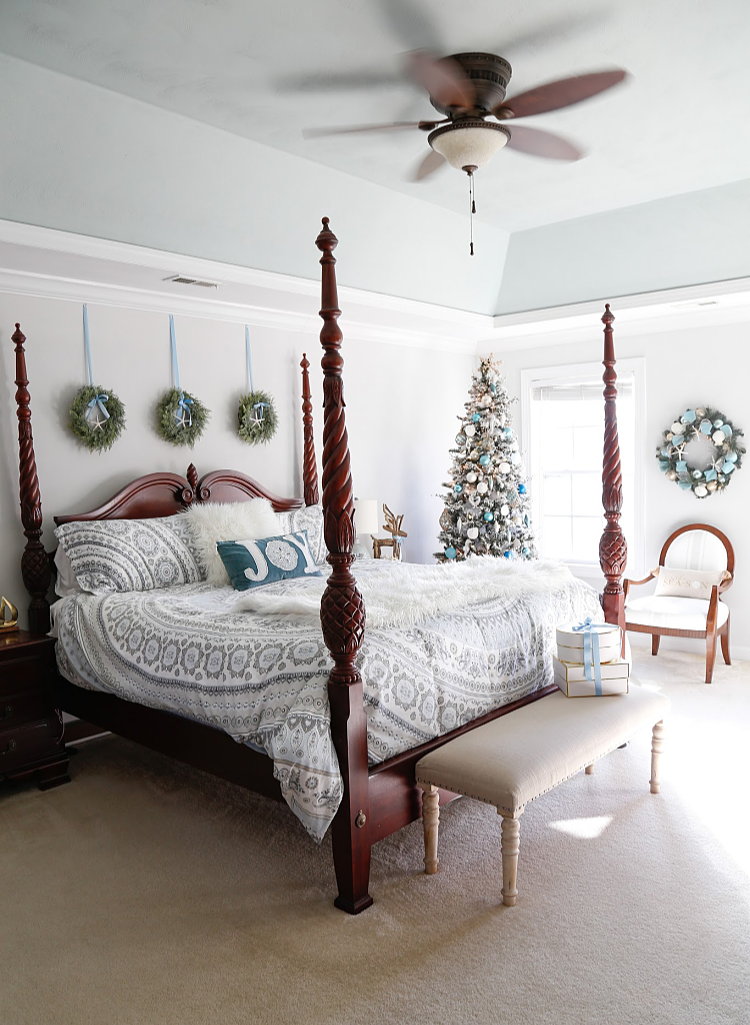 Simple cedar wreaths hung above the bed says Merry Christmas to me!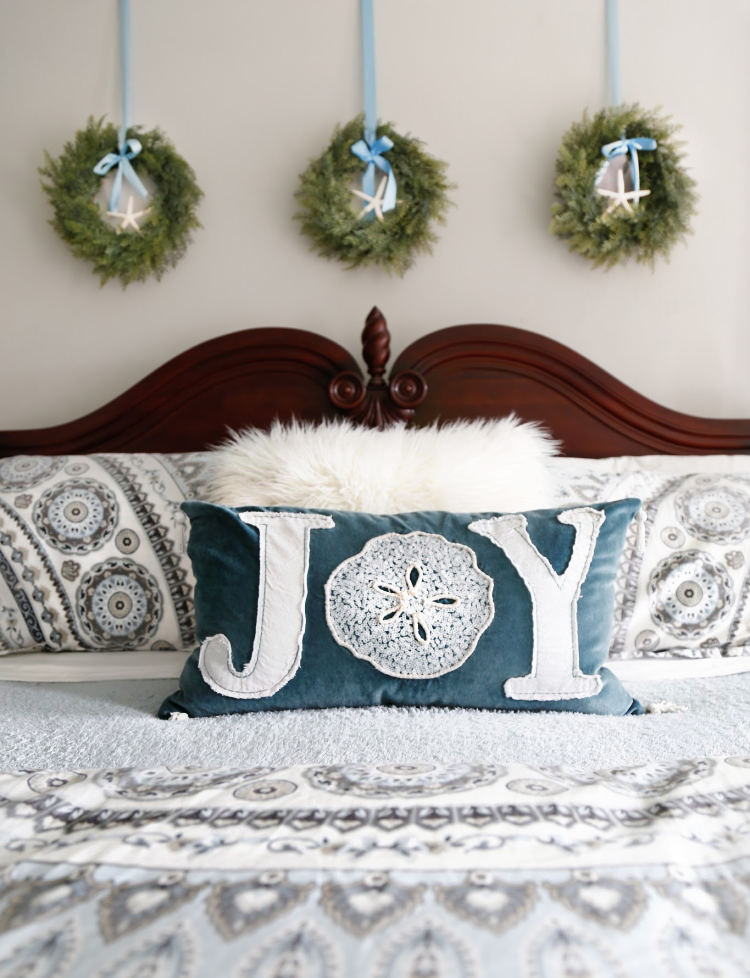 Mr. Bun Bun loves my room. He has found the fluffy throw especially attractive! He's our little 6yr old adopted Lion Head Angora Bunny. I never knew bunnies had this much personality! He knows his name, plays fetch, loves to run and play chase and tag and thrives on head massages. He's mama's lil' bunny baby.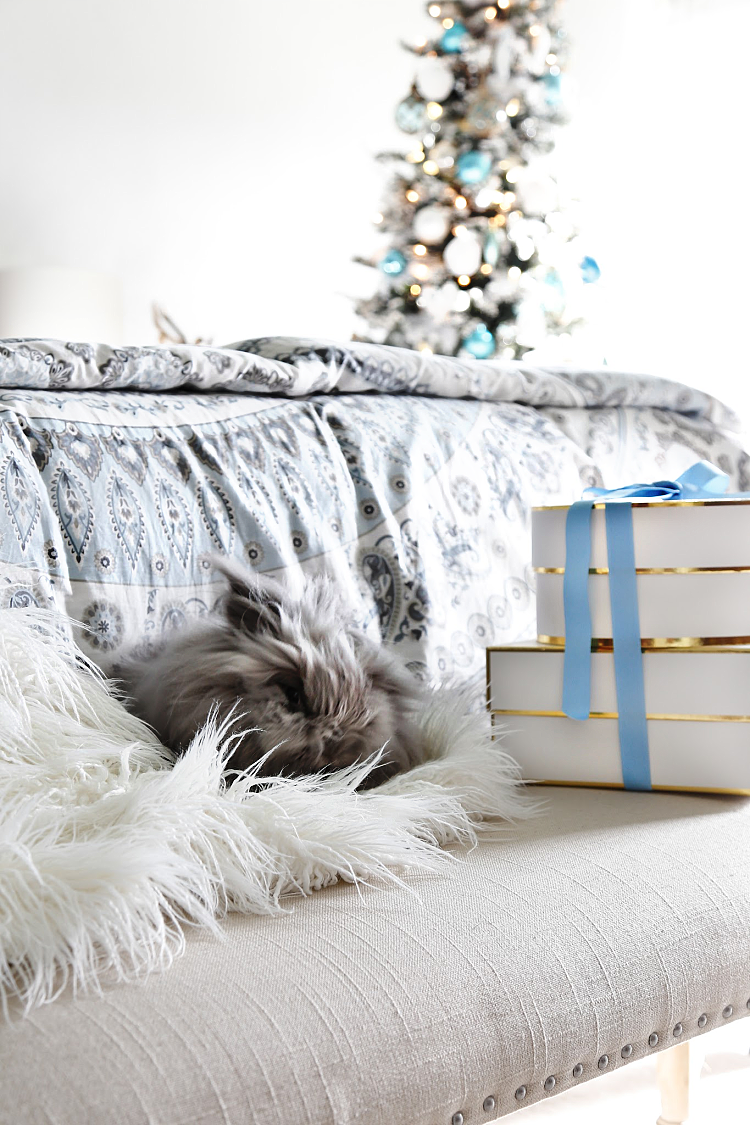 Somebunny is searching for more presents! PS- for everyone who asks…. he is potty trained, just like a kitty cat and he roams the house freely.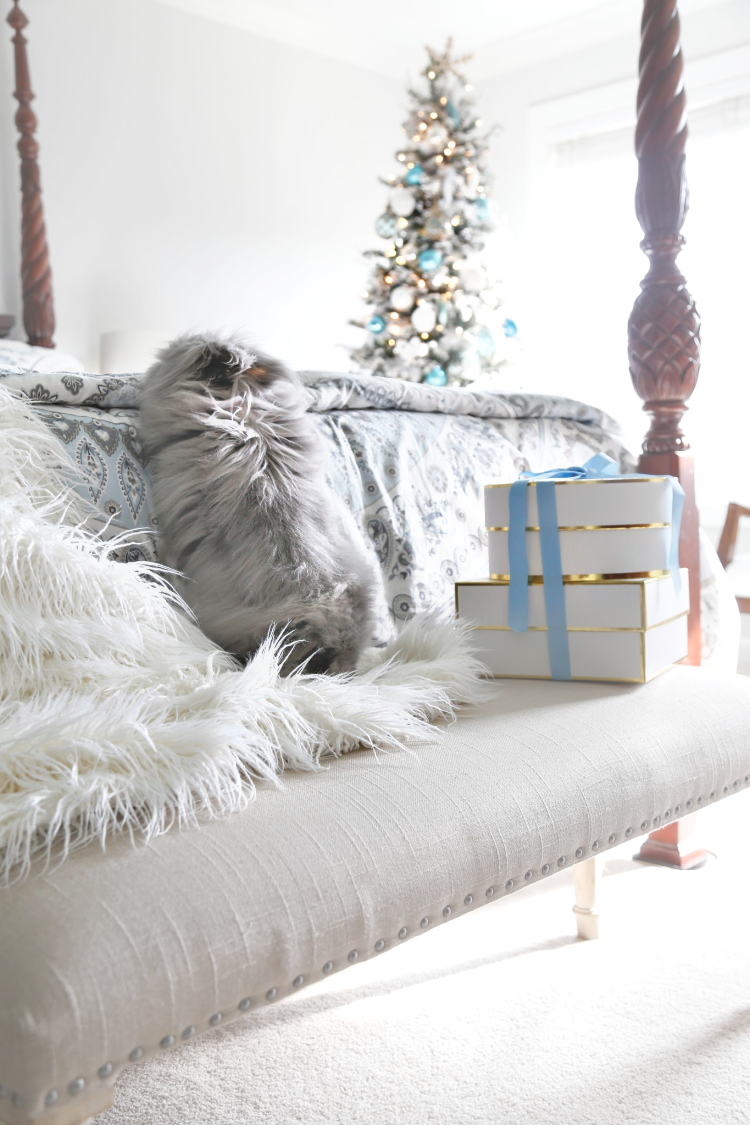 Of course my bedroom isn't complete unless it has some chic coastal Christmas tree touches, don't you agree?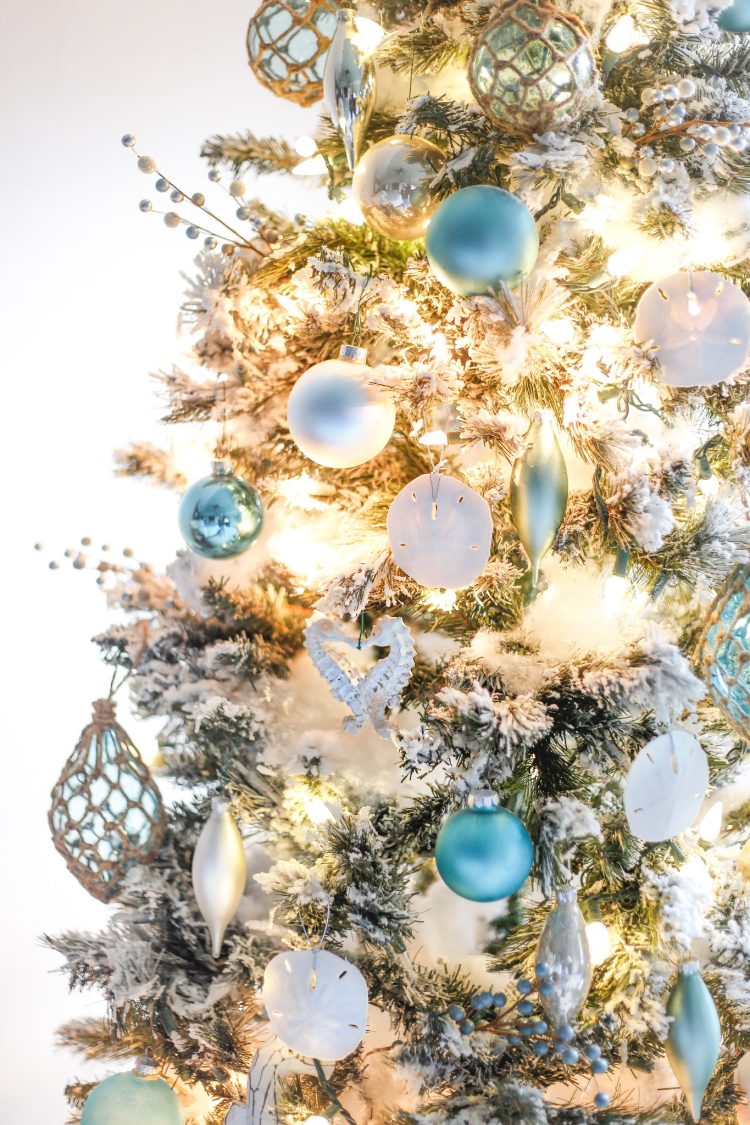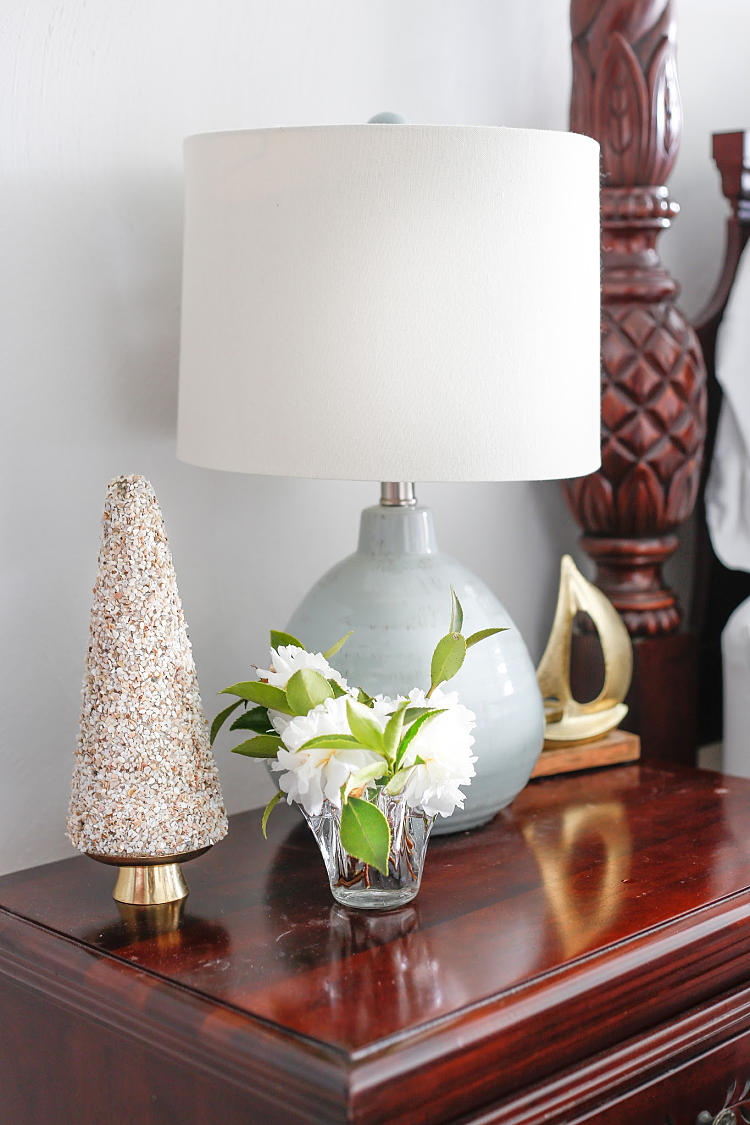 Would you believe me if I told you that this chair used to be zebra print? I plan on reupholstering soon but I couldn't get my act together so I CHALK PAINTED THE CHAIR! Yep. That is chalk paint people. Did you know that you can chalk paint fabric? You can! It's a bit of a process but delivers a leather-like result. I'll share the tutorial soon! I've chalk painted my fugly computer chair and it has lasted for years. So don't throw out your furniture… paint it!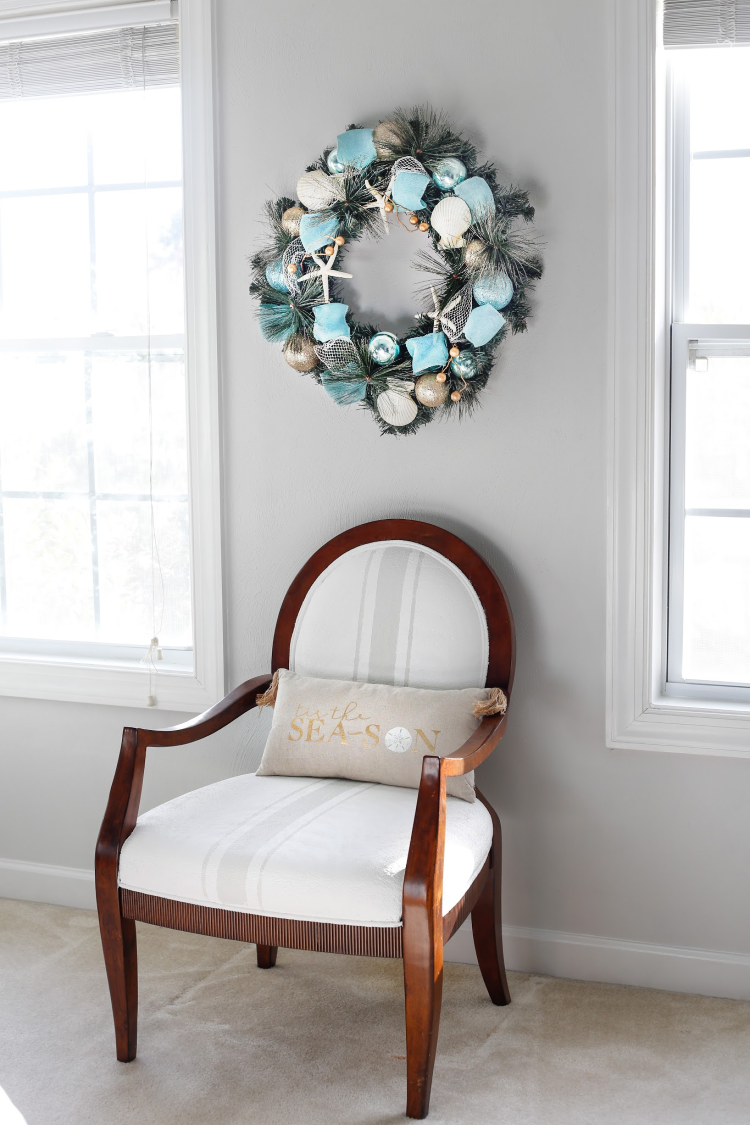 And of course, my room doesn't always have a Christmas tree in it, but it does have tropical greenery. So why not deck them out for the holidays too? This rubber tree has never looked so festive!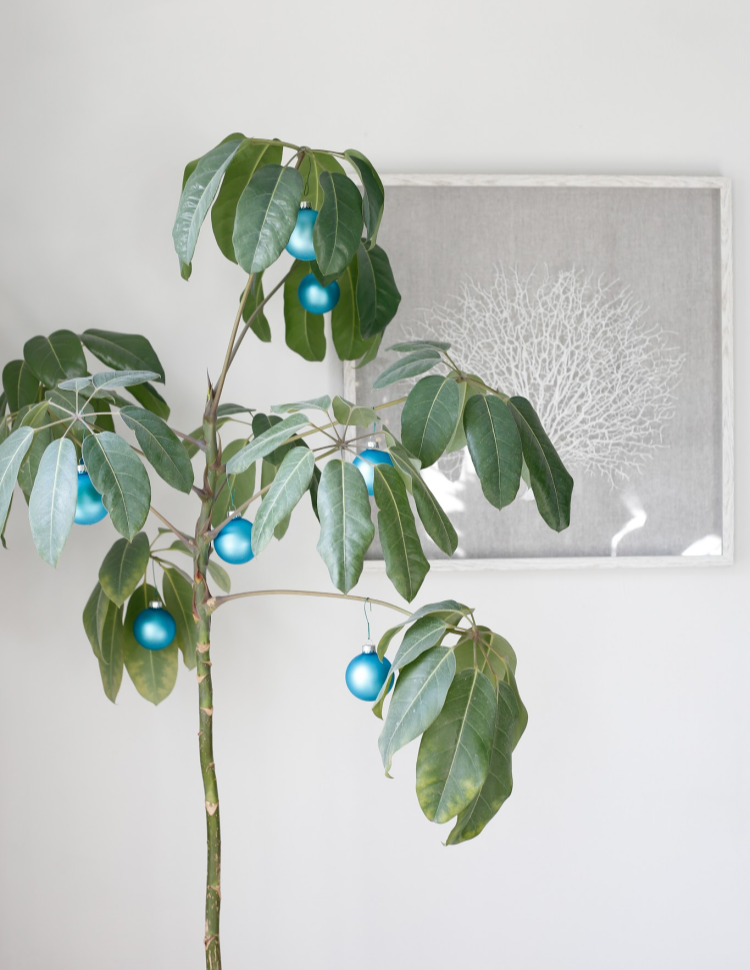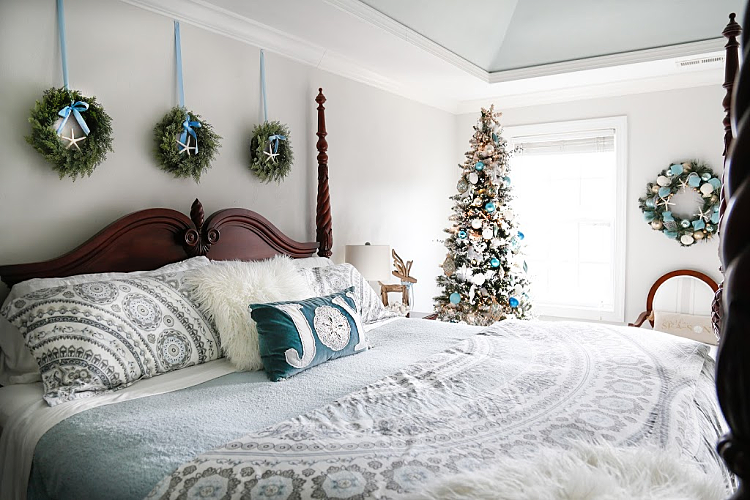 I hope you enjoyed a sneaky peek inside my bedroom. If you don't have a tree in your bedroom then I highly recommend it. Or even add a few fairy twinkle lights. The ambiance is beautiful and oh-so-romantic. Trust me…. you might never take the tree down. 😉
Hubs and I will be celebrating our 26th wedding anniversary on December 23rd. 😉
Wishing you a blessed and romantic holiday
KIM
Wall Paint Colors:
Walls – Reserved White by Sherwin Williams
Ceiling- Rainwashed by Sherwin Williams
Wreaths – AtHome
Bench – HomeGoods
Chair- Overstock.com