Hey friends! Are you ready? Are you hosting Christmas at your home this year? The last minute holiday crunch time can get stressful and I want to help you keep things easy, elegant and festive. Allow me to share our Christmas Dining Room and Table Setting Ideas. I am confident you will be able to create a gorgeous table easily and affordably without fuss!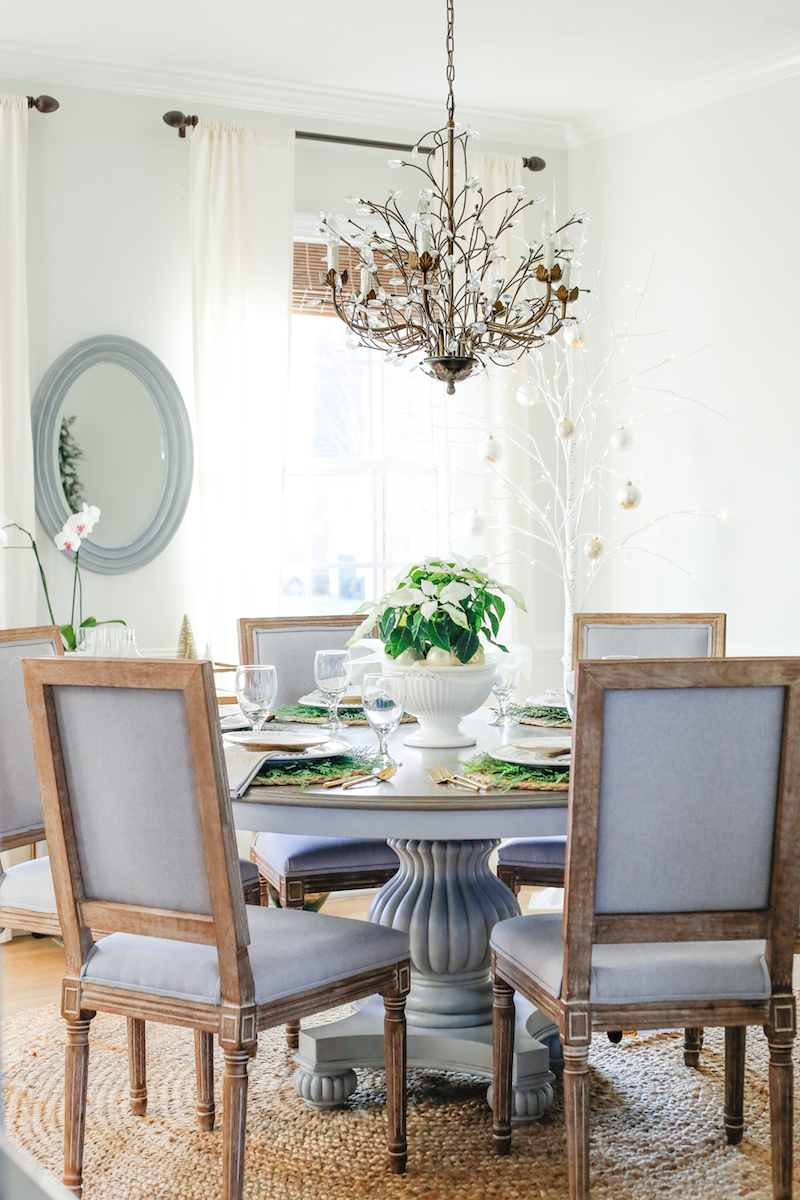 Tip #1: Use and Reinvent What You Have
This is when you raid the attic or basement. Good lord knows I wish we had basements around here but they are impossible when you live at sea level. So up in the attic I went and found baby Christmas trees to use. Their lights are for the most part no longer working but that's ok. Thank the lord for battery operated fairy lights! Three little trees on the buffet table and done! You could use a few inexpensive mini trees or even a few fresh trees pulled out of the woods an potted.
My goal was to not spend any significant money on this room. The only thing new was the purchase of the poinsettia. I already owned all the plates and placemats. I call that a bargain win-win! The key is to recycle and reinvent the look with the items you have on hand. At the end of this post I will link to several different dining room looks I've done using the same basic elements.
The newest addition to the room was the white birch lighted tree in the corner. We bought 2 of those for our daughter's wedding this past October and I love them! They illuminate the nighttime so beautifully! They really are magical and wish they would show up better in these pics.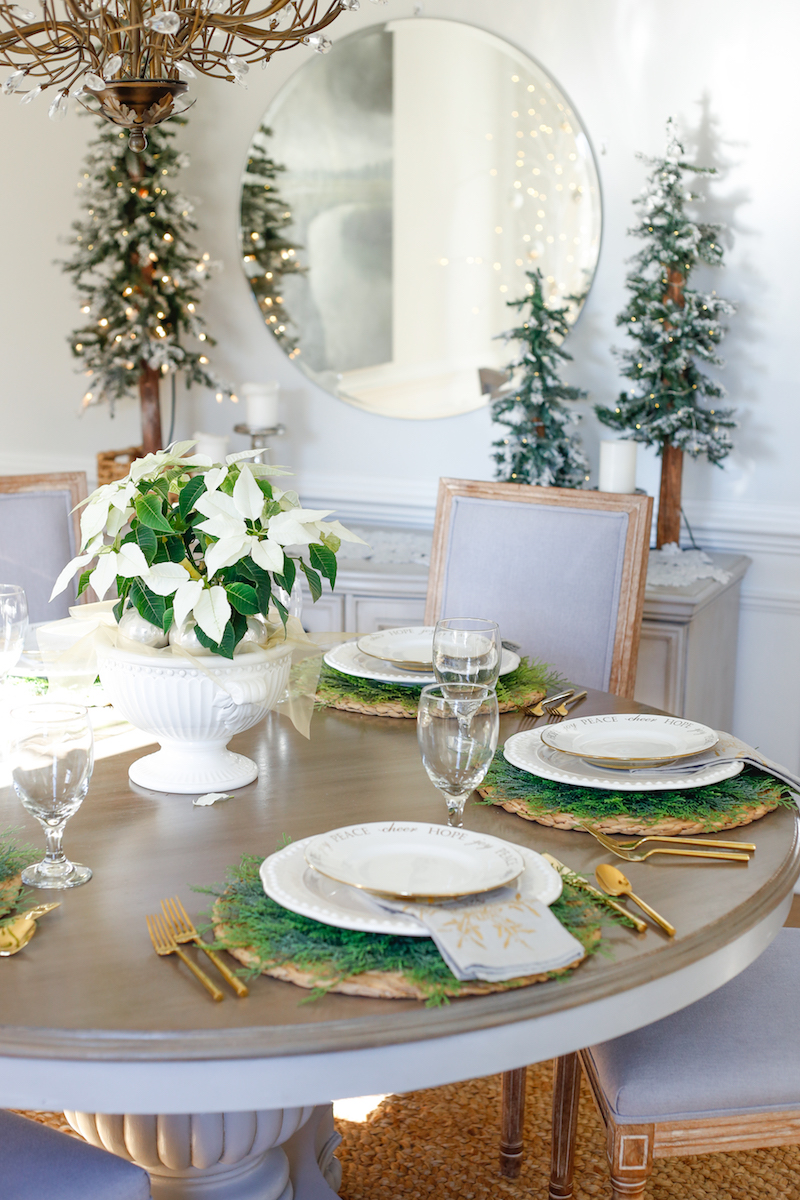 Tip #2 Think Out of the Box & Create an Elegant Centerpiece in Less than 5 Minutes
Grab a gorgeous soup terrine that come on girl… you haven't used in years, am I right? Grab that gorgeous terrine, a poinsettia from Home Depot and make an amazing arrangement! I took this beautiful white poinsettia out of its pot and placed it in a soup terrine. The pot already came with the lovely sheer gold fabric so why not use it? To hide the soil I surrounded the base with gorgeous, creamy champagne ornaments. Dump and done in less than 5 minutes is how I like it! And how gorgeous is this?
You could do this with a bright red poinsettia and surround it with red and silver ornaments too! May add in some fairy lights to illuminate it underneath.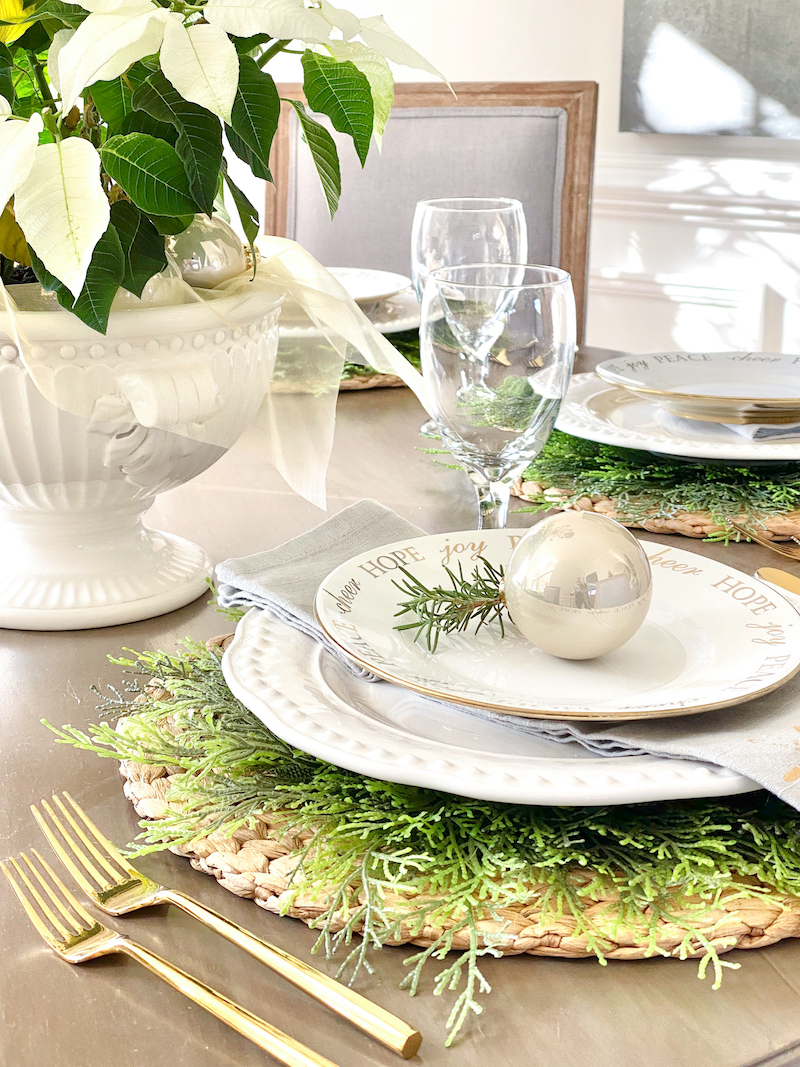 Tip #3 Personalized Place Settings
Every one wants to feel special, especially during the holidays. Creating a personalized place setting is a simple way to express that. For this Christmas place setting I layered 2 placemats on top of each other, the seagrass charger, which I use all year round, and the cypress leaf placemat, which I have been using for years. The plates are our everyday dinner plates from Home Goods and the festive salad plates were a find from Pier 1 years ago. But the special touch is adding a single glass ornament, strung on a sprig of freshly cut rosemary. If your handwriting is lovely then you could write each person's name on the ornament. My handwriting is unfortunately horrific, even though I'm an artist. Regardless, this Christmas table setting can come into place so quickly and not only look amazing but smell amazing too!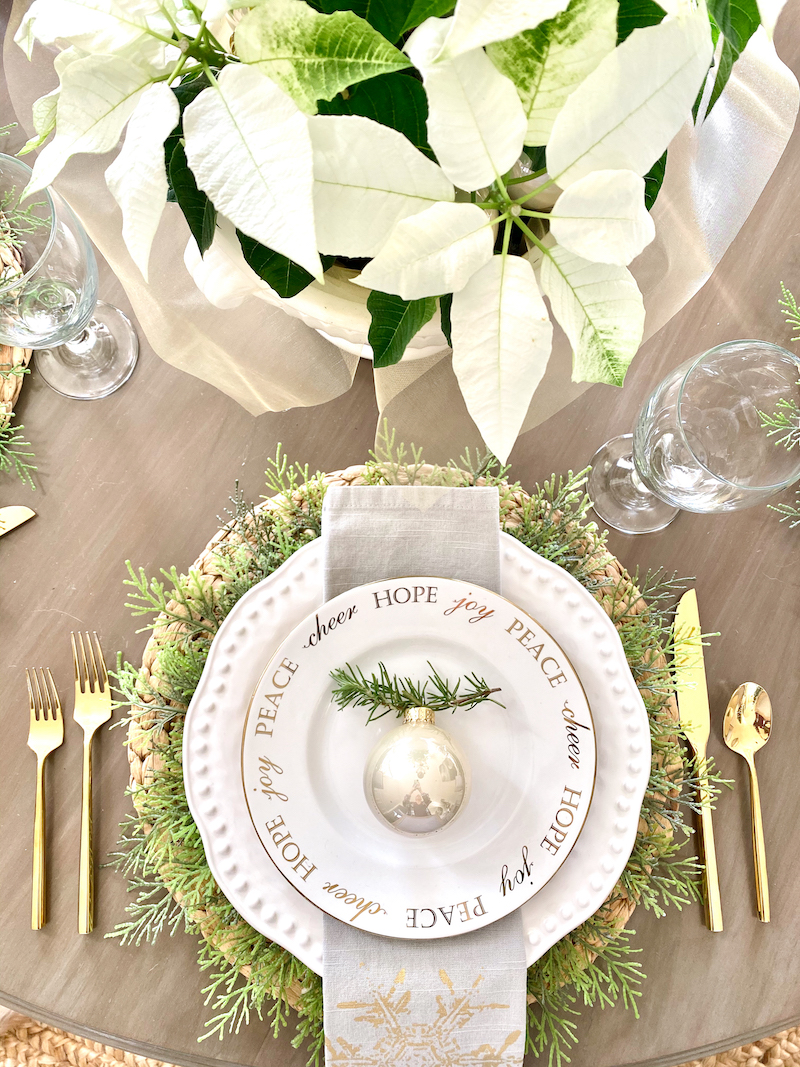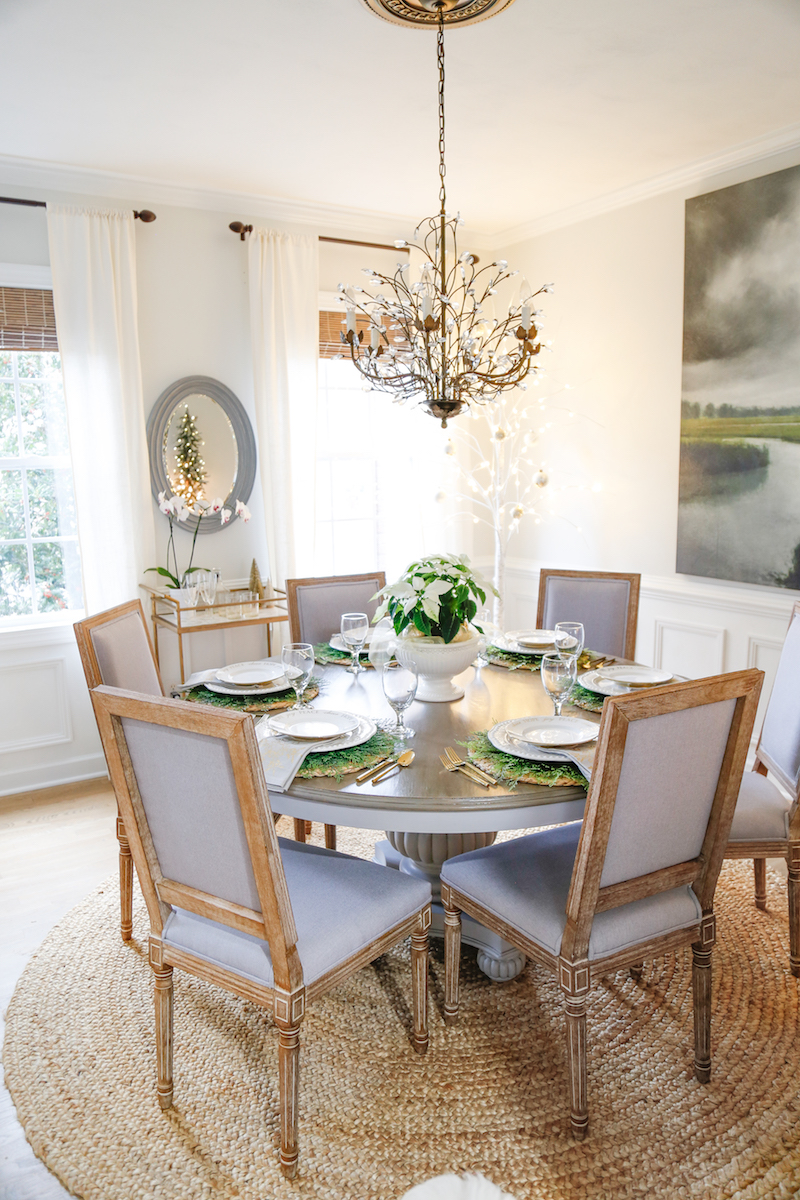 Love the Look? Shop the Look!
affiliate links provided for your shopping convenience- CLICK ON THE PICS BELOW TO SHOP

Paint Colors: Walls: SW Reserved White / Trim SW Extra White
Floors: custom- Solid White Oak stained with Duraseal Weathered Oak
Dining Room Table -thrift store
Holiday salad plates – Pier 1 (no longer available)
Gray & Gold Snowflake Napkins – Target (no longer available)
White Soup Tureen – Tuesday Morning
I hope your holiday is so very blessed and that your were able to glean some Christmas dining room and table setting ideas that will work for your family gathering. Girlfriends, we all need to agree that this is the best time of year and help each other out! I hope this helps!
YOU MIGHT ALSO LIKE THESE POSTS:
Christmas Village Table Setting
Rustic Glam Christmas Dining Room