When your child who only likes chicken nuggets, oreos, and chocolate milk, says, " Mom! This is AWESOME!"… My mama radar perks up! I know I've baked a winner! Get ready to sink your teeth into the most tender and moist Pumpkin Apple Bread filled with chunks of apple and topped with a delicate and crumbly streusel topping! This will soon become a family classic for the holidays!
Now if your neighbor's suddenly come calling, don't blame me! Your kitchen will be the most aromatic location in the hood!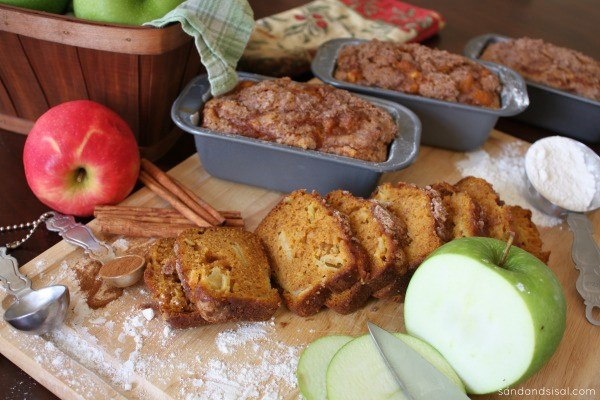 I love the texture of having a delicious piece of sweet-tart apple in every bite! So I have added 2 full cups of diced Granny Smith apples in this recipe. Because of the extra apple, which by the way keeps the bread oh-so-moist , it adds extra volume to the mix, you will need 7 mini loaf pans. If you don't have have that many then use what you have and pour the rest into a larger loaf pan.  Don't waste any of this batter… it is delish!

Pumpkin Apple Bread with Streusel Topping
Author:
Kim Wilson - sandandsisal.com
Cuisine:
holiday quickbreads
Prep time:
Cook time:
Total time:
Serves:
makes 7 mini loafs
Ingredients
3 cups all-purpose flour
2 teaspoons ground cinnamon
2 teaspoons baking soda
1½ teaspoons salt
3 cups granulated sugar
1 can (15 oz.) Pure Pumpkin
4 large eggs
1 cup vegetable oil
½ cup apple juice or water
2 large Granny Smith apples, peeled, cored and diced
Streusal Topping:
1.5 tablespoons all-purpose flour
5 tablespoons granulated sugar
1 teaspoon ground cinnamon
1.5 tablespoons butter, softened
Instructions
PREHEAT oven to 350° F.
Grease and flour Seven 3 x 5 inch mini loaf pans or Two 9 x 5 inch loaf pans.
Combine flour, cinnamon, baking soda and salt in large bowl.
Combine sugar, pumpkin, eggs, vegetable oil and apple juice in large mixer bowl Beat until just blended.
Add pumpkin mixture to flour mixture; stir just until moistened.
Fold in apples.
Spoon batter equally into prepared loaf pans.
Mix streusel topping in a separate bowl with a fork and sprinkle evenly over each loaf.
BAKE for 45-50 minutes or until wooden pick inserted in center comes out clean. For the large loaf pans, bake for 75-90 min. Start checking with toothpick or skewer at 75 min.
Cool in pans on wire racks for 10 minutes; remove to wire racks to cool completely.
Pin and save this recipe for  the holidays. This would make an excellent hostess or neighbor gift and it freezes well when wrapped in saran wrap and then foil. Plan ahead for the holidays and make of few of these loaves.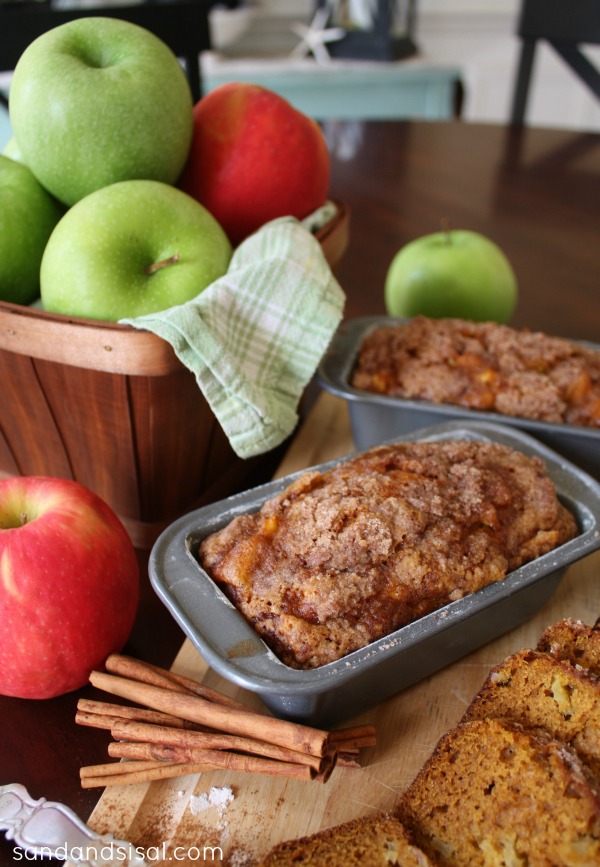 You might also like these recipes!