Now that it is a new year, I'm trying to change up our dinner menus and introduce the family to new dishes. We eat quite a bit of fish and seafood during the summer but not during the winter months. Time to change that! Last night I made Baked Seafood in Parchment with Fennel and Sweet Onion Pearled Couscous! Sounds like a fancy, complicated dish doesn't it? Well it isn't. If you are looking for a healthy dinner that you can make in less than 30 minutes, I recommend this recipe. The seafood bakes in only 10 minutes!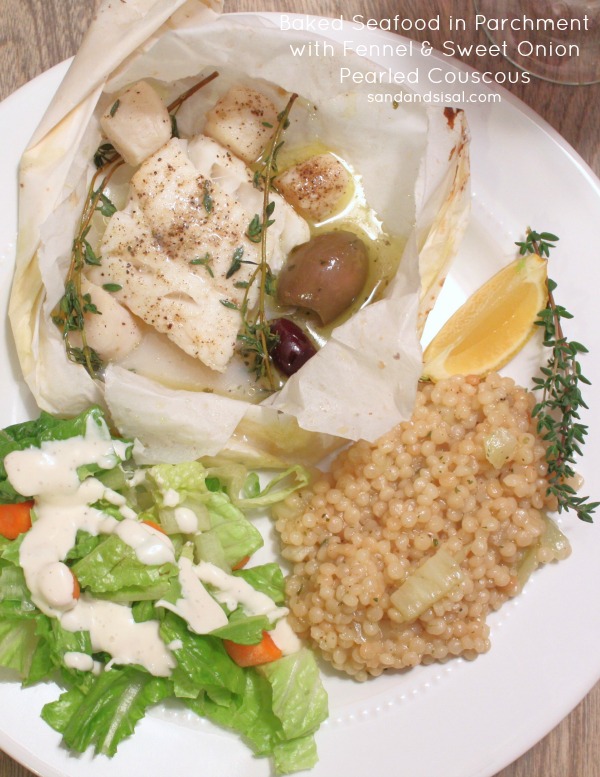 Baked Seafood in Parchment
Prep time:
Cook time:
Total time:
Ingredients
Boneless fresh fish fillet (thick cut cod, mahi-mahi, or snapper)
Sea Scallops
Fresh squeezed lemon juice
Fresh thyme sprigs
Extra Virgin Olive Oil
Olives (optional)
Butter
Sea Salt & Pepper
Instructions
Preheat oven to 400 degrees.
Cut fish fillets into individual serving sizes and place on a piece of parchment paper.
Place 4 sea scallops next to the fish.
Place 2 olives with the seafood (optional)
Sprinkle fish and scallops with a pinch of sea salt and pepper.
Lay 1 or 2 sprigs of thyme on the fish.
Drizzle with 1 teaspoon of lemon juice, 1 teaspoon olive oil, and add a pat of butter.
Fold parchment paper in half, then fold edges of paper tightly over itself to create a folded seam.
Continue around until you have created a package and tuck end underneath.
Place on a baking sheet and bake for 10 minutes. (Thicker cut fish might need 12 minutes).
Serve immediately.
Serve the seafood in the parchment. Add a side of pearled couscous with fennel and sweet onion and a simple garden salad. Use a knife to poke a hole in the parchment and then tear open.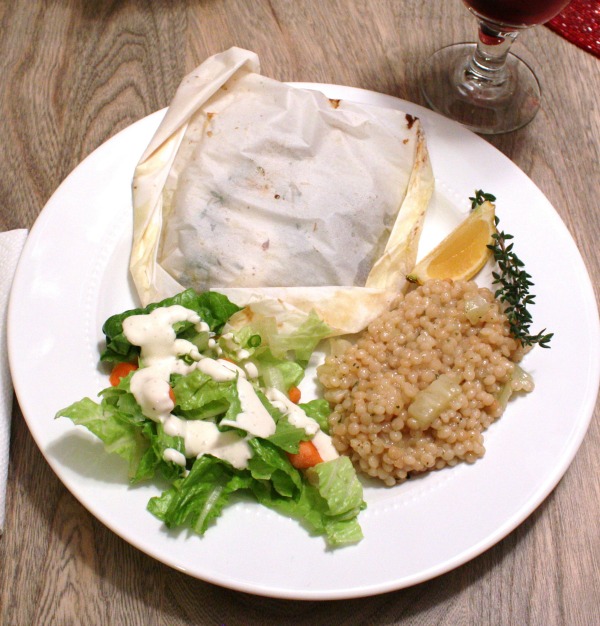 For the side dish, I like the convenience of using store bought boxes of couscous, but like to doctor it up with my own additions. Our family loves couscous, especially pearled couscous. If you've never tried it, couscous is not a grain, it is simply a round shaped tiny pasta! I used "Near East" brand pearled couscous mix with roasted garlic and olive oil.  Instead of using water, like the directions called for, I substituted low sodium chicken broth. This instantly adds a huge punch of flavor. I thinly sliced up a fennel bulb and half a sweet onion, sauteed the veggies in olive oil and butter until tender and added it to the couscous.
My 4 kids gobbled up this dish! I hope you'll give it a try!
Kim