Imagine sinking you teeth into the most tender, perfectly cooked pork you have ever had. The smokey charred grilled crust is the first thing to hit your taste buds. Next, the depth of the 5 spice, warms your palette with aromatic cinnamon, anise, fennel, cloves, and szechaun pepper corns. Then the sweet and succulent pork juices burst forth and you seriously have to lick your lips.  Om…nom… nom… nom… oh my, deliciousness!   Today we are making Chinese 5 Spice Grilled Pork Tenderloin!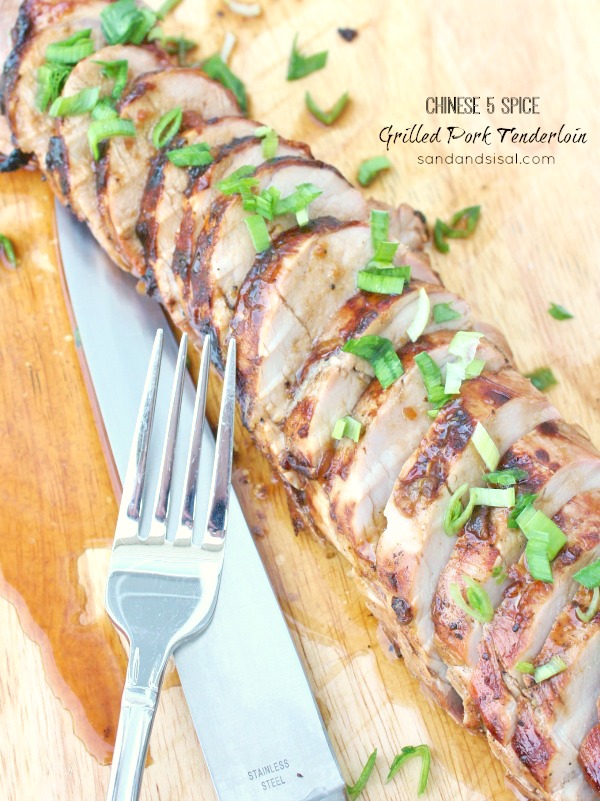 Pork tenderloins will frequently come packaged together with 2 loins, each normally weighing approximately 1.5 lbs each.  I like to go ahead and marinate both of the loins, grill one, and then freeze the other in a ziplock freezer bag for dinner another day. One loin will feed our family of 6 and 2 loins will feed 10-12 people. The secret to the amazing and exotic flavor is the marinade! You will only get 1 dish dirty for this recipe! Yes, you can thank me later for that. 😉 Pull out a 9 x 13″ glass baking dish and gather all your ingredients. Measure and then mix all the marinade ingredients right in the baking dish. Remove 1/3 cup of marinade for a drizzling sauce to be used later. Rinse your pork under water and then add them to the marinade. Turn and coat the pork well with the marinade. Cover with plastic wrap and refrigerate for 3 or more hours (the longer the better).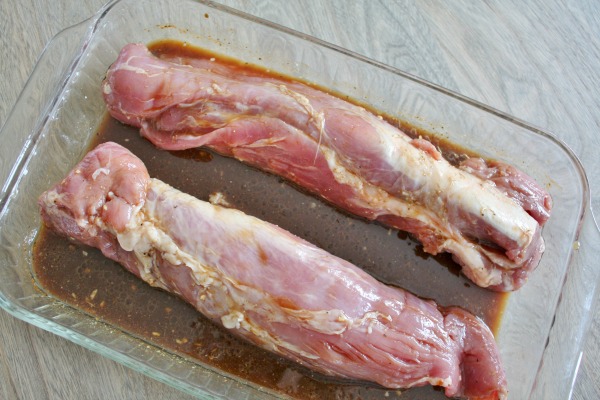 Bring your pork tenderloin out to the counter and allow it to warm up to room temperature for about 30-40 minutes before grilling. Pre-heat your gas grill to medium high heat. Place the loin on the grill and turn down to medium heat. Discard marinade. Grill for 25 minutes, turning once, until the meat reaches a temperature of 145° (use a meat thermometer inserted into the thickest part). Remove the loin from the grill and set aside. Allow the meat to rest 10-12 minutes before slicing. This is ultra important! Resting allows all the juices to stay in the meat, resulting in tender and juicy meat and not cardboard. Cardboard is not appetizing.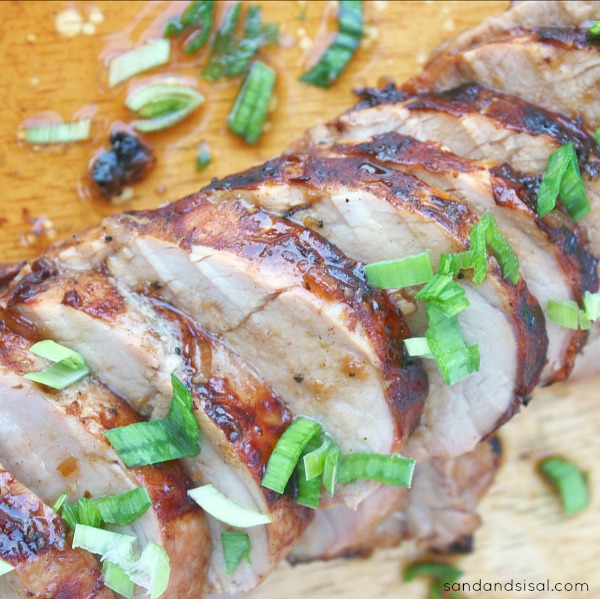 Chinese 5 Spice Grilled Pork Tenderloin
Author:
Kim Wilson - c4a.bc9.myftpupload.com
Prep time:
Cook time:
Total time:
Ingredients
Two 1.5 lb. (each) pork tenderloins
Marinade Ingredients:
⅓ cup brown sugar or honey
½ cup soy sauce
½ cup rice wine vinegar
1 T. ginger paste (or finely minced fresh ginger)
1 T. Dijon mustard
1 T. dried minced onion
1 tsp. oyster sauce
1 tsp. Chinese 5 Spice Powder
1 tsp. ground black pepper
¼ cup vegetable oil
Instructions
To prepare the marinade, gather all ingredients, measure and mix them in a 9x13" glass baking dish.
Reserve ⅓ cup of marinade and set aside (this will be used later for a sauce)
Remove pork tenderloins from package and rinse under cold water.
Place both tenderloins in the baking dish, turn to coat well with marinade.
Cover with plastic wrap and refrigerate for at least 3 hours.
Remove from fridge and allow to sit at room temperature for 30 minutes.
Pre-heat gas grill to medium heat.
Choose to either grill both or just one tenderloin. Freeze the non-grilled tenderloin in a gallon freezer bag with a bit of the marinade.
Grill for approximately 25 minutes, turning once.
Stick a meat thermometer into the thickest part and remove pork from grill when its internal temperature reaches 145.
Allow the pork to sit and rest for 10 minutes before slicing.
Heat the reserved marinade and drizzle over the top of the sliced pork.
Serve over rice and accompany with steamed snow peas.
One tenderloin serves 6, two tenderloins will serve 12.
Enjoy!
Heat and then drizzle the 1/3 cup of marinade you had set aside earlier, over the pork. Garnish the pork loin with chopped green onions and serve with sticky white rice, steamed snow peas and the extra marinade. You can grill and have dinner on the table in half and hour! Trust me,
Chinese 5 Spice Grilled Pork Tenderloin
will soon become a family favorite!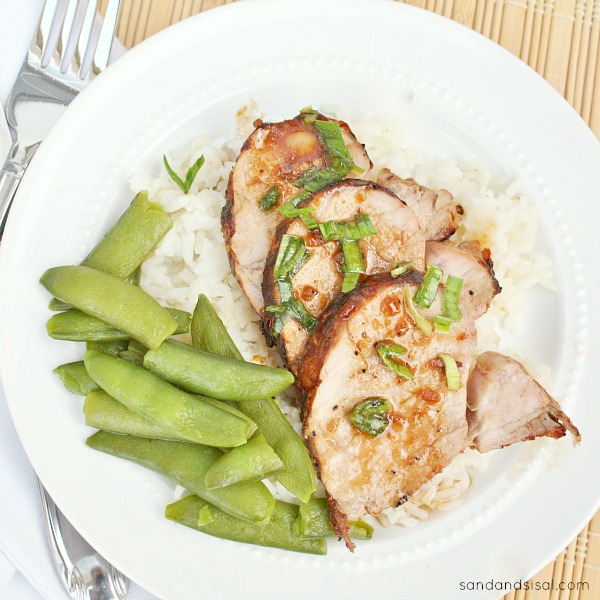 For more delicious recipes check out
Kim's Kitchen
. You might also like these recipes for the grill: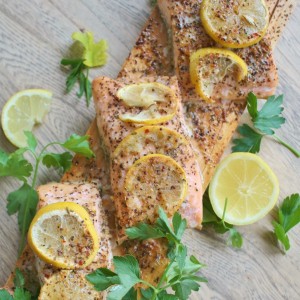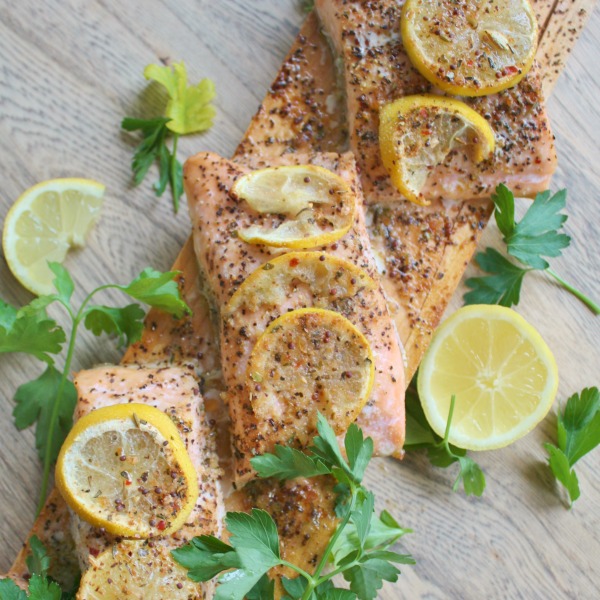 Grilled Artichokes- Cheesecake Factory Style
KIM