We have finished! I can not tell you how excited I am to reveal the latest project I've been working on for my younger daughter. It's a  Teen Room Makeover decorated with a modern and stylish, gray, yellow, and turquoise color palette!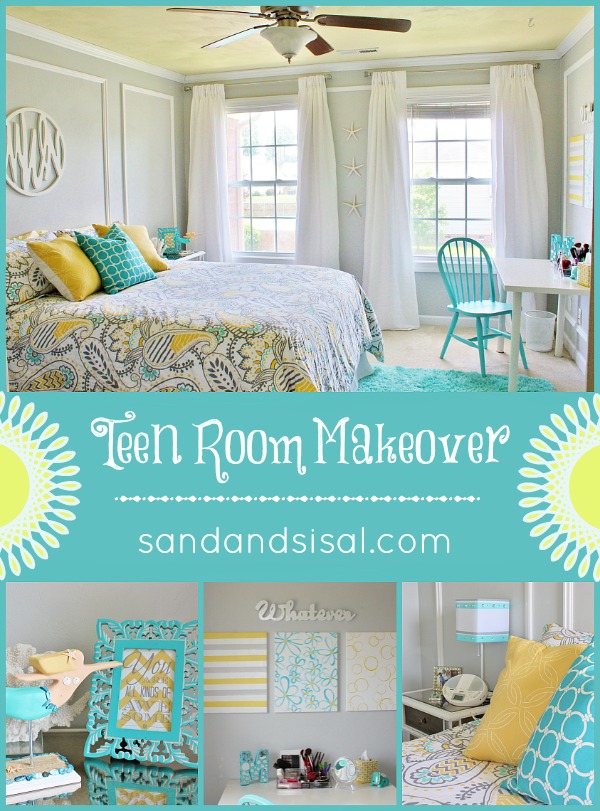 A few weeks ago we discussed how to Discover Your Color Story when deciding on a room color and designing a room. I showed you all types of beautiful images that inspired the color palette for this Teen Room Makeover and that I'd reveal who the new, hot and fashionable retailer was that just came onto the market and one that I've partnered with.  

The retailer is The Paint Studio at ACE! The helpful associates at Ace's Paint Studio specialize in personalized attention and service and offer features like mood-inspired palettes displayed in unique drawers with bright, realistic lighting and tools to make color selection simple.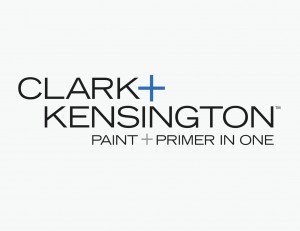 Let's take a look at the paint colors I chose for the room. These colors are all by Clark+Kensington in a  beautiful eggshell finish. Garden Stone is for the walls, Saturday Morning for the ceiling, and for a lively and energetic burst of color, I chose to use turquoise accents throughout the room. I used the Clark+Kensington Premium Interior Eggshell Enamel, Paint +Primer in One. I have to tell you, this was my 1st time using the paint and I was very impressed with the paint's excellent coverage, gorgeous color, and low VOC's. And no wonder! It was recently ranked #1 by Consumer Reports!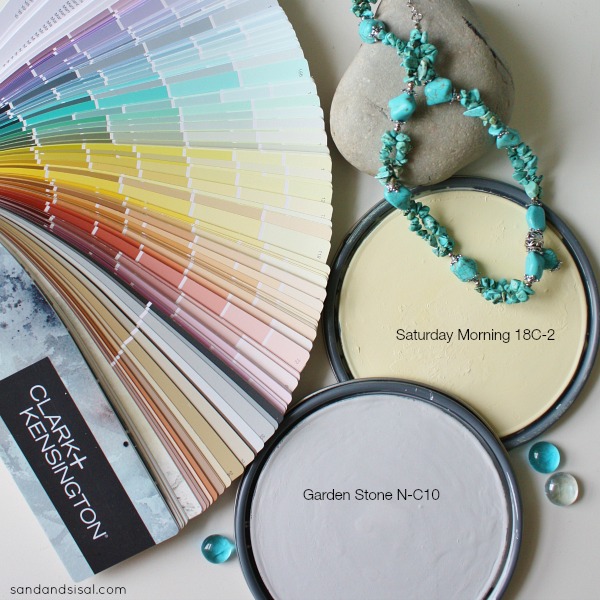 When we moved into our home 6 years ago, my daughter was just learning how to surf, so her heart was set on a Roxy Surfer Girl Room. The room was fun and colorful, but now that she is older, she was desiring a room that reflected a more sophisticated and grown up feeling, yet still wanted it to be young and cool. We basically, scrapped the entire room and started from scratch, furnishings and all. Color makes such a difference! We added a queen sized bed, two side tables, and a dresser and the room looks even LARGER!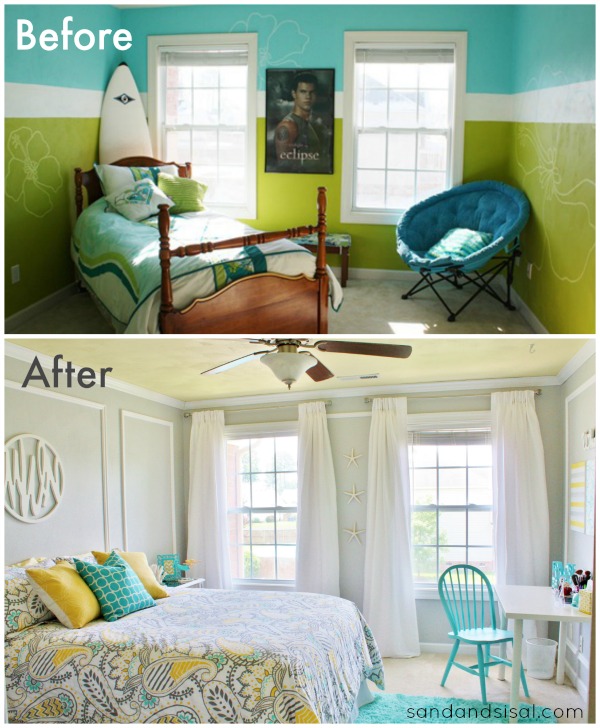 We gave the walls a coat of white primer, because I was nervous the electric green would show through. Then the walls were painted in the soft Garden Stone Gray. The gray is a perfect shade of gray. It's warm and very versatile to pair with other colors. We painted the ceiling in the Sunday Morning yellow, which is more of a buttery-yellow-cream color.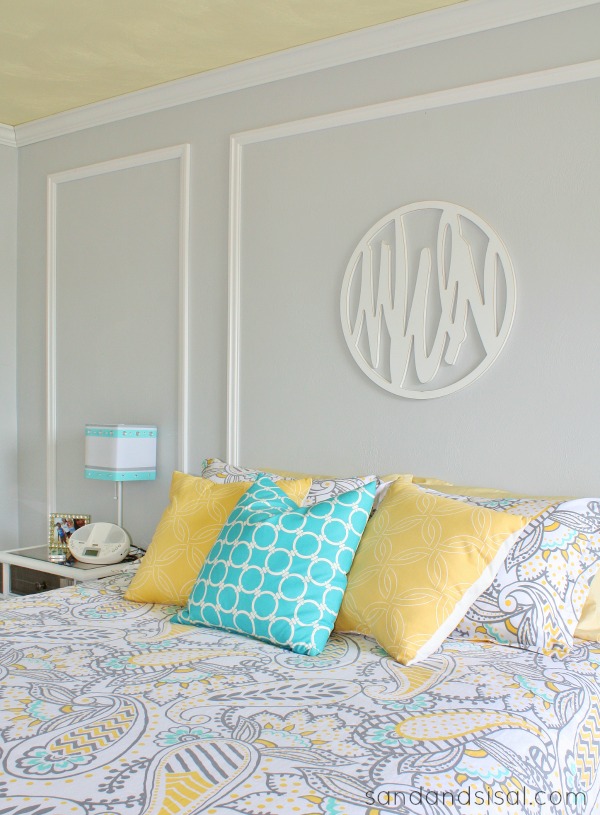 To make the gray and yellow really stand out, we added crown molding and wainscoting or picture frame moldings, painted in bright white, all around the room.  I LOVE IT!!!!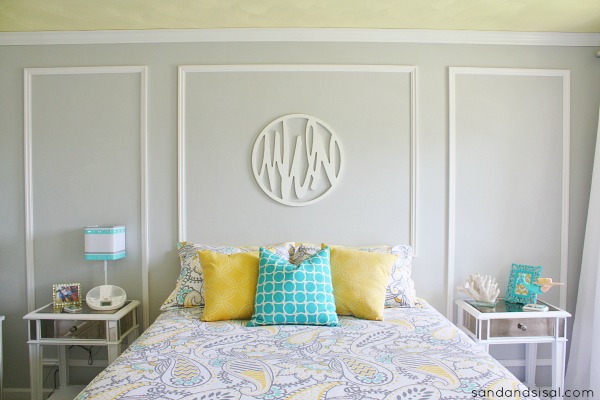 I combined several different patterns together for the bedding, but made sure to keep the colors the same. Keeping the colors limited, (like 3 tops), is the key to mixing and matching multiple patterns together. Combine patterns in small doses or you will risk a room looking like all crazy and too busy.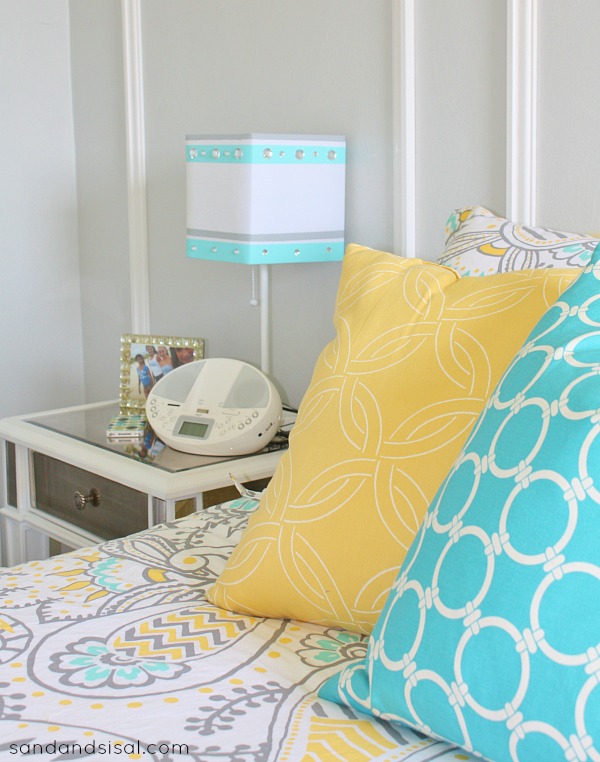 Mirrored bed side tables lend the room just the right amount of sparkle.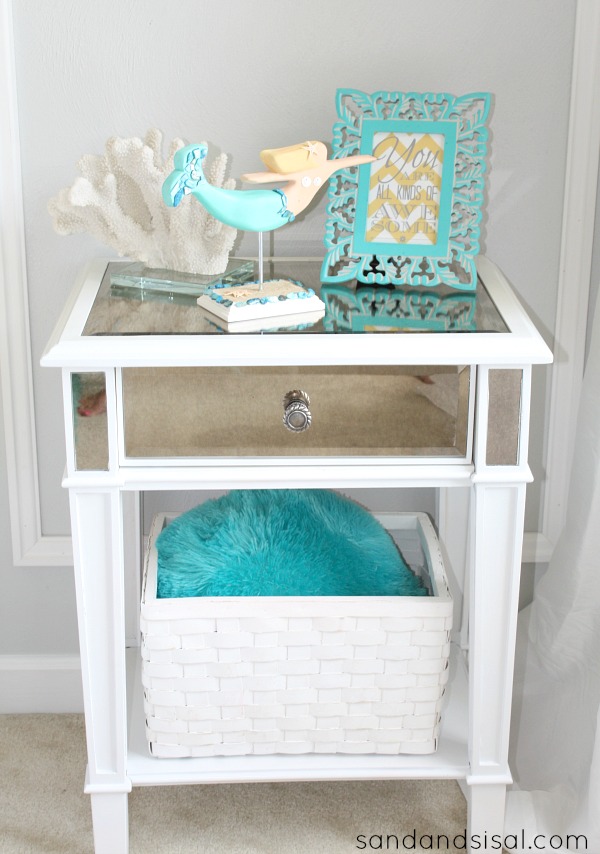 For her table top, I created a fun yellow chevron teen printable and placed it in a pretty turquoise picture frame next to her DIY mermaid she recently painted. (Look for the free printable coming soon!).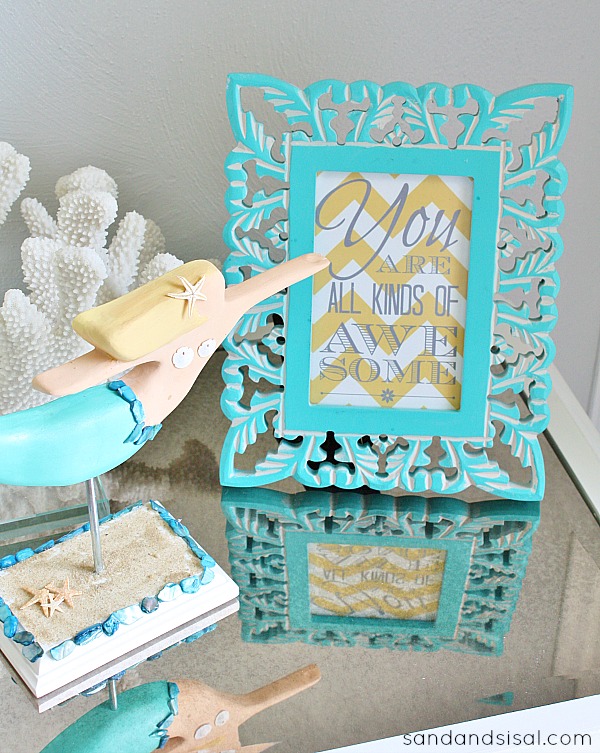 The desk wall is where she often does her homework and of course, her makeup each morning. I created 3 super Easy DIY Canvas Wall Art pieces to fill the space and add a pop of color.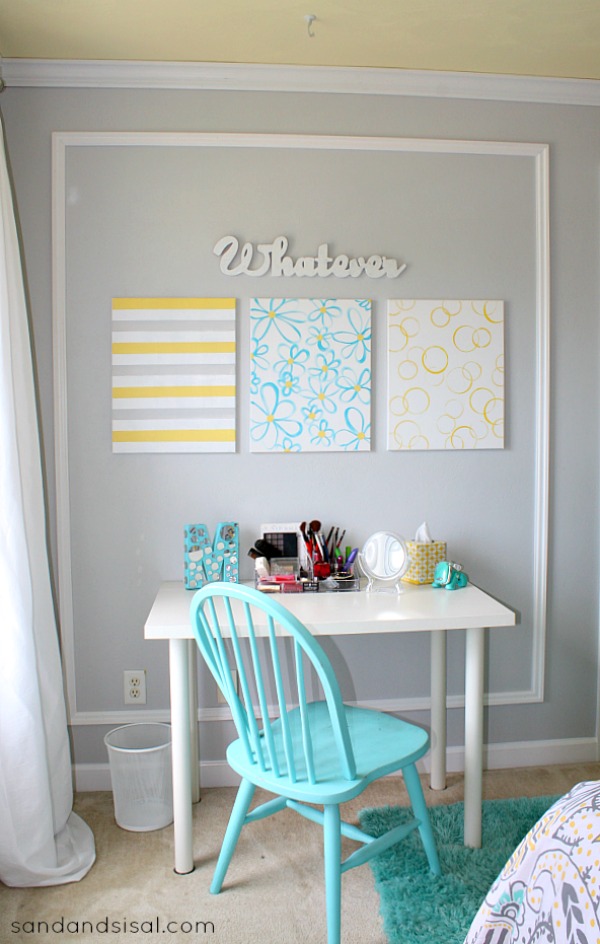 I even used some of the Garden Stone Gray wall paint on the striped canvas art. 😉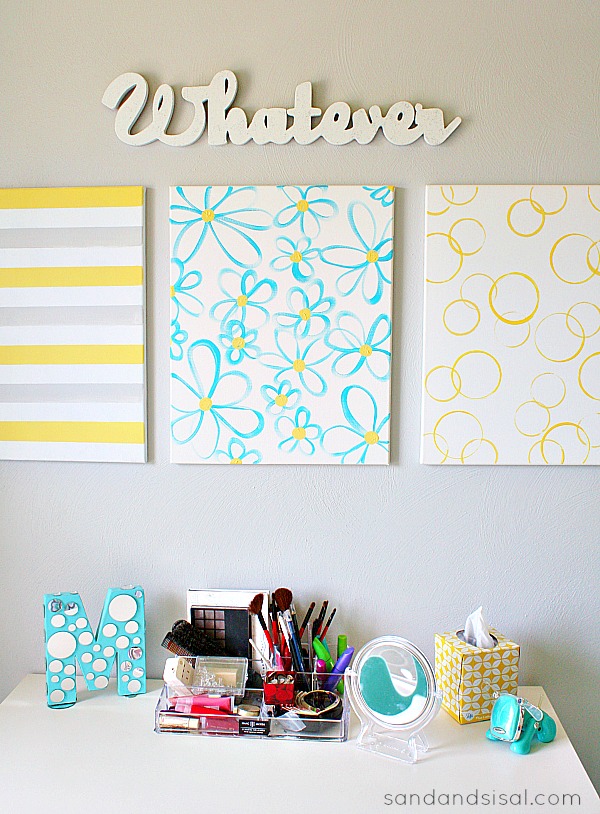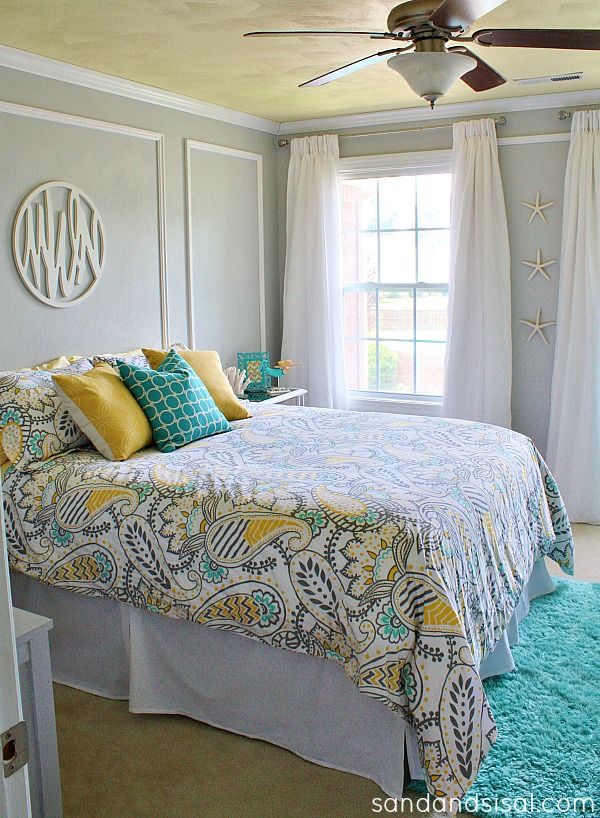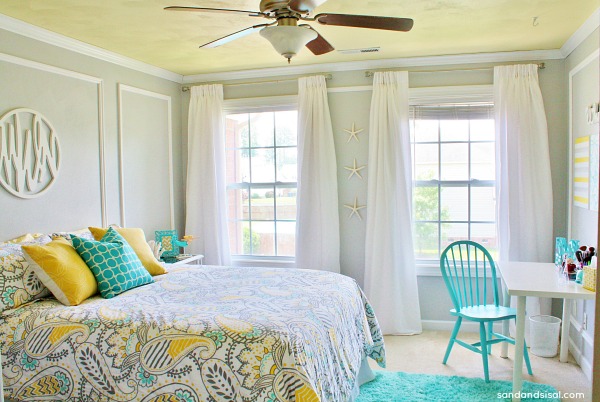 The room turned out so fabulous, even I want to move into it! I need to give a special shout out thanks to The Paint Studio at Ace for their amazing colors and paint! Ace is having a Star Spangled Instant Savings Sale July 2nd – 7th and offers Instant Savings of $5 off Clark+Kensington and $5 off Valspar paint. You can connect with Ace here: Facebook, Twitter, Pinterest, Instagram, The Paint Studio, YouTube.
Want the look? Click here for the Teen Room Makeover's Source List for all the items in the room.
Happy Painting!
KIM
Disclosure: This post has been brought to you in sponsored partnership with Ace Hardware. All opinions and positions expressed are my own and do not necessarily reflect those of Ace Hardware.