Today is part 2 of my Coastal Christmas Home Tour – Part 2 and I am happy to be participating in Just a Girl's Holiday Home Tours with 25 amazing bloggers! Feel free to start the tours from the beginning at Just a Girl's site. And if you are visiting here from Traci's at Beneath My Heart, then welcome! Traci is just so sweet isn't she?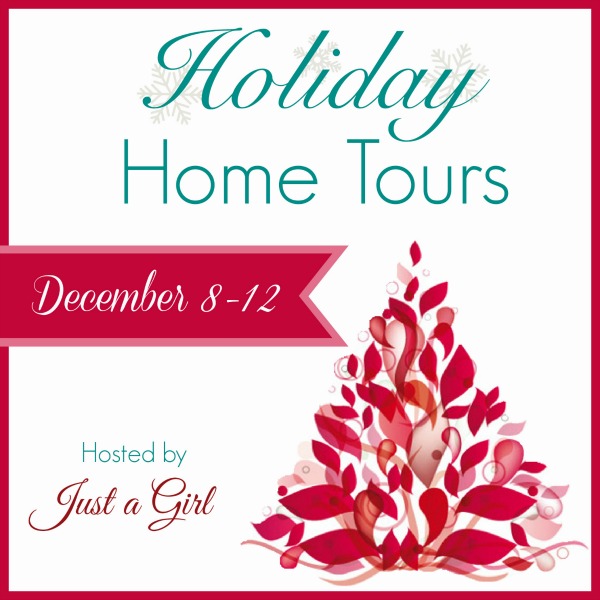 Deck the halls with boughs of holly, fa-la-la-la-la, la-la, la-la!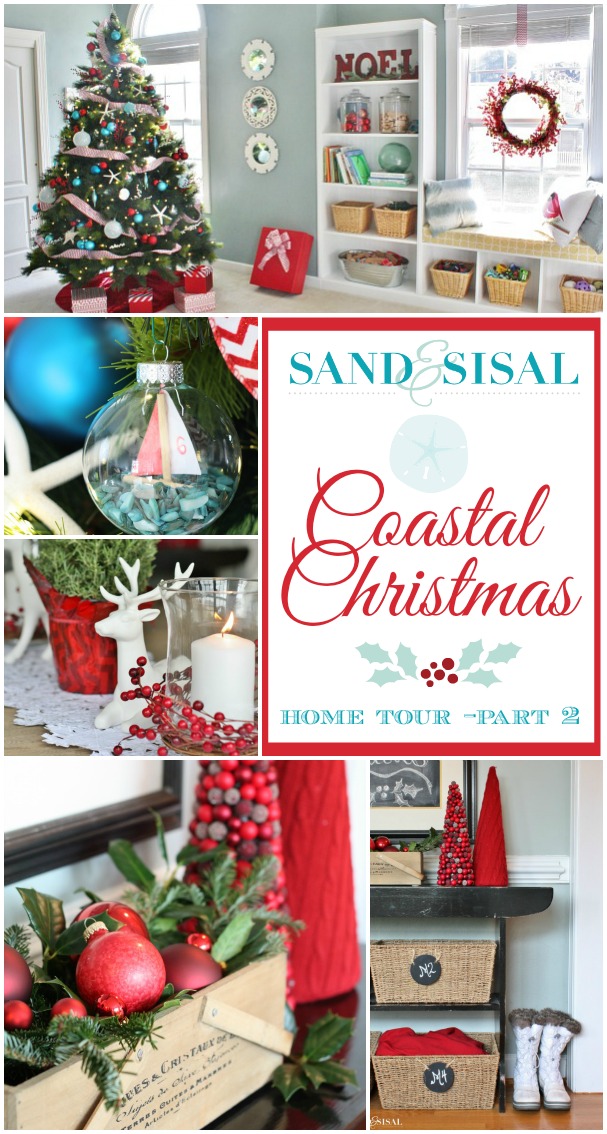 Yesterday I revealed Part 1 of my Coastal Christmas Home Tour and I hope you were encourage by my special message to you. We are still touring the lower level, so let me show you our kids' bin area. It's a mini mudroom of sorts, right next to our garage door. The console table was a thrift store find which I painted and added bins. Each child has their own bin where they toss their hats, coats, and shoes.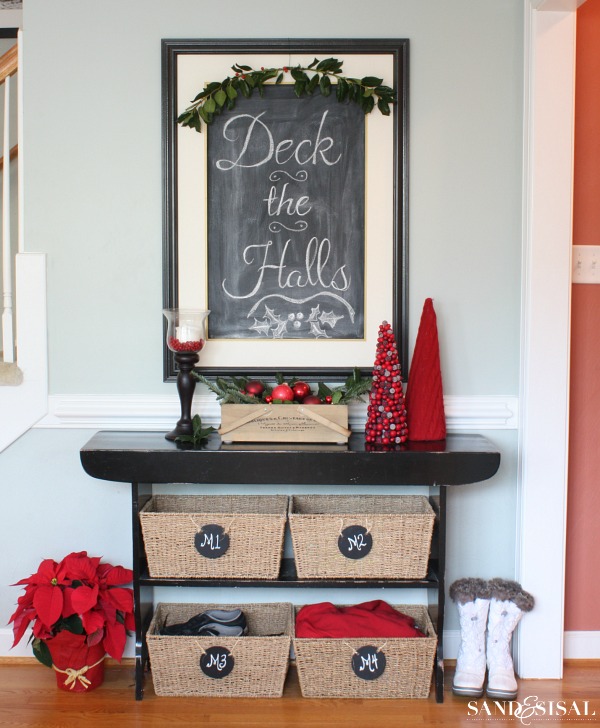 And we have a little chalkboard message board above. (Guess what? That is painted directly on the wall!)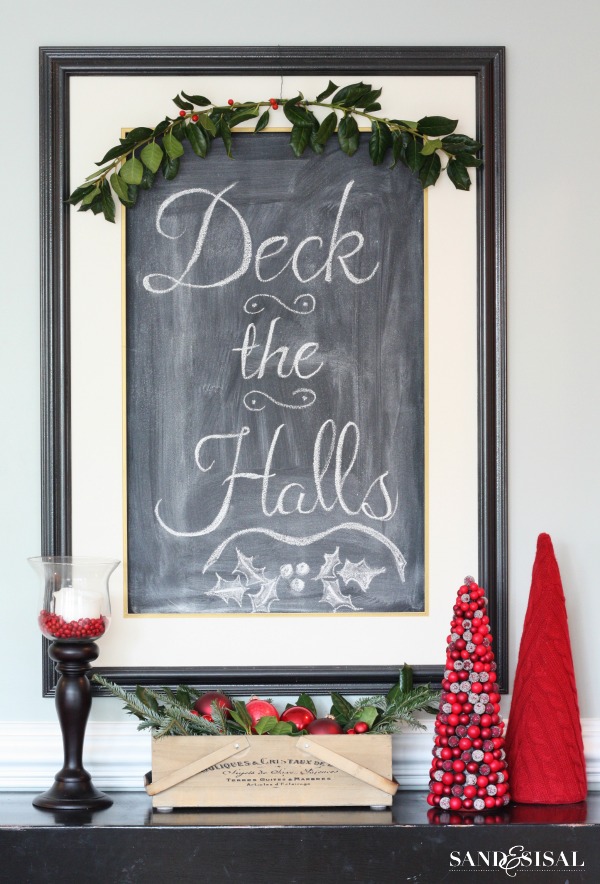 I've carried a theme of silver and gold and white in most of the house, but I love bright and cheery red and green for the kitchen and anywhere the kiddos spend a lot of time in.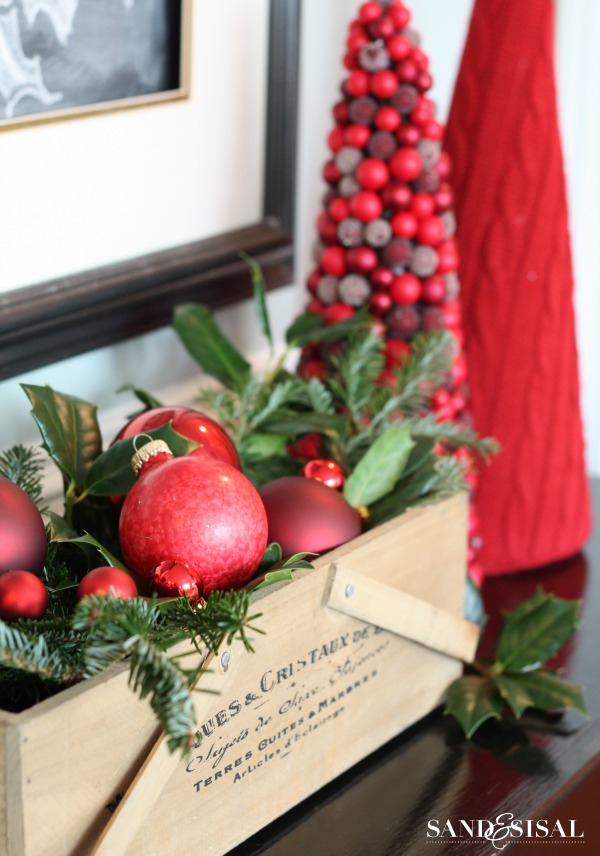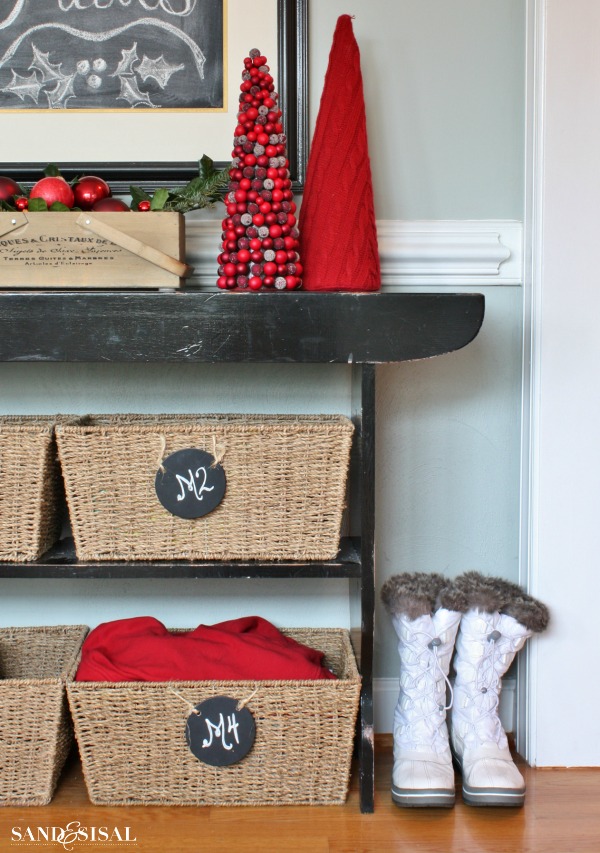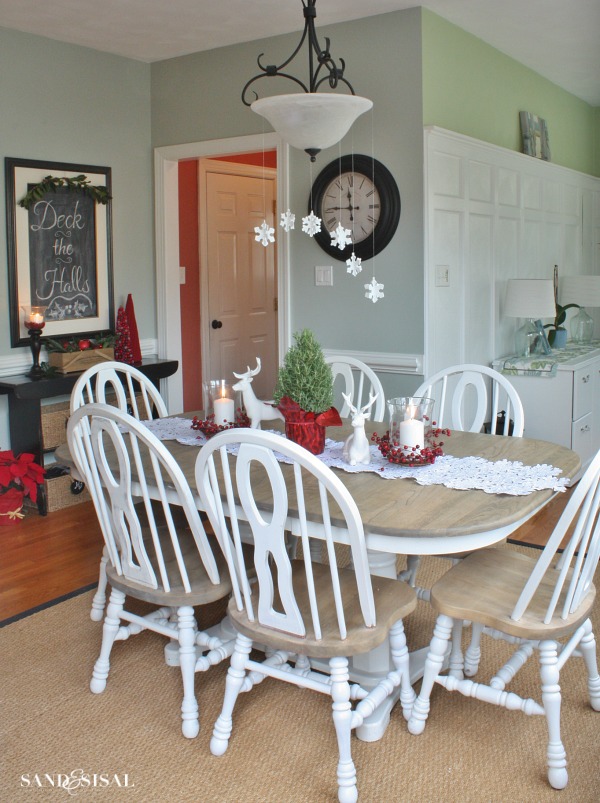 A fragrant rosemary bush, white deer  and cranberry hurricanes from Target, make for a relaxed and casual kitchen table. I buy one rosemary bush each Christmas and then plant it outside after the holidays. Rosemary thrives in our area and is very drought resistant.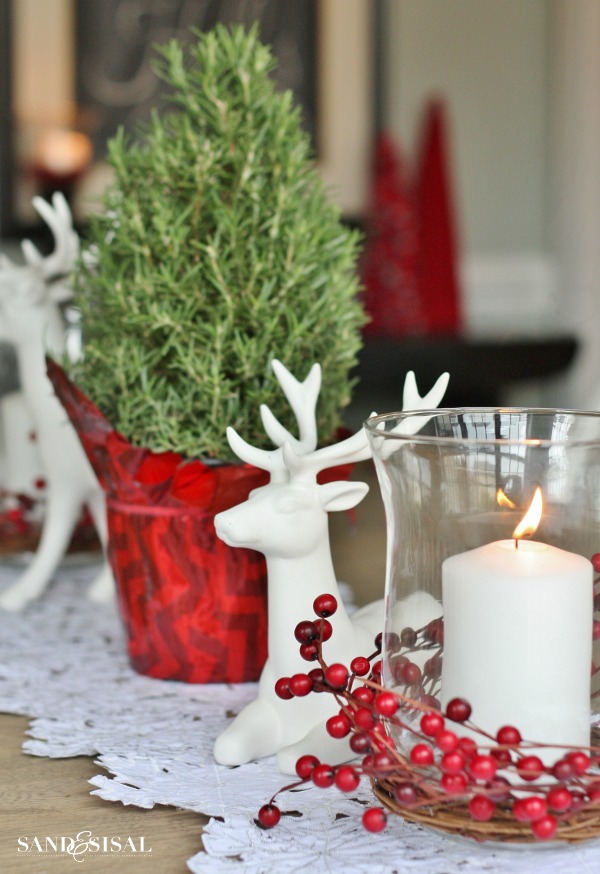 Just a few little pops of red are added to the kitchen. Those cabinets are crying out to be painted white. Don't you agree? Maybe that will be my next big DIY project this winter?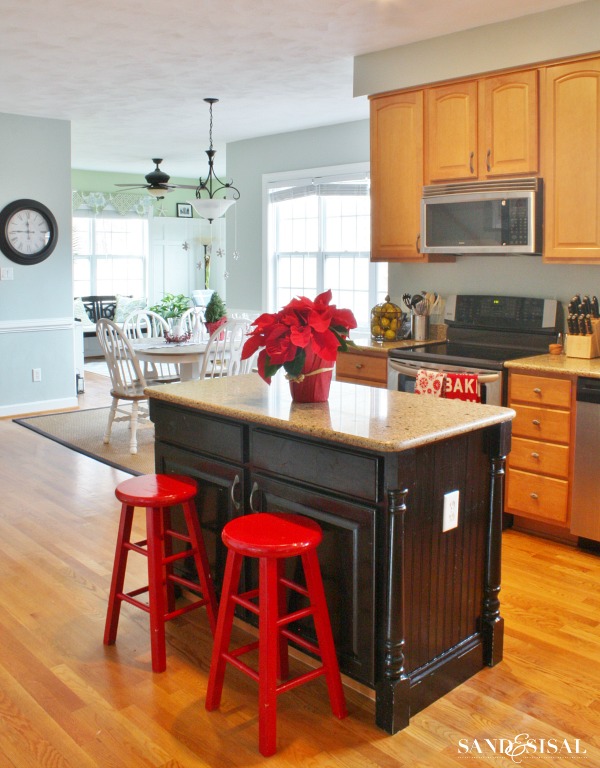 Let's head upstairs to the playroom, A.K.A Kid Central! The playroom is sporting a turquoise and red Christmas decor theme. I can not express how much we are loving our new DIY Built-in Bookshelves and Window Seat!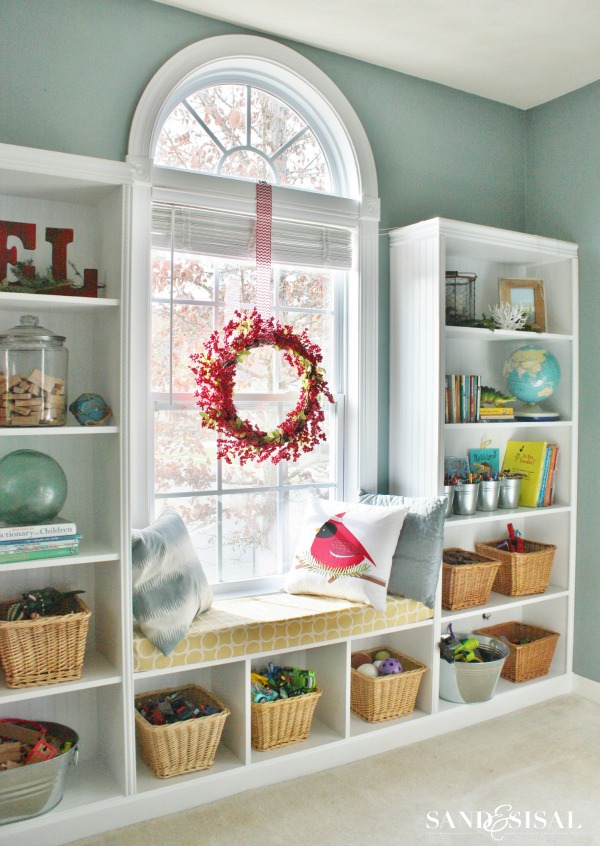 I ripped apart my Pottery Barn Inspired Noel Sign (gasp!!) from years ago and set it up on the shelf. Renew & Reuse is always my motto! I love how the DIY Charger Framed Mirrors reflect the Christmas tree.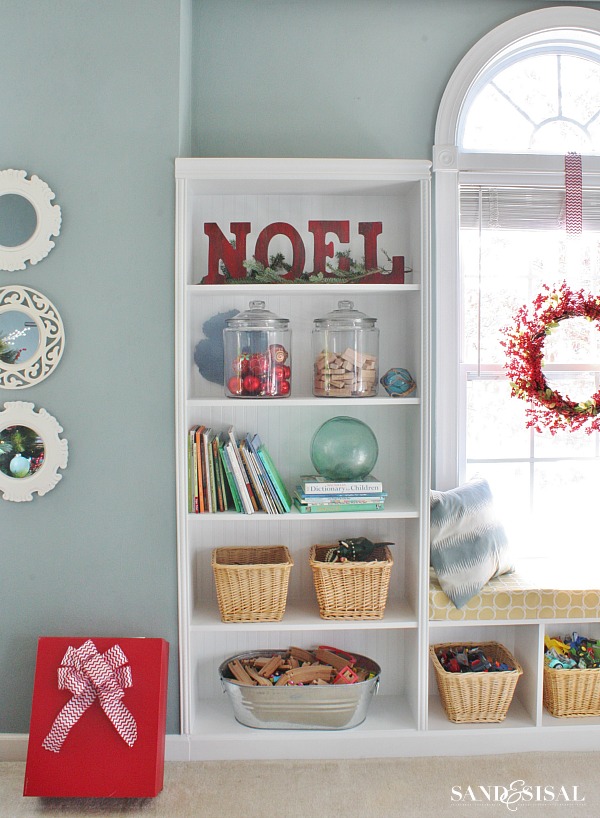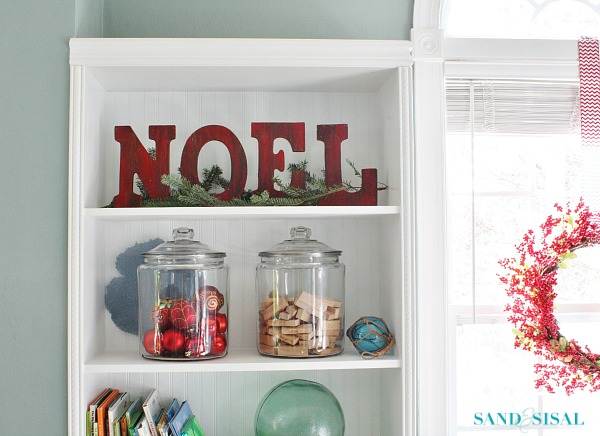 This is the first time we've ever had a tree up in the playroom. The kids love it!  We went with a turquoise and red Nautical Christmas Tree.
Big, bright turquoise and red glass balls adorn the tree along with sea glass ornaments, drift wood sailboat ornaments (tutorial coming soon!), white finger starfish, sand dollars, cardinals (our state bird) and a fun chevron ribbon!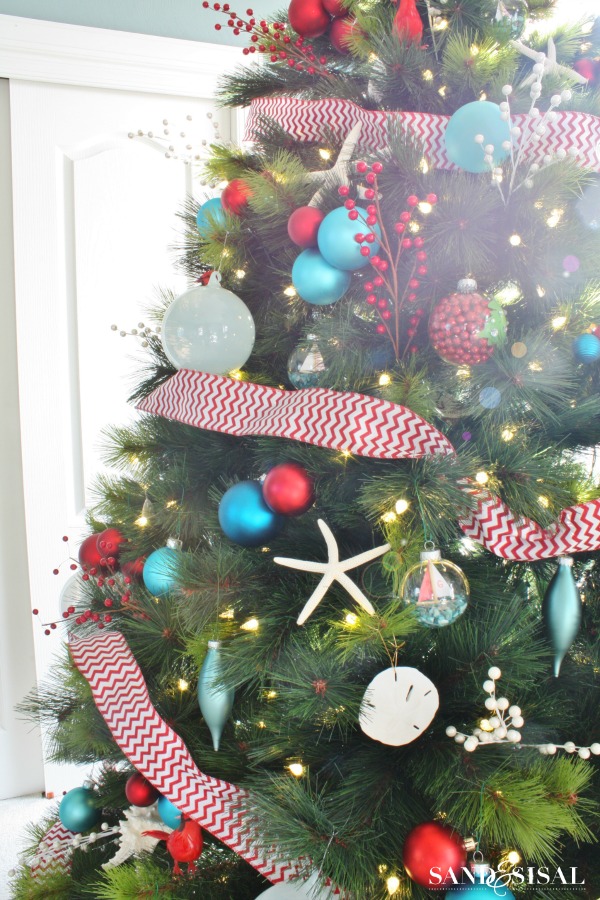 Are these little sailboat ornaments adorable or what? I'll teach you how to make them later this week.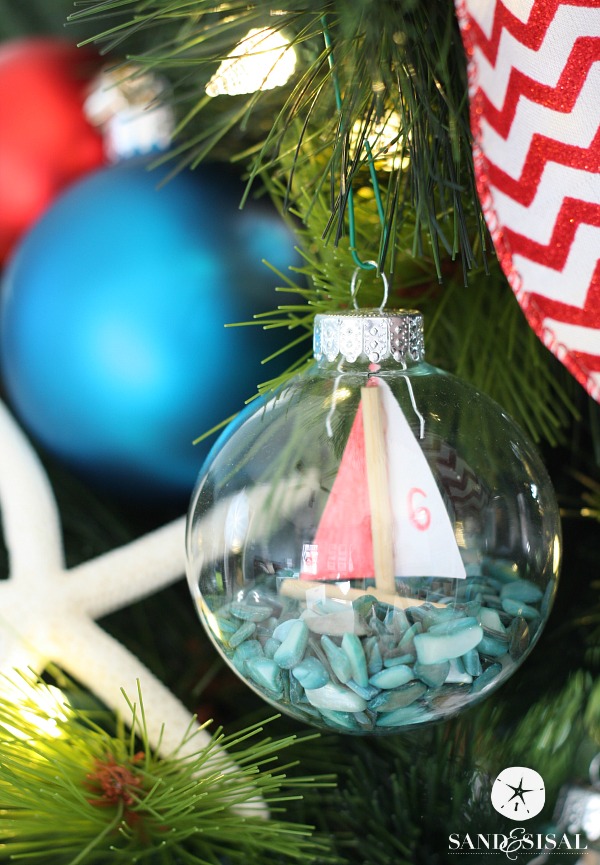 And lastly, let me introduce you to Snowball, our Elf on the shelf, or in this case, on a driftwood sandpiper! This is our 2nd year of entertaining the concept of Elf on a Shelf. When your kids range from 7-18 years of age, you tend to hold on to the sweet and innocent magic of childhood wonder! Because before you know it, they are gone and off to college.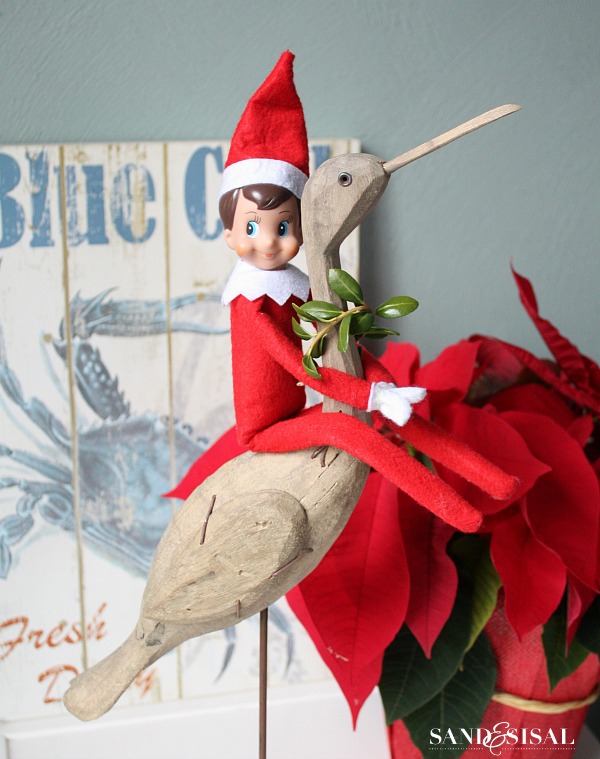 I hope you enjoyed seeing a bit more of my home! I'll share my turquoise and lime decorated office next week along with more fun posts!
Don't forget to read my special Christmas message to you in Coastal Christmas Home Tour Part 1!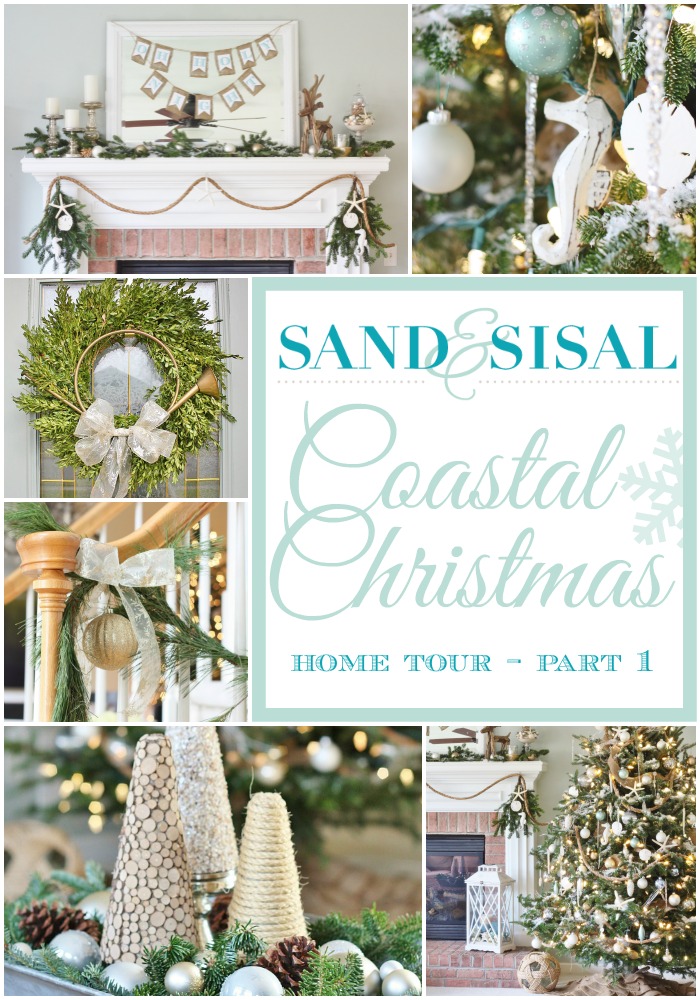 Next up on Just a Girl's Holiday Home Tours is THE NESTER! Yes, you heard me right, Nesting Place is waiting for your arrival so head on over!
Merry Christmas!
KIM