Summer is just about here and our family loves spending time outside and in our backyard. I don't think I've ever revealed our entire octagonal brick patio on the blog after it was finished.  So I'm excited to share my Red, White, and Blue Coastal Patio with you today and I have a cool cash giveaway too!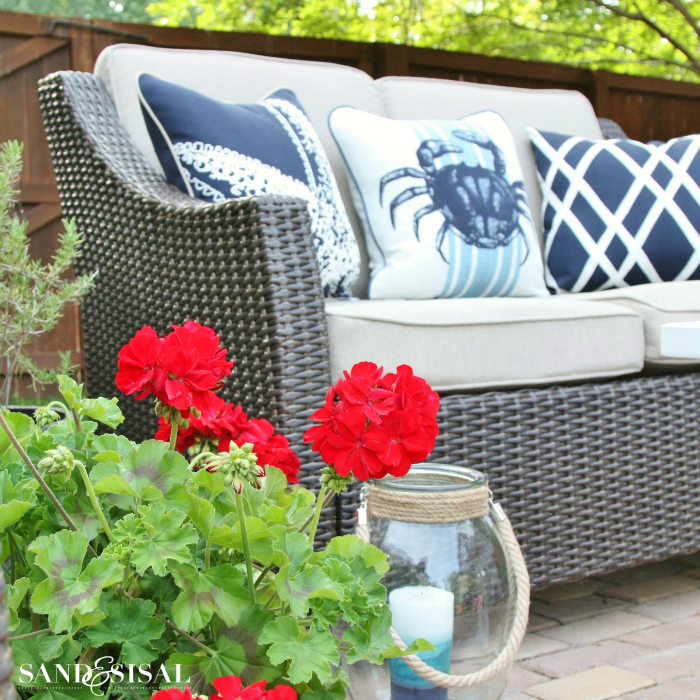 We started building this patio back in 2012 and it took forever to complete because we had never attempted a patio before, let alone one shaped like an octogon! We also only worked on it maybe once a week. I was so relieved when the octagonal brick patio was finally complete!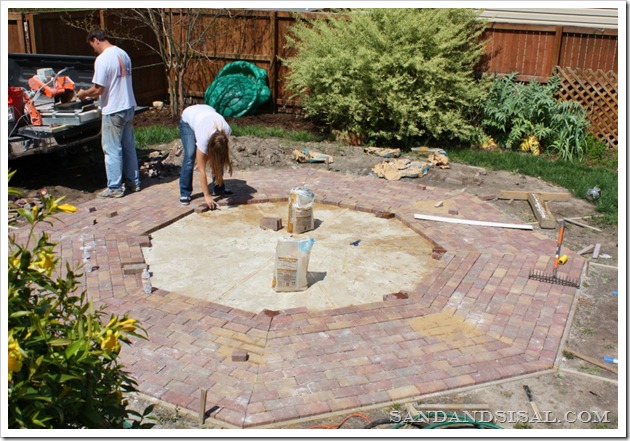 We ordered patio furniture last year for our daughter's outdoor graduation party. Sadly none of it arrived in time for the party and we had to borrow tons of furniture at the last minute from our fabulous neighbors.  It finally arrived a week later.
This year I was excited to really make this patio into an inviting space for entertaining and relaxing with friends and family. And of course, I had to add a bit of a coastal touch to it.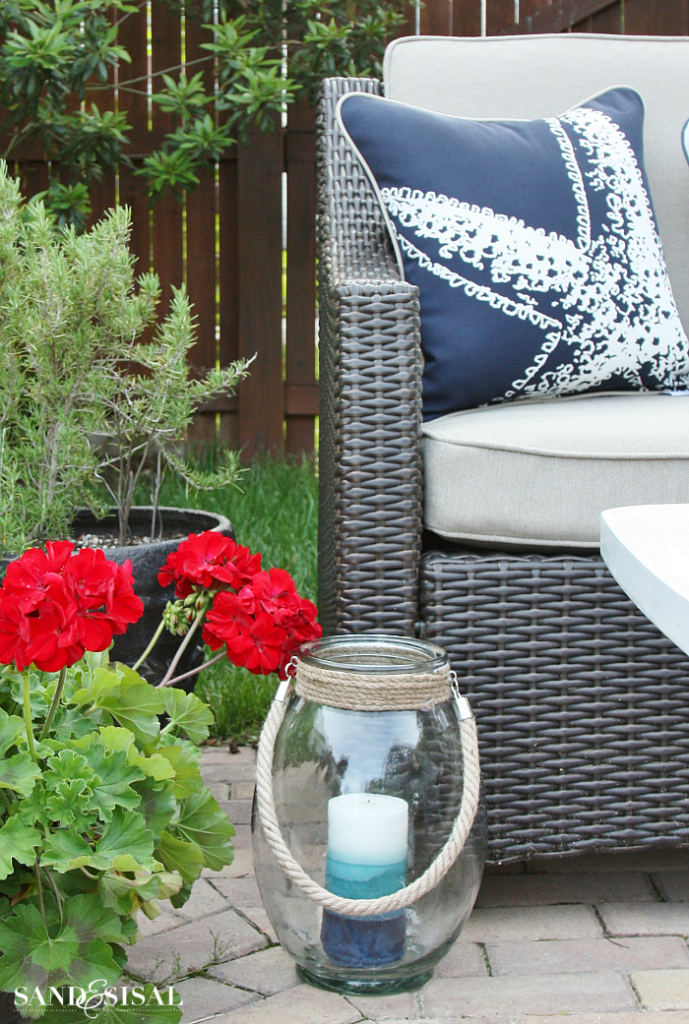 The theme for the decor is red, white, and navy blue with some nautical accents. I love candle light and a roaring fire at night, so a few lanterns are placed around. The glass hurricane lantern above is from Kirklands. I need to invest in some plastic outdoor LED candles because wax and 90° don't play nice with eachother (that poor little guy above is now a blue puddle… sigh).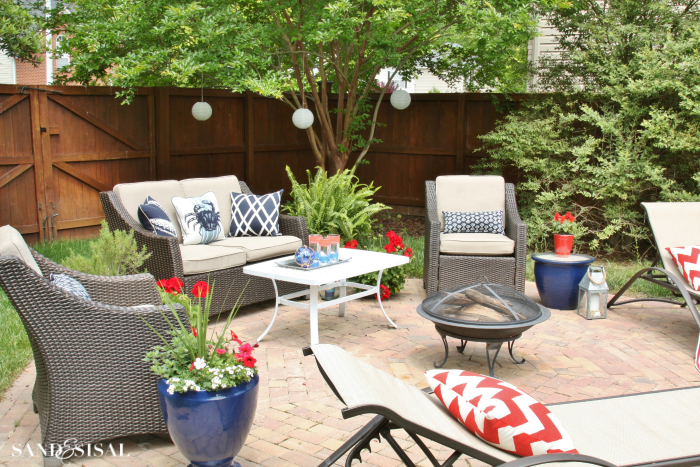 I love, love, love all of these outdoor pillows I found at Target! If you have been following me on Instagram then you know I was eyeing that cute crab and starfish pillow all spring! They are from their Theshold collection and are treated with scotchgard and resist UV fading.
The coffee table received a mini makeover with spray paint. It used to be black. It looks like new once again! The love seat and coffee table are flanked by a Boston Fern, a fragrant rosemary bush, and 2 beautiful red geraniums which will bloom all summer long.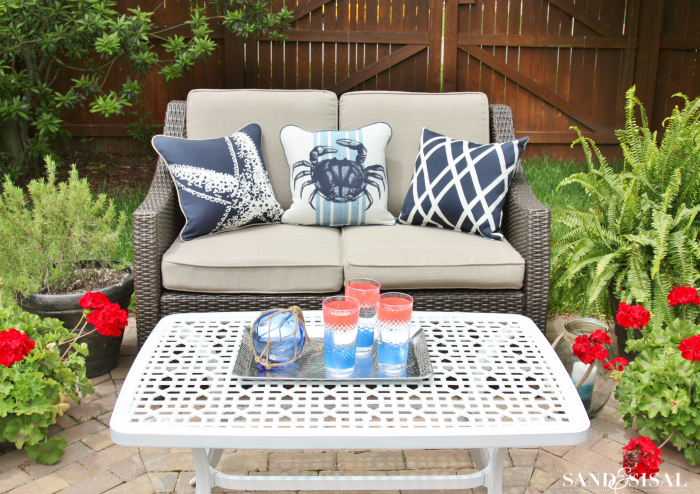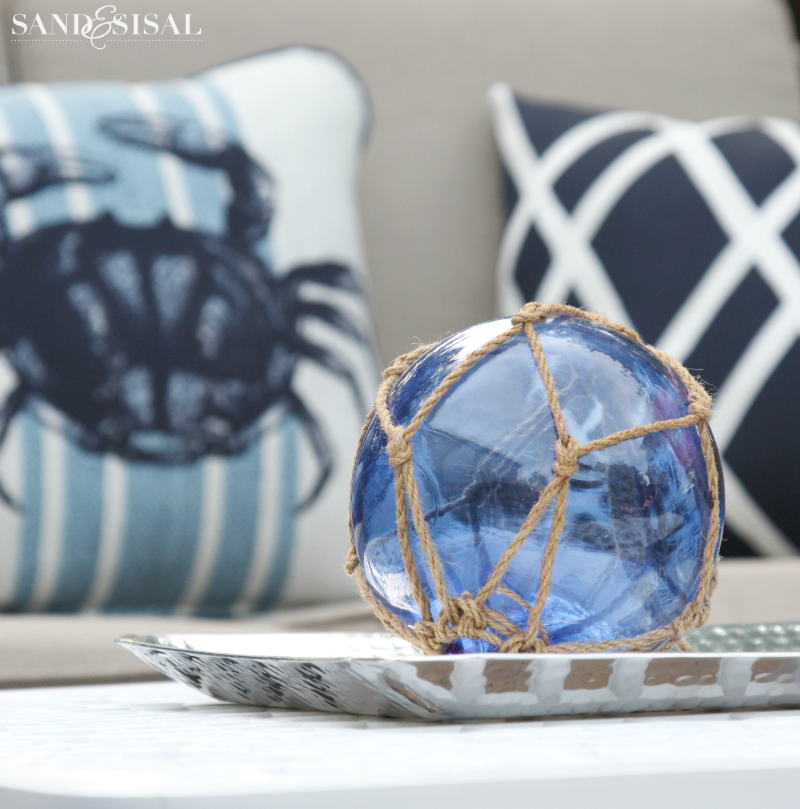 The ceramic flower pots also received makeovers. I'll share that tutorial soon. They are filled with spike plant, red petunias, red and white geraniums, red verbena, blue lobelia, white bacopa. Of course the night before I shot this photo, a huge thunderstorm came through and blew away almost all the blooms…grrrr.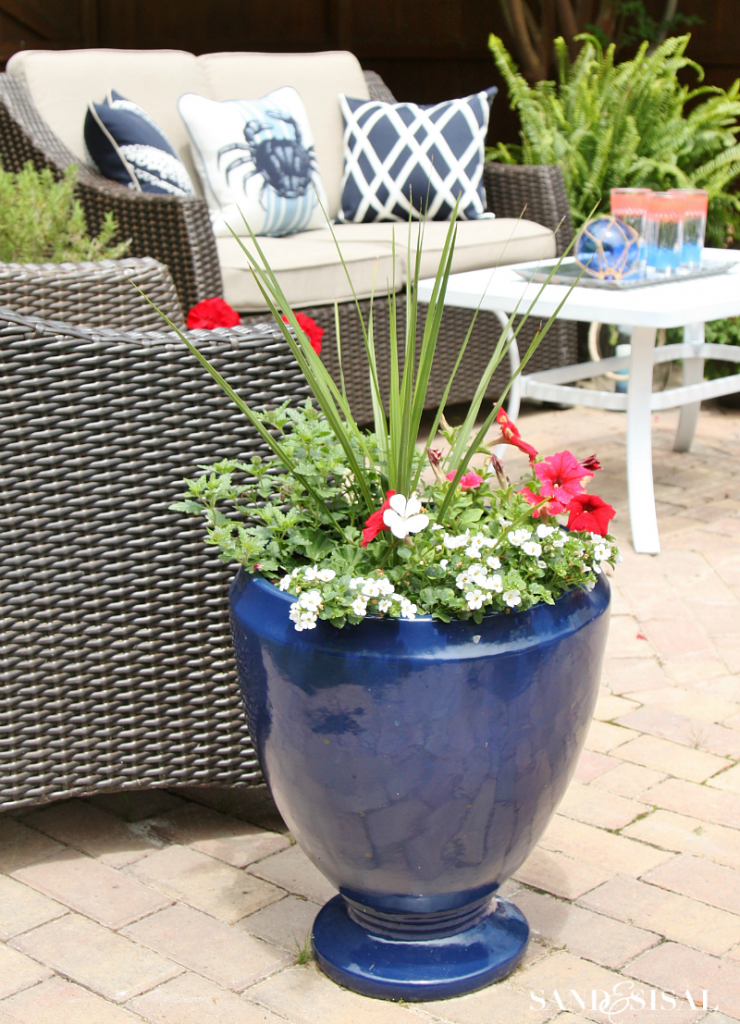 We love to string up white lights in the trees for summer parties and hang paper lanterns with small LED votives inside. It makes the backyard look majical!

Do you recognize the ceramic planter side table? I spruced him up too! (tutorial later this week).
Here is a view of our deck… you can't see much of it because the roses and Carolina Jessamine Vine are going crazy right now!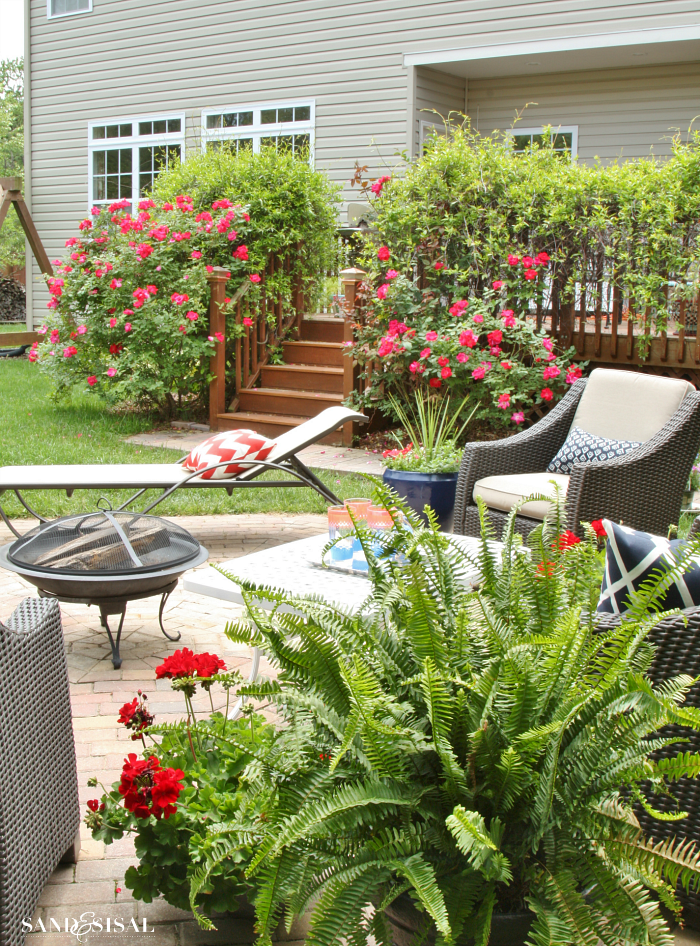 An old galvanized wash tub is now serving as a pretty planter.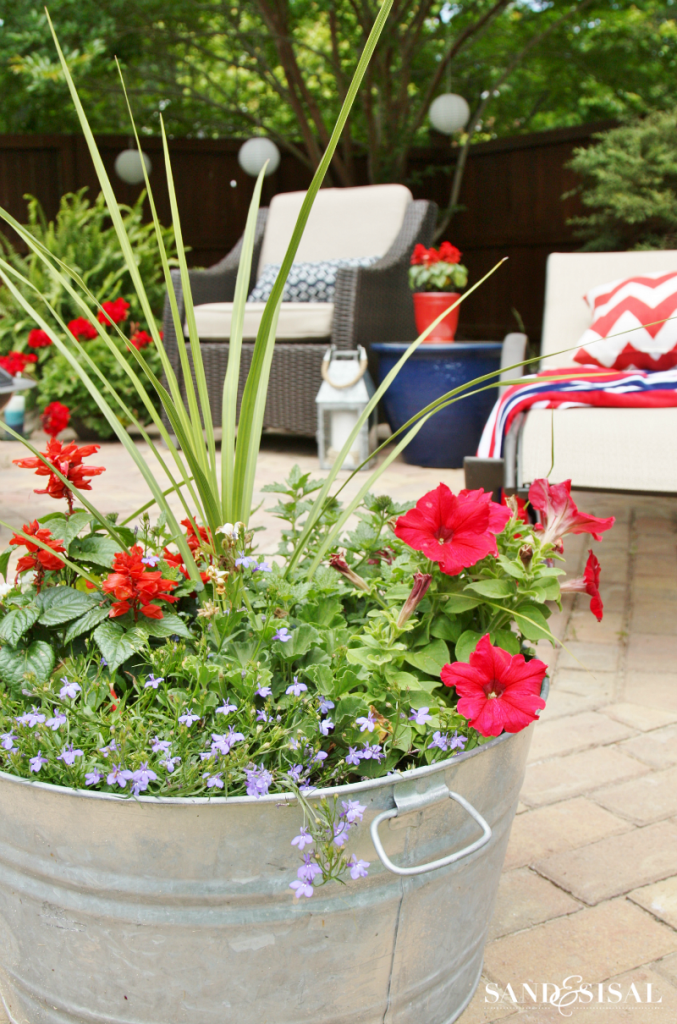 I love how our red, white, and blue coastal patio has all come together. You know where to find me each evening. I'll be the one on the loveseat with iced tea in hand! Come join me!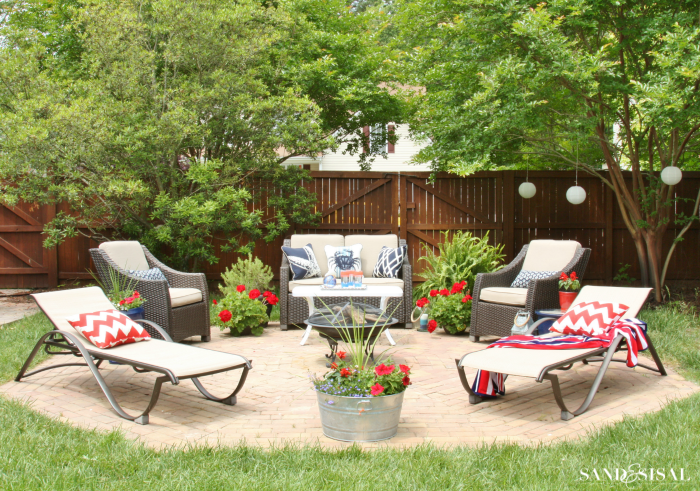 Ready to be even more inspired by some Sensational Summer Outdoor Spaces? I've teamed up with 14 other blogger friends to show you different and creative ways to spruce up your outdoor space AND we have a giveaway for you to help you get started!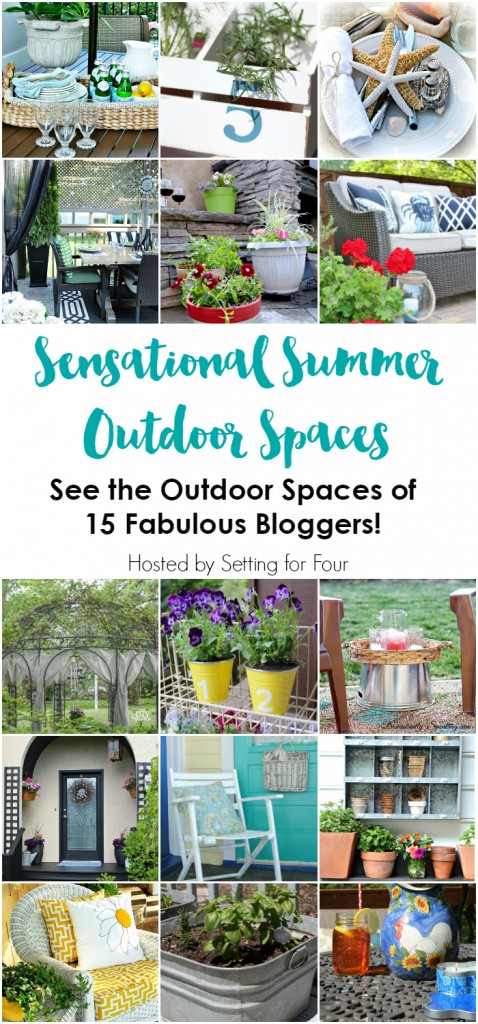 Click any of the links below to see their spaces. 
To celebrate the start of summer we have an AWESOME Sensational Summer Outdoor Spaces Cash Giveaway for you! Enter to win $300 PayPal CASH!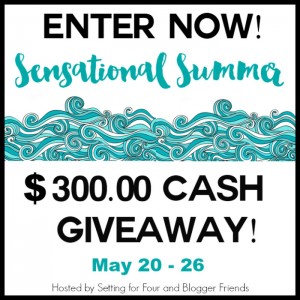 a Rafflecopter giveaway

Now it's YOUR time to link up any OUTDOOR PROJECTS & SPACES you have been working on!

Loading InLinkz ...