Stepping out of my usual blue coastal comfort zone is scary, but I'm jumping head first into a gorgeous and festive red and white Traditional Christmas Family Room Tour! My children, who are not so little anymore, asked for (demanded) a classic red and green and white Christmas. When the kids are ages 23, 20, 18, and 13, you realize how precious time is and do whatever you can to capture that magic of the holiday season for them. So no apologies here! I hope you enjoy a little change of pace and big splash of red and plaid, frosty snow flocked trees with cranberries and cardinals, holly berries and sparkly icicles, and wintery decor!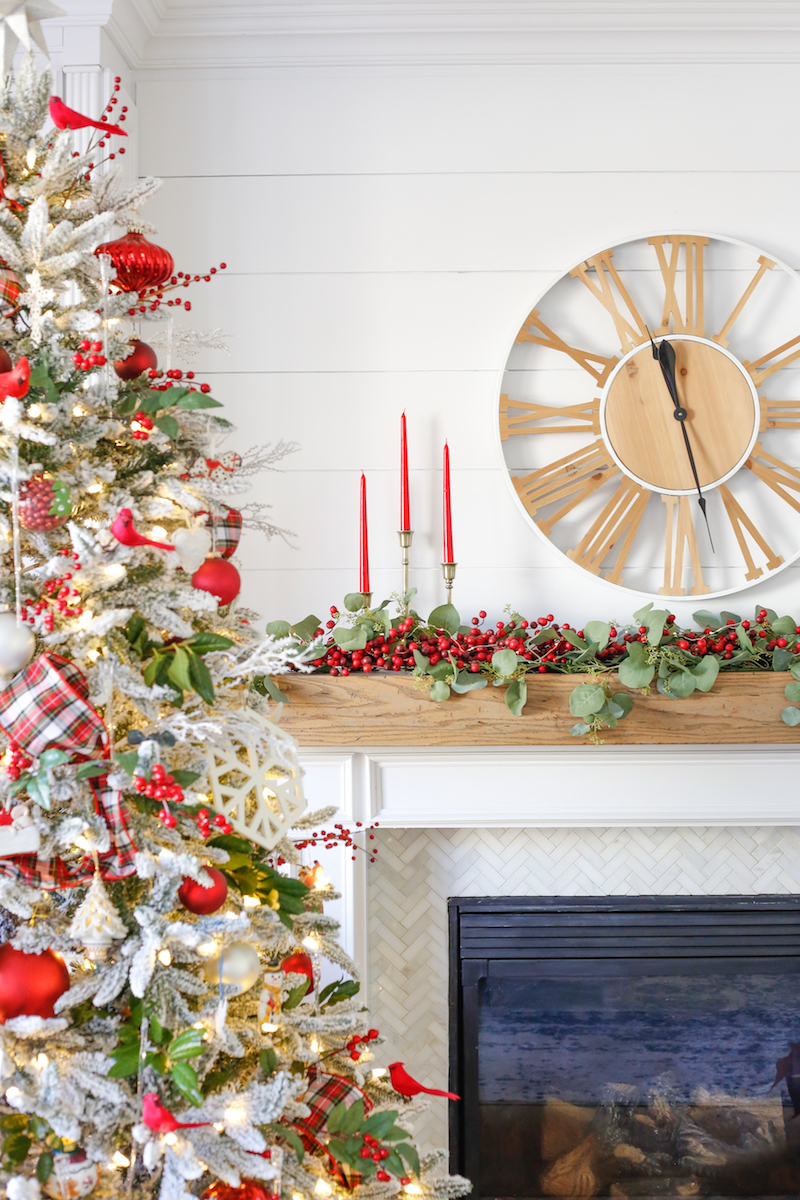 I kept the wood beam mantel pretty simple this year. In past years I've used fresh greenery but we turn on the fireplace almost every night and fresh greenery becomes so crispy too quickly so this time faux was the way to go. I intertwined the cranberry garland from Balsam Hill with two silver dollar eucalyptus garlands from Hobby Lobby. We had used several eucalyptus garlands during our daughter's recent wedding, so it was nice to be able to use them again. A single strand of fairy lights add such a nice twinkle too!
The open faced roman numeral wall clock is flanked with a trio each of brass candlesticks. I had been searching forever for some affordable candlesticks and finally found them at Target! Yay! I love how the red candles pop out against the shiplap fireplace wall.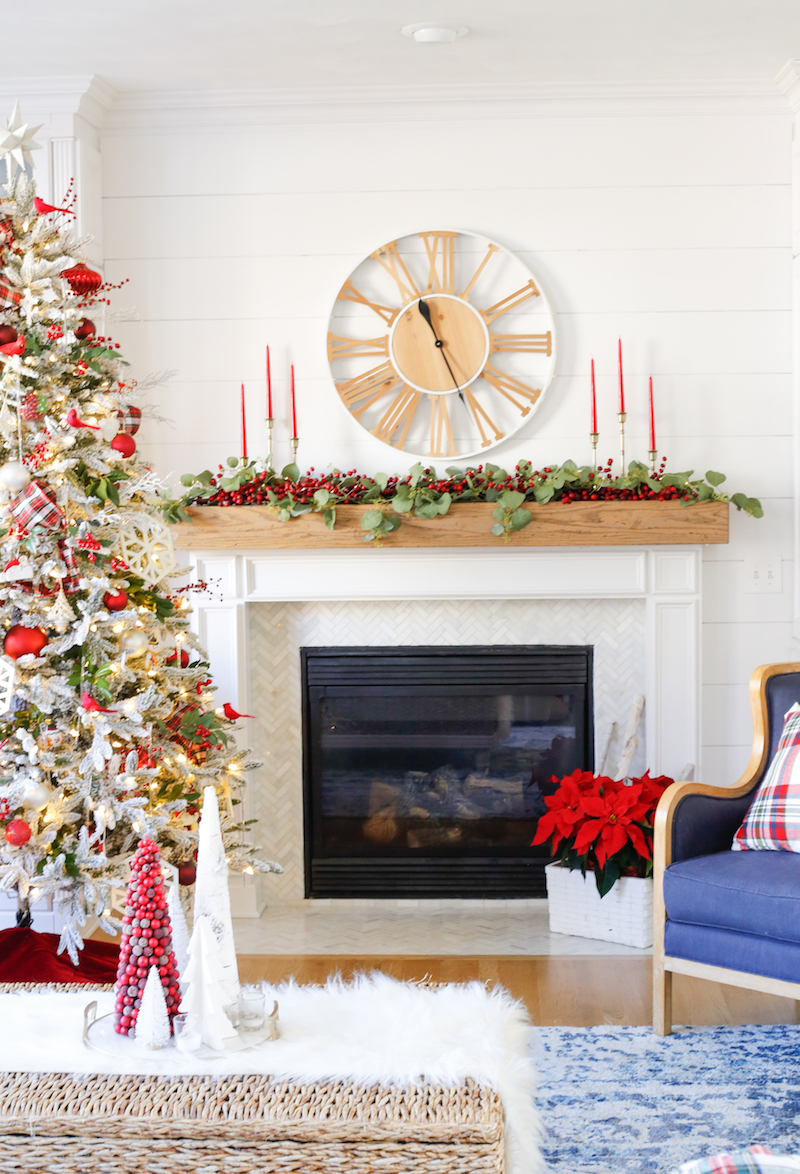 The flocked Christmas tree is still one of my all time favorites! The beauty of this tree is that you can choose between white or colored lighting options and the flocking stays on great! The tree is decked out in plaid ribbon, berry pics, red and white ball ornaments, and family keepsakes. Little red cardinals stay perched on the branches and are also a repeated theme throughout the room. If you are looking for inexpensive cardinals, be sure to check out Dollar Tree! I was able to get 2 cardinals for $1. The dollar store is also a great place to get those large plastic ornaments. They are usually meant for outdoor use but I think they look beautiful on the tree inside!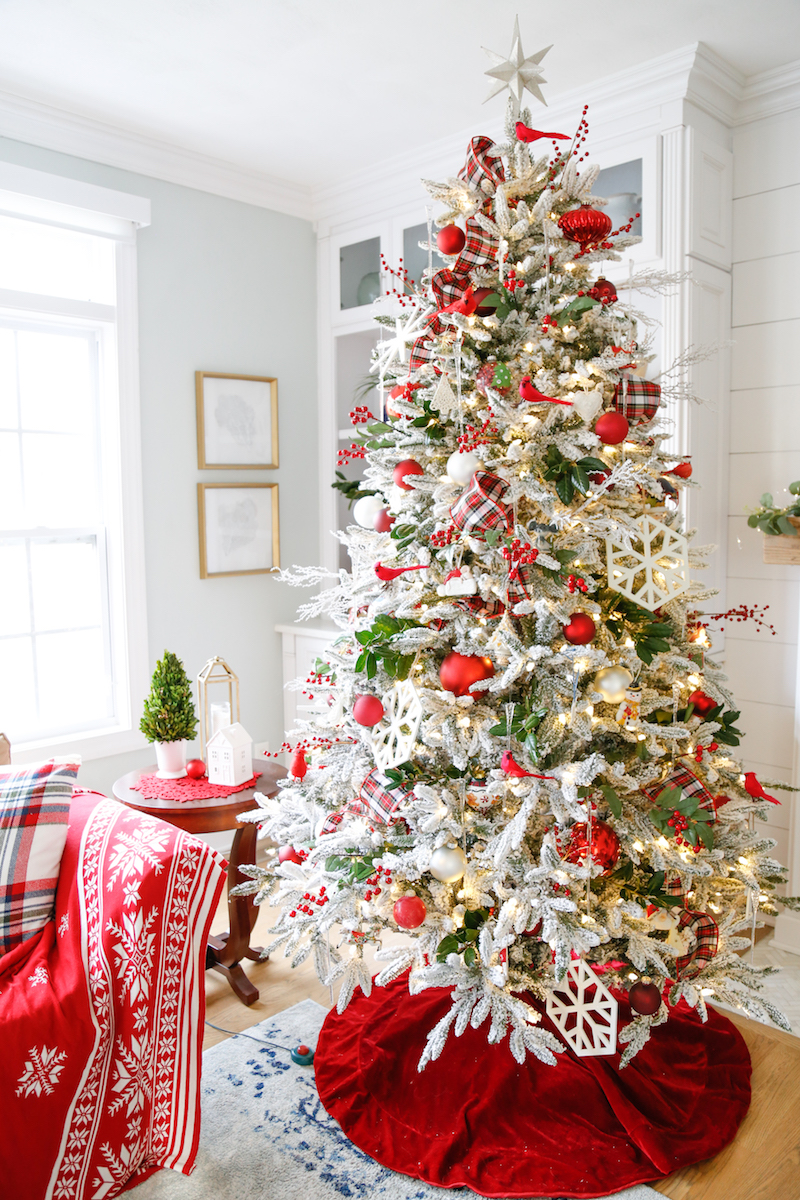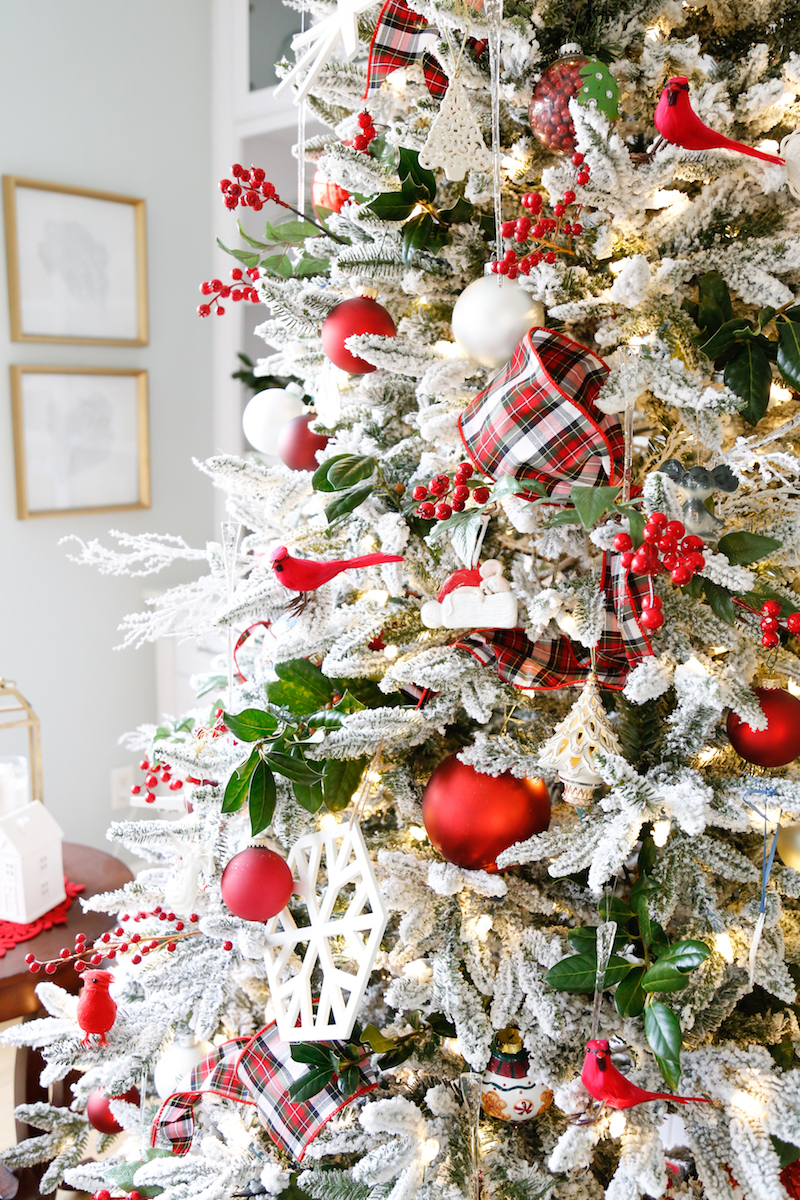 The bookshelves didn't get much of a change from fall except for taking away the pumpkins and adding in some reindeer and fresh holly from the yard. We have 2 enormous holly trees out front and they are wonderful for clippings during the Christmas season. They last for two weeks without water and will last for over a month with water. The robins and cardinals usually devour all the red holly berries but this year we luckily still have quite a few left.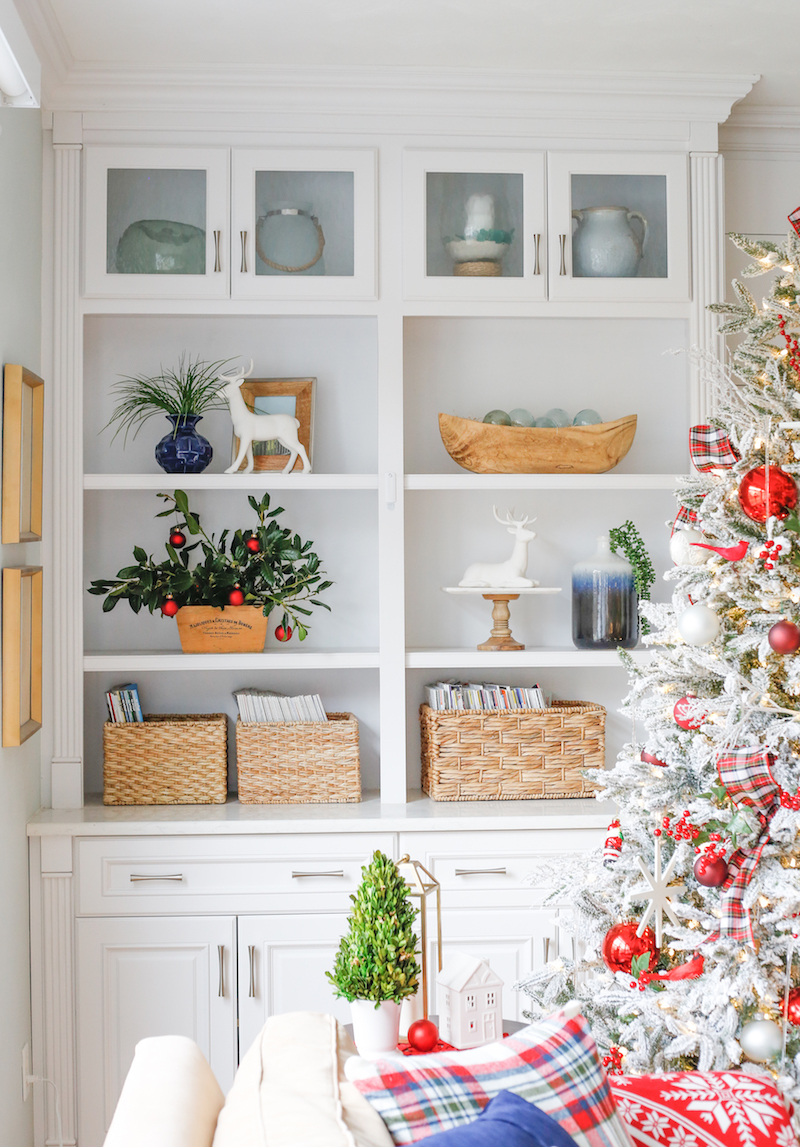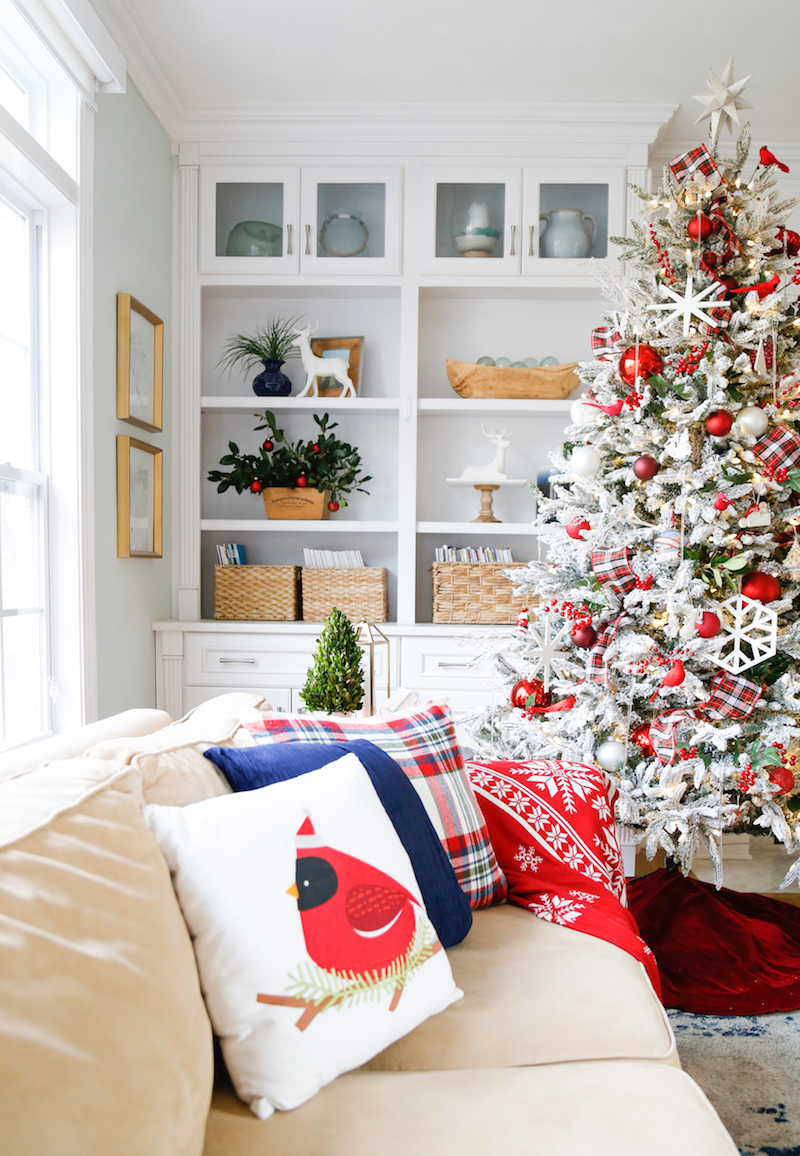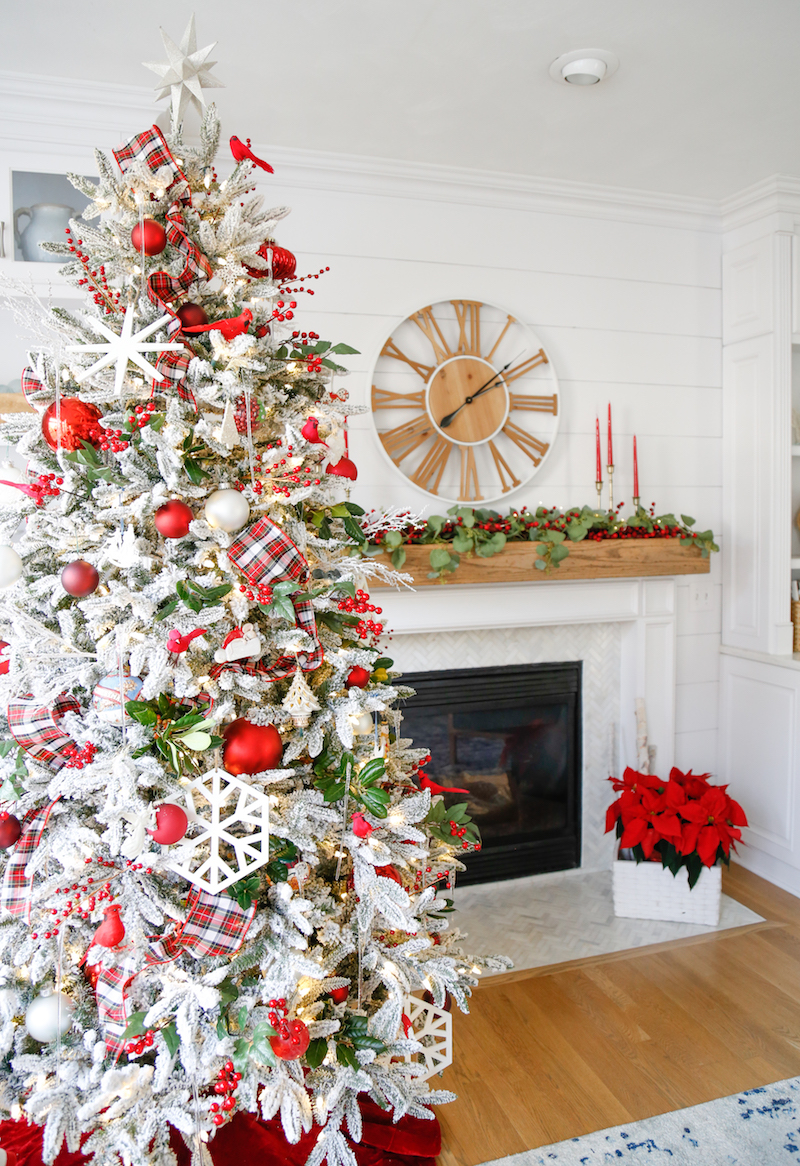 Another favorite addition to the tree are the hand blown glass icicles. I found them on Amazon last year and they were such a bargain and came in a box with 3 different lengths.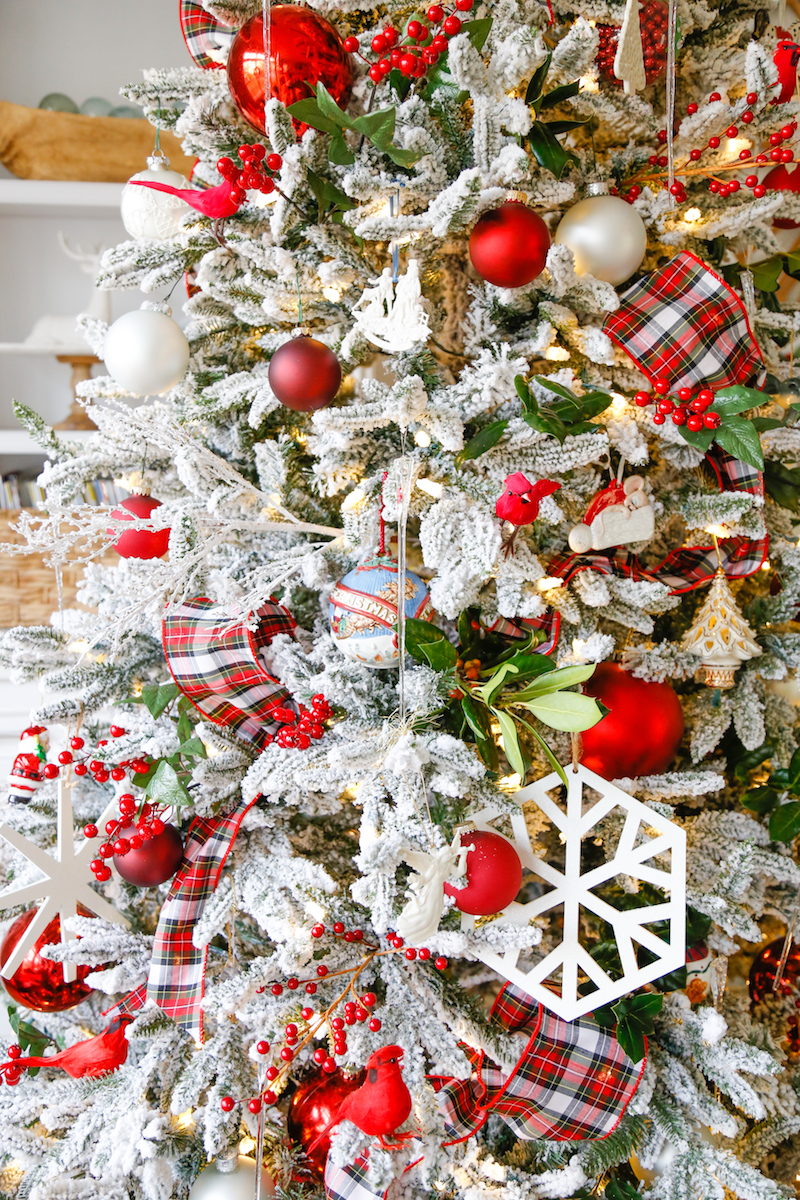 I continued the red and white and green plaid throughout the room with plaid pillows from Grandin Road and a plaid throw blanket. I was happy to find plaid with some blue in it to coordinate with the rest of the blues in the family room.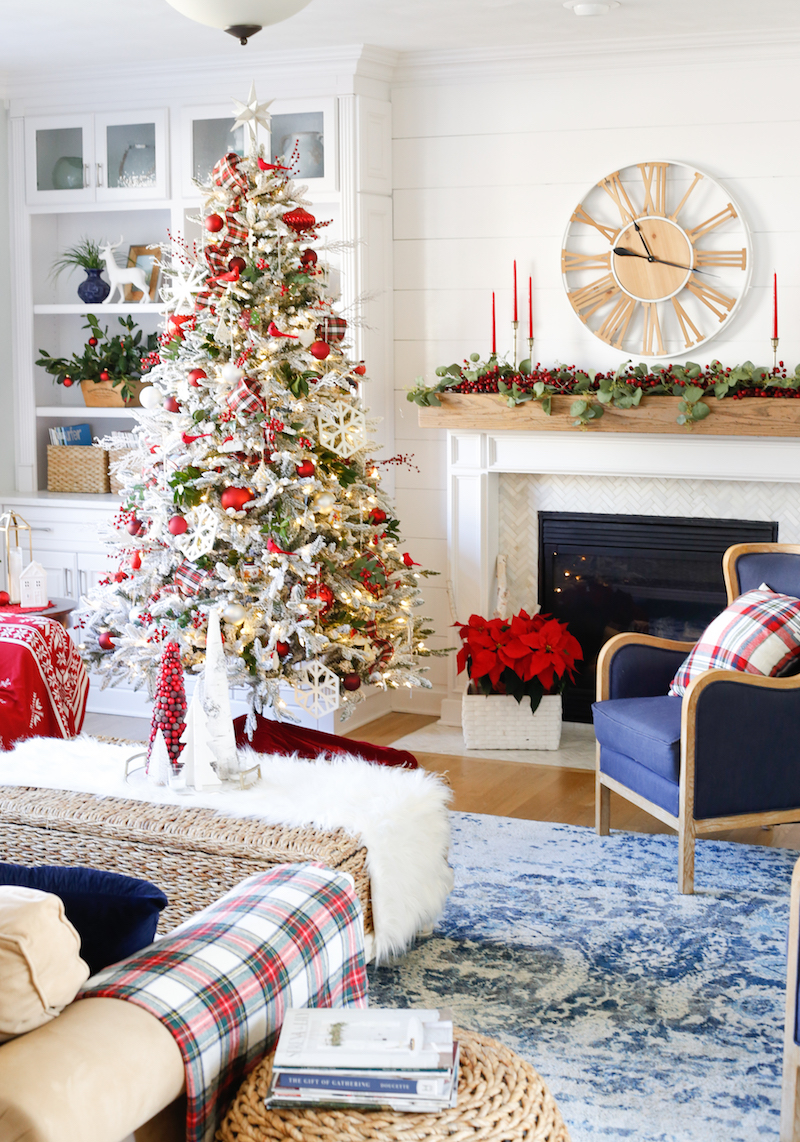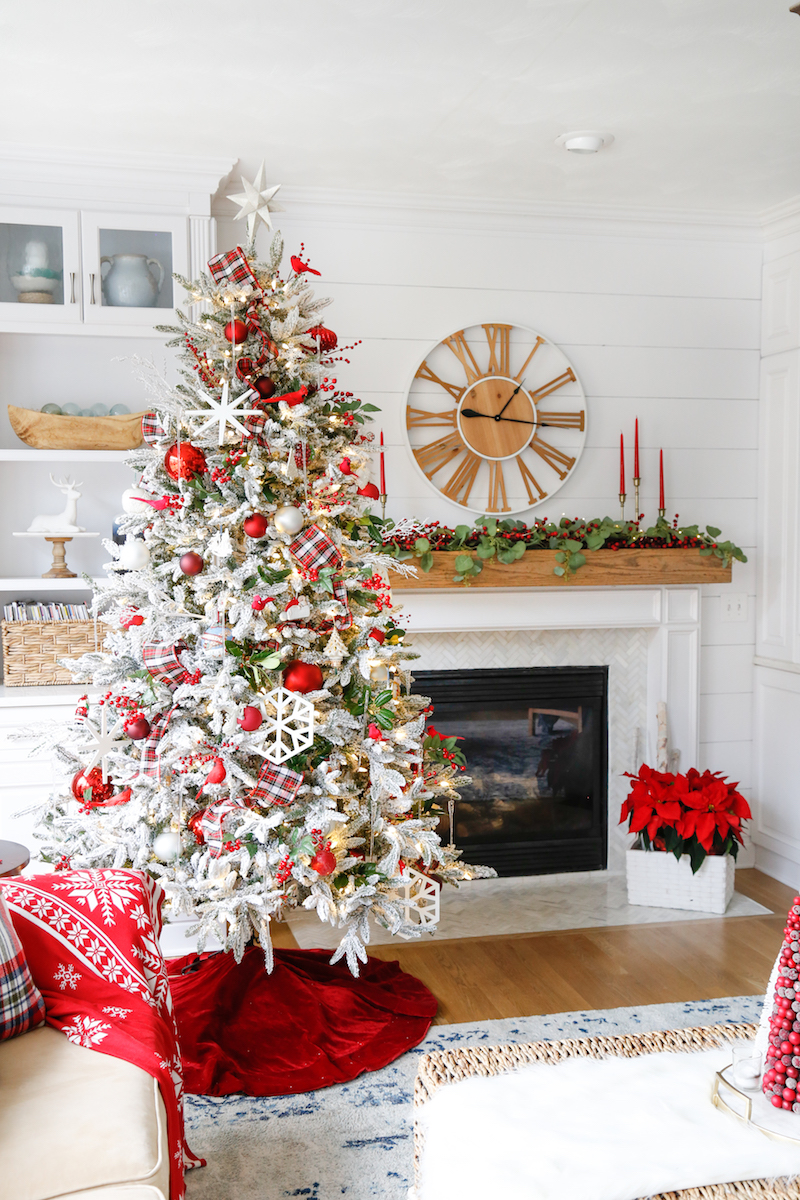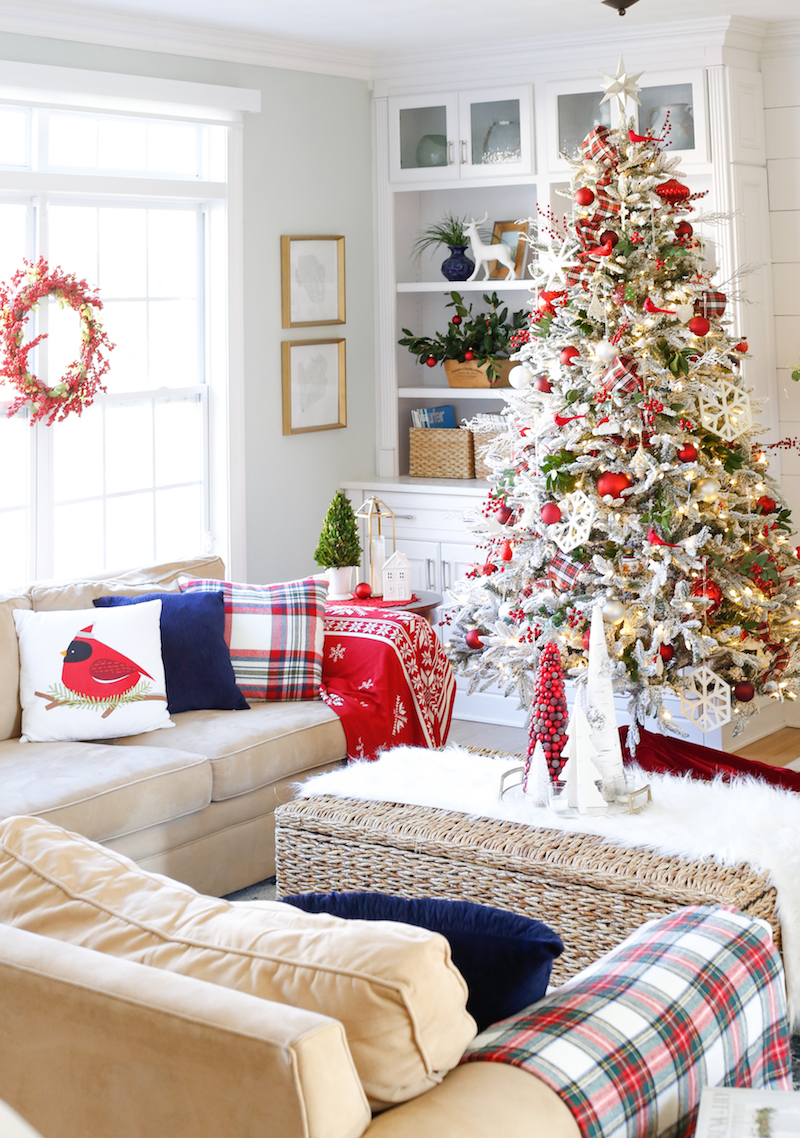 I love how cozy and festive the room is this Christmas!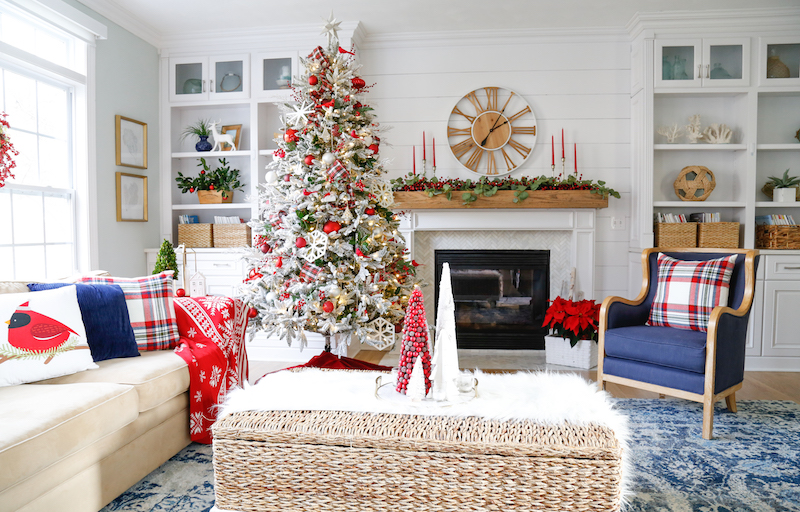 Take a little peek into the kitchen. The sprinkling of red continues in there too! I'll share that area soon. Don't you just love those little wreaths with the cardinals?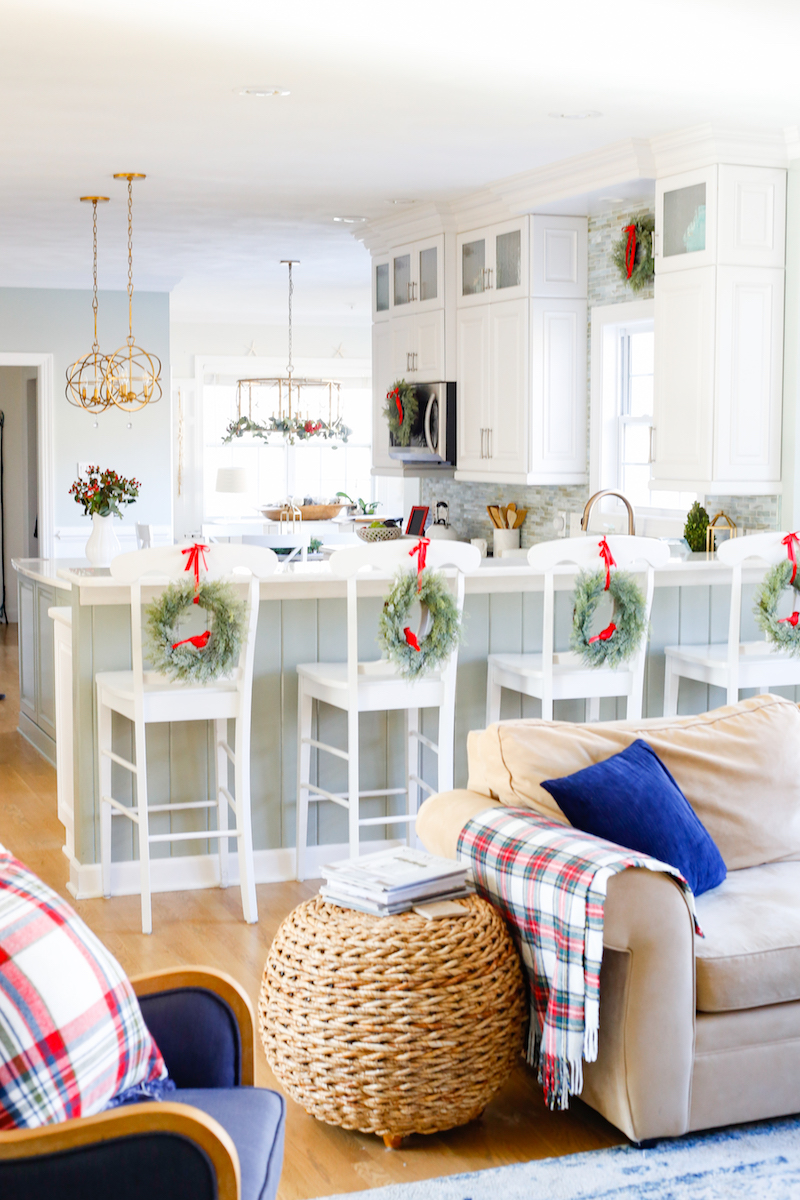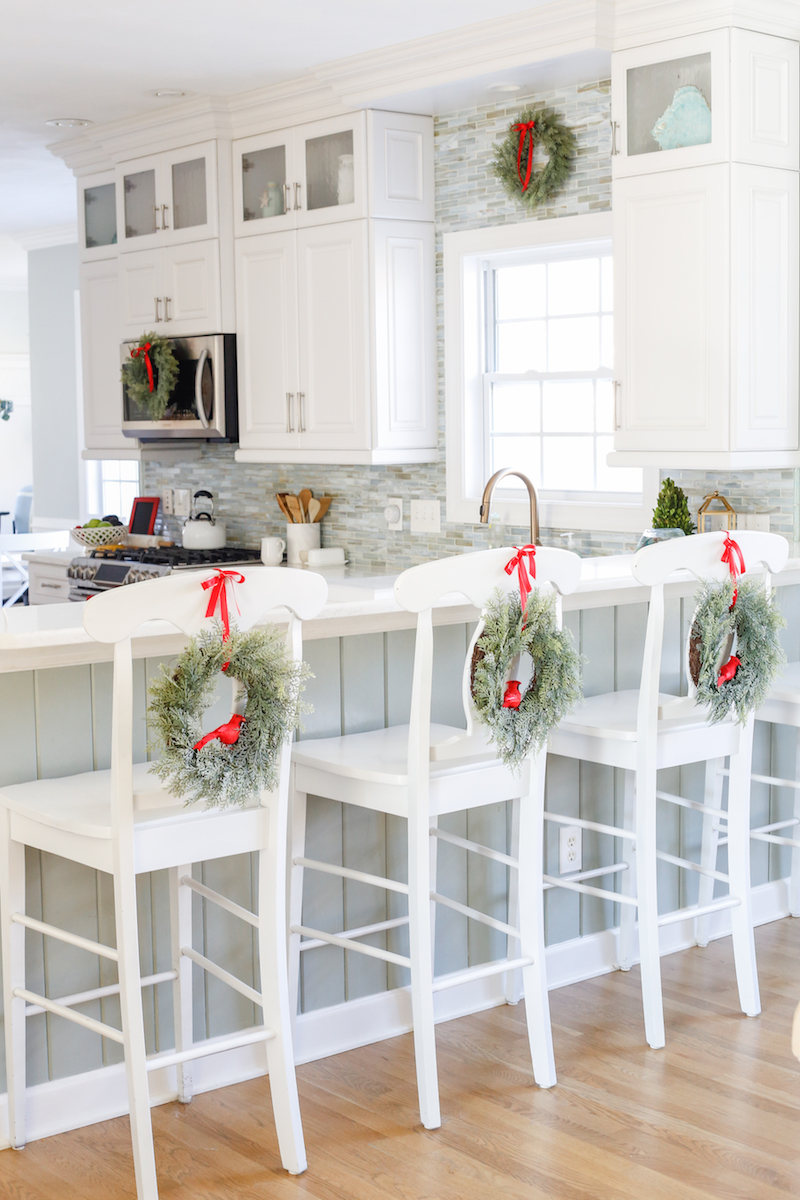 I hope you enjoyed a little change of pace this year! If you're searching for more festive red and cranberry decorating ideas, check out the posts below.
Shop this Post:
(affiliate links provided for your shopping convenience, just click on the small product photos to be taken to the stores)

Paint colors:
Builtins, woodwork and shiplap- Extra White by Sherwin Williams
Walls- Sea Salt by Sherwin Williams
Floors- solid white oak with Weathered Oak stain by Duraseal
You might also like these posts:
Winterberry Red, White and Blue Christmas Family Room 2016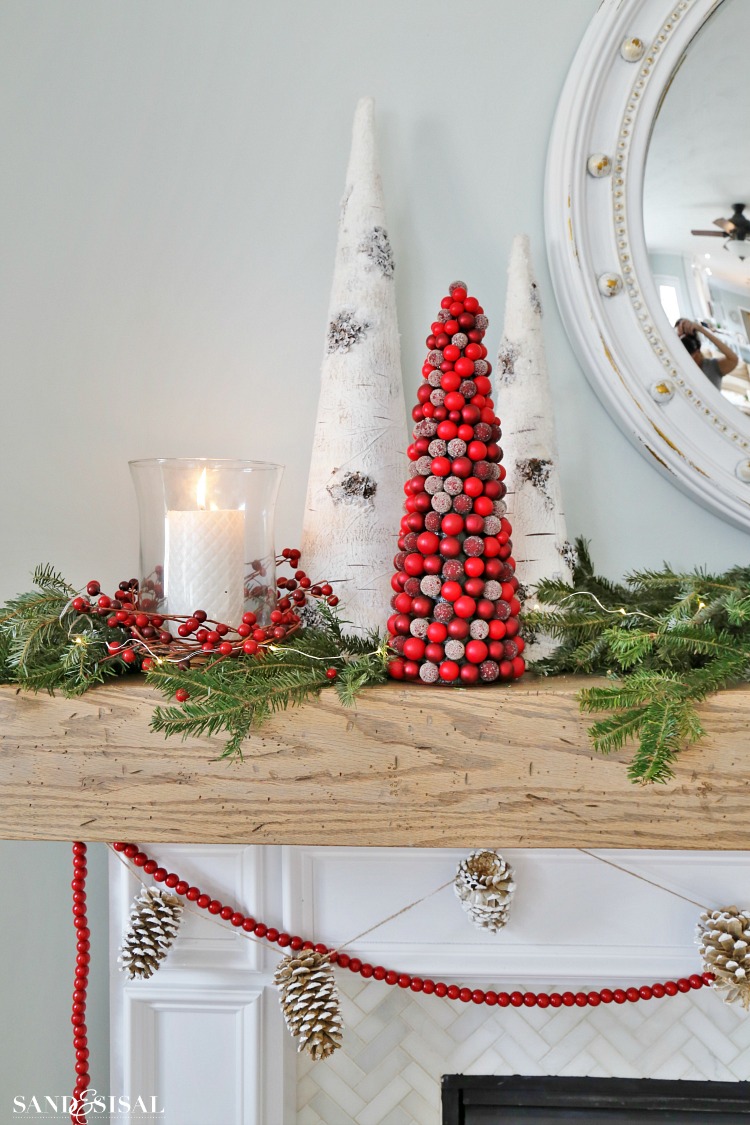 Cranberry Themed Holiday Party Ideas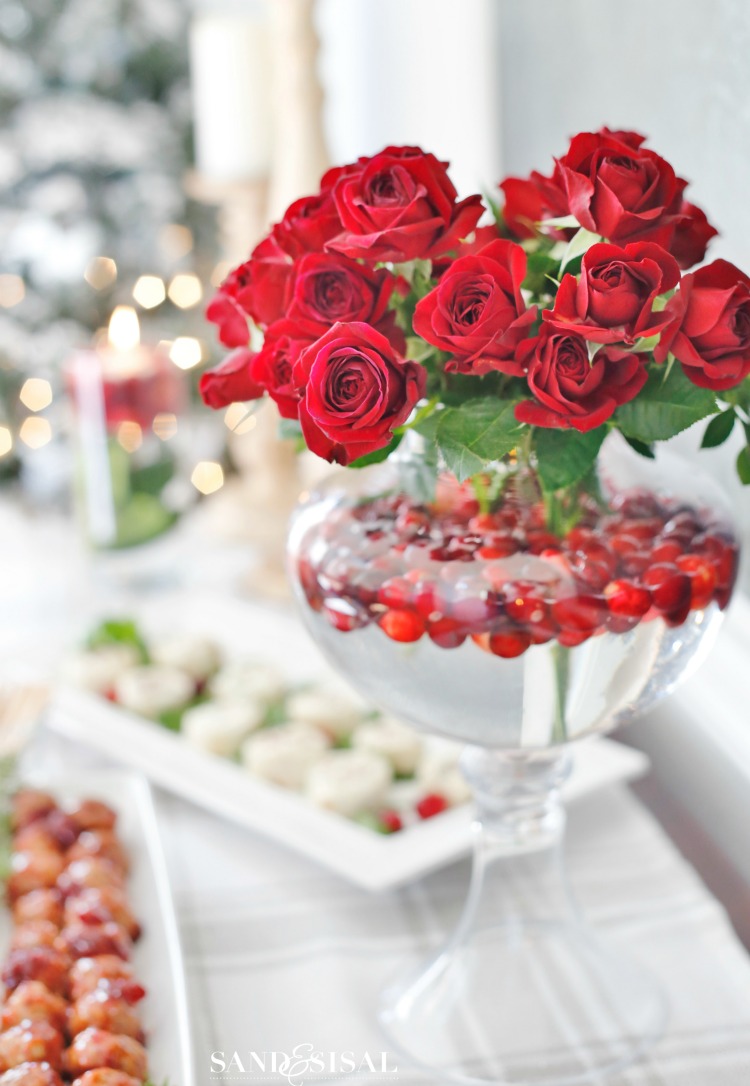 A Very Merry Blue Christmas Tour 2018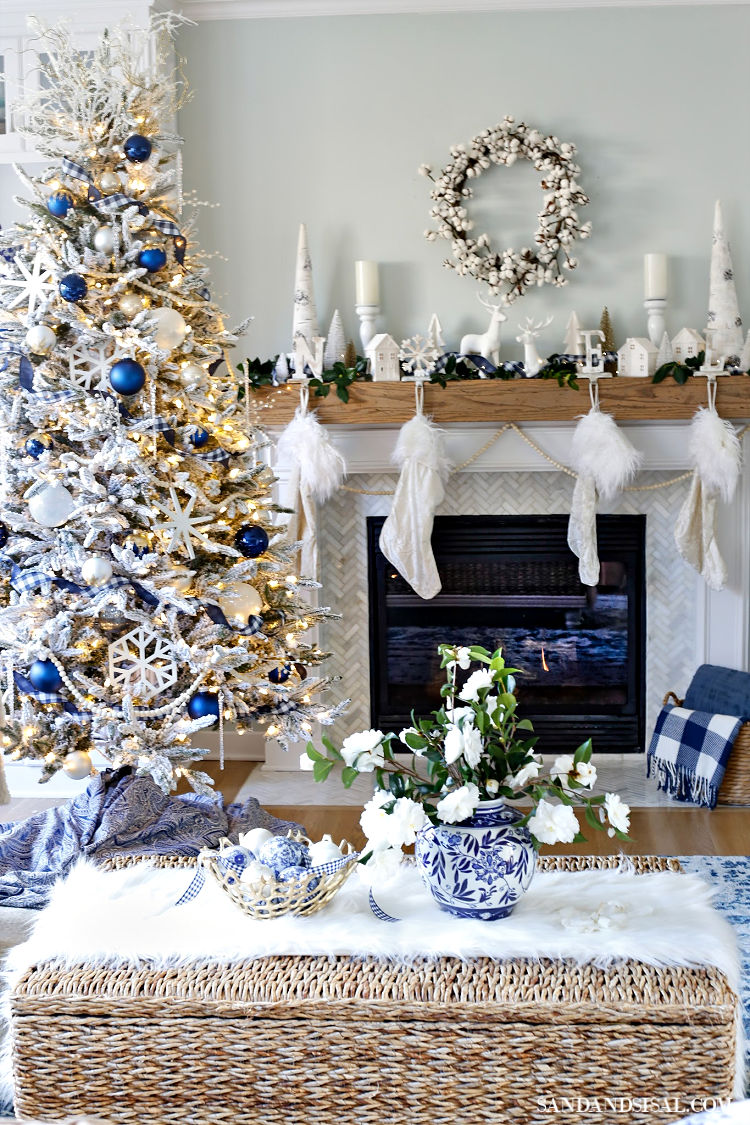 Coastal Christmas Bedroom Tour