I was online the other day… (like that's a surprise)… and someone asked a question directed at home bloggers,
"Do you decorate your home for you or for your blog?"
Hmmmm. That's a good question.
My 1st impulse was to say, "For me of course! But is that totally true?
I had to think about that one.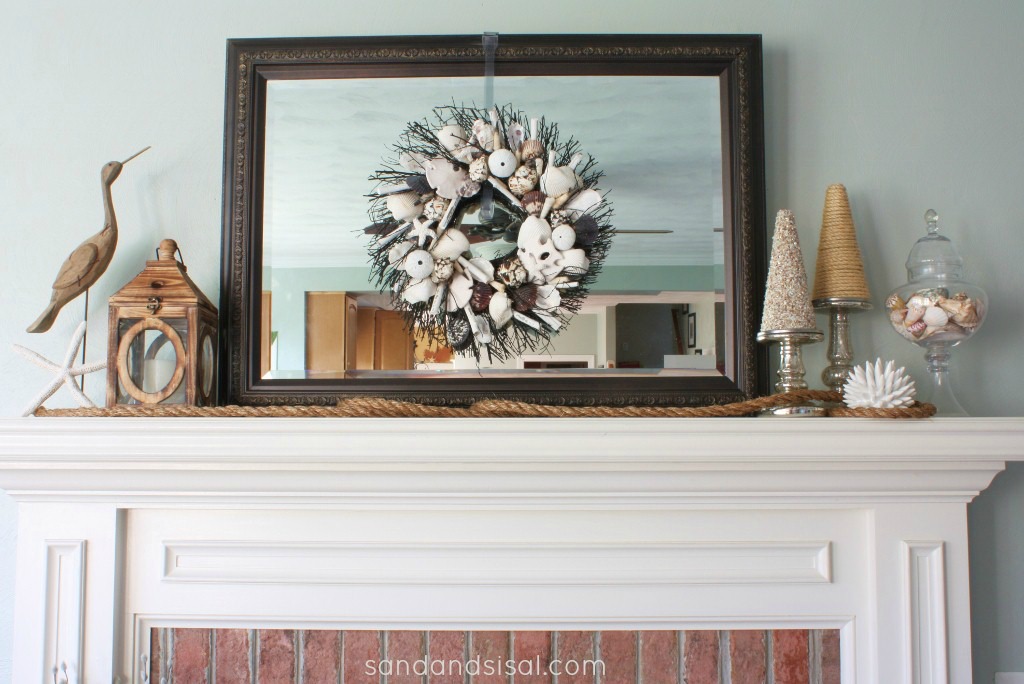 When I started Sand & Sisal in 2010, I knew I loved the beach and coastal decor but to be honest, I wasn't totally gaga over everything coastal.
If you live in a beach city then you know what the "tourist strip" looks like.  And basically, every local avoids it for the most part.
Rows of cheesy beach trinket filled shops,
you know, the ones with the bright flamingo wall hangings and the beach cover-ups with the painted women's body in a thong that I swear I've seen WAY too often on many elderly tourists.
Even my youngest once caught a glimpse of a grandma sportin' her risque attire and exclaimed (a little too loudly)
 "Ewwwww mom! That's gross!". ..(Wise young man indeed.)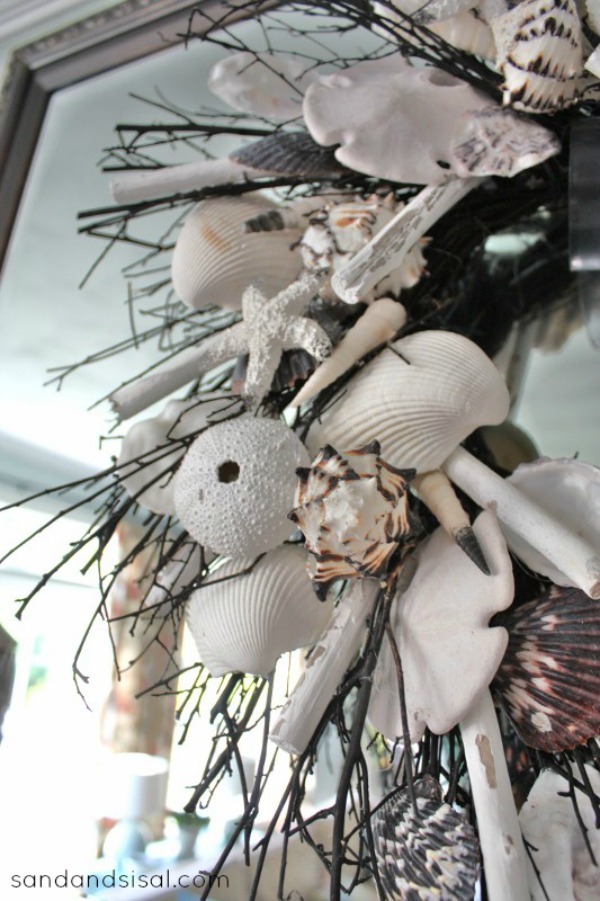 But when I came across this little guy on Joss & Main, an adorable sandpiper carved from driftwood, I knew the scales had tipped.
I don't normally do fake bird statues, animal statues, heck, any statues for that sake, but we all evolve and grow I guess.
The blog has formed who I have become, and visa versa.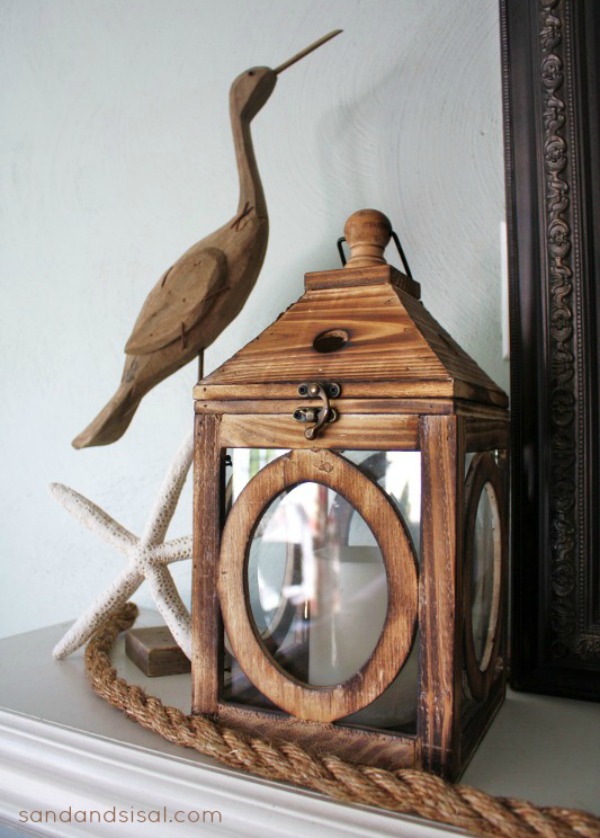 To answer the question asked earlier, I'd have to admit my taste has grown from kind-of -coastal to
undoubtedly coastal.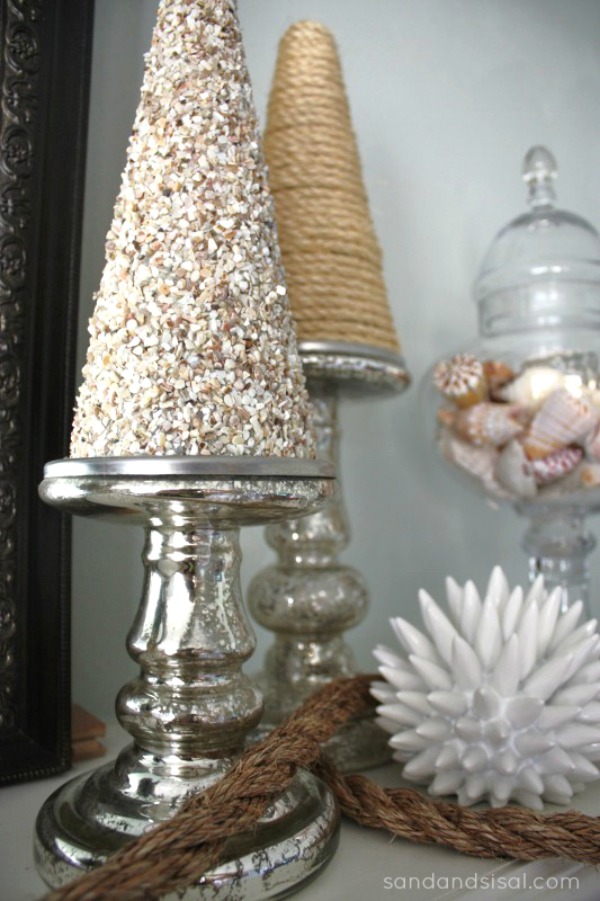 You know you've succumbed to the coastal collectiveness when you squeal at the site of a Nate Berkus Sea Urchin at Target or fat and chunky sisal rope at Home Depot.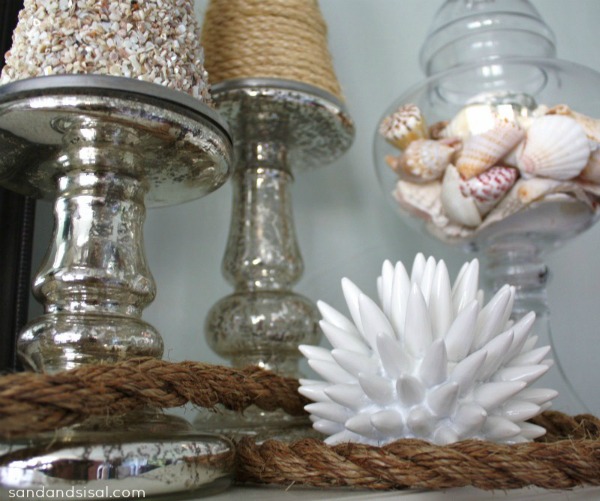 Can you blame me though?
Who doesn't long for quiet strolls along the beach, walking hand in hand with your loved ones?
Or what about being lulled to sleep by the sounds of waves crashing on the shore?
It's absolute heaven to me.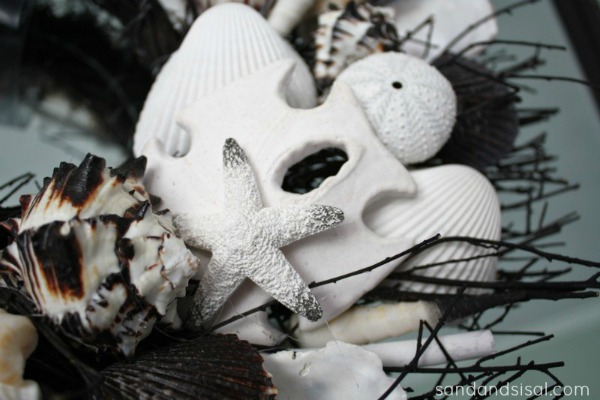 I don't live at the beach. That is still a dream for me.
But I'm close enough (for now).
So if I settle for a coastal mantel that reminds me of everything I love, then why not?
(Decorating a coastal mantel is certainly cheaper than a beach house.)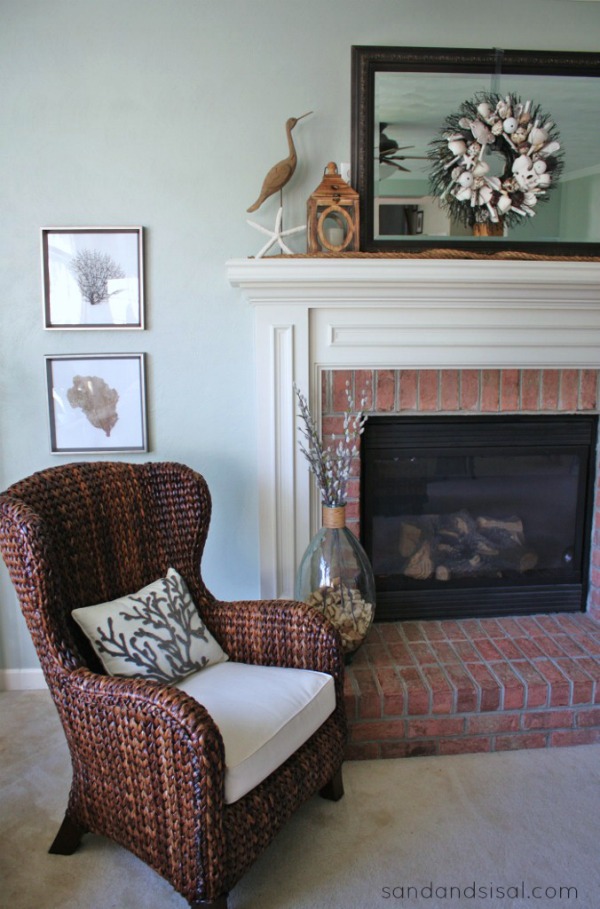 Kim & Sand & Sisal are coastal to the core… 'nuff said. 😉
Kim
Source Guide:
Driftwood sand piper – Joss & Main
Shell Wreath, Weathered Wood Lanter,  Glass Vase, coral pillow – HomeGoods
Sea Urchin sculpture-  Target
Seagrass Chair – Pottery Barn
You might also enjoy these posts: