This summer we have been crazy busy working on so many new outdoor (and indoor) projects like the brick patio makeover with an outdoor lighting and mosquito repellent system, sprucing up the yard, and adding curb appeal with a front door makeover.  The house flood that we experienced last summer put starting any outdoor projects on the back burner. Sadly our deck didn't get much use and fell into a sorry state of neglect. Now that the house is back together and our new coastal kitchen and family room are looking fabulous, the view through the kitchen window needed improvement asap! I am so excited to show you our total deck makeover!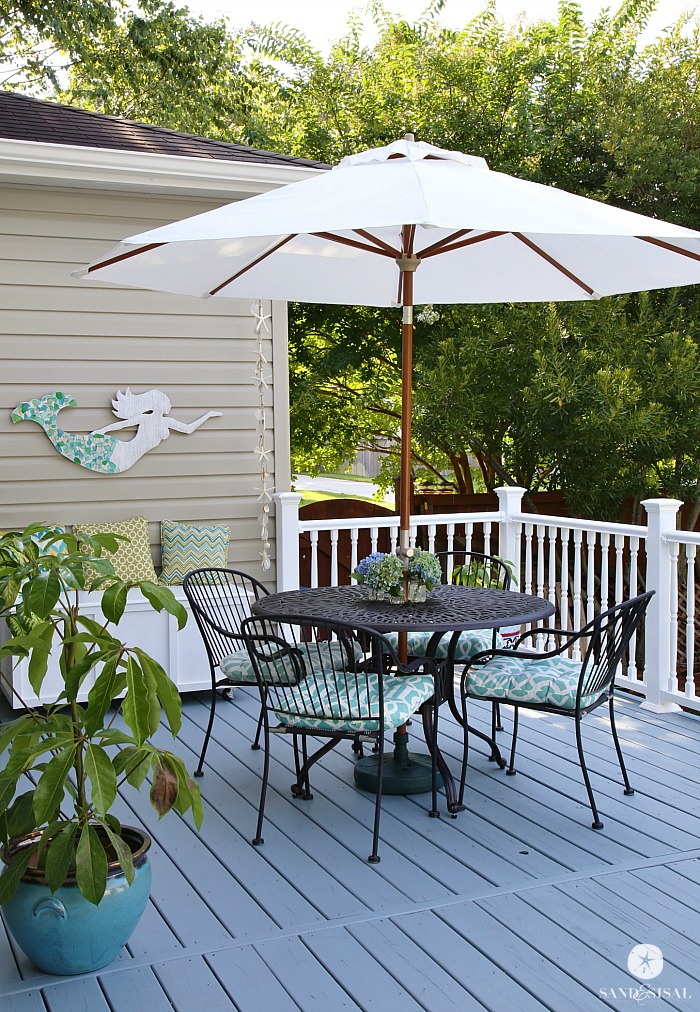 Ready for the scary before pics? The deck was an absolute mess. The Carolina Jessamine vines were out of control and inhibiting the view of the patio.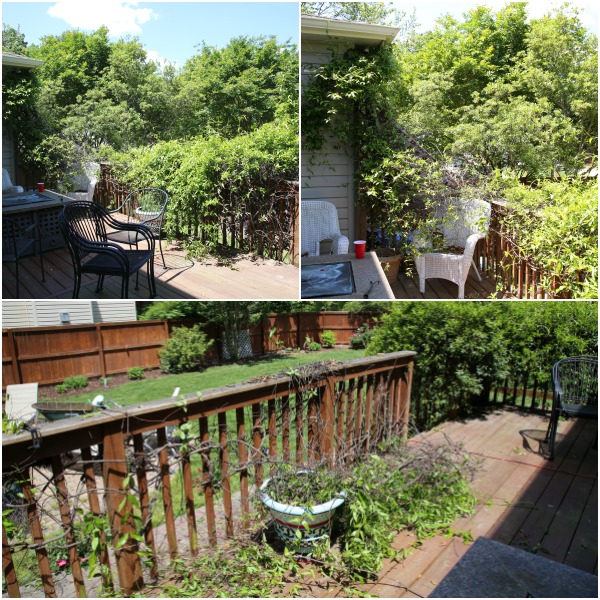 Once the vines were removed we were able to see how badly our deck railings had deteriorated. We knew we had wood bees, you know, those HUGE fat bumble bees and have been battling them for the past 2 years. They are funny little bugs. They will get right in your face and like to see what you're doing but they won't harm you. They do however harm your deck, fence, house, etc.  They had a an absolute hayday eating our railings, boring out apartment homes inside them and making a bazillion baby bees. Hubs was irate! Once the vines were gone and all the bee holes exposed, the neighborhood wood peckers swooped in and decided to feast on a bee buffet! Wood railing chips were everywhere. The railings were a lost cause. Time to demo.
Deck Railing Demolition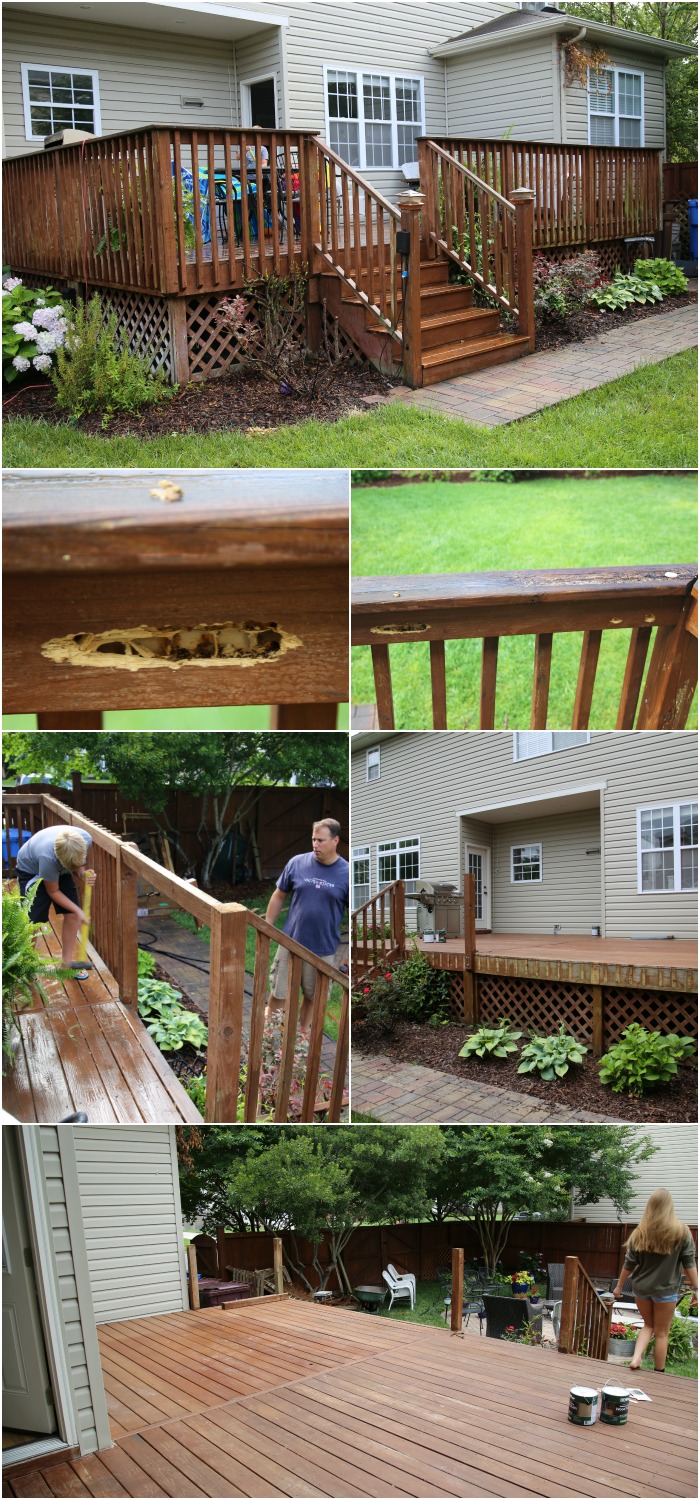 After the railings and posts were removed we needed to decide what to do with the deck. Do we just powerwash it and stain it again with natural cedartone stain? Or maybe we should go in a whole new direction. We went for a total change. I wanted the deck color and design to feel like it was an extension of the inside of our house, so when you looked out the windows, everything coordinated.
Preparing and Staining the Deck
Once the demo was done it was time to prepare the deck for staining. Before staining any deck make sure the deck is clean and free from mildew and dirt. If you do not remove it then the stain will not adhere to the wood. We sprayed our deck with a solution of bleach and cleaner, allowed it to sit for awhile, sprayed again and scrubbed the wood with stiff bristled brooms. Then the entire deck received a rinse with clean water and was allowed to dry completely before staining.
We chose Solid Color Waterproofing Deck Stain by Behr in Colonial Blue and Bright White. I am so pleased with the color. It is a beautiful blue gray. In bright sunlight the color appears gray and in the shade and on cloudy days the blue tones are more apparent.
Most of the 1st coat of stain was applied with a roller but we noticed that the roller wouldn't coat the wood between the boards so we switched over to using a 4 inch wide paint brush to finish the rest and for the 2nd coat of stain. It didn't take very long with 2 people painting.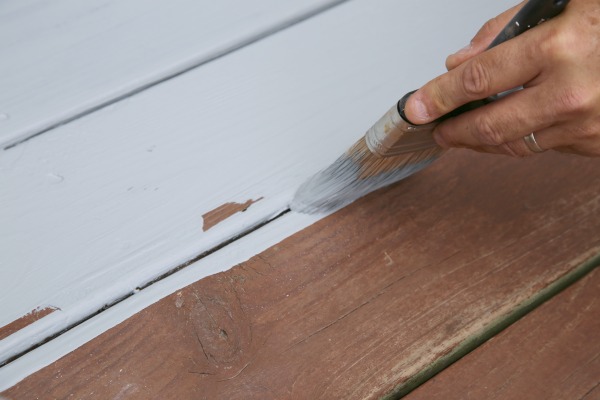 The white vinyl composite deck post and railing system is by Veranda and is available at Home Depot. It was easy for us to install and the sturdiness and strength is impressive. Our bees won't be munching on these railings!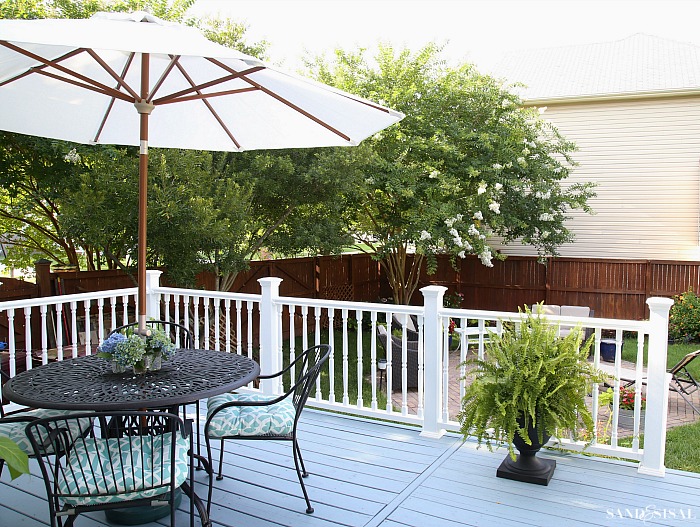 I brought my sea glass and cedar wood mermaid outside. She's smiling upons us all now! The DIY Shell Wind Chimes made with capiz shells, starfish and crystals, sparkle and clink in the breeze.
And for all who might have been wondering, my DIY Outdoor Storage Bench is holding up great!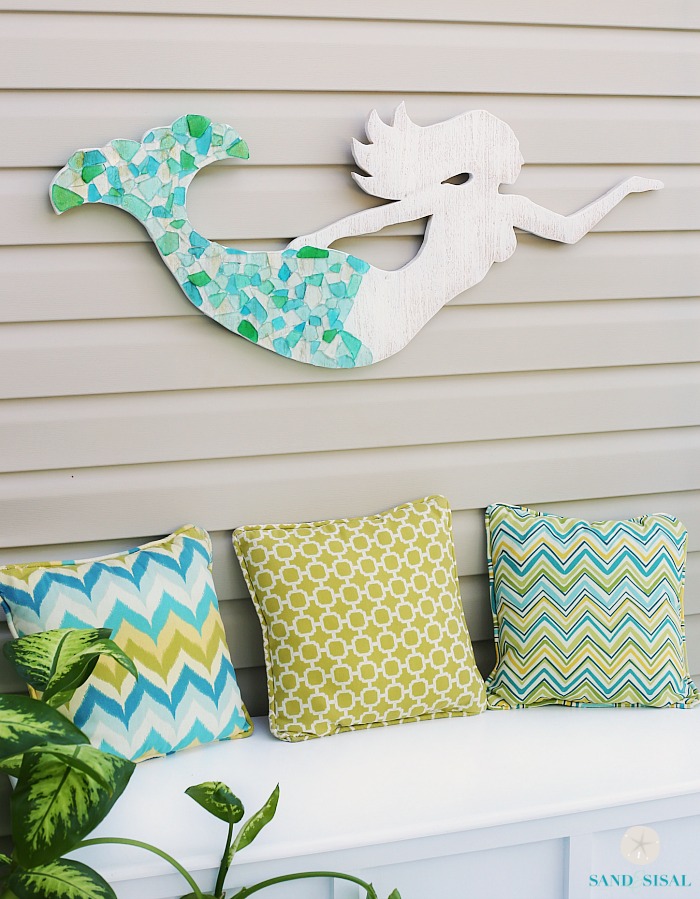 I picked up a new patio umbrella from Target and the aluminum round patio table is from Amazon (affliate link).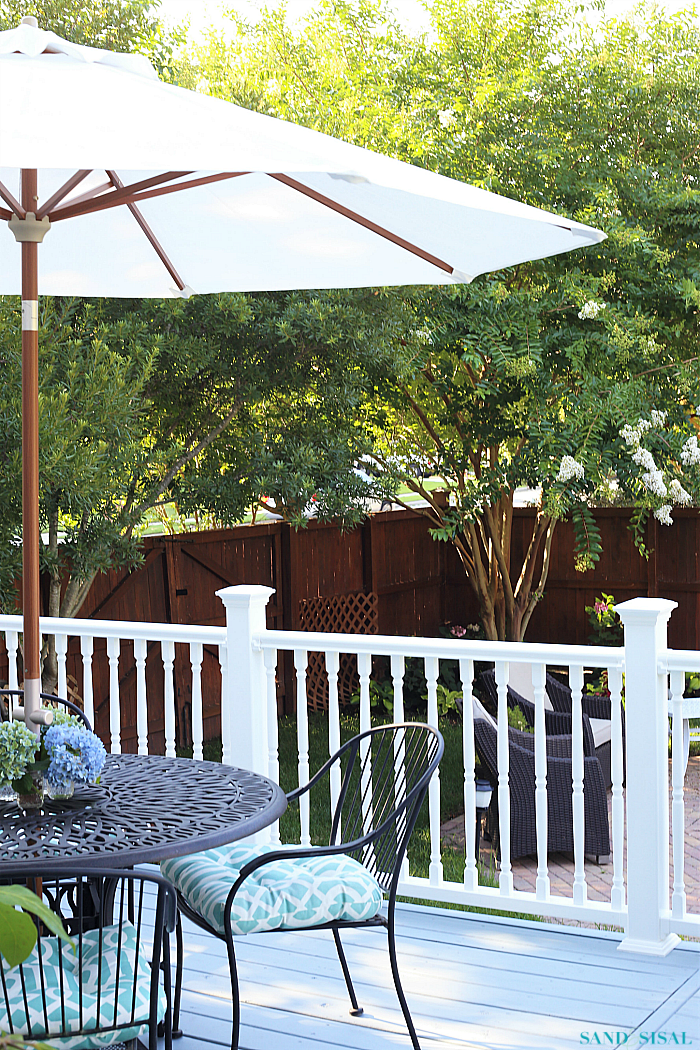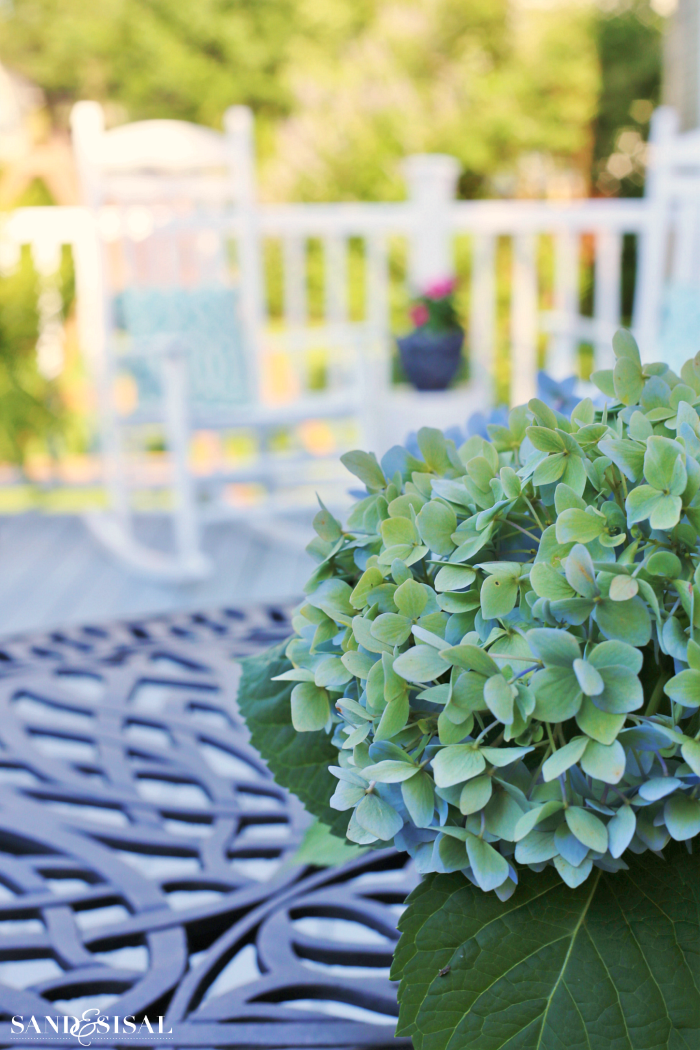 Two new white rocking chairs add to the southern coastal vibe.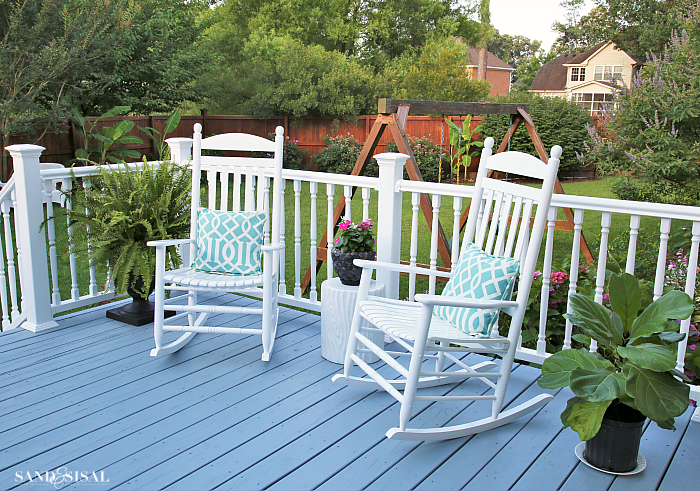 I am in love with the white log garden stool. It was on clearance at Target.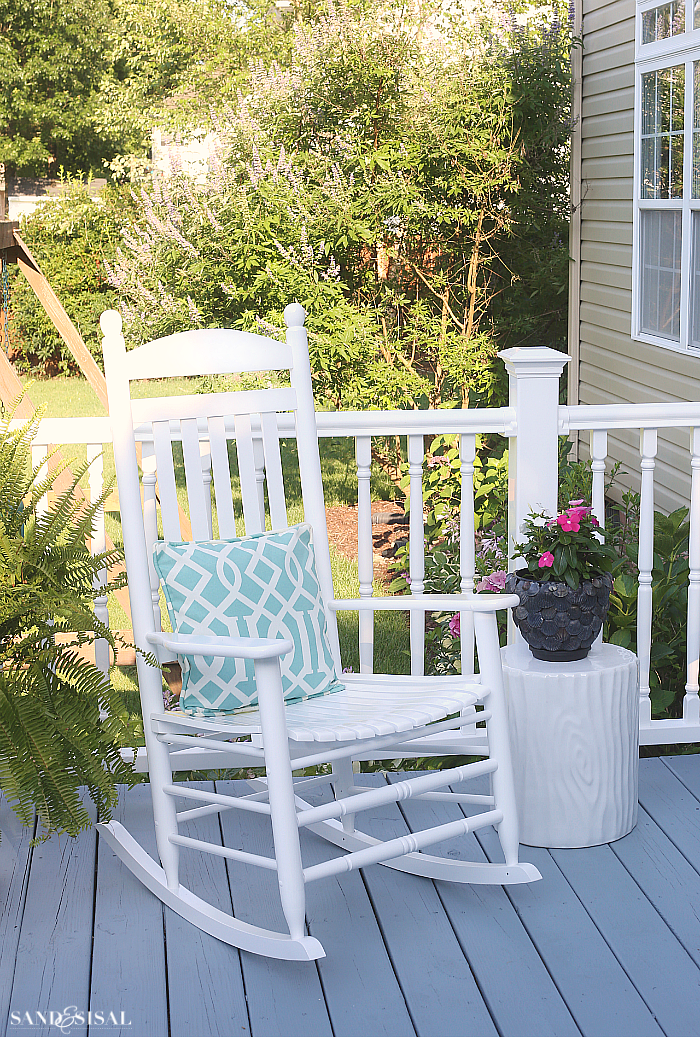 Hold tight! Later this week I'll share a tutorial on how to make some beautiful and unique shell planters!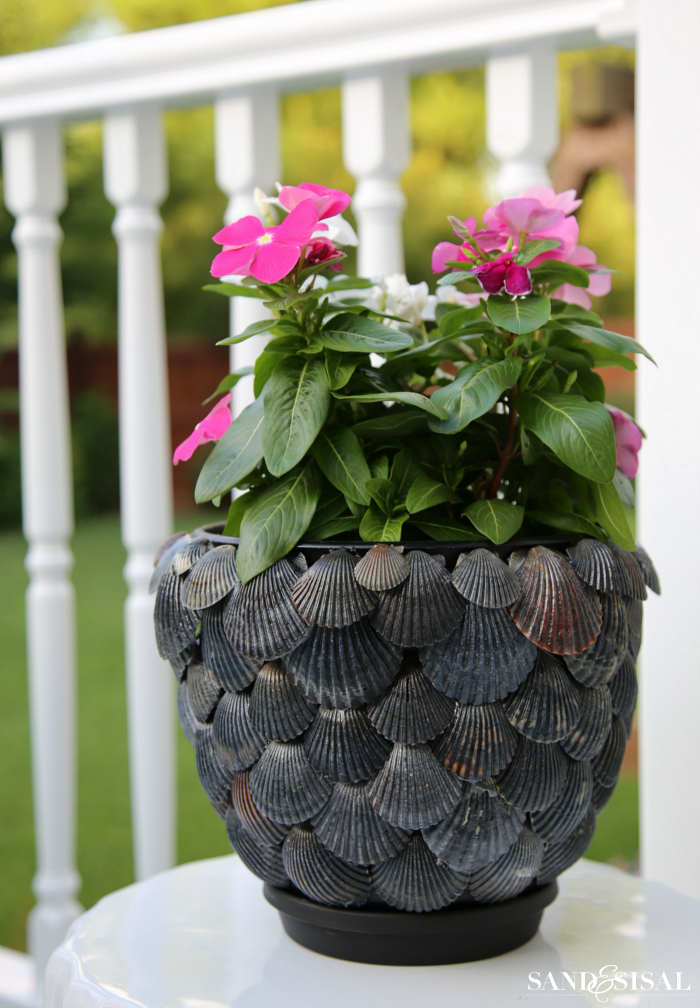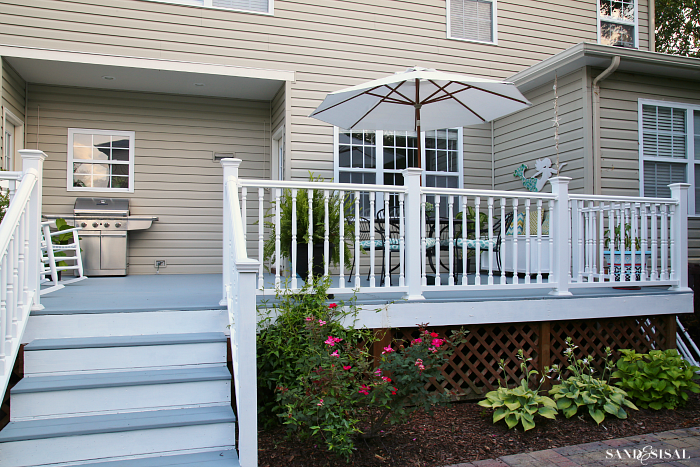 Just one little reminder of what it looked like before….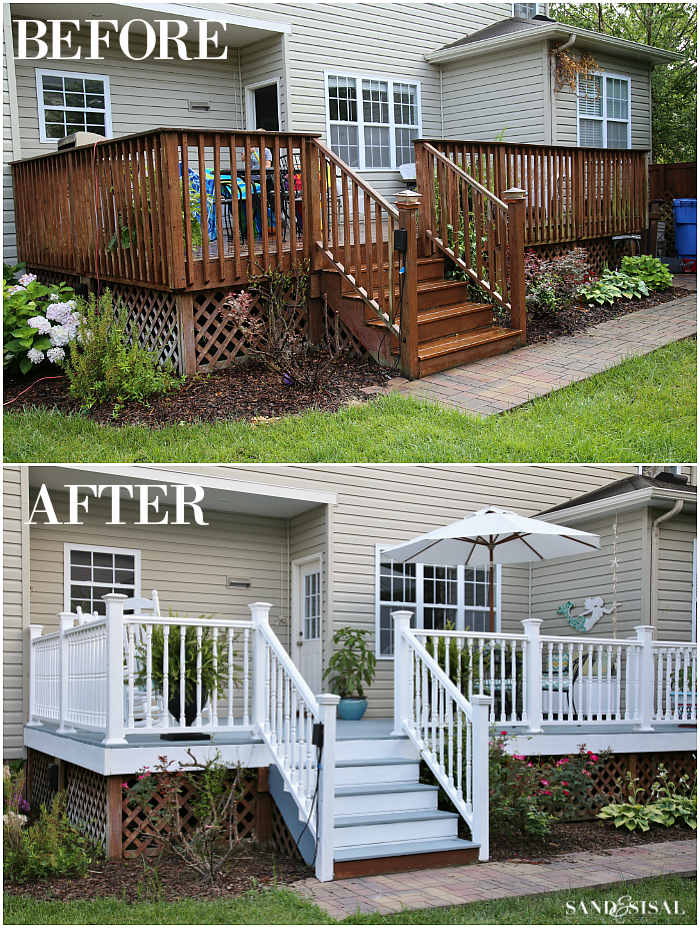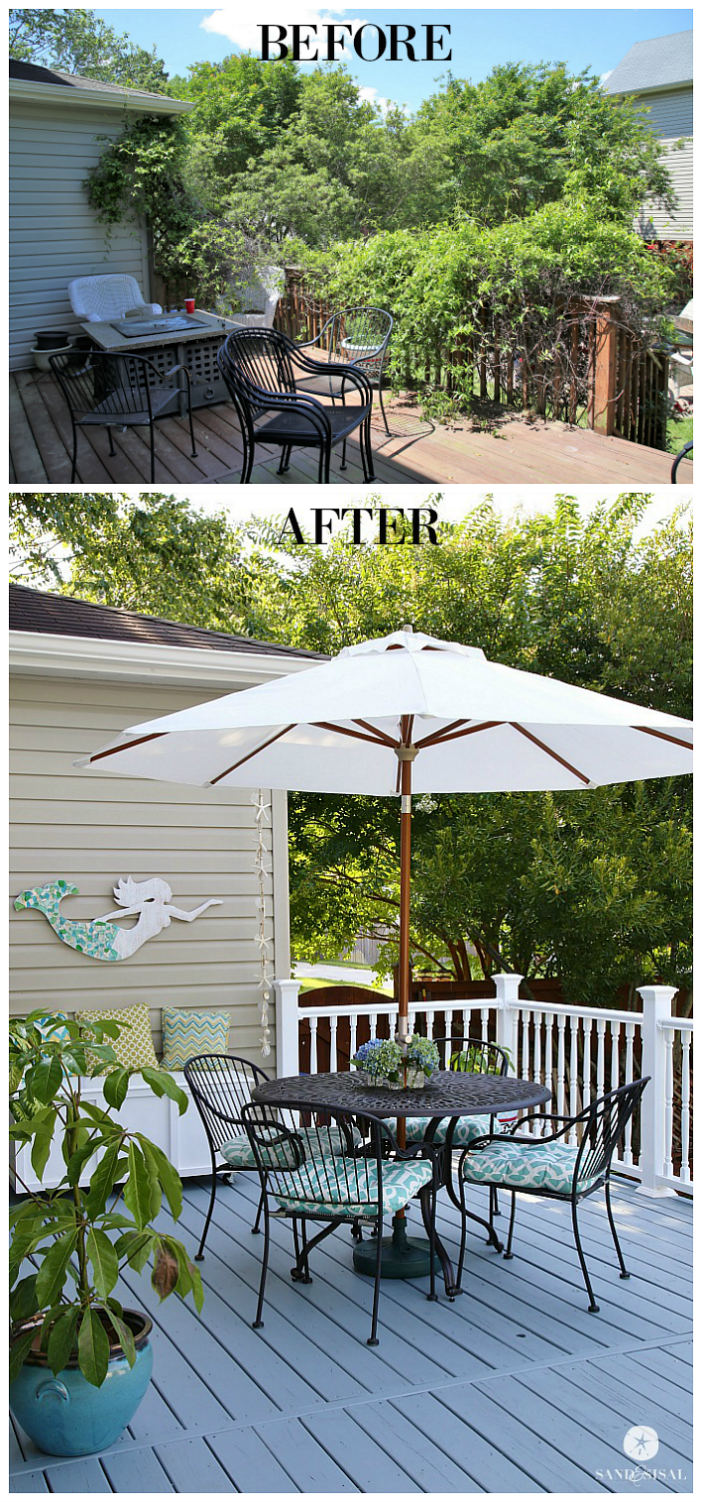 Thanks for checking out our new deck makeover! Now I'm off to pour and enjoy a glass of iced tea on the deck!
KIM