Truth be told I hate doing dishes, but after what I just discovered, I have been an excited dish washing maniac! This past week I was doing a photoshoot for an upcoming holiday tablescape and as I was going through the pictures I noticed how horrible my white dishware looked. There was not a single dish that wasn't marred with ugly gray marks and scratches. Besides the millions of tiny scratches covering the insides of every plate, bowl and mug, the dishes are still in decent condition. I seriously contemplated going out and buying brand new dishes but that just seemed wasteful. So I headed to my cleaning closet on a mission to find out How to Remove Utensil Scratches from Dishes, and I am so excited to share the solution with you! PS- This is NOT a sponsored post, I am just so over the moon thrilled I had to share!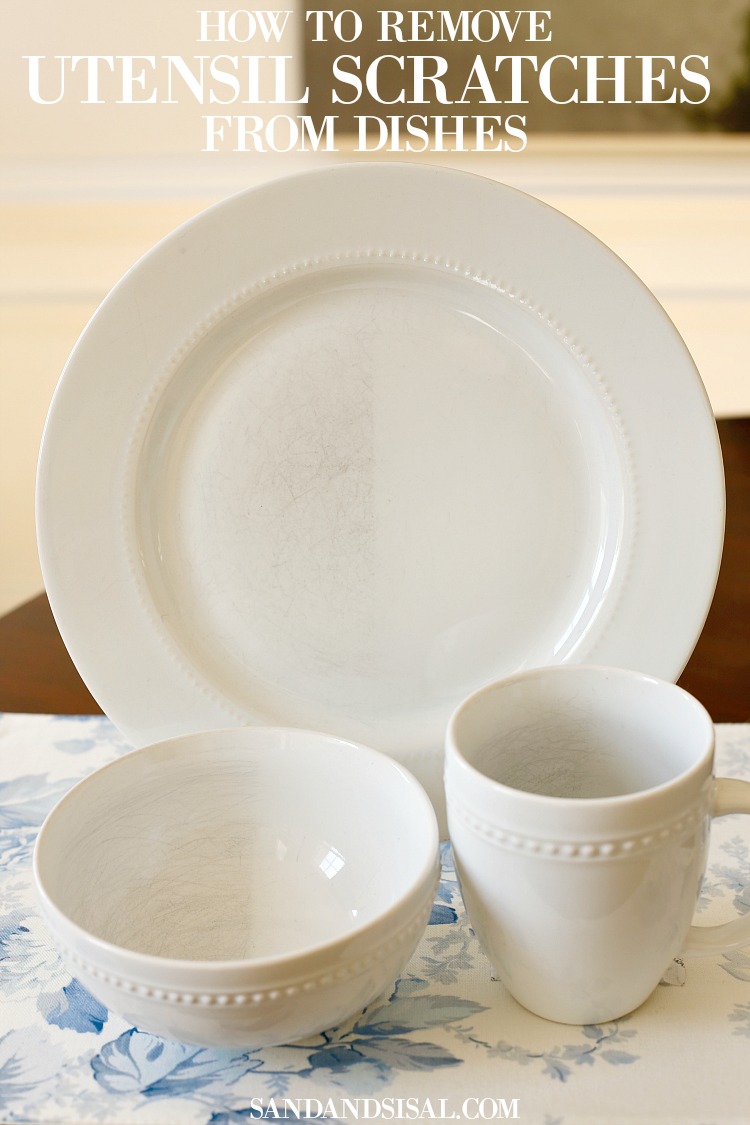 See how scratched up and marked that bowl is? My mugs look 10x worse inside. The dishes are only a few years old. In case you are wondering, I bought them from Target. 😉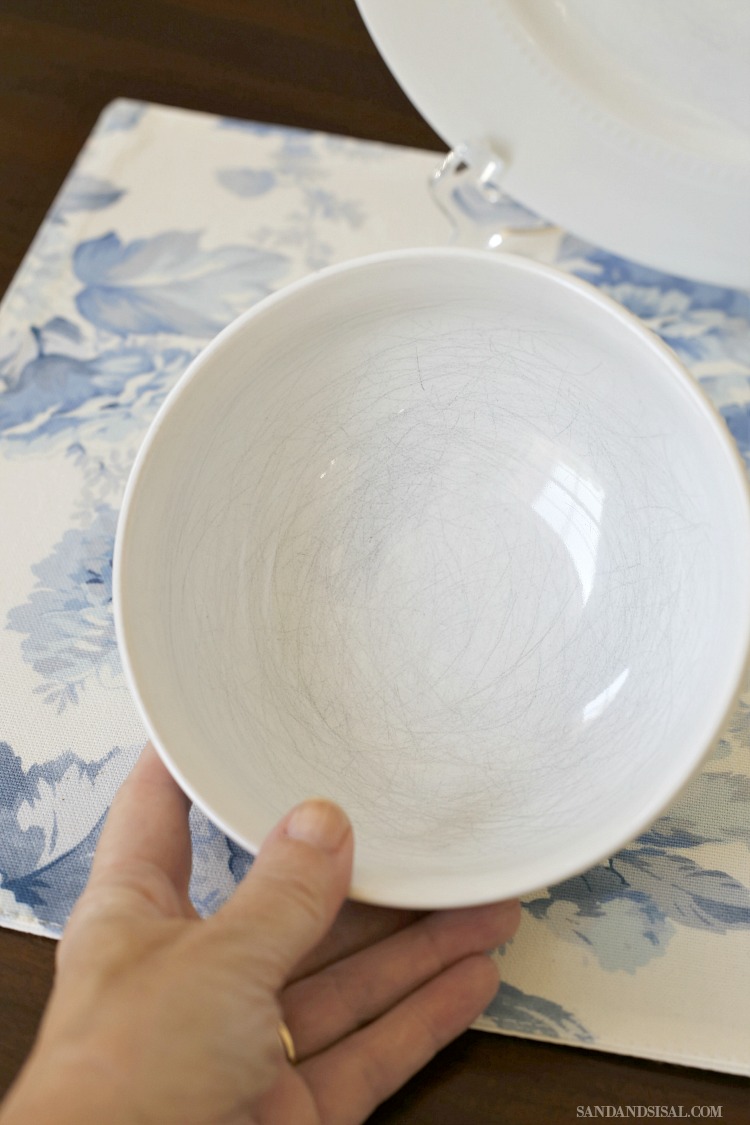 How to Remove Untensil Scratches and Marks from Dishes
Drum roll please….. the secret, amazing miracle mark removing cleanser is Bar Keepers Friend (<–Amazon affiliate link)! I had originally bought Bar Keepers Friend to clean some rusty marks off our brand new stainless steel sink that an old cookie tray had left. I had always heard how people loved the stuff for cleaning all types of things, but never to remove the scratches on dishes. Well now I know!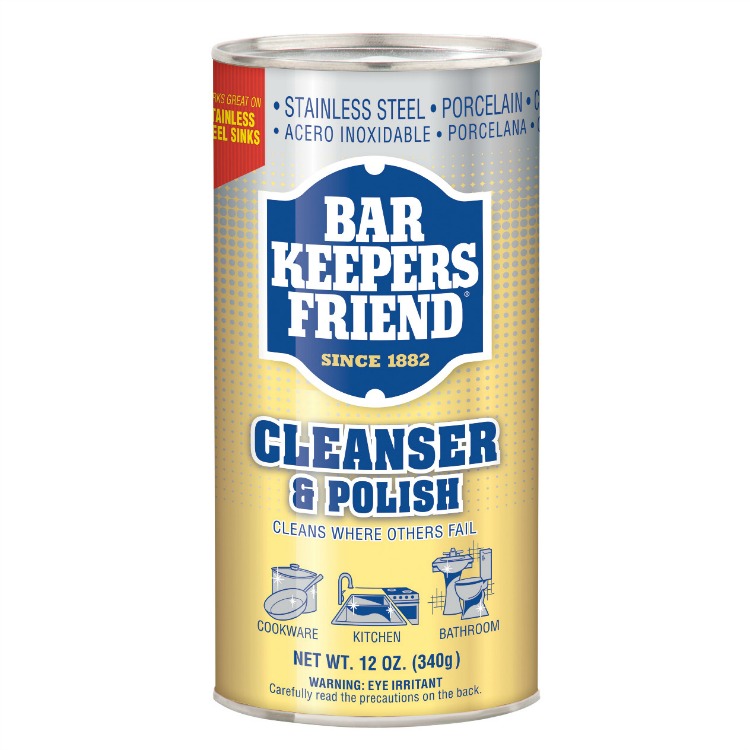 Removing the scratches/mark from the dishes is easy. For demonstration sake, I taped off one side of the dish with painter's tape. I recommend using kitchen gloves, especially if you have sensitive skin. Pour a generous amount of the cleaning powder onto the dish. With a wet sponge (but not too wet) start scrubbing the powder all over the dish. You want to form a paste. I used a kitchen sponge with a lightly abrasive scrubbing side. You will notice almost instantly the marks and scratches start disappearing. Scrub for one minute. It does take a bit of elbow grease. Rinse completely and check out your results. Repeat where necessary.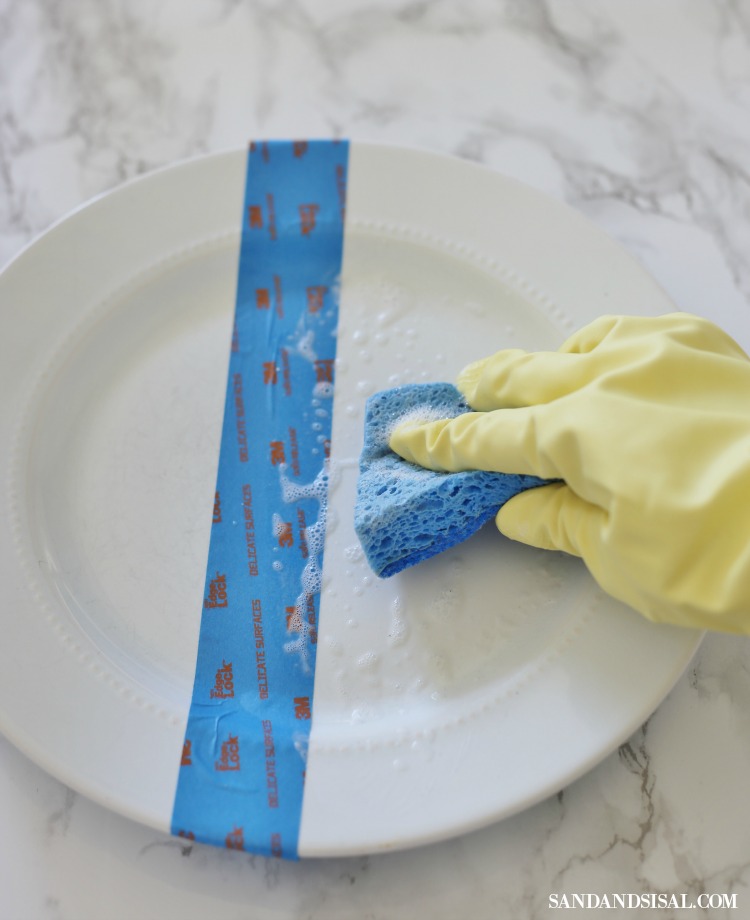 Just look at those results! Seriously amazing.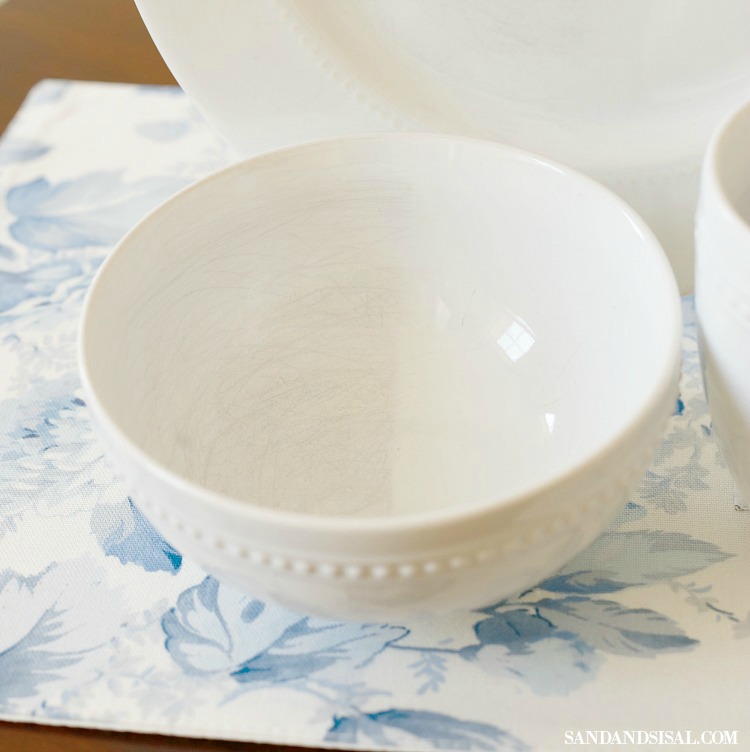 I hope you give it a try for yourself! If you would please excuse me… I have a pile of dishes to clean and renew!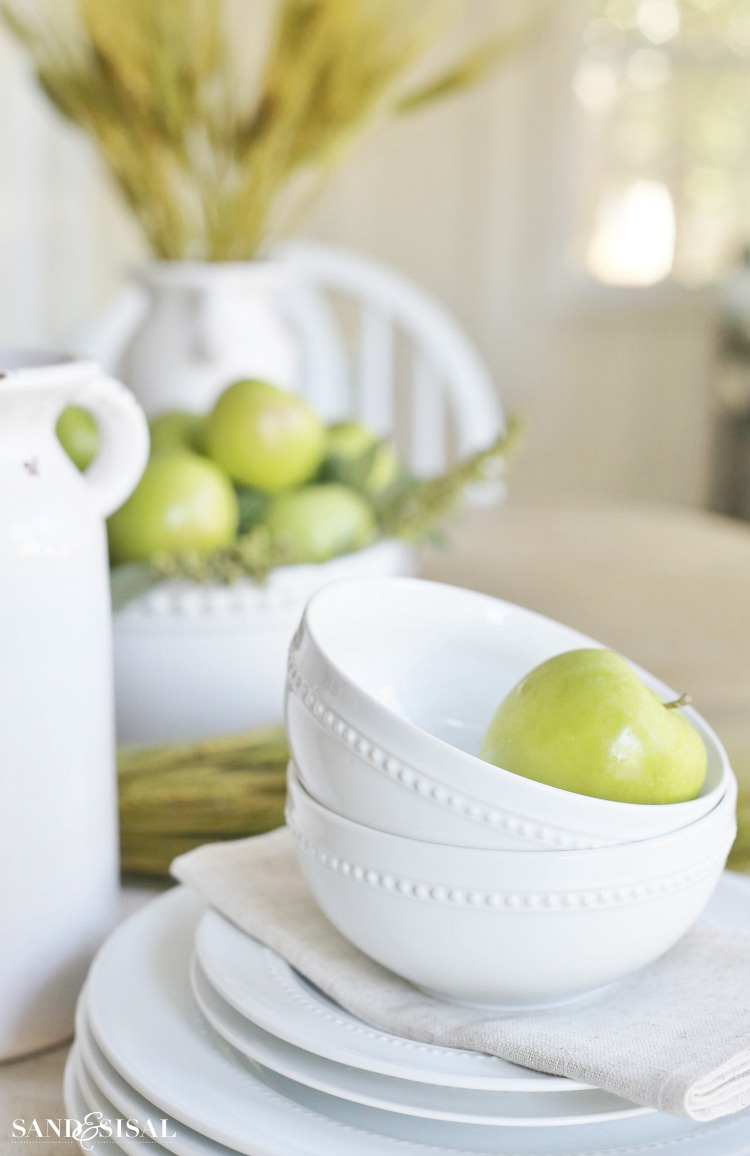 Love it? Don't forget to PIN IT!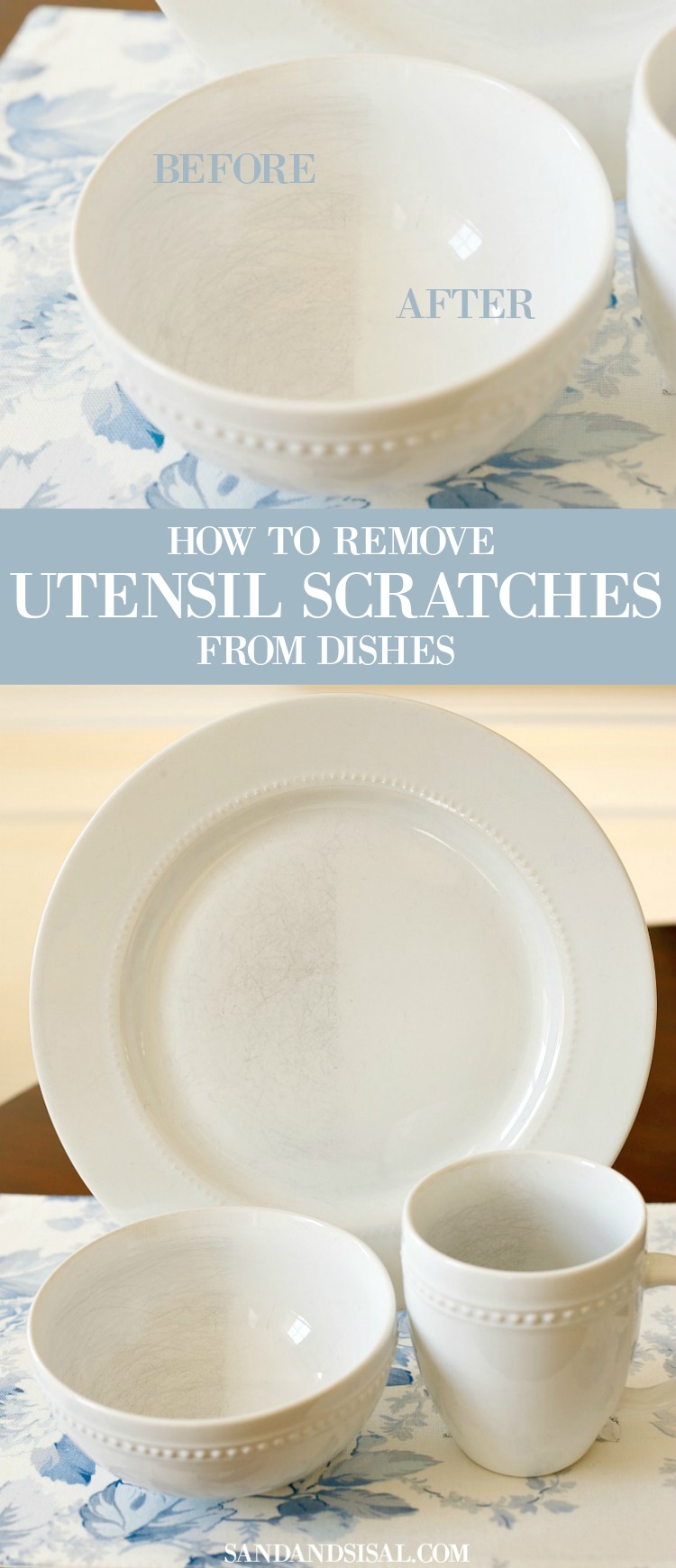 Happy Cleaning!
KIM
You might also like these posts:
The Best Way to Remove Wax from Votives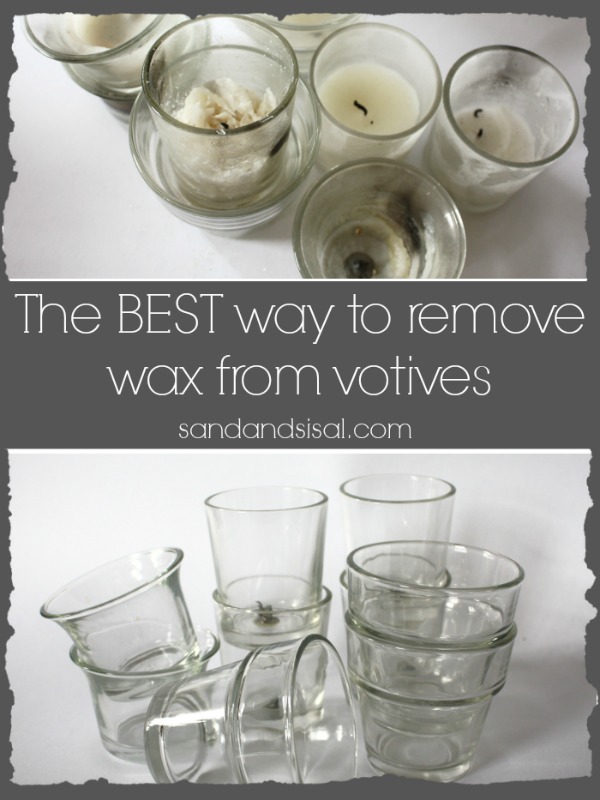 How to Clean Your Stainless Steel Grill