We are celebrating summer in the coastal kitchen! Summer is the one season of the year where the sun pours into the kitchen and to be honest, it makes me giddy with happiness! For this coastal girl, it's no suprise that summer is my favorite season. We love to grill and serve the family feasts full of fresh veggies, fruits, grilled meats and seafood. With 4 kids (teens), we find our new coastal kitchen is now the main hub of entertainment and we are ready for improptu dinners feeding their friends. Oh my… 16 year old boys eat A LOT! Before I strike up the grill, let me pour you a glass of iced tea or maybe a mojito if you prefer, and come take a peek at our summer coastal kitchen!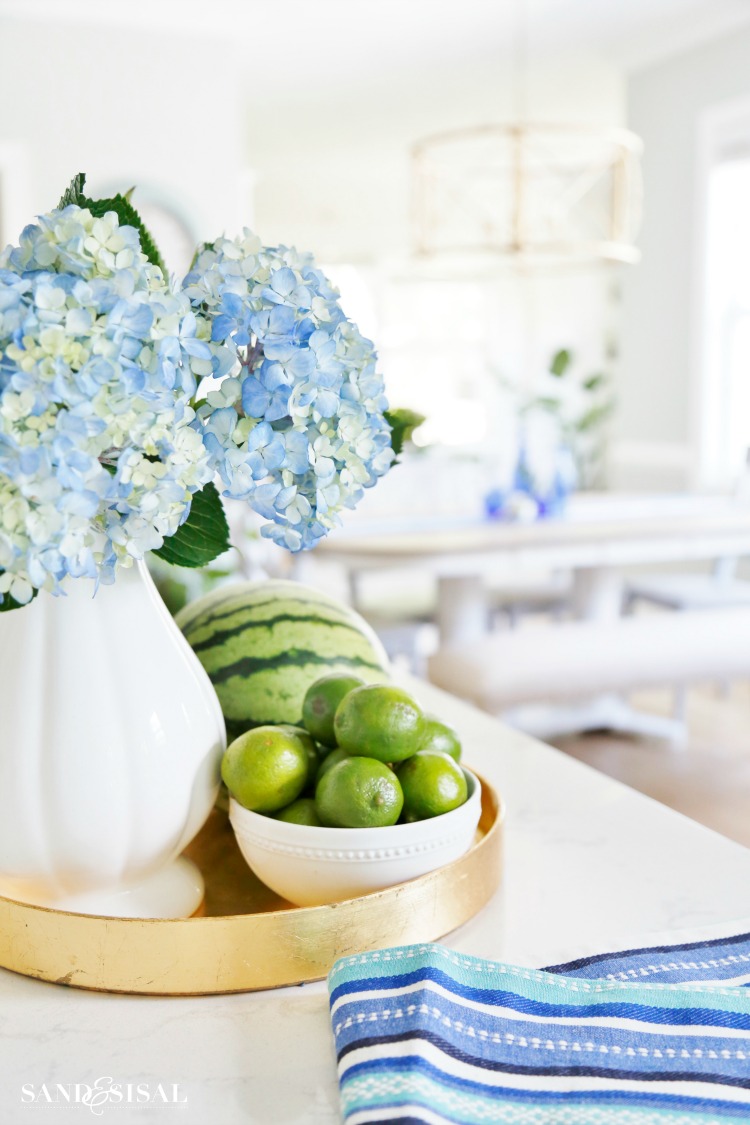 I hope you had a chance to see our Summer Blues Coastal Family Room Tour. It's bathed in sea inspired shades of navy, cobalt, seaglass and turquoise, along with plenty of fresh tropical greenery. The theme continues into the kitchen and my office / sunroom.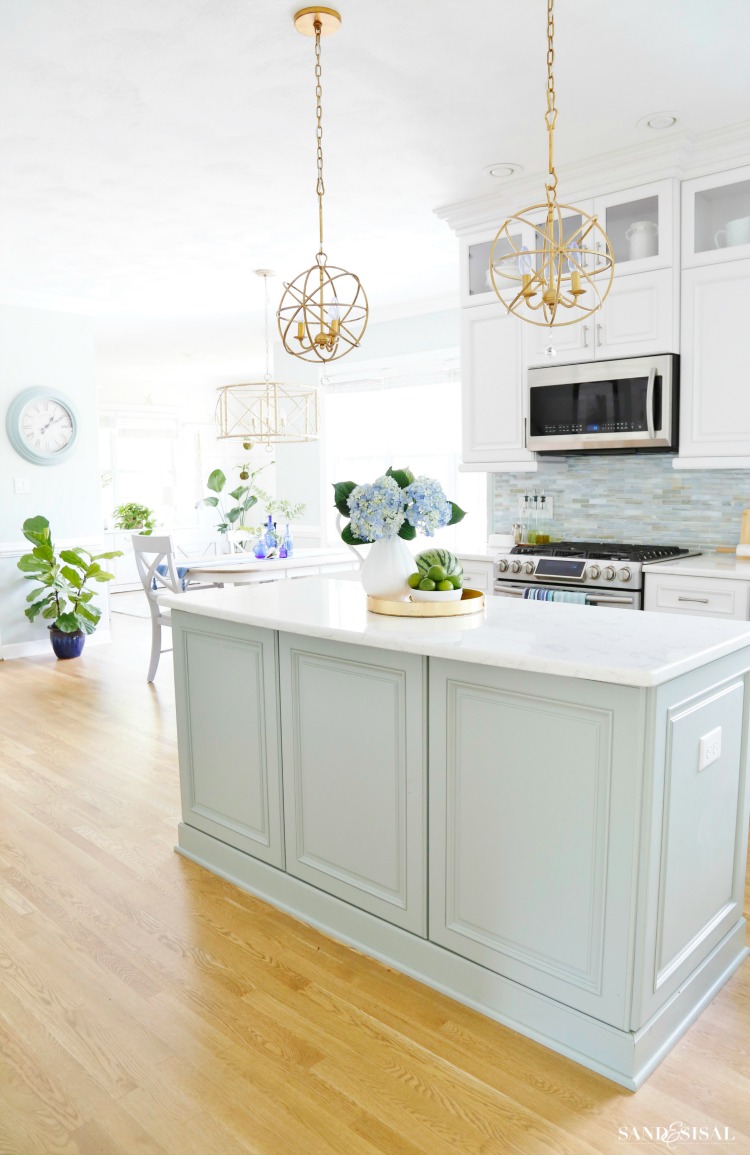 If you follow me on Instagram (which I hope you do. It is where you will find me the most these days), then you probably saw my Instastories where I gave you a tour of my garden and all the different hydrangeas blooming right now. I LOVE cutting hydrangea blooms, making arrangements with them and even drying them. One bush can produce a such kaleidescope of colors.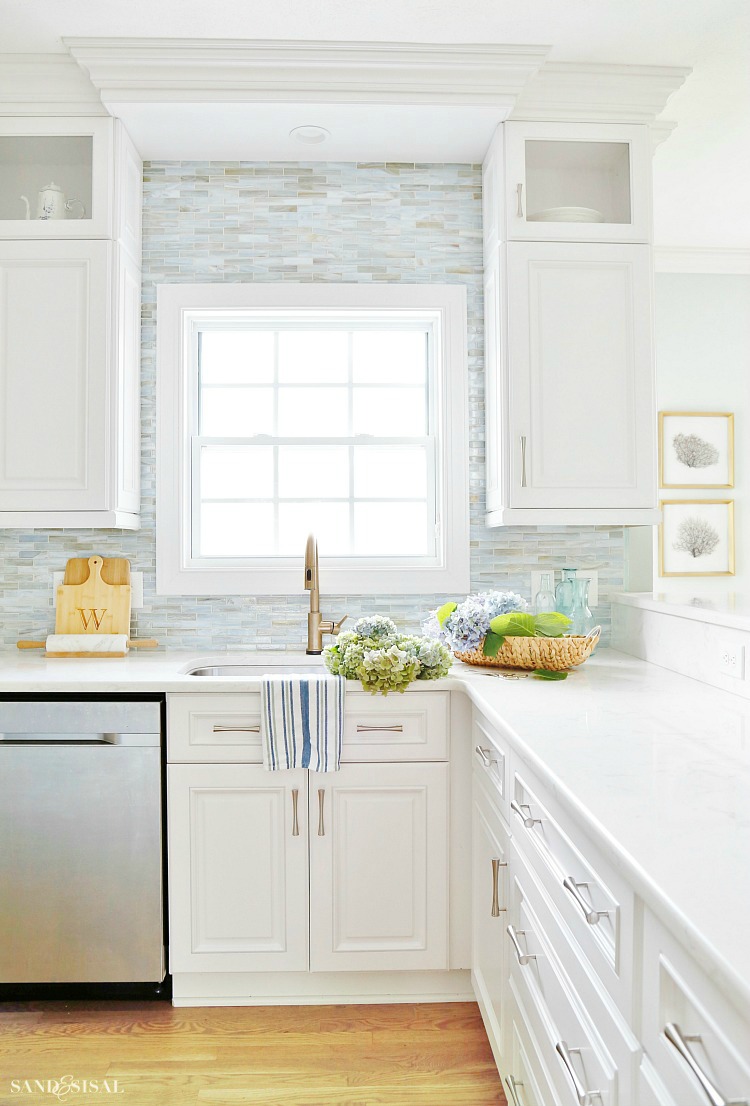 The soft shades of lime green and sea glass – periwinkle blues are crushing on me this week. Isn't God's creation mind blowing? The beauty is amazing.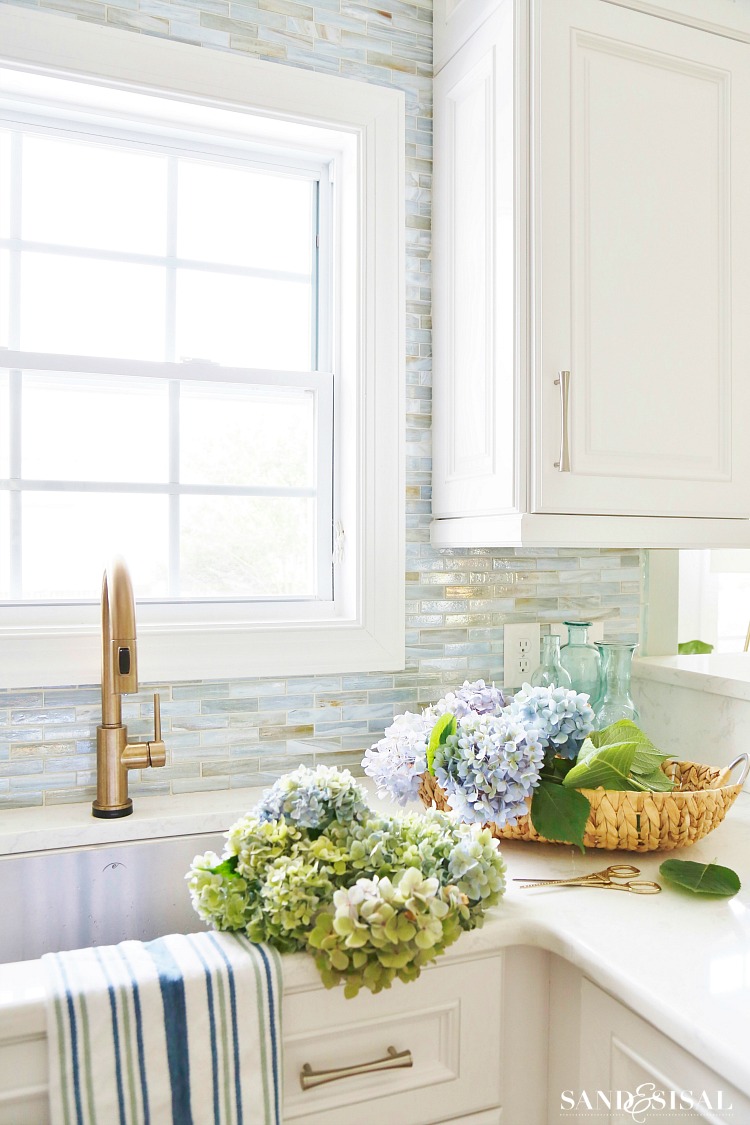 Ha! I didn't even realize until I started editing the photos that my flip flops were in the shot. Ooops! The kitchen has quite a bit of sand on the floor today, hence the flip flops. I promise I'll swiffer later….. like tomorrow….. hey, it's summer.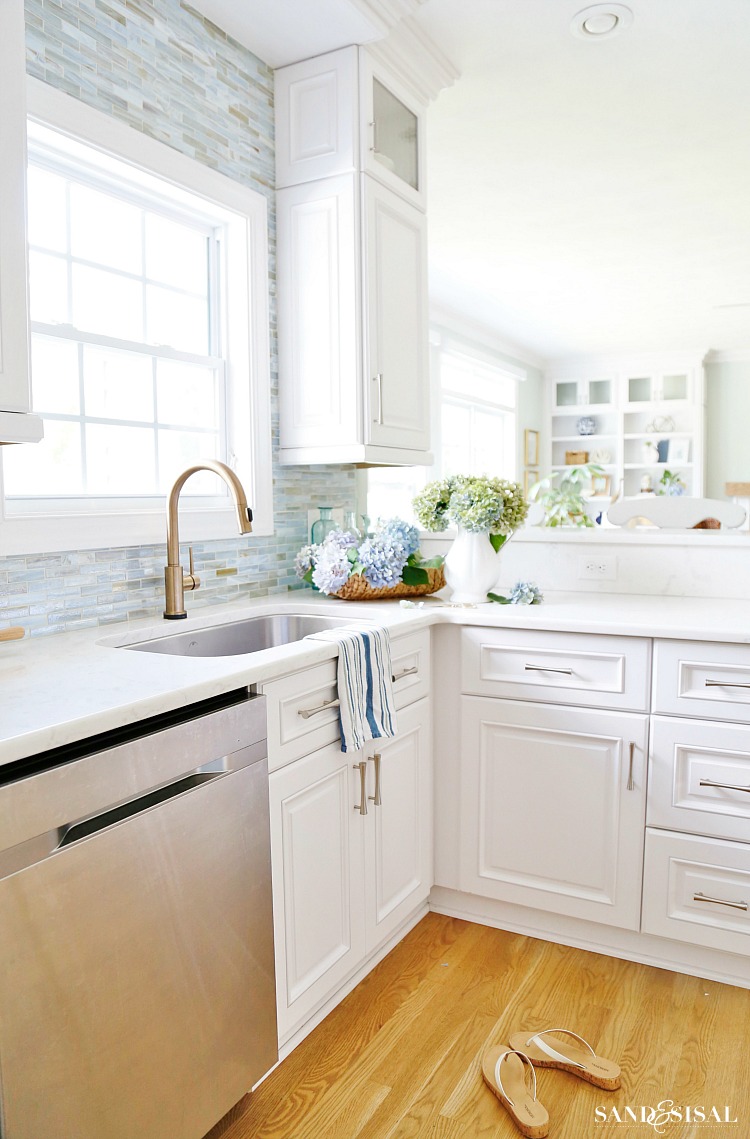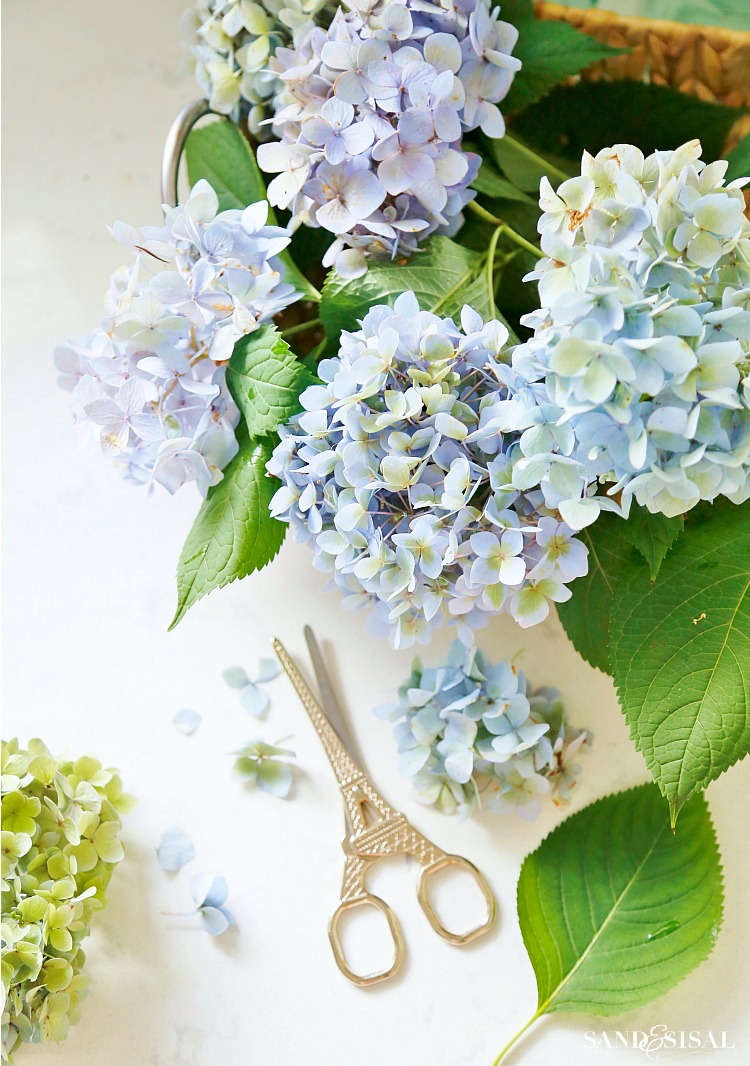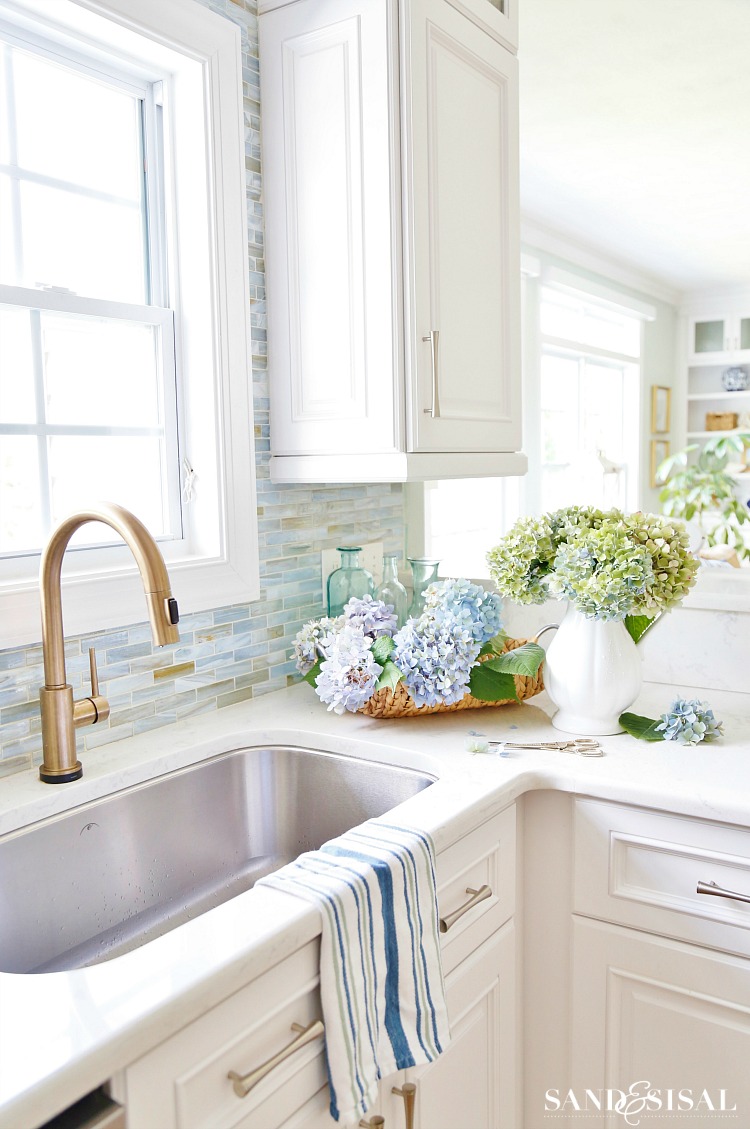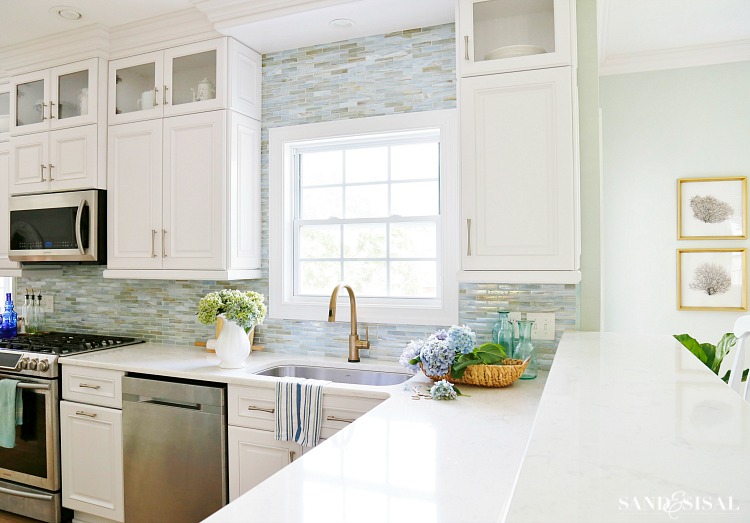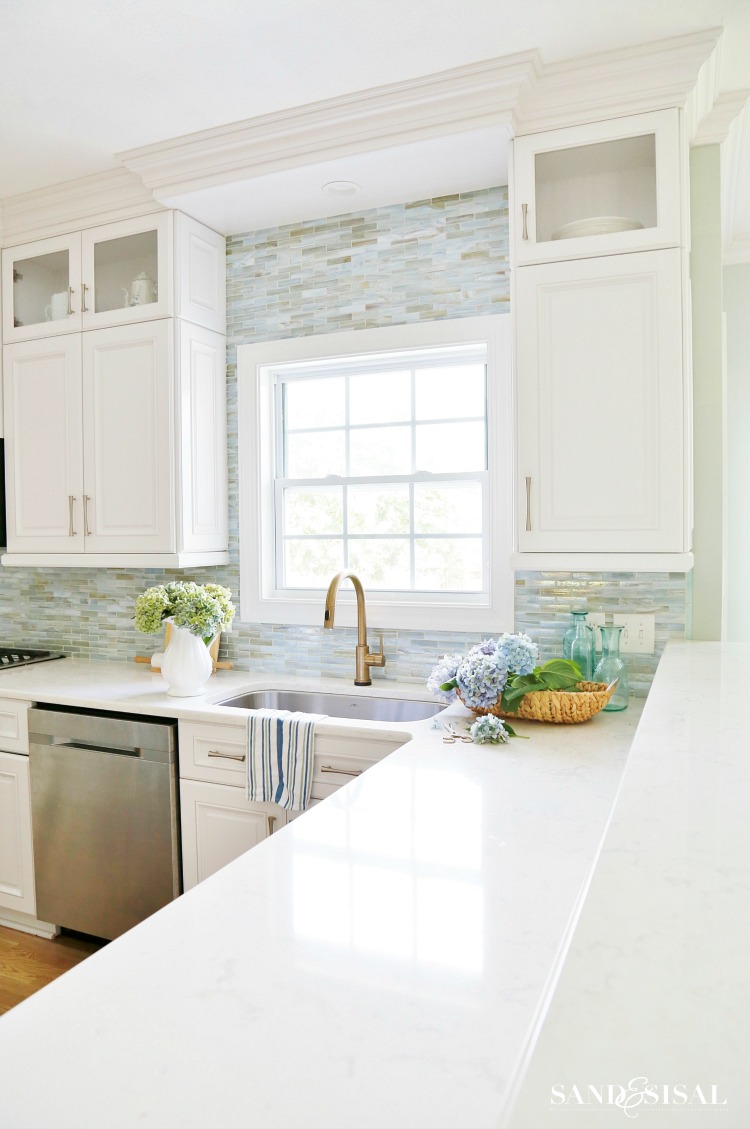 Let's move into our eating area of the coastal kitchen. Summertime to me says simplicity. Flower arrangements and decor should be straight from the garden or maybe raid your neighbor's garden! Allow casual coastal elegance to reign supreme. Take single fern stems, or hosta stems, what ever greenery you have and place them in cobalt blue glass bottles for a fuss free, 5 minute centerpiece. My bottles are over 20 years old but I found them at the dollar store. You can also hit up the grocery store florist and ask her for a bunch of greenery like ferns or lemon leaves, which will cost around $3 or less. This easy centerpiece will last for a few weeks.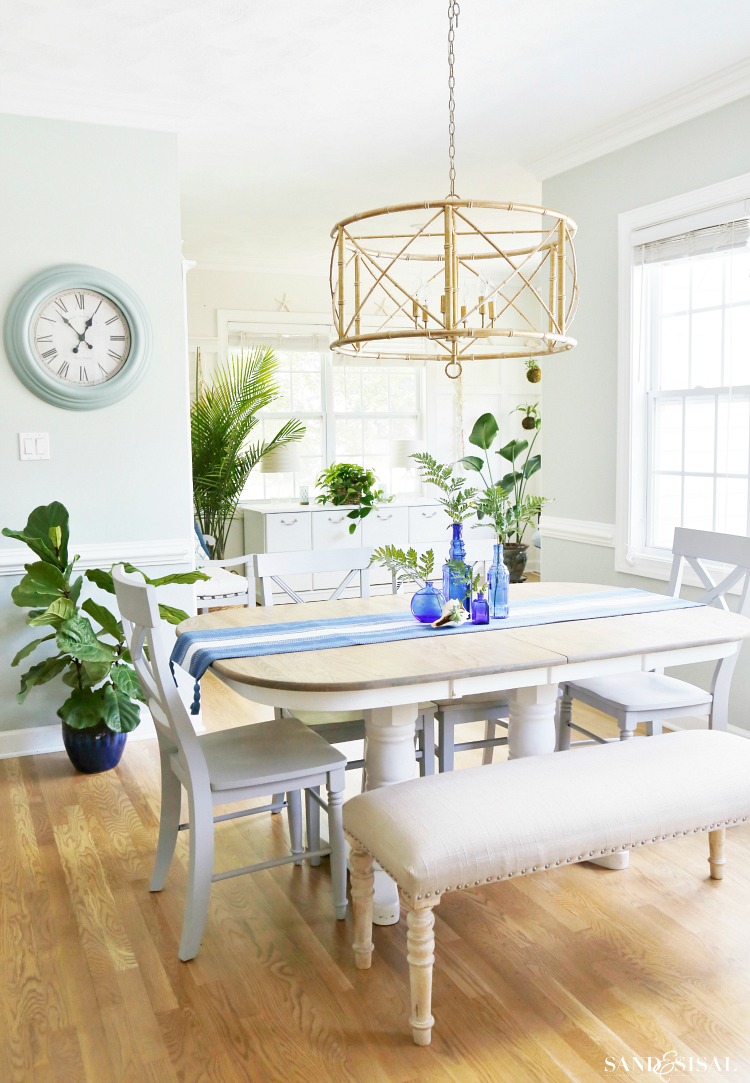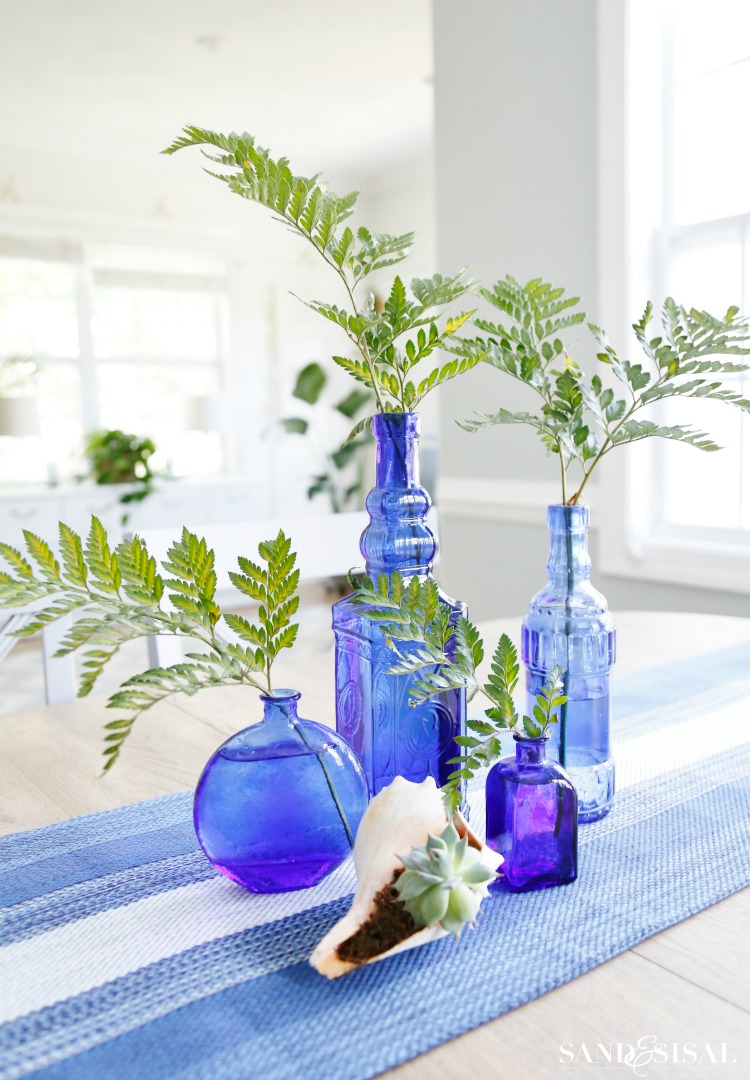 I moved the console table from our foyer into the kitchen and filled it with white cake servers, bowls and our oversized platters. The mirror was previously over the fireplace but I like it in here for now at least. Like always, when decorating, don't be afraid to shop your house and completely change things around.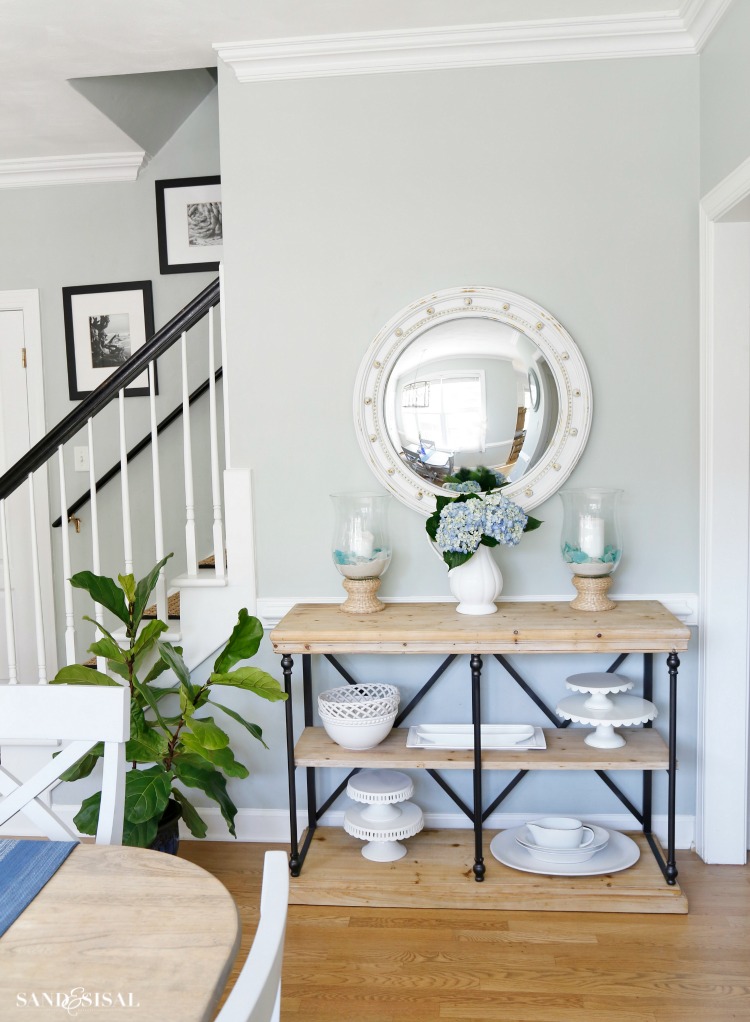 Right next to our summer coastal kitchen is my office aka the sunroom. Any sunroom should be filled with tropical house plants right? We have been slowly adding more and more houseplants to help with the air quality in our home. Houseplants are imperative to good quality of air. I wrote an article a few years ago that went viral about The 10 BEST Houseplants that Clean Your Home Air…. check it out. Natural beauty with a purpose…. sounds good to me.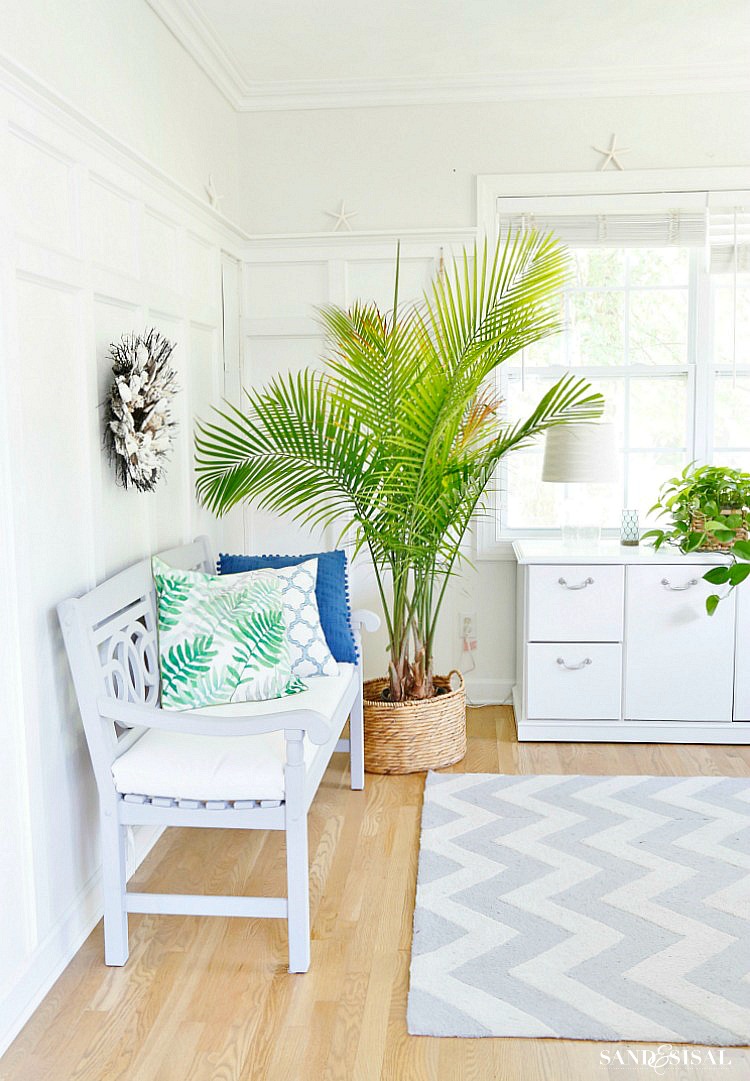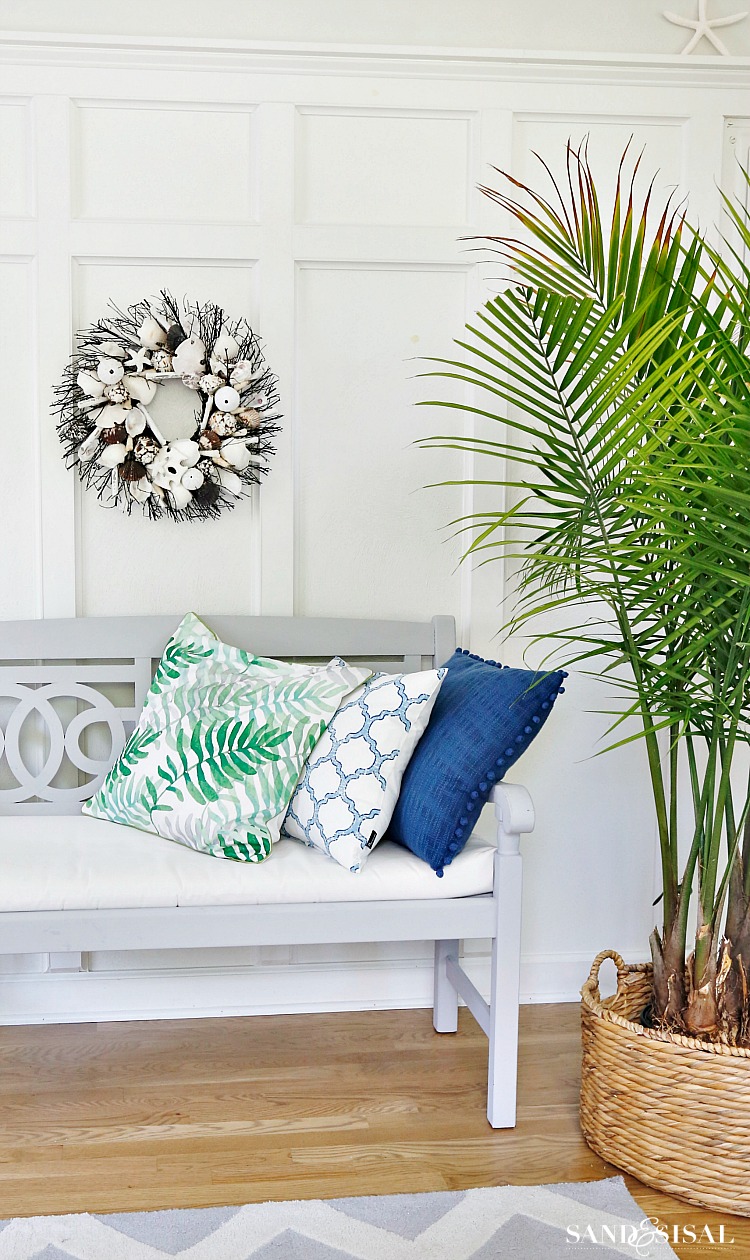 In case you all were wondering, the kodedama are still going strong! Aren't they whimsical and fun? I water them once every two weeks.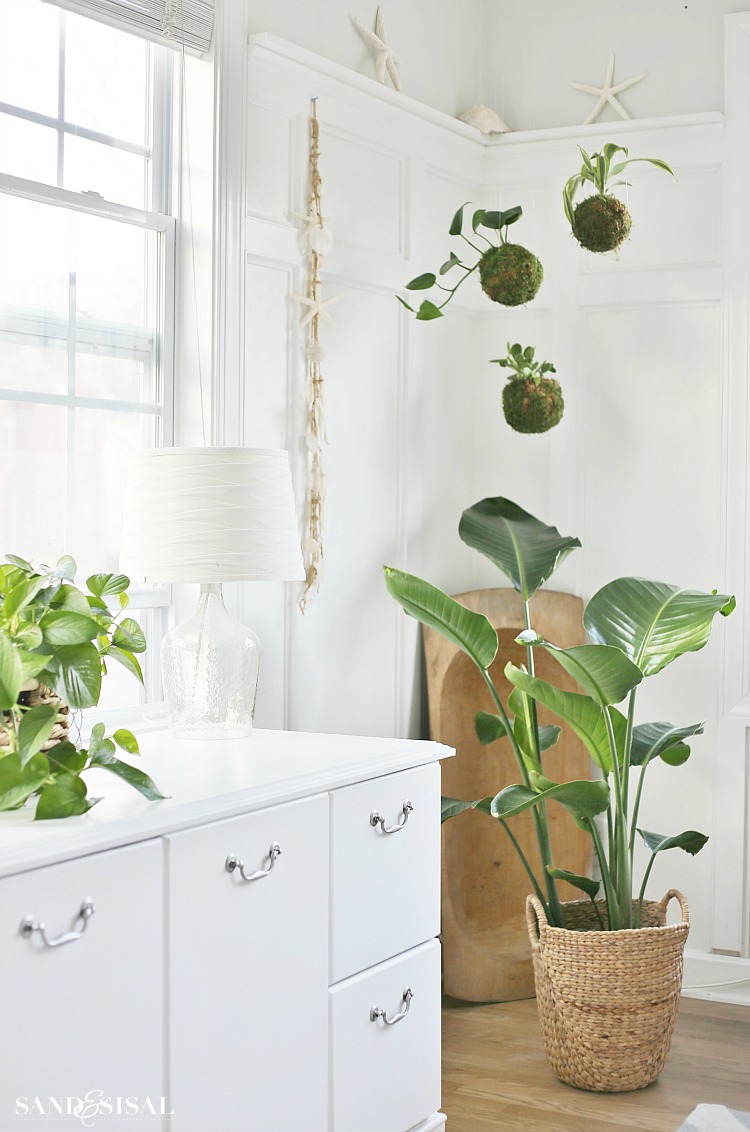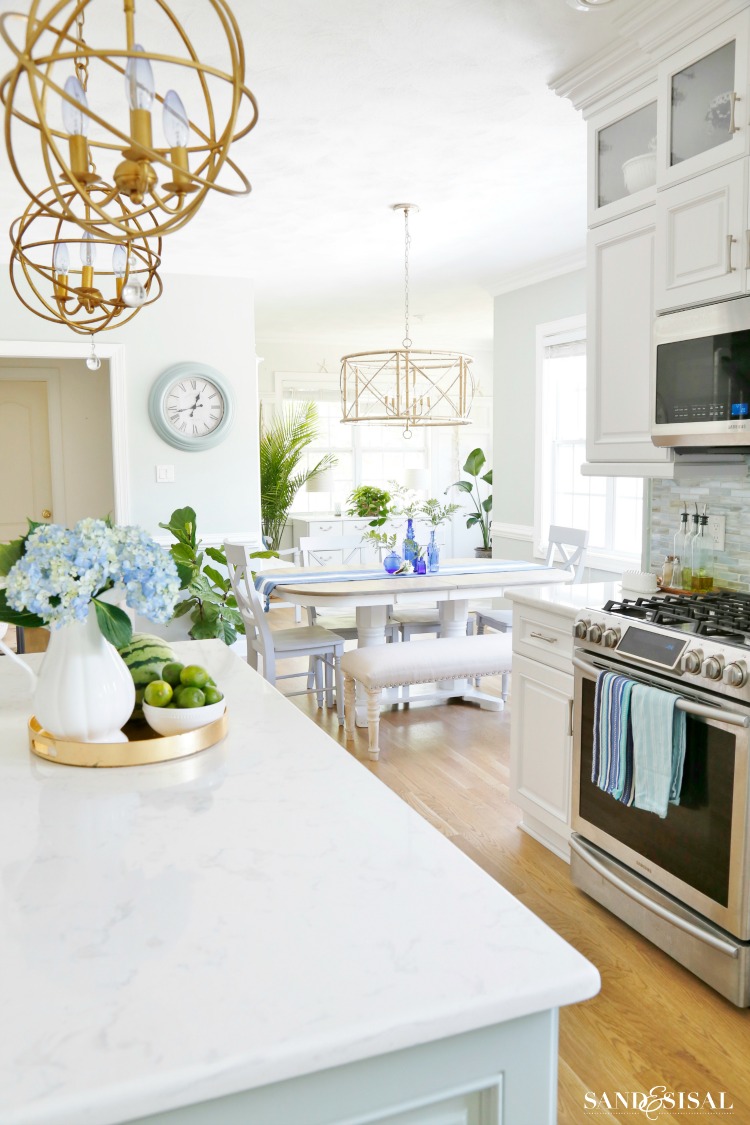 The boys are coming in from a day of surfing, and I have my crock pot pork bbq wrapped in banana leaves from the back yard almost done, so I will sign off now. This kitchen is about to get messy with family and friends…. and I wouldn't have it any other way! 😉
Wishing you Sweet Summer Bliss,
KIM