Summer botanical coastal dining room updates – Bring island life into your home with these fun and chic glass wall vases with tropical plant propagations.
The dogs have taken over my office and it's a furry wreck so I find myself retreating to work in one of the prettiest, sunniest and quietest rooms in the house, the dining room. I recently gave the space a bit of a botanical boost and thought you might enjoy seeing the updates. Come along with me on a little summer dining room tour!
Our yard has provided so many beautiful blooms that I could clip and bring into the house and make an arrangement in my favorite sea urchin vase. The crepe myrtle trees are currently bursting with huge plumes of flowers. They don't last more than a day after clipping but I wanted to enjoy their beauty inside. We have several white, raspberry and red crepe myrtles in the yard. If you follow me on Instagram then you might have seen my garden tour. It's save in my IG highlights section.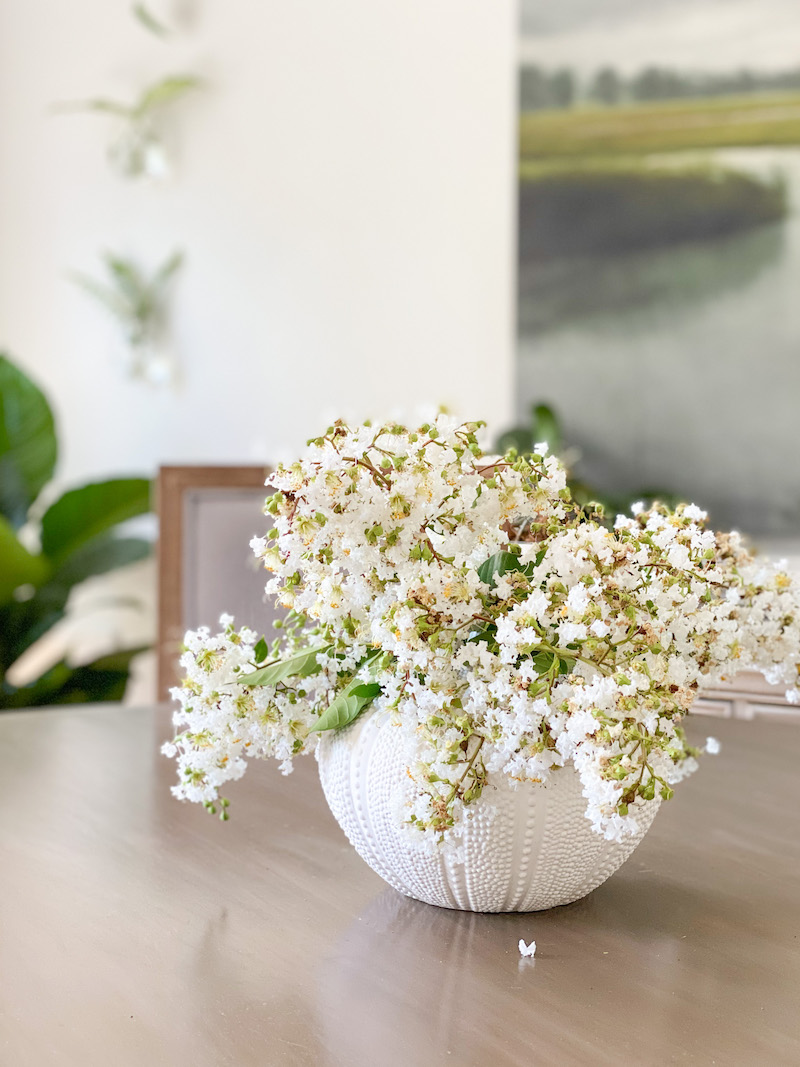 Call me a crazy plant lady! I can not get enough live greenery in my house! The addition of fresh and live plants in my home seems to calm my anxiety. I'm guessing I try to recreate the feeling of a tropical oasis in my house. Since none of us can travel with Covid virus restrictions, we need to escape to our favorite places somehow. Why can't those places be in our own homes 24/7, 365 days a year? Our homes should be an oasis no matter what life is like outside the front doors. Don't you agree? I added this huge peace lily to the corner. Peace Lilies are considered the best air purifiers of all the indoor plants. Discover the top 10 indoor plant air purifiers HERE.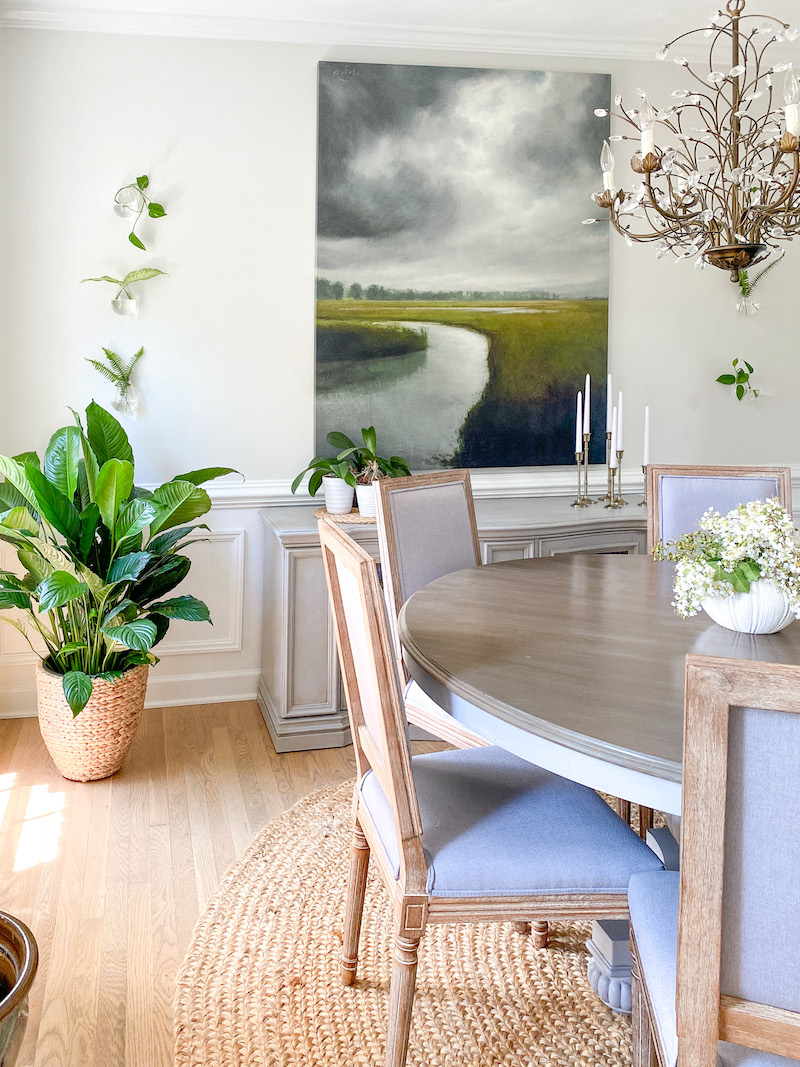 The walls on either side of my favorite painting, Storm on the Marsh, seemed just too blank. They needed something but I didn't want to add additional artwork to distract from the painting. I did think about adding some floating shelves, which I still might some day. In the meantime, I came across these glass wall vases. They are so affordable and are perfect for propagating new plants which is one of my passions. Why not propagate in style?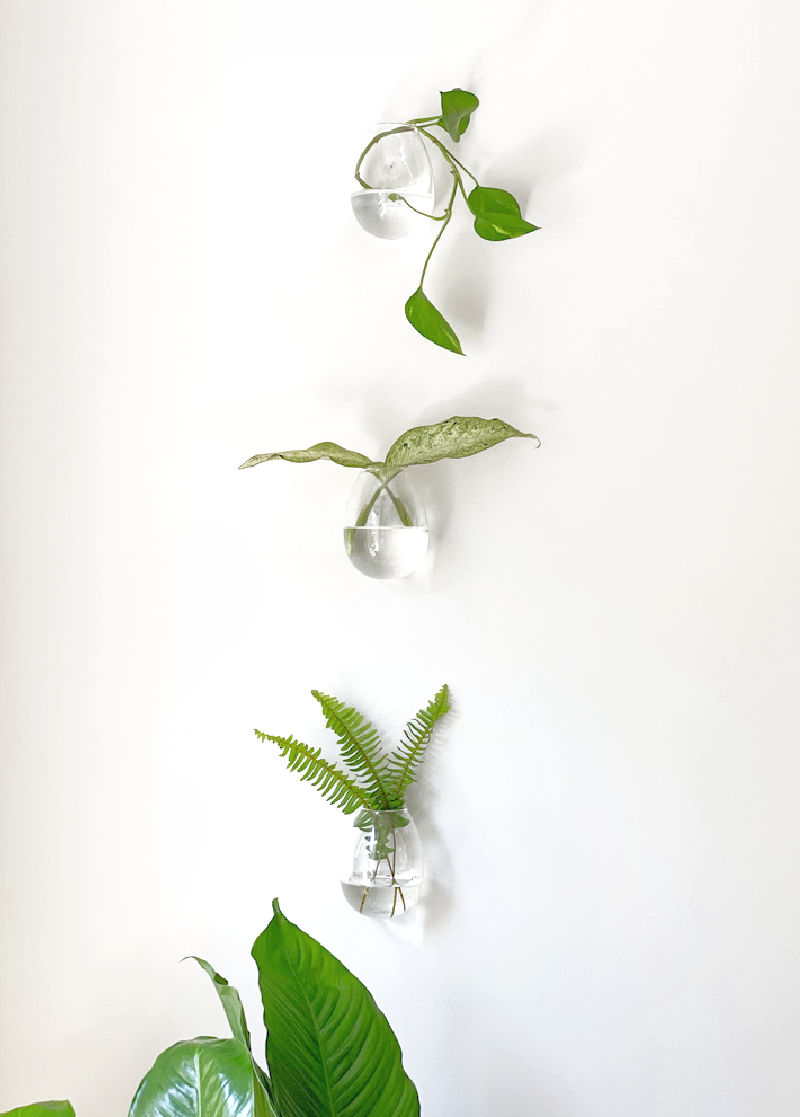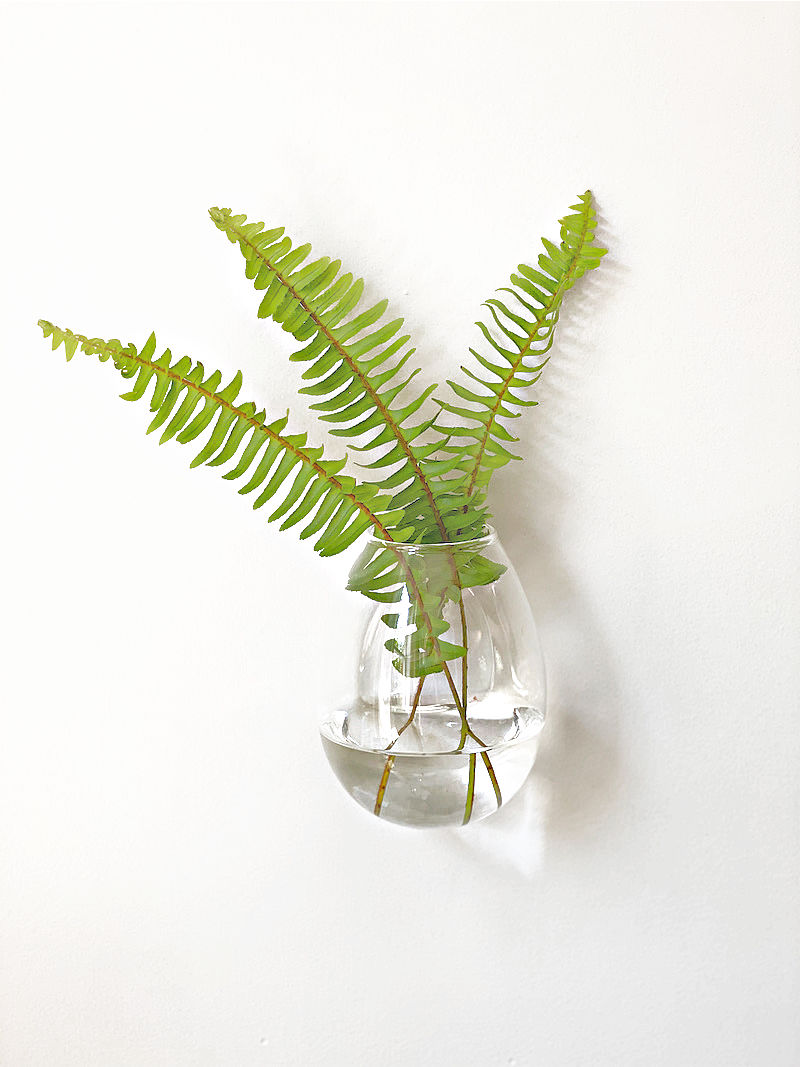 Now I'm well aware that not every plant clipping I place in the wall vases will propagate but many will. This plant mama is ready to make some new plant babies! My fur babies love this room too and always plant themselves (pardon the pun) in the room or under my feet while I work on my computer at this table. That fur baby is Aspen. She curls up into the smallest ball but is actually a huge, nearly 80 lb, 15 month old Great Pyrenees.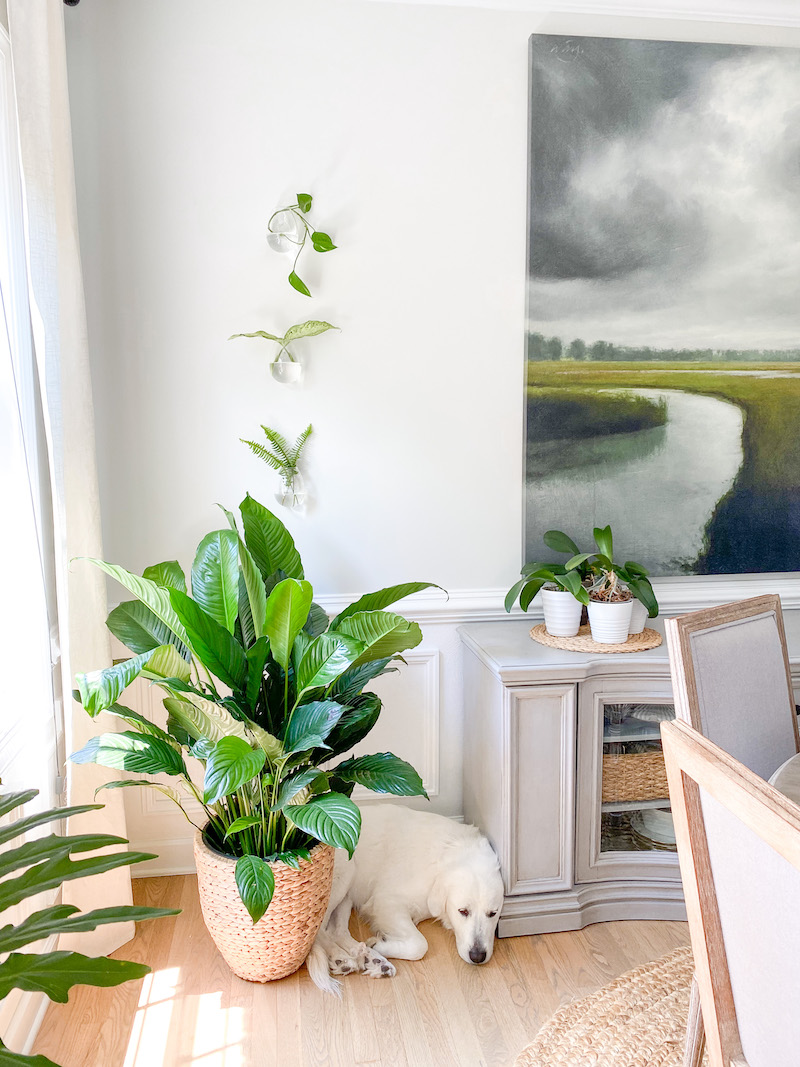 I purchased 6 of these glass wall vases but I'm now that they are up, I am thinking I should add 4 more to each side of the painting. They would then be in sets of 7 on each side. Hmmmmm, decisions, decisions.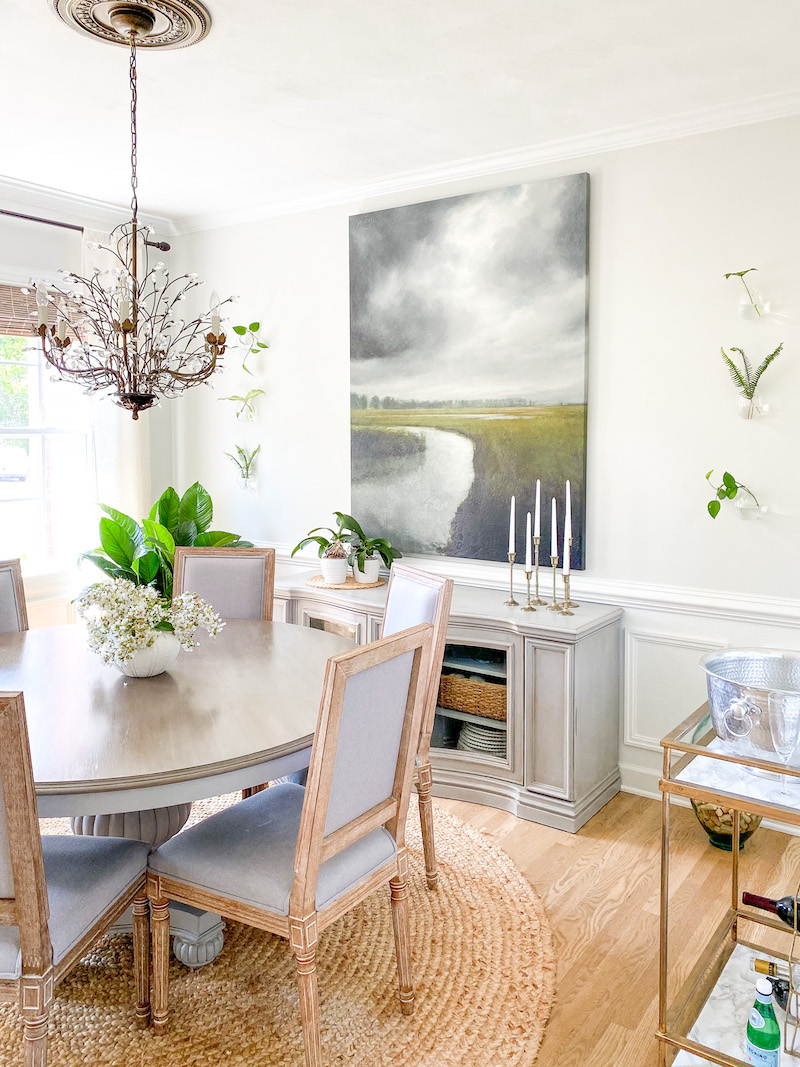 Press play to watch the botanical dining room update video!
One of my favorite chalk paint makeovers was this entertainment unit that I re-purposed into a buffet table. You would be shocked at the before pics! It has worked out so well for the space. I have a video tutorial for the makeover, if you are interested, in the previous link.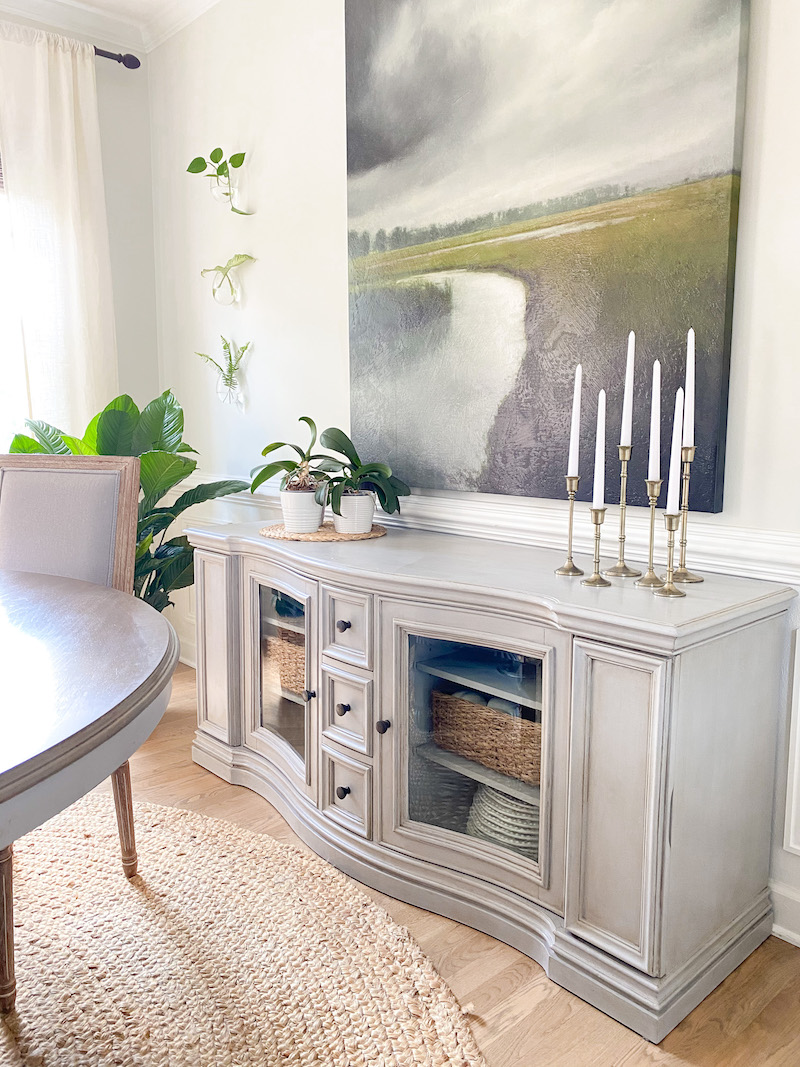 Here is another view which I don't show too often. As you can see, the dining room is directly off the entrance. I'm planning on changing up the foyer and and the other room across from the dining room soon. And those orange banisters…. yucky-yuck. We can't afford a new staircase right now so I might paint the banister railing white or blank even. What do you think?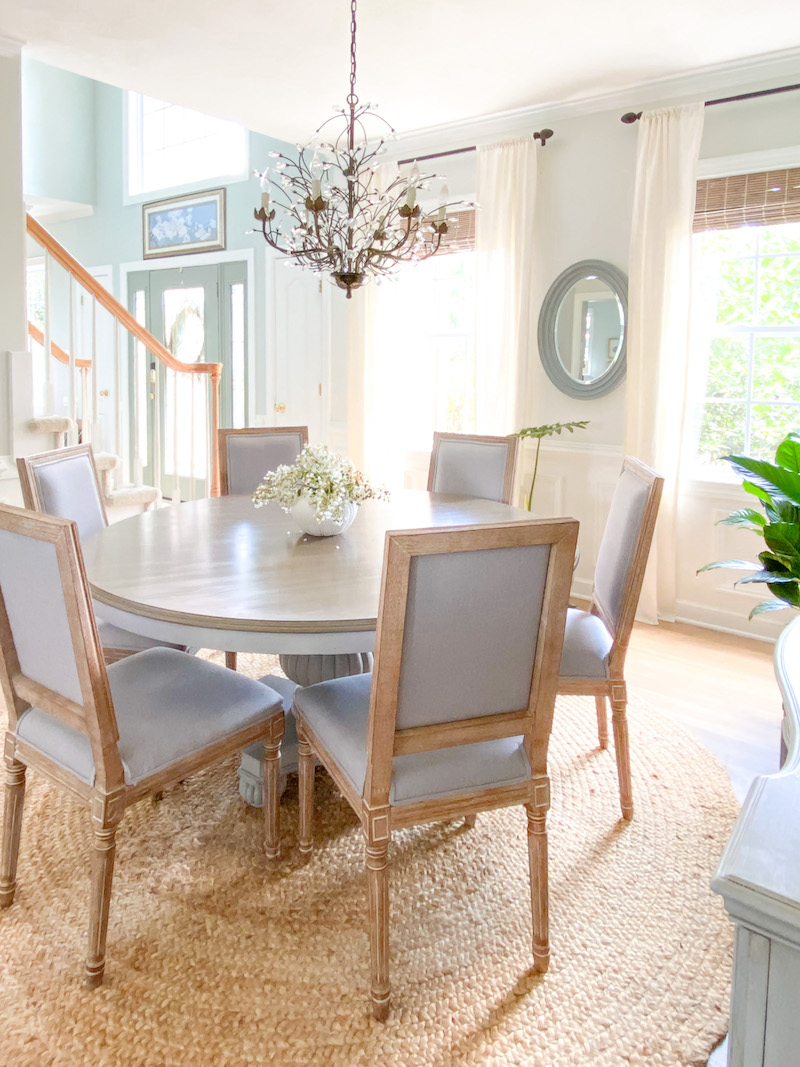 Maybe we will decide to eat for a chance in this room. I think it looks so calming and soothing and I love it! Two of my kids, my middle 2, both leave for college in 2 weeks so I really want to take advantage of the room for family dinners, fancy steak or pizza, while I can.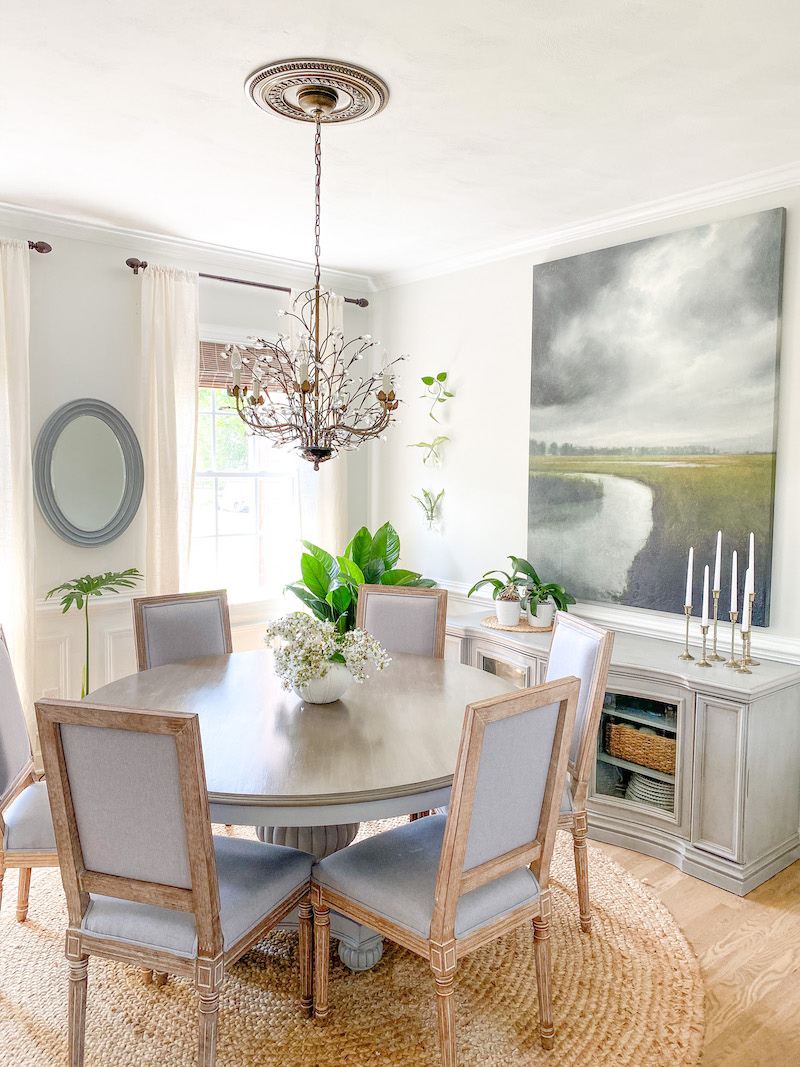 SHOP THIS LOOK
Scroll and click on the snapshot below to see and shop the sources. (Affiliate links for your shopping convenience)

Wall color: Sherwin Williams "Reserved White"
Trim Color: Sherwin Williams "Extra White"
Dining Table: Thrift store find. See the makeover HERE
Chairs: HomeGoods
Oval mirror: HomeGoods
Floors: Solid White Oak, custom finished and stained in Weathered Oak by Duraseal
Marsh Painting- Ballard Designs
I hope you liked these little botanical summer coastal dining room updates! Have a fabulous week friends!
KIM