Today is the day! I have finally cleaned up all the sawdust, moved furniture back in, and styled the rooms. I'm happy to share my Upstairs Home Tour – Hardwood Flooring Reveal with you all! You will get a peek at a few upstairs rooms. Our second floor is a bit of a split level. Upstairs we have 5 bedrooms, including the FROG (front room over the garage), a laundry room and 3 bathrooms. That's a lot of hardwood flooring to get cleaned and styled in one week! So today I'm going to show you 3 rooms. The other 2 are about to go through some big makeovers of their own. We are so thrilled with our new flooring from Twenty & Oak. Come on inside and let me take you on the upstairs home tour!
Coastal Navy Media Room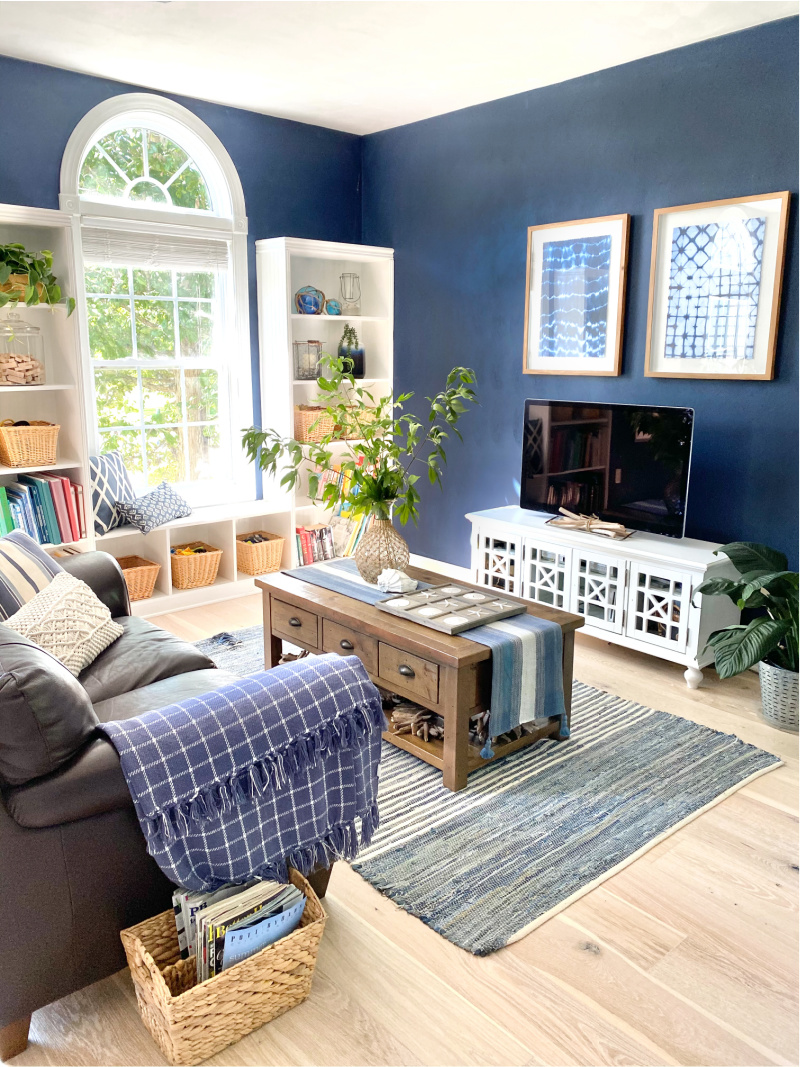 In last week's post I shared a sneak peek of our master bedroom and the gorgeous smoked and antiqued French oak flooring called "Nola" from the Palmetto Road Tuscany collection. The light and natural French oak is exactly what I wanted to exemplify and enhance our coastal chic, Hamptons decorating style.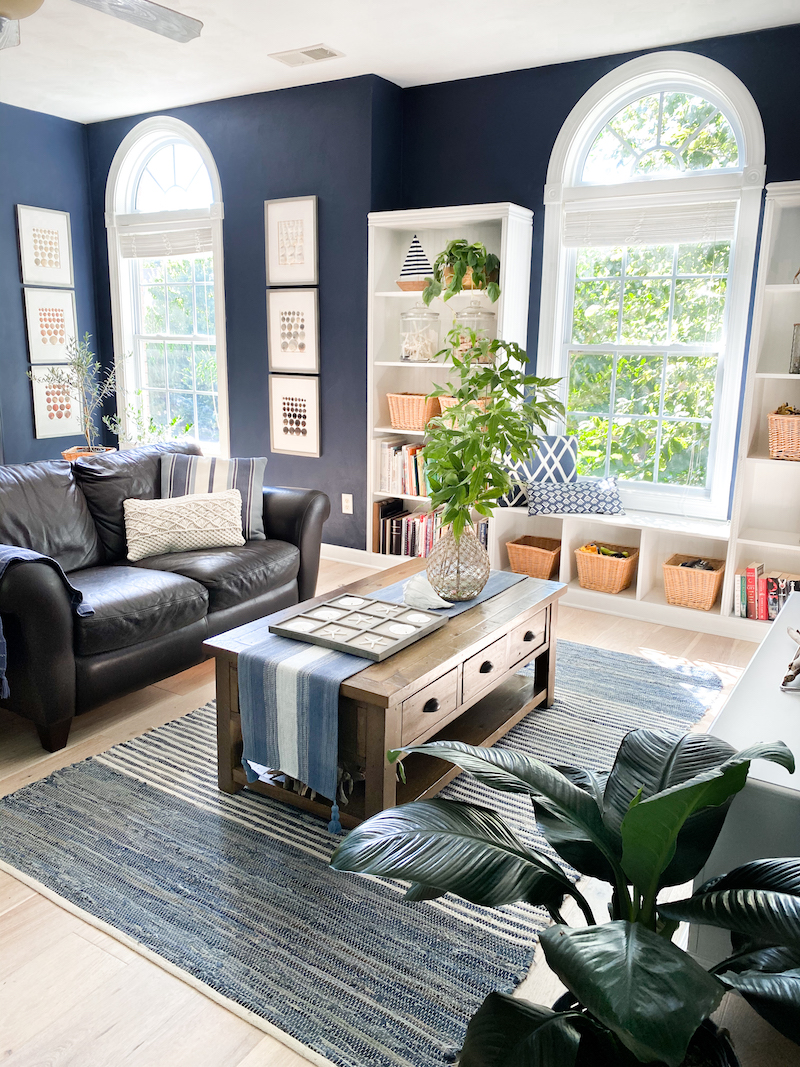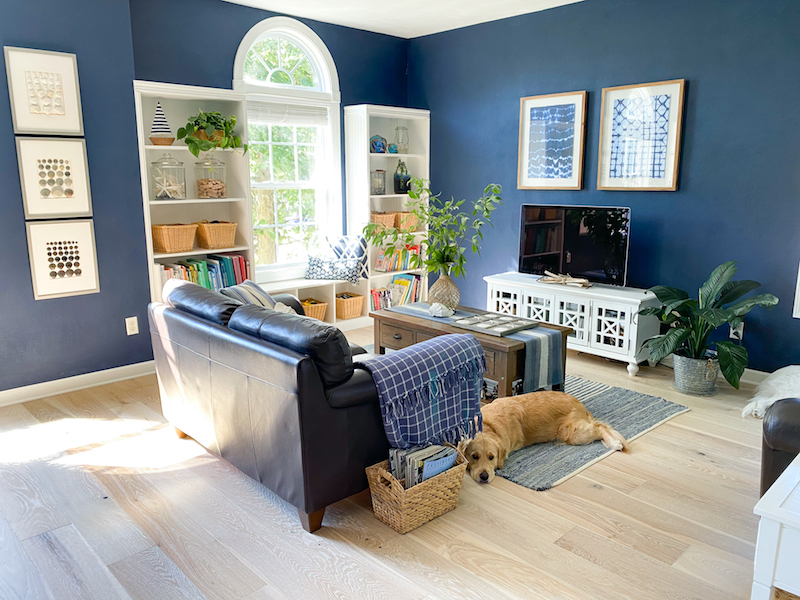 Our media room is painted with a dark, rich navy and the Nola floors accentuate all the glorious sunlight that streams into this south facing room. The combination creates an atmosphere that is cozy and comfortable without being overly moody and dark. I am absolutely in love! Notice, the pups find this room their favorite place to relax and snooze too.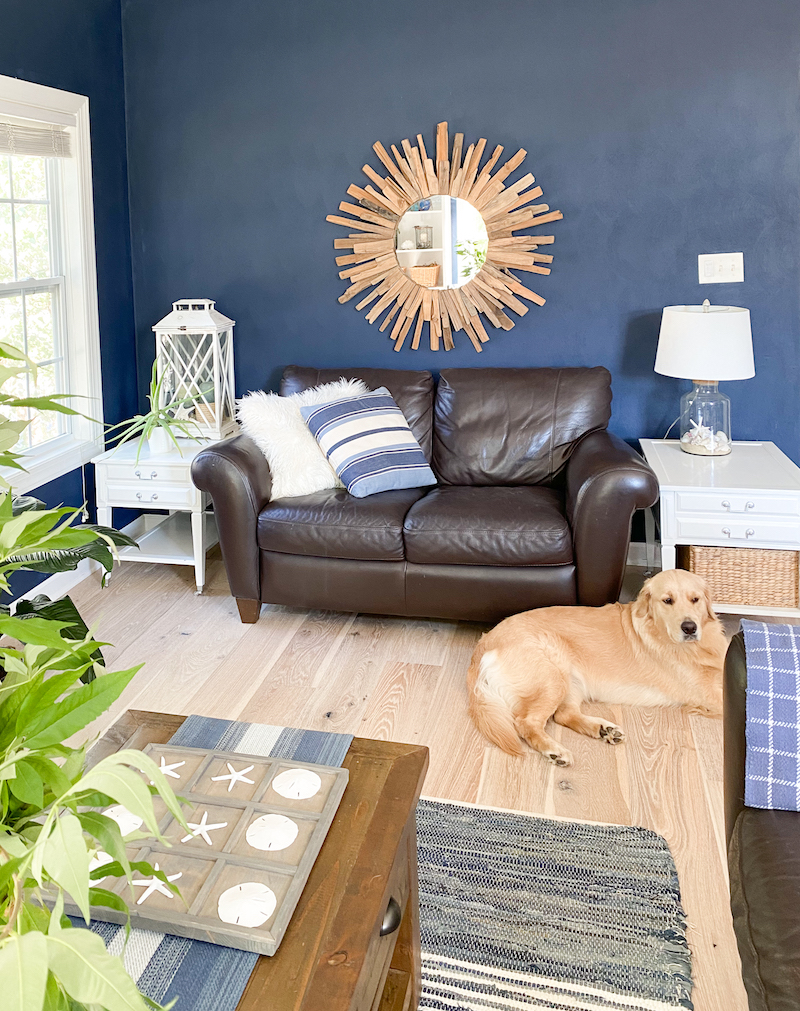 Coastal Master Bedroom
The master bedroom should always be a romantic and restful escape. If you can't go on vacation, then bring the vacation home! I designed our bedroom to reflect a relaxed, yet refined island retreat vibe. The room is filled with tropical, air purifying plants, natural elements, textures, and it is all washed in an ocean inspired color palette. The beautiful Nola floors are reminiscent of the soft, sandy shorelines of the Outer Banks in NC, and sprinkled with black scallop shells and charcoal burnt driftwood. The grain of the hardwood flooring is gorgeous.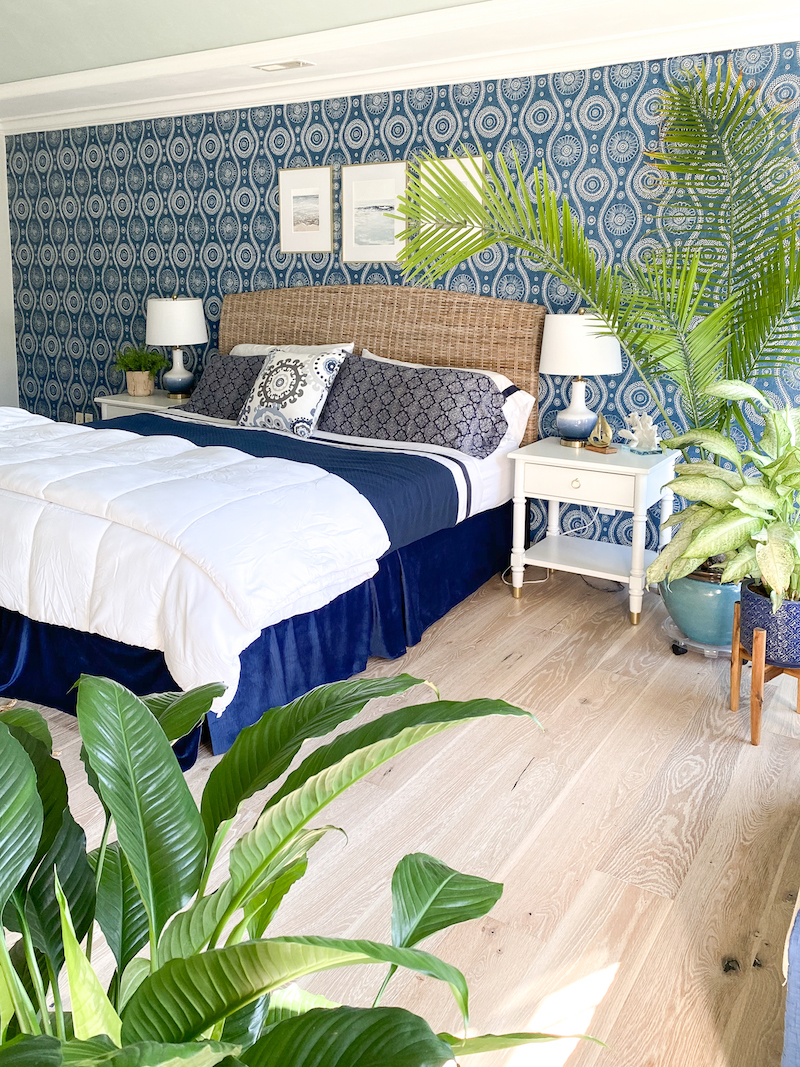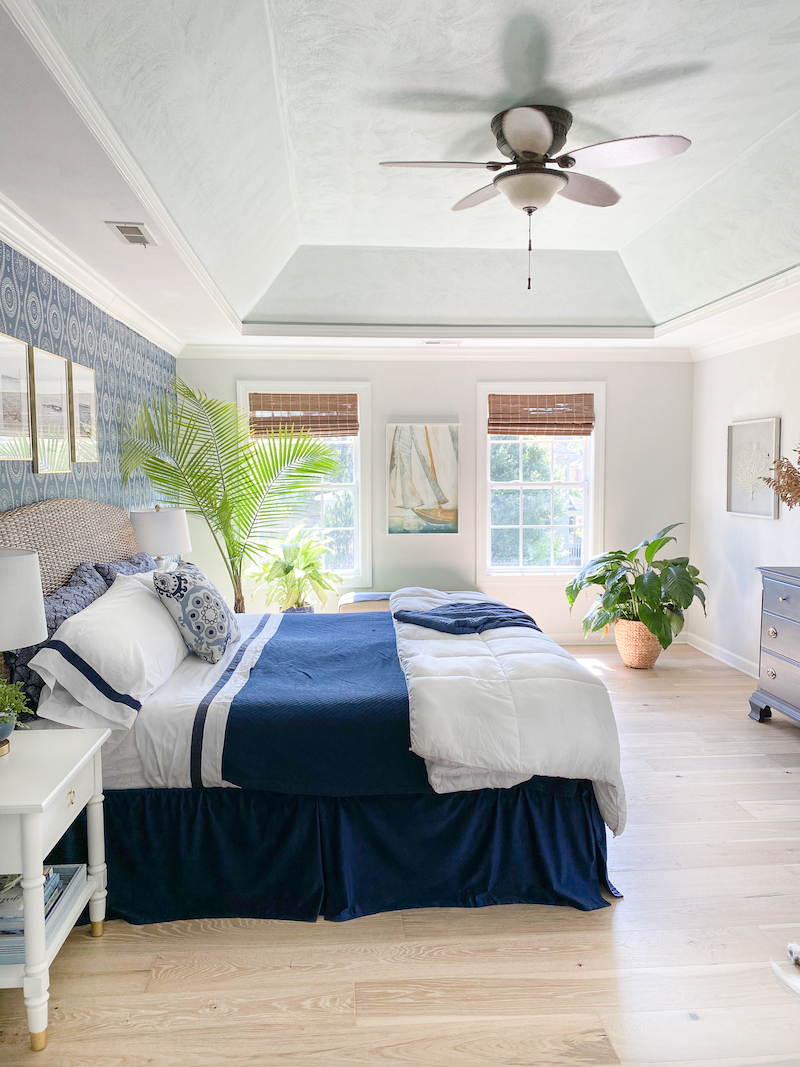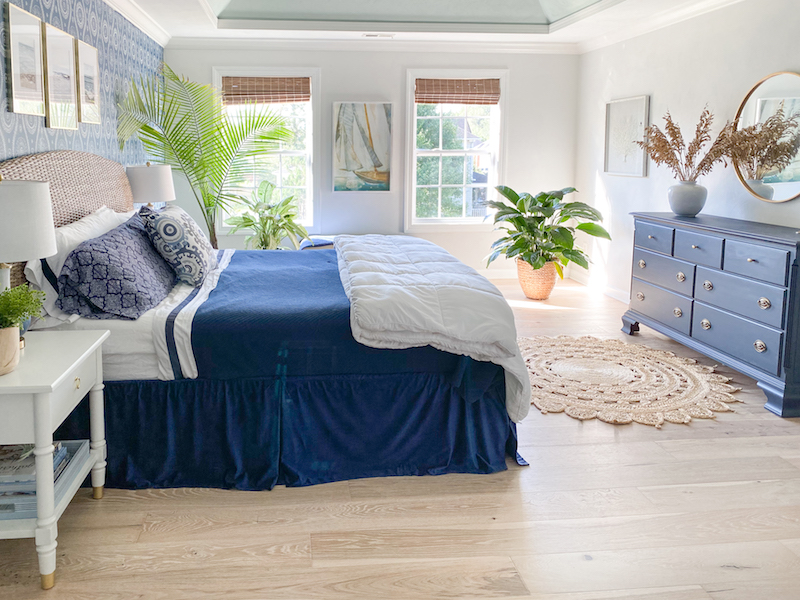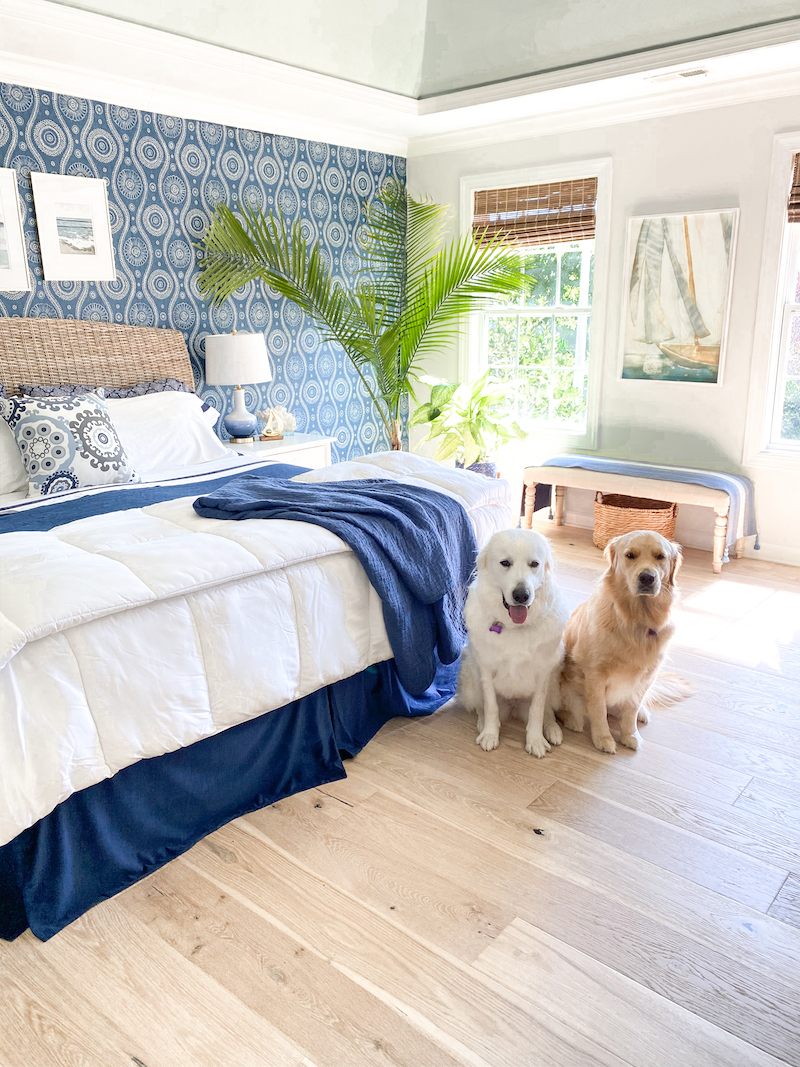 Coastal Modern Bedroom
I absolutely love how my college aged son's coastal modern bedroom (aka – our guest room) turned out! My husband had said how this Nola flooring looked like it was made for his room! I wish I could capture how it all looks better, but his room is so difficult to photograph and get the real colors to shine true. The hardwood flooring goes so beautifully with his gray walls.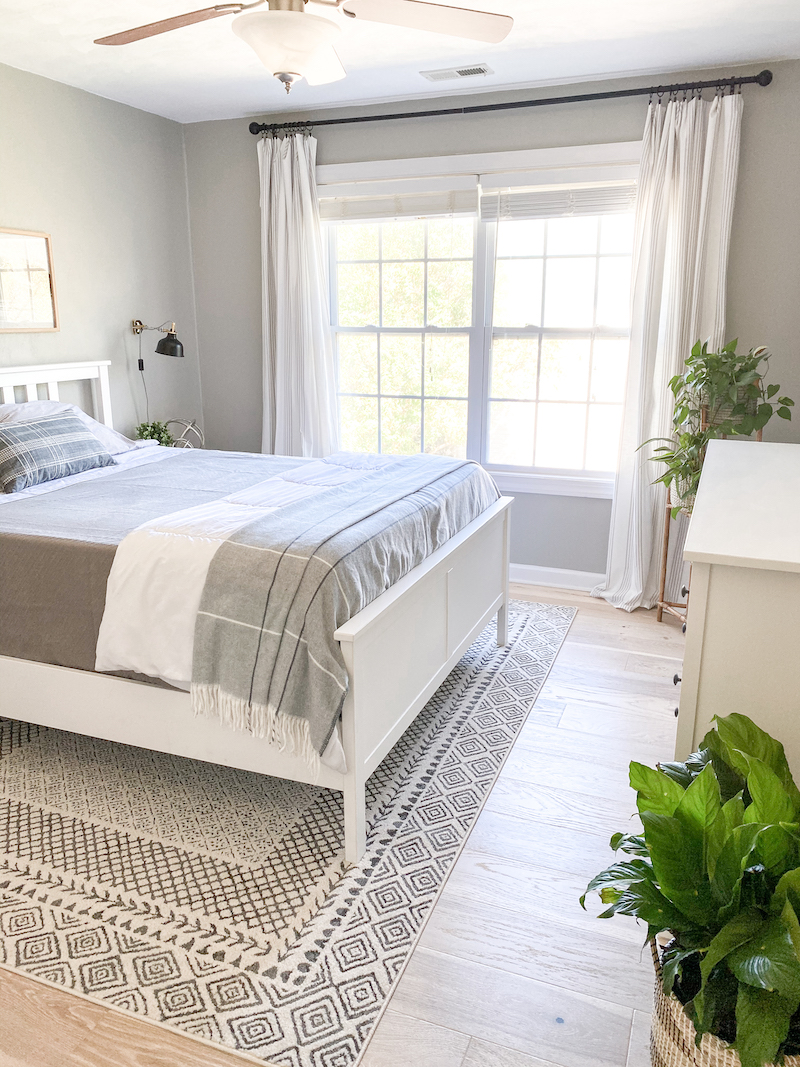 Our Great Pyrenees, Aspen, loves sitting in our son's room and is anxiously awaiting his return home from college. Look at how well the floors coordinate with the DIY Grasscloth Dresser.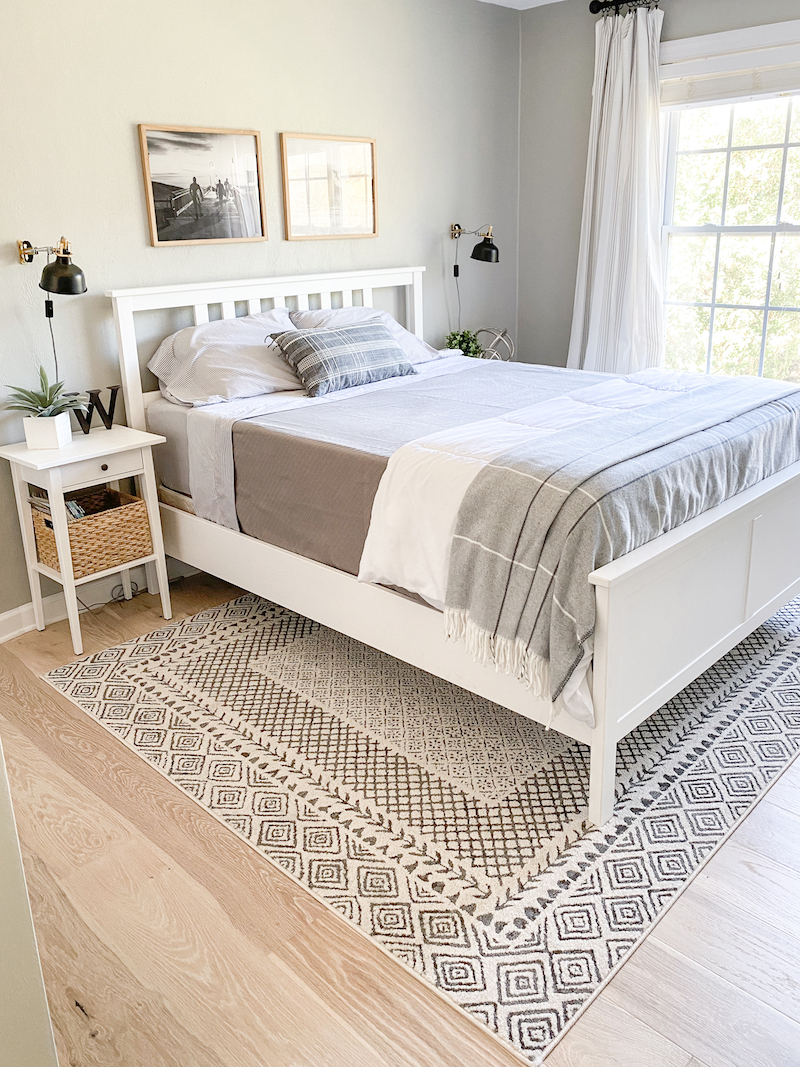 I hope you enjoyed a little upstairs home tour and our new hardwood flooring reveal! Let me know what you think in the comments below!
To catch up on the previous flooring posts, you can check them out below:
If you are interested in flooring for your home then don't forget to check out Twenty & Oak and get your 6 FREE FLOORING SAMPLES! Use the CODE: SAND to make sure you get your 6 free samples.