This post was brought to you in partnership with The Home Depot and ScotchBlue™ Painter's Tape.
Are you ready for summer? How about kicking it off with a great GIVEAWAY? Hold tight for just a minute. I had the awesome opportunity to partner with ScotchBlue™ Painter's Tape and The Home Depot  on this project. It's part of their "Ready, Set, Paint" event and bloghop that features fun DIY summer painting projects by your favorite bloggers!
I'm going to show you how to get the look of a custom etched glass table. I was inspired by the design of a nautical compass rose, but you can use this tutorial to create any geometric design you desire.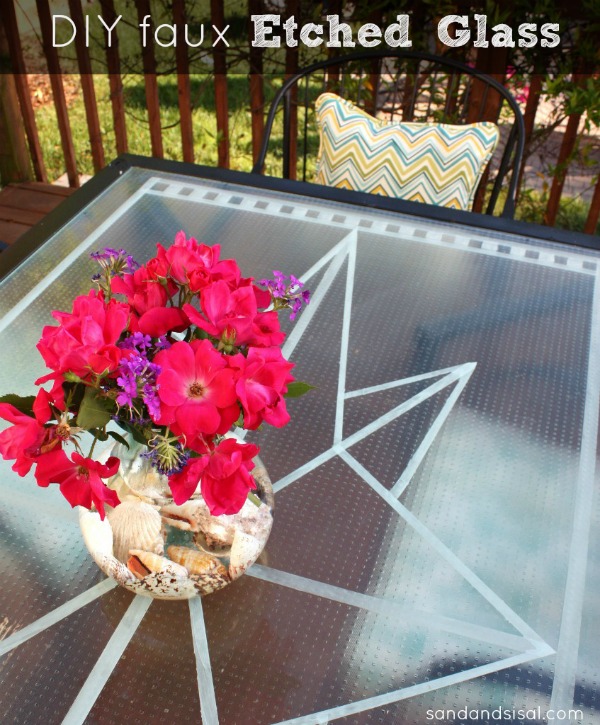 To make a Faux Etched Glass Table you will need the following items.
ScotchBlue™ Painter's Tape (available at The Home Depot)
Martha Stewart Crafts Glass Paint-Frost-  "Sea Lavender" (available in the glass paint section of craft stores)
flat tipped paint brush
ruler
straight razor blade
exact-o blade
chalk and string
Rubbing alcohol
Step 1) Clean the glass tabletop with glass cleaner then wipe it well with rubbing alcohol. The rubbing alcohol removes an soap and oil residue, helping the glass paint adhere best. With your ScotchBlue™ Painter's Tape, create a giant plus sign down the middle of the table and then an "X" starting at the corners. The space between the strips of tape is the area that will be painted. Use an exact-o blade to cut away any overlapping tape.
Step 2) Paint a thin and even layer of the glass paint onto the exposed areas between the tape. This glass paint dries very quickly which is great! It also will cure itself permanently in 21 days (even faster in the hot sun). You can see how I used this paint on my super easy DIY Sea Glass Vases.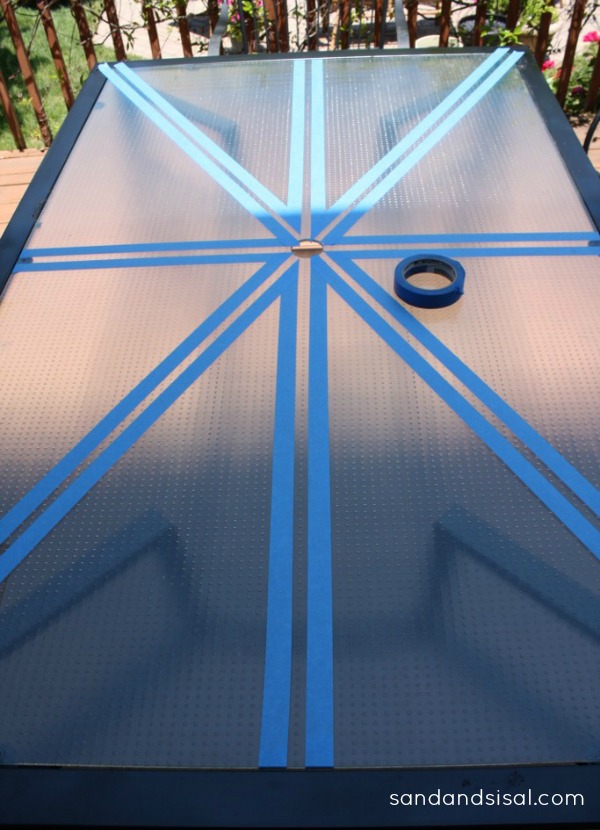 Step 3) Measure the distance from the center to the corner. Divide that measurement by thirds. That 1st third will be where your next rows of tape will meet the "X". After taping, go ahead and fill in the areas with paint.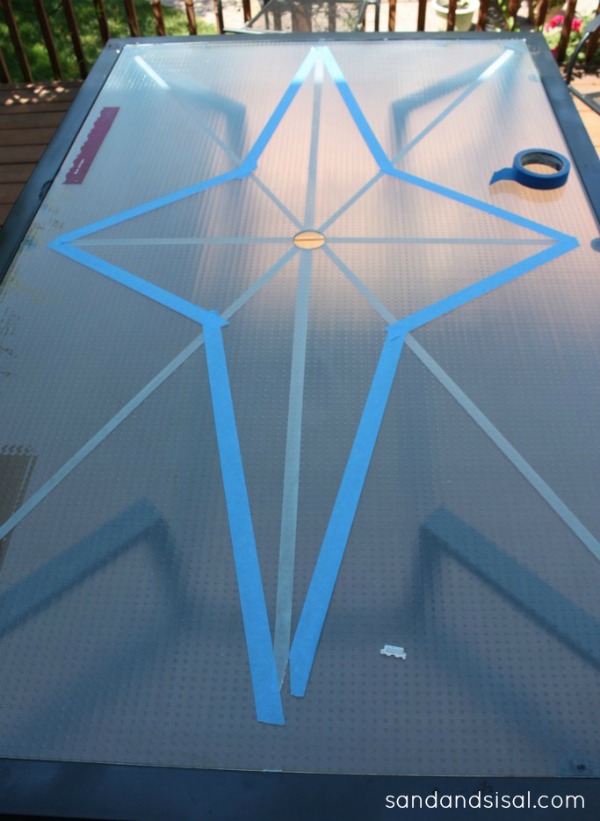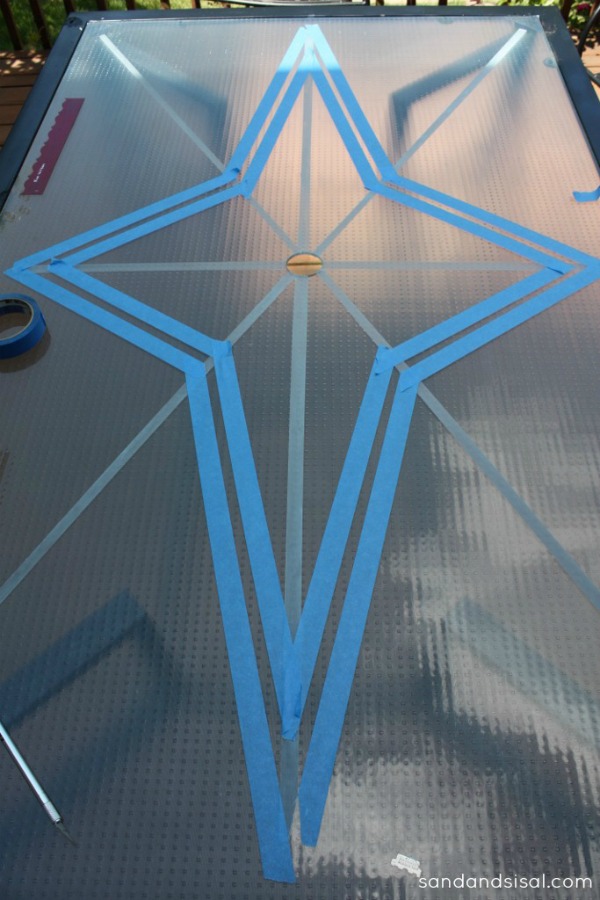 Step 4) Tie a piece of string to a piece of chalk. Extend the chalk end of the string to the center of the "plus" you made and hold the other end at the center of the table. Now draw a circle.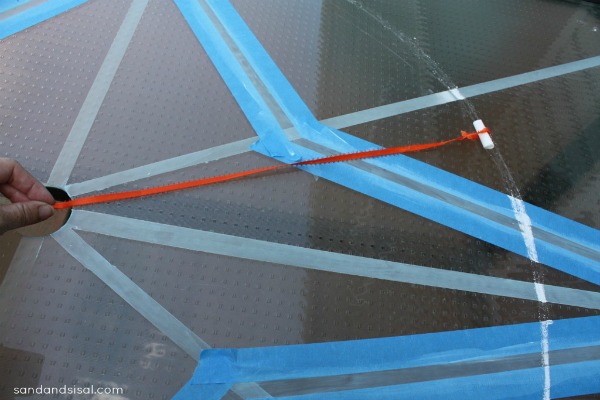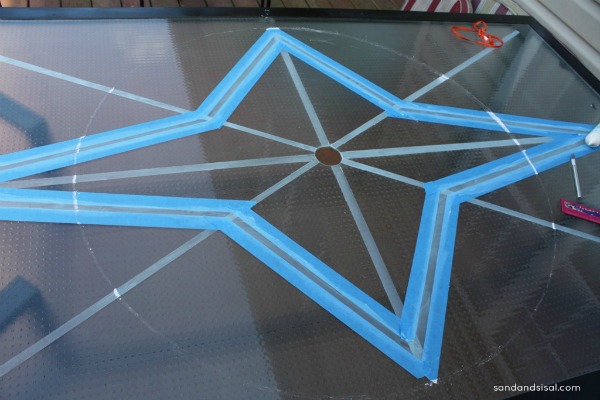 Step 5) The points where the chalk line crosses the "X" is where you will start taping again. Then paint like before.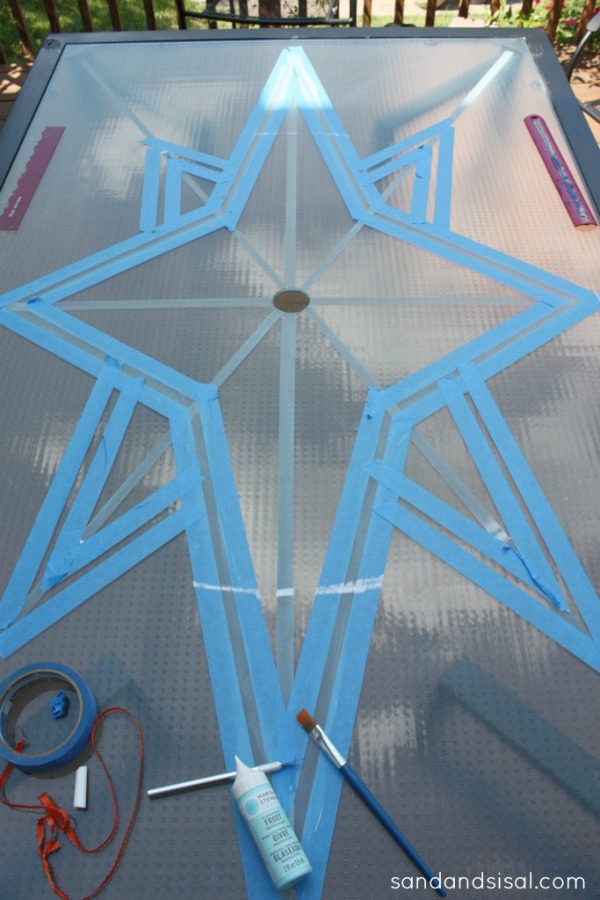 Step 6) With your straight razor blade, carefully scrape off the excess lines on your "X" and your "plus sign". The paint will peel off easily with the blade within the hour, but don't let the paint sit too long or it will be difficult to remove. I made a border with more ScotchBlue™ Painter's Tape along the sides and ends.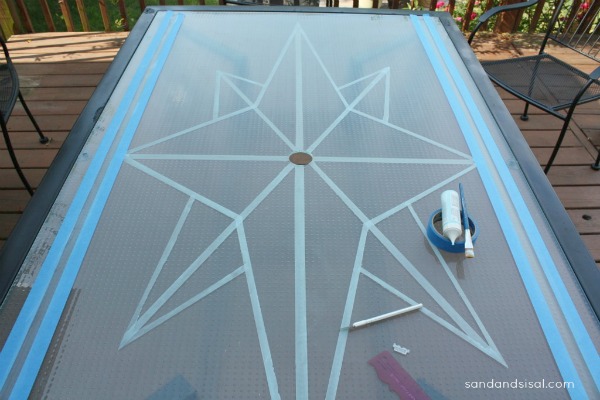 This is how it turned out! I love it! The paint is translucent and looks and feels just like etched glass!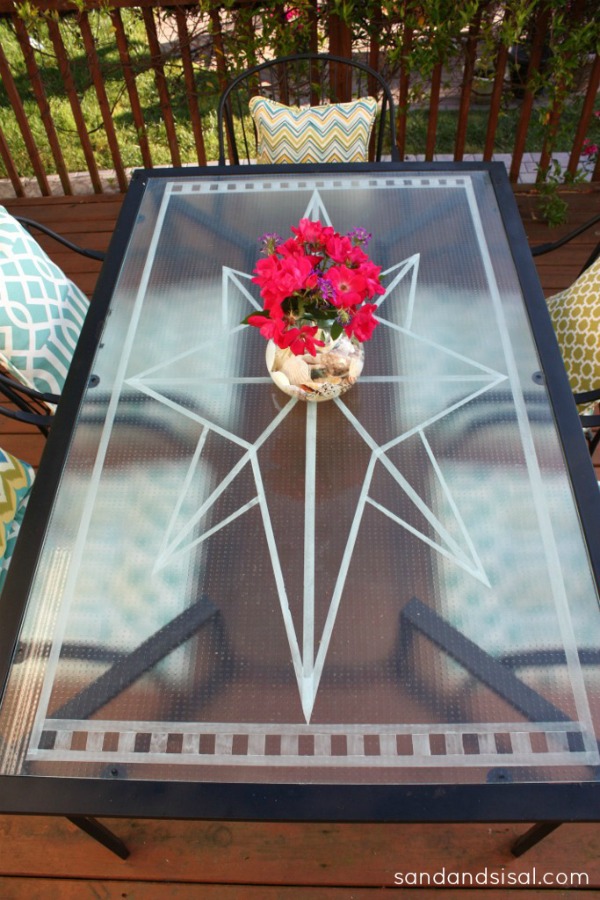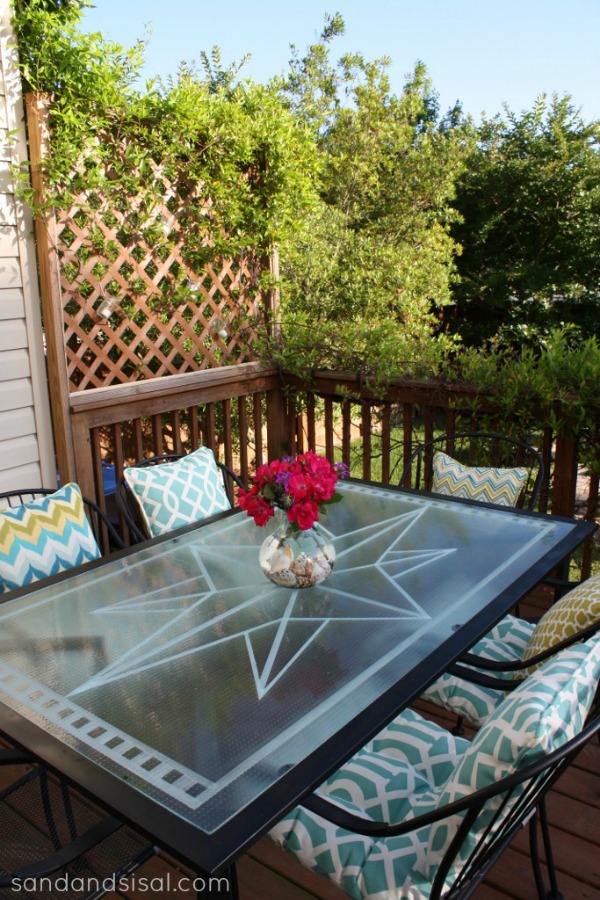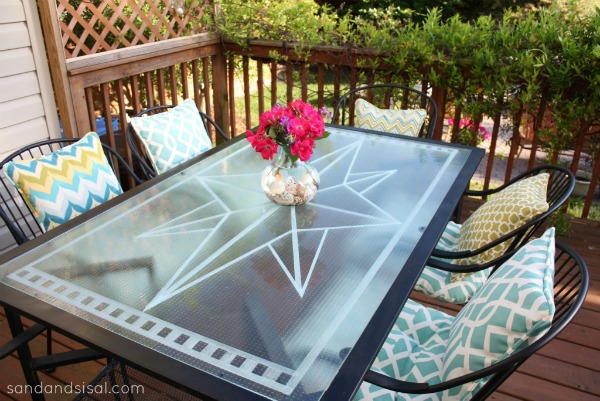 Want more DIY summer paint project inspiration? Then check out the ScotchBlue™ Painter's Tape Pintereset Page & ScotchBlue™ Painter's Tape's Facebook Page and the The Home Depot Pinterest Page & The Home Depot's Facebook Page.
Be sure to visit the Ready, Set, Paint Blog Hop.
Centsational Girl – Textured Panel Dresser Makeover
Thrifty and Chic Framed Stencil Wall 
The Design Confidential DIY Concrete Color Block Painted Tables 
Sand & Sisal Faux Etched Glass
The Girl Creative Summer Chalkboard
PB & J Stories Dipped Effect Outdoor Bench and Front Patio Makeover 
In My Own Style How to Paint Outdoor Furniture
Making this Home Embellish with a Paint Border
Rustic Bench Gets Modern Moroccan-Inspired Makeover
DIY Game Table 
Fun with Fireworks
Charles & Hudson – Wood Block Planter
Love of Family and Home – DIY Striped Curtain
LollyJane – Mailbox Makeover 
Nesting Place – Painting with Chalk
Thistlewood Farms: How to Paint Stripes 
Live Laugh Rowe: DIY Drop Cloth Table Runner 
SawdustGirl – Spray-Painted-Striped Lemonade Stand Canopy
Four Generations One Roof – Painting Stripes Bathroom Makeover
READY FOR A GIVEAWAY?  The Home Depot would like to offer one lucky Sand & Sisal reader a chance to win a $75 Home Depot Gift Card!
To enter this giveaway, follow the instructions in the Rafflecopter entry form below.
This post was brought to you in partnership with The Home Depot and ScotchBlue™ Painter's Tape.